How Your Business Can Benefit From Great Blog Ideas From Scripted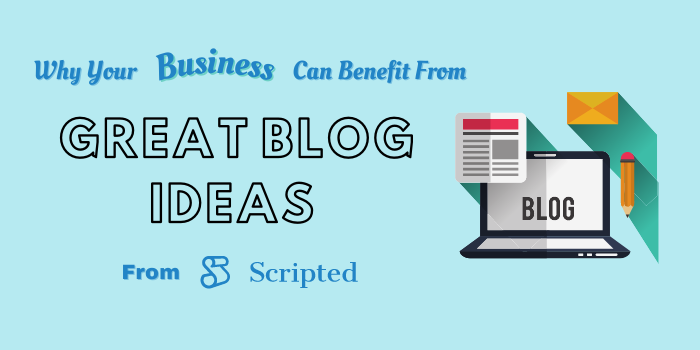 Scripted is a freelance writing platform that connects brands with writers to create great content, including blog posts, email newsletters, landing pages, social posts and more. Scripted has helped many businesses grow their audience, increase traffic to their site, and generate more revenue. This article will discuss how Scripted's Free Blog Ideas Feature can help you create create great content for your business and execute your content strategy in the long-term.
What Makes a Great Blog Idea?

Scripted writers know that they need the right mix of three things to have a compelling blog.
1. A great blog post must be well-researched and informative, so your audience is informed when they finish reading.
2. It should also include a call to action to increase conversions on your site and track how well each piece of content performs.
3. Finally, every good blog post has a catchy title that makes people click through or read more.
Why hire writers from Scripted?
Your blog content will be professionally written and error-free since each post goes through several rounds of editing.
You'll get access to industry experts who can write about any topic you need help with.
Benefits of Blog Ideas

The top benefits of getting blog ideas are:
It helps your company stay ahead of the competition.

Your website traffic will increase as people enjoy reading about topics relevant to them and their interests.

When you have good blog content, it also encourages readers to share articles on social media - which means more exposure for your brand

Your blog will be an excellent resource for your customers and potential sales.

You'll have more content to post, which can increase traffic in the long run.

People won't get bored with reading the same thing over and over again.
How Hard Can Ideation Be?

The ideation phase of writing a blog post is challenging because it takes time to research and come up with great content. Many writers will spend hours brainstorming ideas before finally settling on one that might be good enough to write about.
Hiring an expert writer from Scripted can help take some of the stress out of this phase by doing all the ideation work for you - saving you valuable time in your day when you could be focusing on other tasks or projects instead.
How It Works

To get started: sign up for an account, input your industry and outline your project goals, and then our writers will propose ideas that you can choose from based on what's relevant to your industry.
If there are specific blog topics you want to have written, you can outline what you're looking for in terms of the blog post title, sub-headers, keywords, word count, number of images you want... the list goes on.
You'll be able to track the progress of your project and communicate with a writer directly through a chat box if you have any questions, concerns or comments.
Post a job, and within minutes, one of our talented blog specialists will get in touch about how they can help make your content marketing strategy successful.
Every customer is assigned their own support team member who can answer any questions before, during, and after posting projects, ensuring quality control from start to finish.
Getting the best blog content out there doesn't have to break the bank - and hiring an expert writer from Scripted makes it even easier! The benefits of having quality writing services available at affordable rates include:
It takes little time to set up your account with us, post a job and hire someone who can help create unique content for you within minutes.

It's always free to chat with support so you can get answers quickly when needed.

You'll save money by only paying per article versus hiring full-time employees

You won't have to worry about hiring or training new employees for this process, making it much easier and less stressful.

You'll benefit from quality writing services at an affordable cost with no headaches involved

All customer support issues related to billing or content creation go through Scripted.
Conclusion

As you can see, there are many reasons why your business can benefit from working with Scripted. You'll save time and avoid the stress that comes along with finding writers on your own - plus, our team is made up of experienced professional writers who have worked in various industries, so they're well versed in what it takes to create successful blog posts for different companies.
We'd love to work together to make sure your marketing strategy has been set up for success- sign up today by heading over to our site: click here for more information about how Scripted can help your business.