Top 10 National Title Contenders in College Football in 2016.
Order this Short Blog Post for $49.50:
A list of 10 teams to watch that have a great chance of making the College Football Playoff and, ultimately, winning the national championship. This post will appeal to casual fans and gamblers alike and feature teams such as Alabama and Michigan.
---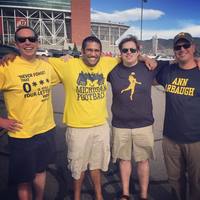 Manhattan Beach, California, United States
Writer for over 7 years
Last online over a year ago
No Ratings
Hi, my name is T.J. I am currently an online editor for a major sports website along with being the webmaster for a pool building and home improvement company based in Texas. I have worked for newspapers and websites for the last 15 years writing about a variety of subjects. While most of my writing for newspapers was on sports-related subjects, my freelance writing has delved into subject such as travel, personal fitness, home improvement and gardening, along with food and beverage topics. I did some freelance writing for a Las Vegas travel website and have written about a variety of topic...
Hire Theodore