Freelance Writing 101: Content Writing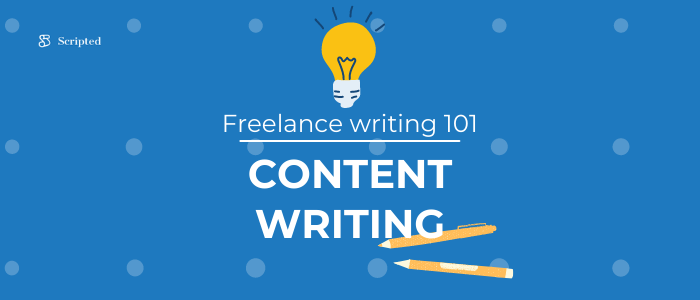 Do you think you're ready to start with a freelance writing or content writing career? If you're considering it, welcome! Think of this blog as a helpful primer and guide to your future career.
Make no mistake: freelance writing or content writing is a career that is lucrative and rewarding but also extremely challenging. To succeed, you need so much more than pure writing talent. You need client communication skills, time management skills, strong discipline, a great work ethic, a key set of proper tools, and much, much more. This is not a career that you can just jump into. It will take time, skill, and preparation to start your freelance writing or content writing career and to get the key jobs that can pay.
So, how can you get started in the business?
Starting Your Freelance Writing Career: 6 Steps to Take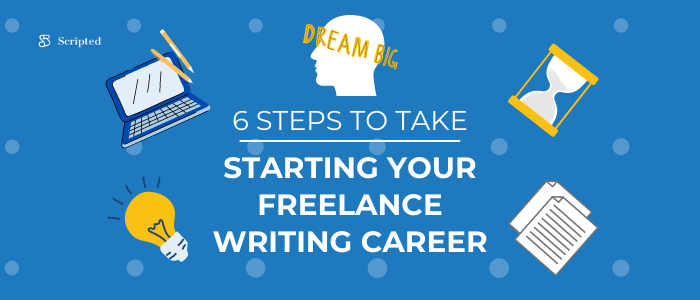 Before you write word one in your freelance writing career, here are some tips to get started.
Decide if this is really what you want in life.
This industry is extremely rewarding. However, it can also be incredibly tough. If you're leaving a "safe" job with a guaranteed paycheck every week, good benefits and other perks, the transition to supporting yourself through full-time freelance writing or content writing could be tough. Freelance writers need to have a plan when it comes to their careers. 
Think about your time commitment.
How much time do you want to spend doing your freelance writing work? For many of you, freelance writing is a full-time job. Your work schedule is your work schedule, and what you need to get done needs to get done during a certain timeframe. However, if your freelance writing or content writing career is going to be part-time work and done in conjunction with either another full-time job or some other part-time job, you need to sit down and think about your time commitment.
How many hours a week can you truly commit to doing your freelance work?
Will it be something that you can do on nights and weekends?
Will you need to chunk off time during the regular working day hours to get your jobs done?
Be realistic about the time you can commit to your freelance writing jobs; a half-hearted attempt at the profession won't get you that far in the field. 
Put together your portfolio and samples.
Samples are the lifeblood of any good freelance writer. Showing clients current and potential you know how to write for their industry (or for their specific medium) is something that absolutely every client needs to see before they make a financial or time commitment to you. If you don't have a good, comprehensive portfolio ready to show off, then you're already severely behind other, more organized writers.
Go through your archives and put together a good-looking portfolio online that clients can easily access. Be comprehensive. No matter what you've put out in your professional or personal writing life, there's a good chance some clients might want to see it. It's also a good idea to put together a very organized Google Drive folder with all of your samples in a PDF form, clearly named and labeled, so you can show these examples to clients when talking over email. Preparation is the key to future success in the freelance writing world.
Get inspired.
Inspiration is another major key to freelance writing! When you read great writing and surround yourself with creative forces, you might get surprised at how it bleeds over into your regular work. Do you have a favorite book? A favorite magazine article? A piece of writing that inspires you? Something that leaves you breathless with its power? Go ahead and dive into that book, article, or movie for a little while before starting your freelance writing career. Great art oftentimes inspires other great art.
Arm yourself.
A great painter has their brushes. A great hockey player has a stick and helmet. Those are their tools. Like them, you need tools to succeed in the creative writing or content writing world. Let's start with the basics. Do you have a good, reliable laptop you can take different places? How about a high-speed internet connection? A lot of clients won't care if your internet suddenly goes down in the night; they just need the job done. Do you have a backup computer if something breaks in the night? What about subscriptions to places like Grammarly to check your writing? Clients and companies don't have any patience for misspellings, grammar screw-ups, and the like (nor should they).
A great freelance writer knows that checking (and re-checking) every article put in through a reliable spellchecking or grammar checking website is critical to long-term success with a company and with a writing organization. 
Get started!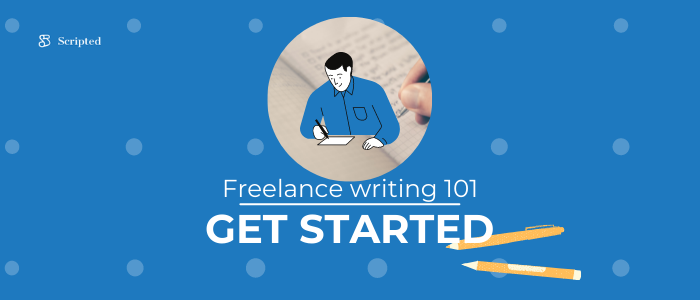 Once you're through all of these steps, it's time to get started with your freelance writing career! Be sure to constantly check in with your outlet (like Scripted) to find new jobs and get new clients. Additionally, don't let your skills and knowledge wane! There are plenty of other writers out there dispensing valuable advice!
Getting Started With Scripted: A Freelance Writer's Guide.
Does all that sound appeal to an aspiring freelance writing professionally? If so, the next step is to simply start writing. However, there's a big roadblock there: How can you get started in the business?
Scripted is the place to go to start your content writing career. Even better, Scripted makes it easy to find writing clients. There's no need to do an extensive marketing search with Scripted. Just join up, browse the available jobs on the site, and put together your proposal. Many of our writers can form long-term (and extremely profitable) relationships with some of our clients! Even better, with the different companies, Scripted works with, there are a ton of different options out there to boost your resume for the future.
Ready to get started on the Scripted platform? Apply to become a Scripted writer here!