How to Hire a White Paper Writer on Scripted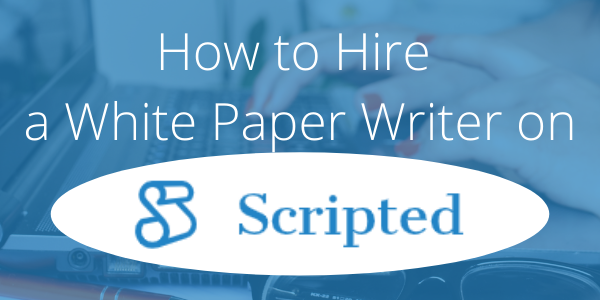 White papers are a powerful content marketing tool, offering you an opportunity to present useful, insightful information about your company's products and services. Research shows that 71% of B2B buyers have used white papers to make a purchasing decision in the past 12 months and are just as effective for B2C marketing.
Whether you wish to position your company as a thought leader or would like to publish an in-depth, authoritative report, a white paper is a great option — BUT, only if it is well-written. If you published a low-quality white paper, you could do more harm than good by damaging your reputation. The key is to hire a professional white paper writer. This will ensure the greatest ROI. Here's how to get started.
What Is a White Paper?

When creating an outline for your upcoming white paper, you must understand what a white paper is and isn't.
A white paper is a persuasive, well-researched report or document that covers a specific topic. The goal is to present a problem and then provide a solution. Your business may use a white paper to educate your audience about an issue or to explain something of interest. Although there are many benefits of white papers, they are often used for lead generation.
In contrast, a white paper is not a product pitch. This is very important. Yes, you can highlight the features of a product or service as a potential solution. However, the ultimate goal is to inform and influence based on evidence and facts. A white paper should not list all the reasons why the reader needs your product or service.
A great white paper will:
Be rather lengthy

. It is recommended that you write a minimum of

six pages

. On average, white papers are 6-8 pages. However, some are upwards of 50, but this is rare.

Be structured

. Being more formal than a blog post, white papers, generally have a title page, table of contents, executive summary, and conclusion. Following your introduction, include several pages that cover the problem. Once the reader has a firm grasp on the issue, you present a solution. Use examples and write a solid, evidence-based conclusion.

Be professional

. White papers are formal and must be both well-written and well-edited.
Why Include White Papers In Your Content Marketing Strategy?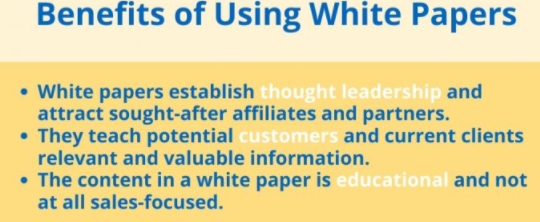 Whether you are a B2B company, B2C company, or both, people generally read white papers to solve a very particular problem. When you write a strategic white paper, keeping SEO in mind, there is a strong chance that individuals researching the problem you discussed will find your white paper. Once they read it, you will position yourself as an authority leader. This can help you rise above competitors, supporting your bottom line.
Since most companies offer white papers as a download in exchange for contact information, you can build a mailing list more rapidly. Since email generates $38 for every $1 spent, it continues to be one of the most effective investment options (especially if you continue to produce quality, strategic newsletters). You will also gain insight into what your audience is interested in most. Gaining access to this type of data can be incredibly useful.
In summary, white papers:
Generate leads

Position you as an expert and thought leader

Help you build a mailing list

Allow you to present your original research
Reasons You Should Hire a Freelance White Paper Writer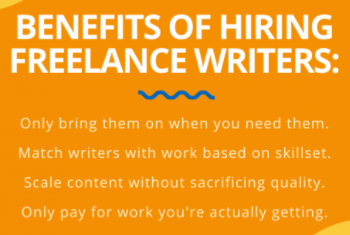 Perhaps you have already come up with a brilliant idea for a white paper. The only issue is, you aren't sure how to execute it. If you get the wrong person to write it, your concept may backfire, negatively affecting your business.
While it's tempting to have an in-house team member write your white paper because they have a thorough understanding of your company, but again, this can be a damaging decision — especially if they know nothing about copywriting and content marketing.
The solution? Hire a freelance white paper writer.
Here's why:
Since professional white paper writers create copy for a living, they focus on content creation. Instead of pulling a team member away from their duties or waiting longer than you wanted for the first draft, a freelance white paper writer can deliver a quality piece much faster. In many cases, white paper writers will deliver a well-written first draft within 1-3 days. This is key when aiming to meet strict deadlines.

You will save money, as freelancers do not cost you any additional overhead. There is no need to have someone in-house for content when you can outsource white papers when you need them. Pay a professional a one-time fee. When you need another piece of copy, simply re-hire them or another writer to tackle your current needs.

You will benefit from a fresh set of eyes and another brain. This can help you gain new, valuable perspectives and ideas.

Professional white paper writers understand how to properly structure the text and highlight the most important research.
How to Hire a White Paper Writer on Scripted
Hiring a white paper writer doesn't need to be a complicated process. Although you can post a job opening online, this will require you to sift through applications, interview and vet candidates, then hire based on what they have presented to you. Unfortunately, this doesn't always work out as planned, causing companies to waste time and money.
To make the hiring process as seamless as possible, Scripted offers a pool of top talent. Accepting only the top 2% of applicants, all Scripted writers must complete a rigorous testing process. While many Scripted writers are highly versatile, able to create quality articles, white papers, blog posts, newsletters, and more, there are expert white paper writers available. You can even browse writers based on your industry. Whether you require a white paper writer for your software company or medical equipment company, there are highly skilled writers waiting to assist you.
Once you become a Scripted member, the hiring process is incredibly straightforward. Post a job, hire the best fit, and then receive your first draft within a matter of days — sometimes hours. From start to finish, everything is completed within Scripted's all-in-one platform, making the content creation process as efficient and productive as possible. Re-hire writers you love with ease or hire new writers to benefit from a new style and tone.
Ready to get started with one of Scripted's professional writers? Browse our expert white paper writers today!