Kred Tool Review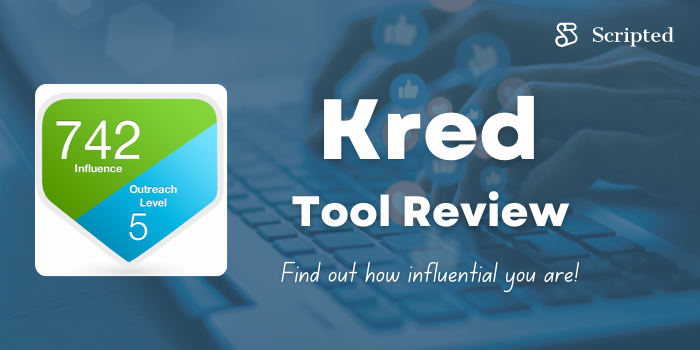 Wondering how influential you are on social media? Kred's platform and scoring system are sure to pique your interest. Kred gives each of its users two social media scores, one is an 'influence" score while the other is an "outreach" score. Both of your Kred scores can give you visibility into not only your own social media presence and the strength of your following, but a sneak peak into your friends' and colleagues' social status, too. 
If you're wondering how Kred can play a role in building a stronger brand, read on to learn more about this unique little tool.
What Is Kred?
Kred is a social scoring network that gives its users two scores: An influence score of 1 to 1,000 and an outreach score of 1 to 12. With these scores and its unique algorithm, Kred promotes itself as the only measure of social media influence that can tell you exactly how your Twitter and Facebook activities contribute to your scores. 
You'll see that your scores update in real-time and, best of all, while Kred has a few competitors, it's the only platform that tells you exactly how the scores are calculated, giving you the chance to build yours with transparency rather than guesswork. Of course, if you're still scratching your head and wondering why you should care, the answer is simple.
Social scoring platforms like Kred are fairly new, and while you might assume a social score has more to do with competition and clout than actual marketing or productivity, you'd be wrong. When used correctly, platforms like Kred make it easier to evaluate and identify key influencers, which can help you shortcut outreach and make the most of your time, collaborations, and relationship-building efforts.
The Kred Scoring System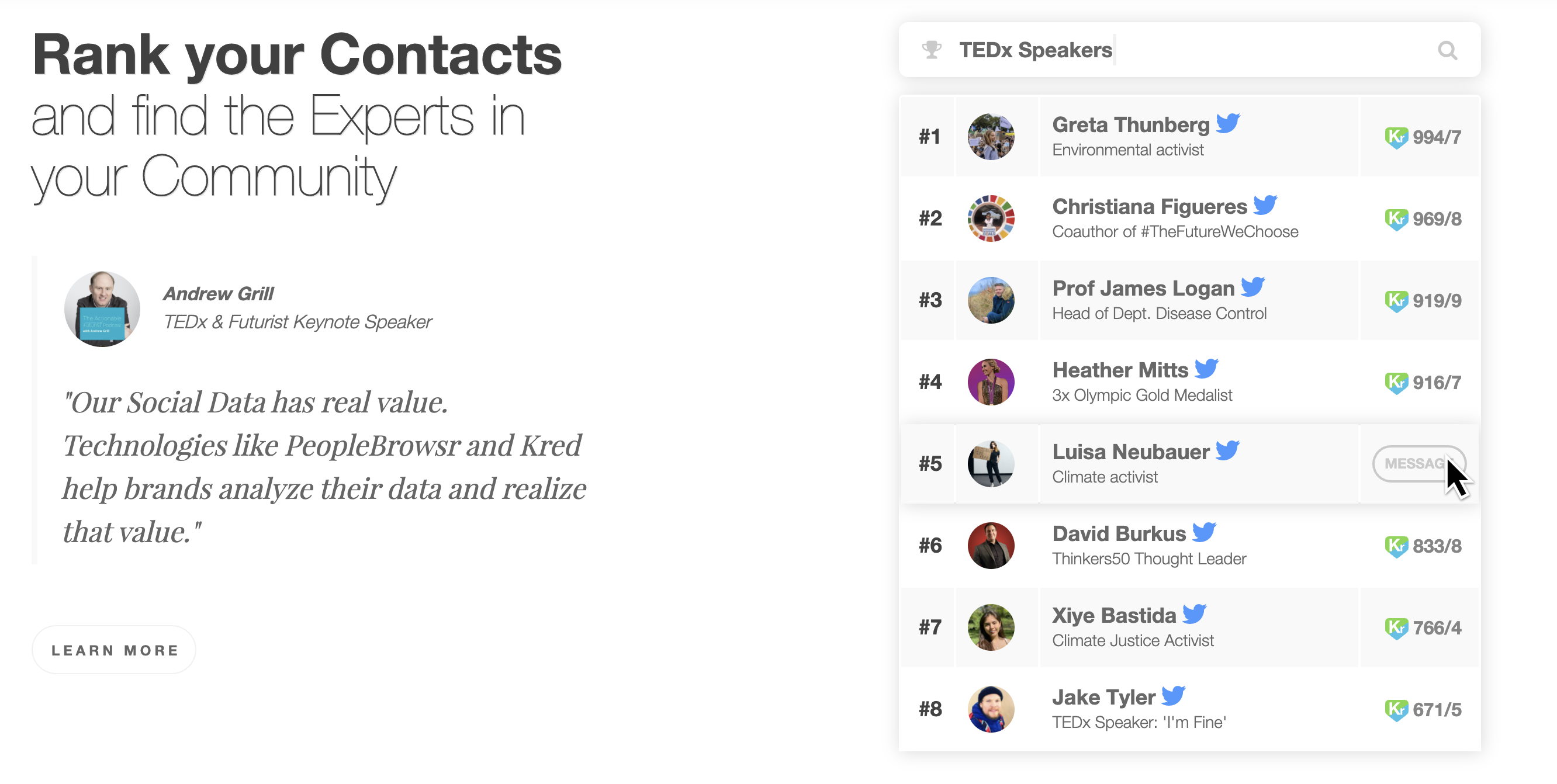 Kred calculates user scores by analyzing Tweets and Facebook actions over the past 1,000 days. The platform aims to come up with scores that reflect a user's trust and generosity, as Kred recognizes these two things as fundamental to the foundation of a strong relationship. When you see a Kred badge, the Influence score is displayed in the upper left and the Outreach score is displayed in the lower right. 
To get a high Influence score, it means you can inspire action. So, Kred looks at things like retweets, replies, mentions, and follows on Twitter. If you choose to connect your Facebook profile, you'll get additional points when interactions happen on your wall, like posts, mentions, likes, shares, and invitations. 
To improve your Outreach score, you must engage with others and help spread their own messages. Kred puts it this way: "Since we believe that the capacity generosity is infinite, your Outreach score is cumulative and always increases." At the latest count, the highest Outreach score anyone has earned is 12, but anything above 7 is currently considered impressive. 
In addition to earning Kred, you can also share it and be gifted it with +Kred. For instance, if you have a favorite influencer, you can give them recognition with +Kred, which gives them 70 points towards their Influence score and gives you 30 points toward your Outreach score for being generous.
Features and Benefits

Kred is more than a social scoring system. As you dive into its features, you'll begin to realize the benefits Kred offers to both influencers and brands.
Transparent Scoring
As Kred likes to put it, your score tells you how influential you are, which is a great way to track how active you are on Facebook and Twitter and encourage you to post more engaging content and engage more with the content of other influencers. These actions boost your own score, but the score itself isn't what's important, it's what's behind it.
While those in your network may not be looking at your Kred score to judge how influential you are, doing things that raise your Kred score will naturally help build awareness and get you engaging more with those in your community, and that's the point. Keeping an eye on your score and taking conscious steps to boost it will help you grow your social following organically.
Expert Rankings
Perhaps one of the most logical and straightforward ways to put Kred scores to use for your efforts is to check your contacts list and see how those in your social circle are adding up. If you are surrounding yourself with a network of people who have high Kred scores, that means you have endless opportunities to multiply your network.
In other words, by networking with influencers who have high Kred scores, you're able to concentrate your efforts on individuals who have the platform necessary to drive more attention to the content you post. Therefore, knowing the Kred scores of those in your social circle will help you build stronger relationships with the right people, and help you find the much-needed boost you've been looking for when it comes to strengthening your own position.
Since Kred is about generosity, too, you can also find those with low Kred scores and help them build it up by interacting with their content, and they'll very likely do the same for you. By working together, you can create the trust and mutual generosity Kred wants to see, boosting your entire network's scores in no time at all (and growing your network in the process).
Link.Kred
If you thought Kred was all about social scores, think again. Link.Kred is hardly advertised, almost mentioned merely as a consequence of the Kred system rather than a feature, but it offers huge benefits all on its own. Say you didn't even care about social scoring--you'd still find great value in Link.Kred.
With Link.Kred, you can create your own custom link (i.e., yourname.kred) that you can direct people to. This link features your bio, photo, and links to your social channels all in one place, making it ideal for including on platforms like Instagram where the number of links you can share is limited. You can also think of your .Kred link as your virtual business card.
As Angela Maiers (Speaker, Author and Founder of Choose2Matter) puts it: "AngelaMaiers.Kred is a single, memorable link I can use anywhere and be sure people are seeing the important parts of my online identity. Link.Kred has been equally as powerful for unifying our movement on Choose2Matter.Kred."
Best of all, you can sign up and get your own link for free! Of course, Kred's paid plans do offer additional features.
Pricing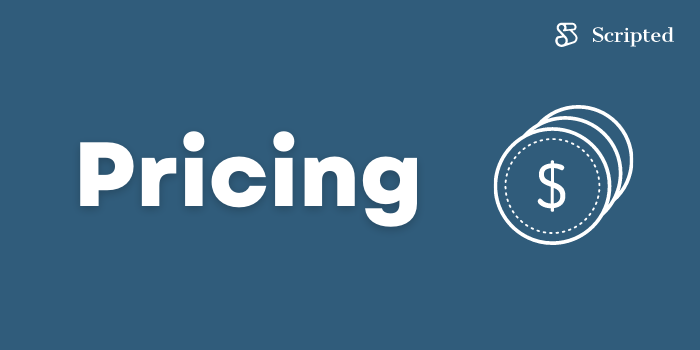 Kred has a generous free plan in addition to premium plans that you can opt for based on your needs.
Free
Over 40 features come in Kred's free plan, which includes up to 2 social footprints, 2 custom domains, and integrations with Wordpress, IFTTT, and more. The biggest things you'll miss that require you to upgrade to the next plan up include the ability to see who has viewed your profile and the option to integrate with Google Analytics and a Facebook Pixel.
Plus
For $5/month, you'll get everything in the free plan plus up to 3 social footprints and 3 custom domains. You'll also unlock dynamic bundles along with Funnelytics Tracking, integrations with Google Sheets, Mailchimp, and more, and access to the Developer API.
Business
For $29/month, make use of up to 5 social footprints and 5 custom domains, along with the ability to embed and copy links. All integrations come included, plus you'll get to take advantage of concierge support that's standing by to help around the clock.
Grow Your Social Reputation
Kred is an extremely handy platform for any brand or influencer who's trying to understand and grow their social reputation. Of course, the process does not start or stop with what you do on social media. If you're looking for new ways to grow your presence and improve your relationships online with both clients and colleagues, you have to remember that it all comes down to one thing: Content.
Building your reputation both on and off social media requires you to routinely create and share engaging content that your audience will enjoy and find real value in. The trouble is, no one has time to produce a constant flow of high-quality content--and that's why more brands are turning to Scripted. Meet our writers today and learn how Scripted can help you grow your reputation online, and off.