Announcing Scripted As a Certified Content Partner In Percolate's Content Marketplace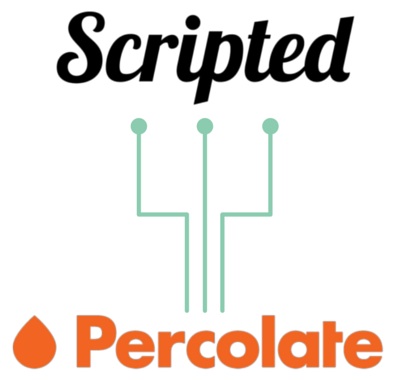 We're thrilled to announce that Scripted is a Percolate Certified Content Partner. Keep reading to learn more about Percolate's Content Marketplace.
With more than 3 billion people online, a marketer's challenge today isn't as much a matter of
reaching audiences
as it is capturing their attention. Consumers can access media from any device in an instant so attention relies on compelling content. Thankfully, brands have more creative outlets than ever before. While traditional communication has been limited to a finite medium - the 8 3/8" x 10 7/8" spread in a magazine, or 30 second spot on radio - the digital world is boundless in terms of creative expression.
See also: Scripted.com, Raising The Bar For Quality & Original Content
We've seen entirely new forms of storytelling flourish - from the GIF to short form video and virtual reality. Equally exciting is the democratization of media and production, thanks in large part to the growth of mobile. For
better or sometimes for worse
, everyone is a creator, armed with the ability to capture, edit, and animate with the devices in their pockets.
Simply put, there has never been a more exciting time for brands to tell their stories.
Introducing the Content Marketplace
At
Percolate
, we are passionate about letting brands create and market with unprecedented efficiency and scale, which is why we are excited to announce the
Percolate Content Marketplace
alongside Scripted, our inaugural partner.
The Marketplace brings together a remarkable ecosystem of content providers that can generate high-quality, original content or license unique assets across a breadth of media types. These providers are best-in-class in terms of efficiency, quality and cost. From images and infographics to video and written content, our Certified Content Partners help the world's greatest brands tell their stories, all accessible inside the Percolate platform.
Beyond content, we share a belief in technology's ability to foster collaboration. Collaboration between brands and agencies, between creatives and between consumers. Scripted's technology, for instance, matches thousands of writers with brands based on subject matter expertise, covering everything from
Portland's best coffee spots
to the
history of Google's search algorithm
.
When you marry our Certified Content Partners' capabilities to generate captivating content with Percolate's efficiencies across planning, distribution, and campaign optimization, it creates a powerful ecosystem for marketers.
Visit Percolate to learn more about the Content Marketplace.
To Read More Scripted News See Below:
Announcing Scripted Foundation: Why We're Writing for Good
Welcoming JD Peterson to The Scripted.com Team
What Makes a Good Editor? Some Insights From Our Editor Test