How To Use Pinterest for Business: Pinterest Marketing Strategy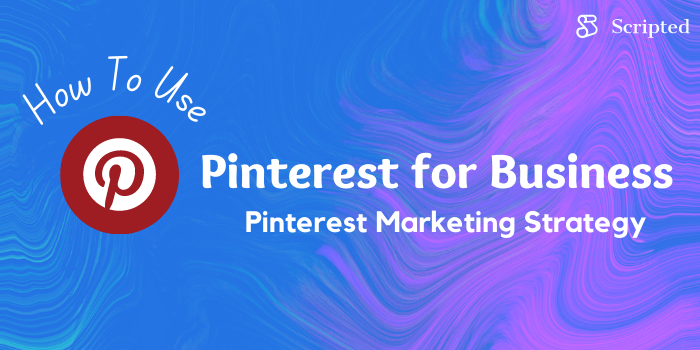 Do you suffer from Pinsomnia, or are you clueless when it comes to repins? No matter how familiar you are with the successful visual search engine, you should be looking to hone your Pinterest marketing strategy. Over 444 million people use Pinterest right now, which is a huge potential audience for your business's content. Our Pinterest marketing strategy guide explores how to add Pinterest into your social media strategy, how to use pin descriptions with keywords to boost SEO and plenty more hints and tips to get your Pinterest business marketing strategy off the ground.
What Is Pinterest?
Pinterest is normally classed as a social media platform but it is also a visual search engine—more on that below. Pinterest has both a mobile and a web-based app. People who use Pinterest can add friends or follow businesses, just like on other social media apps. However, the difference is that instead of having a timeline filled with text, witty posts or clickbait, Pinterest is almost entirely image-based.
Users collect these images, which are often visual ideas for projects or inspirational memes, and "pin" them to Pinboards. The concept is similar to the idea of pinning your favorite photos to a corkboard in your home. Businesses can take advantage of this by creating beautiful images and compelling pin descriptions, to get themselves pinned onto as many boards as possible. A business Pinterest strategy combines an understanding of the visual content the target audience is interested in and intelligently written, SEO-rich social media posts.
What Is a Visual Search Engine?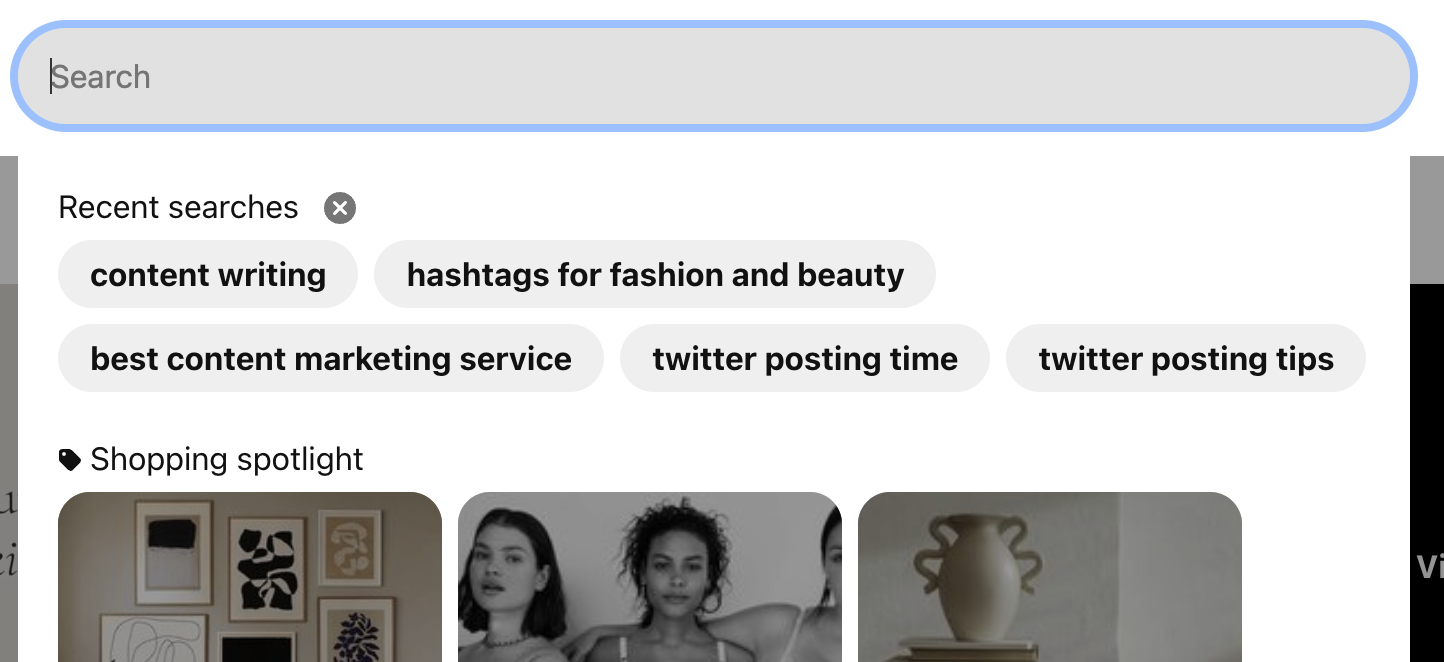 Visual search engines allow users to search for keywords and phrases like a normal search engine, but return images instead of a list of websites. Many of these images will link to the website that they're from. Examples of visual search engines include Google Image Search, Bing Visual Search and TinEye. Some visual search engines will allow users to search with an image, to find out where the picture came from.
Pinterest is a little different in that users can choose whether or not their Pins link to something or not. Individual users could upload 50 cat photos onto a single board and have them all only link to that person's Pinterest account. For businesses, it's simple to ensure every Pin links to a website or a blog with a single click or tap of a phone screen.
Common Pinterest Terms
Pin—an image saved to Pinterest

Repin or re-pin—saving someone else's Pin to your board

Pinner—a Pinterest user

Pinboard or board—a collection of images, usually themed in someway

Follower—someone who subscribes to see all the content on a single board

or

from a single Pinner

Updates—similar to notifications on Facebook, this tab shows who has liked or re-pinned your Pins

Messages—allows communication between Pinners and followers

Browse—shows Pins based on the user's interests

Watch—shows video-based content
How Can Pinterest Be Used for Marketing?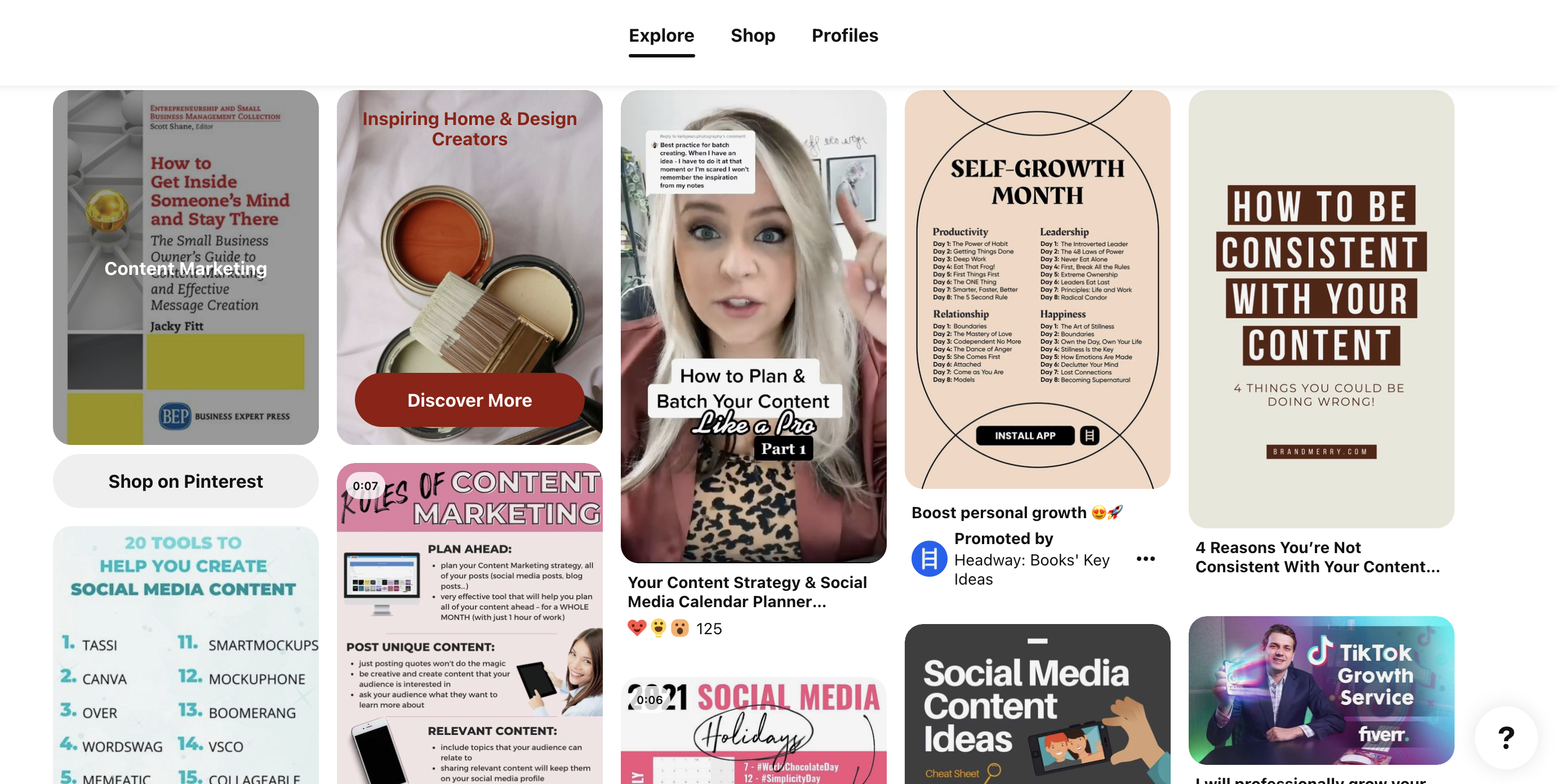 "If Pinterest were a country, it would surpass the United States as the third-largest in the world"
This quote from Pinterest's business page is probably quite surprising, especially if you've not considered the importance of a Pinterest marketing strategy before. Pinterest brings people together with common interests. People particularly use Pinterest for ideas around décor, lifestyle, DIY, crafting, fashion and other topics that lend themselves well to stunning imagery. More recently, Pinterest has started to embrace the micro-video trend, but more on that later.
Visual marketing is something we expect to be very big from 2022 onwards and is only going to get bigger as brands focus more on being accessible and appealing to more diverse audiences. Learning how to market on Pinterest is all about getting the right balance between great imagery and pin descriptions rich in keywords—while still being engaging, entertaining and informative.
Businesses wanting to craft a successful Pinterest strategy can take bold images of their products or services and share them within moments. Each image has the option to add a pin description, which allows creative content writers to tell the story behind the image—while skillfully working in keywords. After all, Pinterest is a search engine at its core, so SEO is critical. Pins will also show in other search engines if they rank well for SEO.
So, there's an exciting image to draw Pinners in, a compelling story to keep them reading—and, if they click on the Pin, they'll be taken to the exact point of the website or blog that you want them to visit. There's no need to have all Pins go to your business's home page. They can go to specific products, contact forms, related content—whatever you like.
If you have a customer relationship management system, you may be able to monitor how many clickthroughs you get from Pinterest and from which Pins. This helps you hone your Pinterest marketing strategy, focusing on Pins that follow the style and tone of your most successful images.
Useful Pinterest Marketing Stats
Visual graph from HootSuite: https://blog.hootsuite.com/wp-content/uploads/2021/03/pinterest-statistics-02.png.webp
So, just how effective is Pinterest marketing? Pinterest itself proudly publishes plenty of statistics to show businesses what they can do with the visual search engine.
60 percent of Pinterest users identify as women

The number of Gen Z Pinners has been increasing 40 percent year on year

Millennials are also using the social media platform more—their total is up 35 percent year on year

45 percent of Pinners have an income of over $100,000

97 percent of Pinterest searches

never

include a brand name

85 percent of Pinterest users

always

check Pinterest before starting any new project

80 percent of Pinners who use the app every week have stated that they've discovered a new brand or product via Pinterest
What Types of Businesses Should Use Pinterest?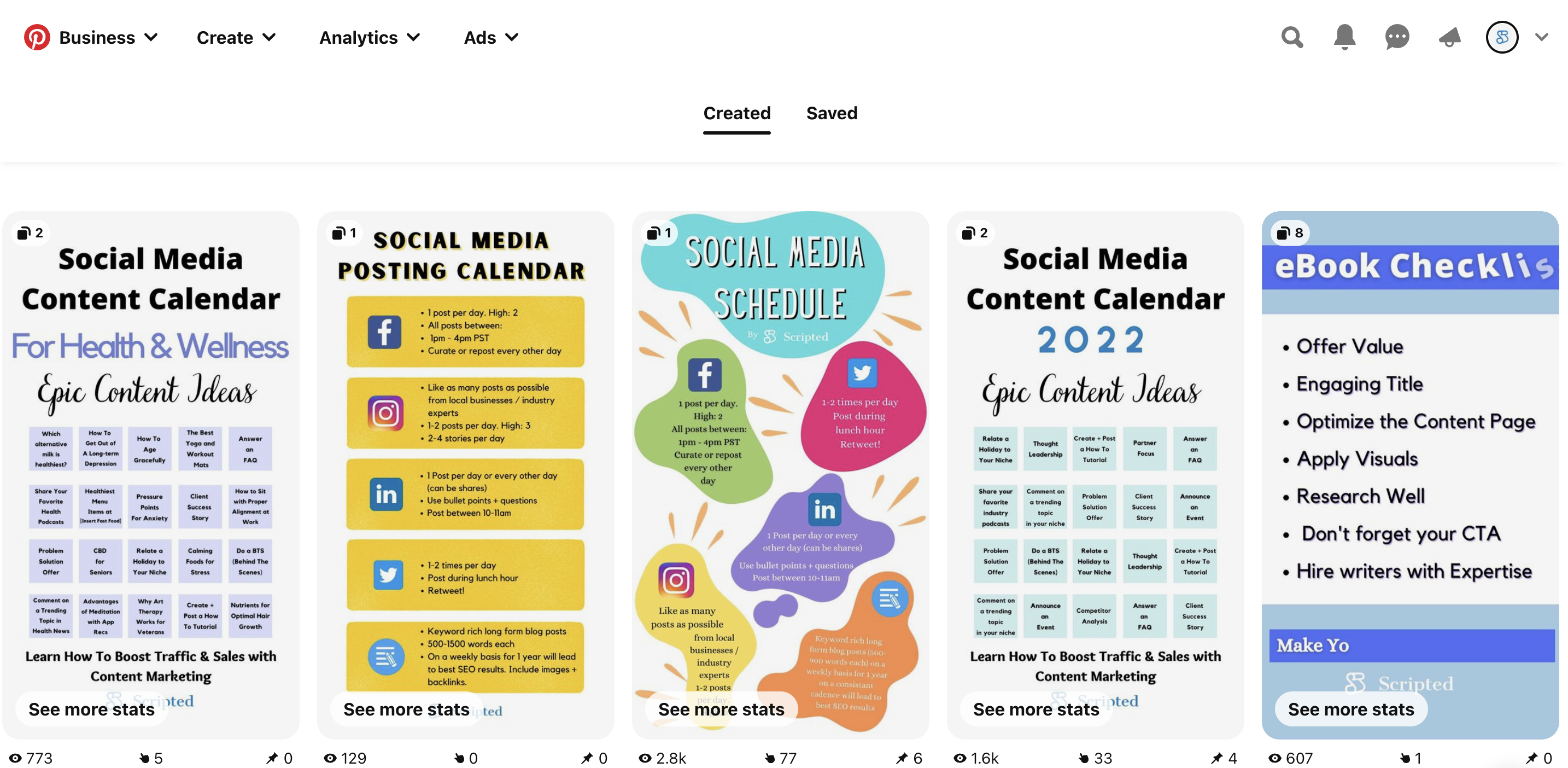 The most successful business accounts on Pinterest tend to be B2C (business to consumer). That's because there are so many individual users on the service looking for ideas and inspiration. However, that's not a hard and fast rule. B2Bs can also find success, particularly by sharing visual representations of their success stories. Other businesses using Pinterest will be searching and researching to see current trends. Having stand-out Pins and intelligent SEO can attract clients to social media agencies, tech companies, managed service providers and more. It's worth researching to see how many of your target audience use Pinterest before making a huge outlay. However, it's possible to create an organic following on Pinterest without spending money on "promoted" Pins, so some B2Bs may want to opt for this strategy if they're on the fence about spending money on their Pinterest marketing strategy.
The Most Successful Brands on Pinterest
Each of these brands has multiple millions of views and/or followers on Pinterest. Have a look at how they're achieving this.
Benefit Cosmetics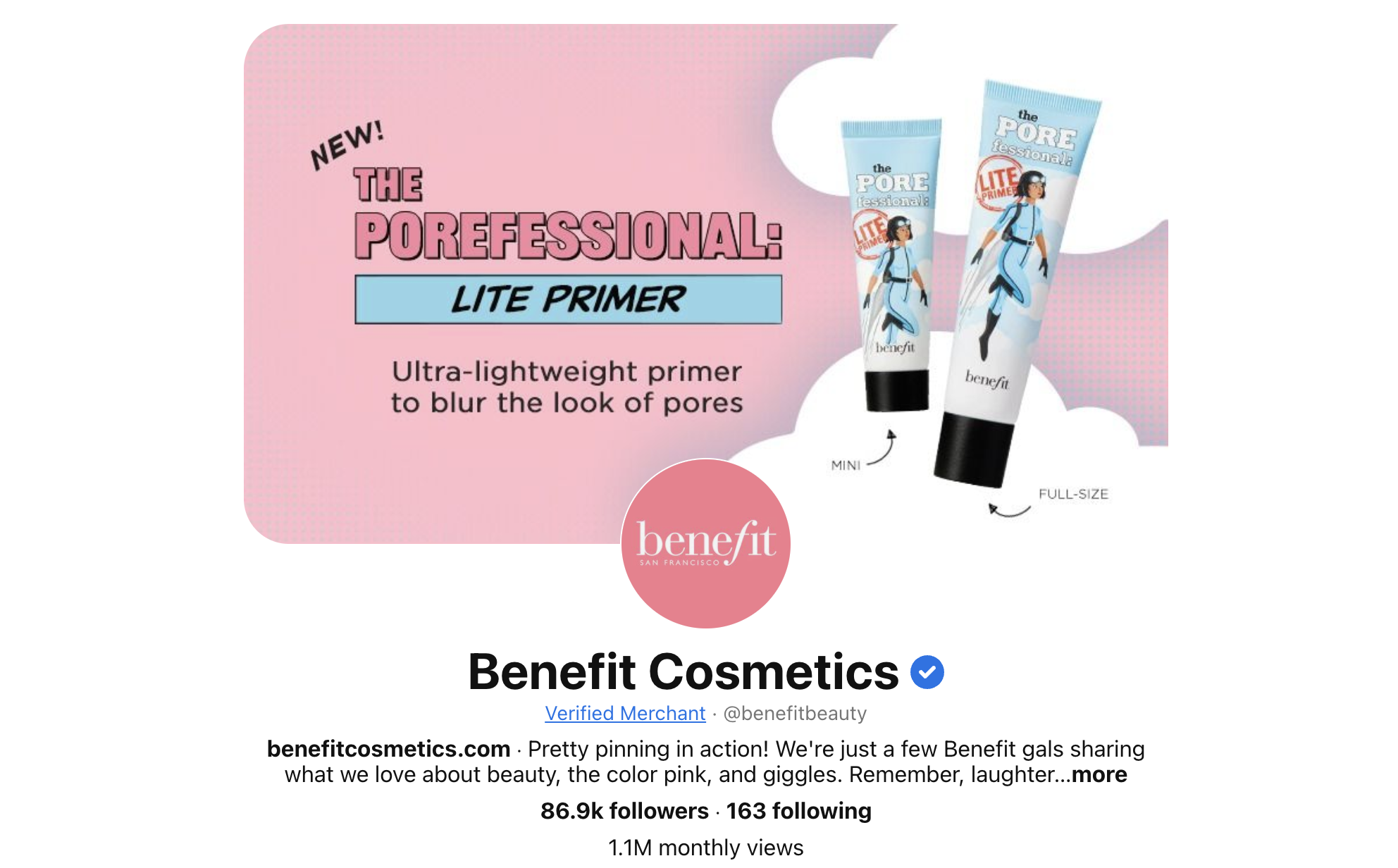 Benefit's hugely popular makeup products pop on Pinterest. They share practical makeup ideas—remember, Pinterest users tend to be looking for ideas and inspiration—such as how to cope with a mask and keep your makeup on point. Benefit Cosmetics' Pinterest strategy combines text and visuals into single images, adding Pin descriptions that explain how specific products were used within the pin. They have a highly cohesive brand aesthetic and a consistent tone.
Mejuri Jewelry
Canadian jewelry brand Mejuri has adopted an ambassador-based marketing strategy. They share user-generated content (UGC). These are everyday users who are proudly showing off their favorite jewelry pieces. Not only does this build a sense of community between fans of the brand, but it shows potential new customers that real people love the brand, the product and the engagement. This strategy is highly affecting, winning Mejuri over 10 million views per month.
Etsy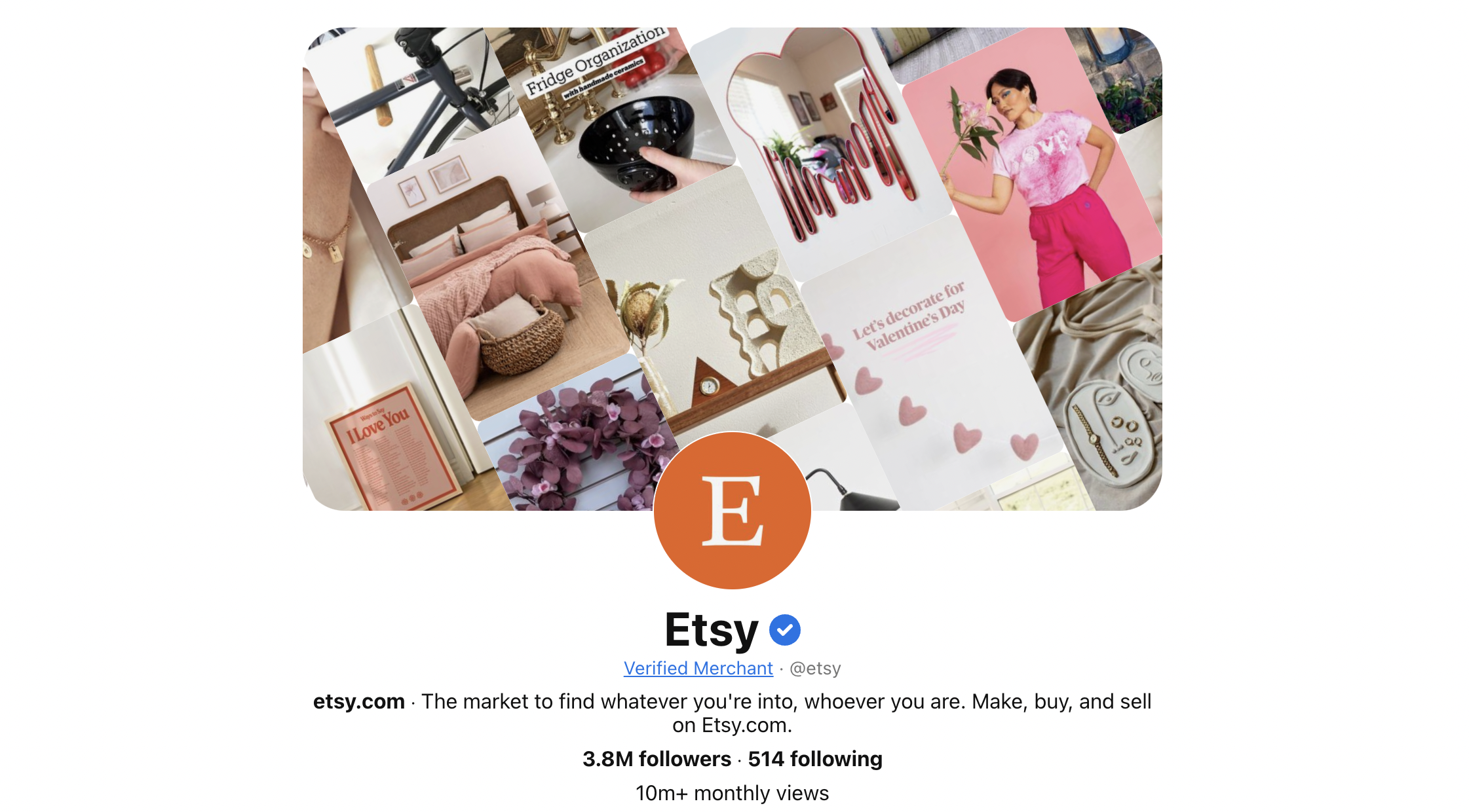 Etsy is a popular eCommerce site that allows users to create and sell just about anything. This fits in perfectly with Pinterest's masses of craft fans, décor lovers and lifestyle trend explorers. As well as posting beautiful pictures of a huge variety of products, they have many, many boards, each carefully themed into specific categories such as DIY projects, recipes to share and even a weddings board. Users searching for ideas for their special day will find plenty of Pins that link back to Etsy products.
How Do I Set Up My Pinterest Profile for Business Success?
Setting up a Pinterest business account is easy. It's free, like most social media business accounts, and business users can set it a new account right in the mobile app or in a web browser. Here's how you can do it:
Go to Pinterest.com

Click "Business"

Click "Create Account"

Follow the onscreen prompts
If you already use Pinterest, you can link your account. However, we highly recommend having a separate business account linked to a business email account. This allows you to keep all your analytics and information about any promotions or campaigns in one place.
How Do I Create My Pinterest Marketing Strategy?
Once your account is set up, the system will talk you through posting your first pin and creating your first board. Before you start pinning, though, it's a great idea to make sure you've done some research first. Is your target audience present on Pinterest? If so, what topics and themes are trending that fall in line with your company's products, services or values?
For example, your business might provide third-party accounting services to small businesses—not instantly a visual winner. However, have you done something amazing in the community? Have you got a winning corporate social responsibility strategy that you can share? Can you share images of employees having a fantastic time at their desks? There are several ways to create appealing images about your company. They don't all have to be focused on your products or services.
Finally, before you start pinning, make sure you have plenty of high-quality content available. This allows you to pin regularly, which is one of the keys to success with Pinterest. If you have several topics or themes you want to pin about, create your boards in advance and add to each of them at least every month, making sure you pin at least once every week, ideally more often.
How Do I Make the Most of Pinterest for Business?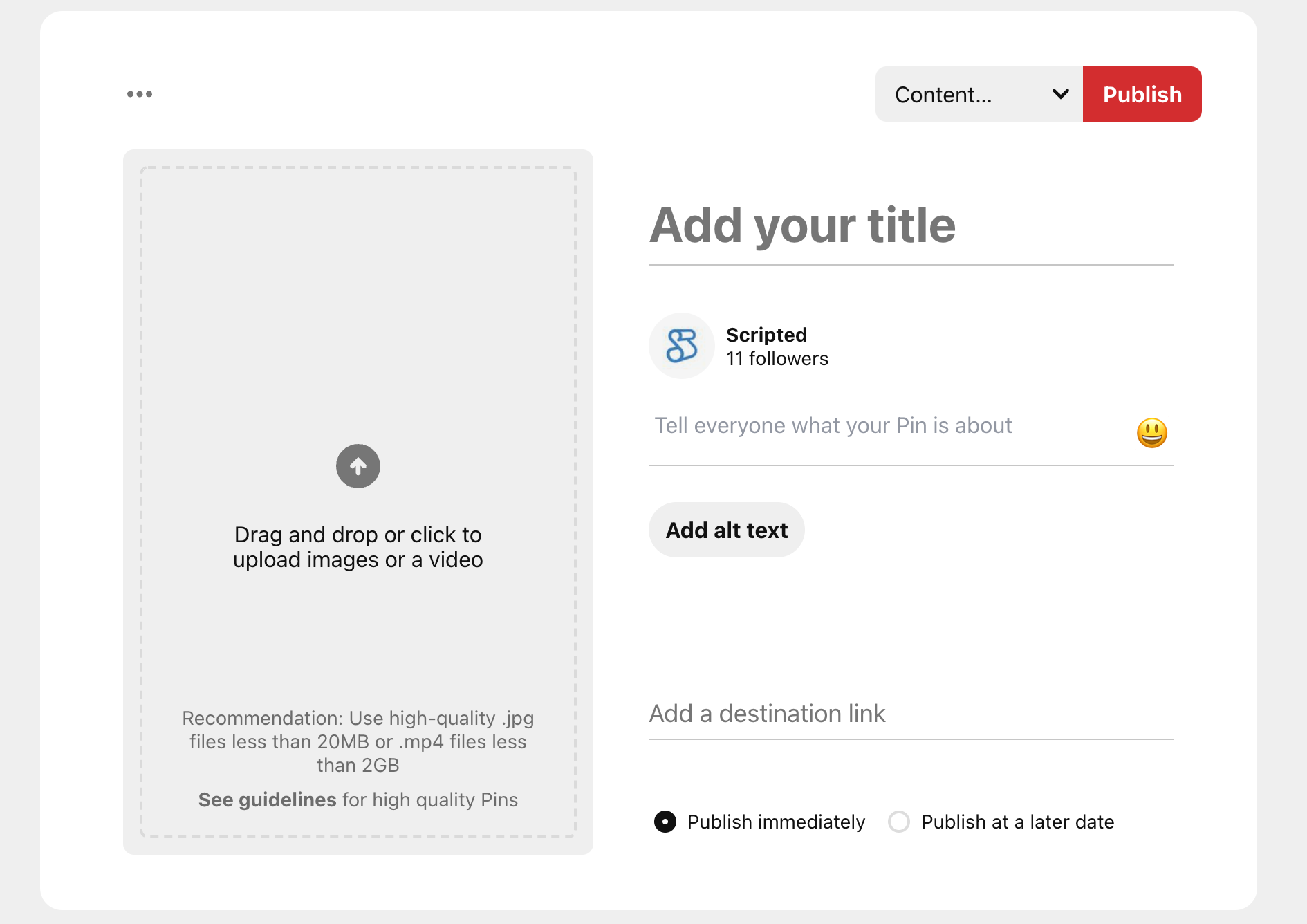 Many businesses don't get the most out of Pinterest because they try and use it in the same way as Facebook or Twitter. Pinterest is wildly different, even though it's still a social media platform at heart. For a start, Pinterest users open the app when they want to feel good—not when they want to read the news or complain online. Eight out of 10 Pinners state that they feel more positive when using the app. Regularly posting positive, uplifting content links directly into this emotional connection with your audience.
As well as curating and sharing excellent content, these top Pinterest Marketing Tips could help you maximize your marketing strategy:
Remember that the vast majority of users are on their phone—over 80 percent according to Pinterest's

business page

. With that in mind, keep your photos vertical and suited to a smartphone screen

Overlay text with your image—but don't hide your image!

Make sure your branding strategy is on point so that your Pins are recognizable as being part of your company's story

Check every link works before you publish your Pins

As mentioned above, regular pinning is the key to creating a loyal audience. Try to pin every day if you can.
Should I "Repin" Other People's Content?
This depends on the content and who produced it. Remember Mejuri? This company created a 10 million strong following by repinning UGC. The repins make the users happy, as they've just had their content shared by a famous company. This encourages other users to get involved and share their jewelry and the effect snowballs.
However, if a scented candle company were to share beautiful, stunning, seasonal imagery from a rival, then while they might get more views, every picture would be linking directly to the competitor's site. Not a great marketing move.
There are instances where sharing the content of another business could be a good move:
If the business is a partner or linked to your company in some way.

If you recommend the products of the company, e.g. a cake decorating company may recommend a particular grocery store to buy baking ingredients at.

If the business has a "hero" factor, e.g. your company is sharing a good news story or showing how you admire a particular organization.
Don't share Pins that link to rival products and services—there's rarely ever a business benefit to doing this.
How To Use Rich Pins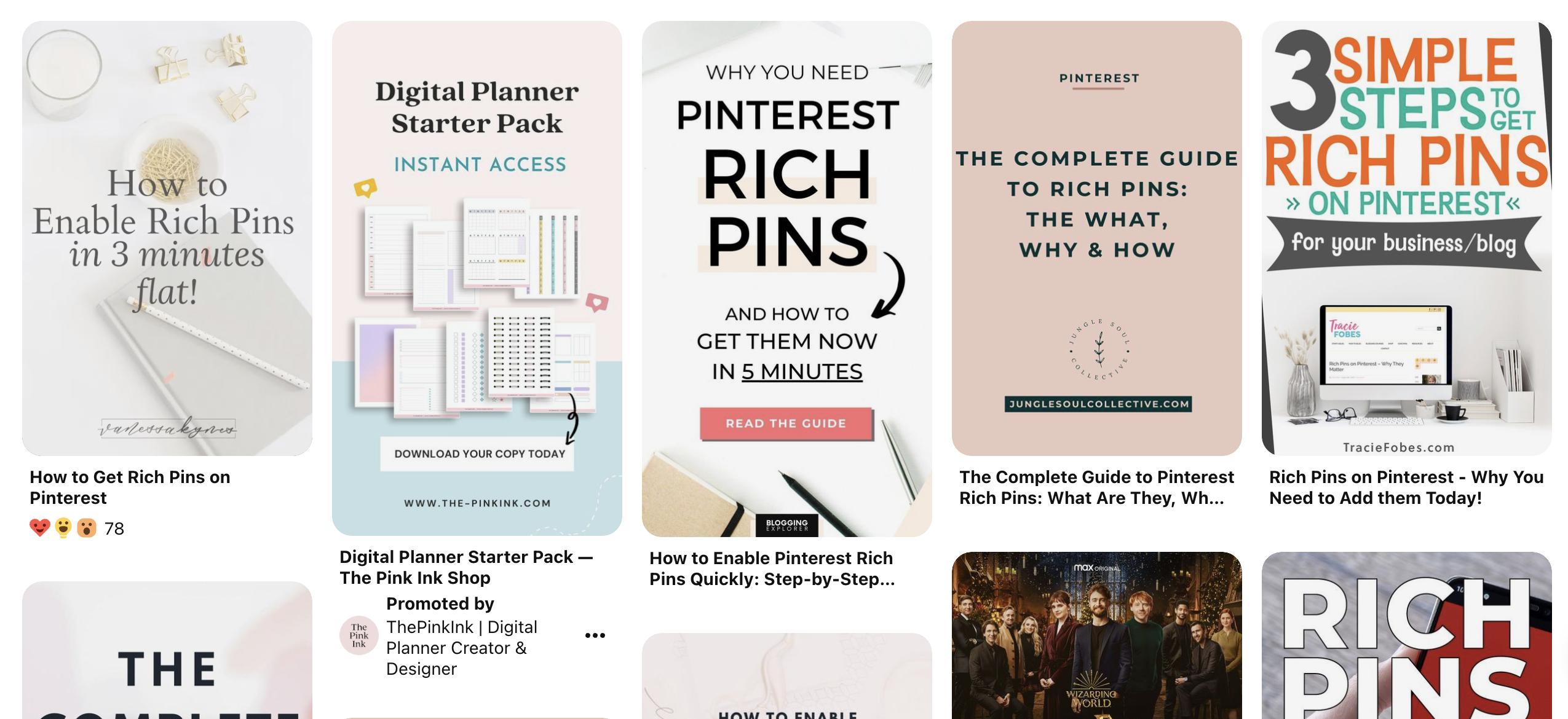 Rich Pins are a relatively new feature ideal for business users. Rich Pins link the content on the Pin directly to your website. Your Pin may show the price of a product or other pertinent information. Any Pin can do this, but rich Pins will automatically update this information as and when it changes on your website. This means businesses don't have to trawl through their boards and Pins to make micro-adjustments, avoiding complaints of inaccuracies from frustrated customers.
Rich Pins can be product-rich Pins, article-rich Pins or recipe-rich Pins. Businesses do not have to pay extra for these intuitive Pins.
How to Use Idea Pins and Video Content on Pinterest
Video content is king right now, and short, easily digestible videos are popular on just about every platform available. Idea Pins embrace this by combining video with images, text and even lists in a single pin. It's an expansion on the social media story, allowing users to digitally scrapbook differing thoughts about a single idea together. It's like a brainstorm of mixed media. Idea Pins are highly customizable and give businesses yet another way to get their story across to their target audience. Video Pins will appear under the "Watch" tab, allowing users to browse all the available videos. Posting idea Pins regularly gives businesses the best chance of appearing under the "Watch" tab.
Remember, you can always order your expertly-crafted SEO-friendly social media content directly from Scripted, giving you one less aspect of your Pinterest marketing strategy to worry about. Our carefully vetted team of writers can create compelling video scripts and written content for Pinterest posts, to grab your audience and make sure that they keep following you month after month. Register for your free 30 day trial with Scripted to find out more or order your winning social media posts today.