Hemingway App + Scripted
The Hemingway App and Scripted will help drive your content marketing goals — here's how to get started.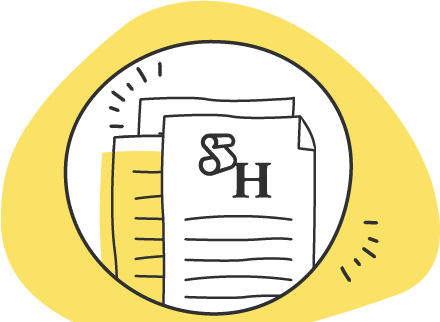 Integrating Scripted with Hemingway App
There's no doubt that quantity and consistency matter when it comes to generating web traffic and a higher SEO score. However, many companies underestimate the power of high-quality content — the type of content that is bold, valuable, and above all, original.
In today's digital world, your content needs to stand out.
The issue is, consumers and online users view an immense amount of content each day. On average, Americans are exposed to approximately 4,000 to 10,000 ads a day.
So, where does this leave you?
Is your goal to become a leader in your industry? If so, you need a solid content marketing strategy — one that begins with quality content.
To ensure high-caliber content, you need to be mindful of not only your writers but also the tools and resources they have access to. Hemingway App is one tool that should not go unnoticed, here's why.

" Hemingway App makes your writing bold and clear. " — The Hemingway App
What Is the Hemingway App?
Whether your goal is to optimize your content, improve your Google rank, or create a great user experience, your website and social content need to be clear, concise, and impactful. While this begins with an expert writer and a fool-proof content strategy, there are tools that can easily take your content to new heights.
The Hemingway App is a writing and editing tool that will help you produce clearer, more polished content. Focusing on common errors that reduce the quality of your work, this app highlights complicated sentences, excessive passive use, weak adverbs, and overall readability.
For example, your readability score suggests a grade level. This grade level represents how difficult it is to read your content. To determine what score you should shoot for, you'll need to first define your target audience. What type of publications is your audience typically reading? This will help you better understand what your readability grade should be.
As reported by the Hemingway App, studies show that the average American reads at a tenth-grade level. This is typically a good goal. However, it's important to remember that a 15th grade level isn't necessarily better than an 8th-grade level. In fact, Ernest Hemingway's work scores as low as 5th-grade.
Bottom line: The Hemingway App focuses on the clarity and readability of content. From weak phrases to lengthy sentences, this user-friendly app is intended to improve your writing. Offering a free and paid version, it's a great tool regardless of your budget.
Here's Why You Should Consider the Hemingway App
As discussed, the Hemingway App will help you easily transform your writing. Offering suggestions that will make your content clearer, bolder, and more readable, adding this app to your toolbox is a no-brainer. To better understand the benefits of this app, let's review some of this app's pros and cons.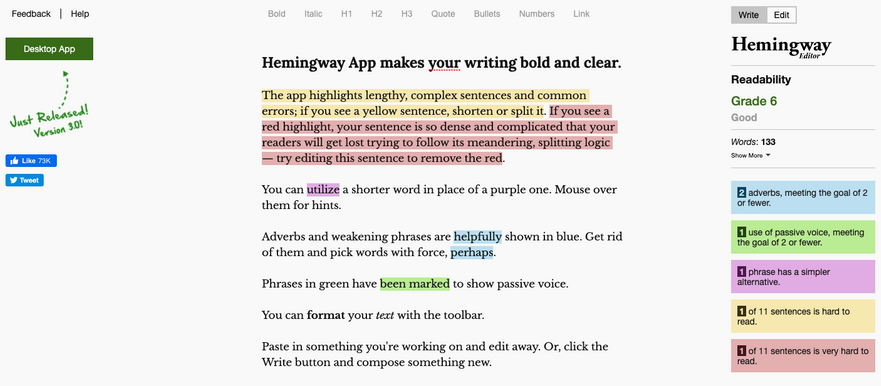 Pros & Cons
PROS
Free to test out and if you'd like to access the full version, it's inexpensive to do so


Highlights common grammatical and stylistic errors


Quick and efficient ways to understand your content's grade level and overall readability

Offers an estimated read time, which is something to consider in regard to your target audience


Highlights are color-coded, helping you see what needs to be altered at a glance (for example, yellow sentences highlight a lengthy sentence while blue-highlighted words represent weak adverbs that should be omitted)


Online and desktop versions exist (for online use, no login is required)

CONS
If you're using the free version, there is no way to export or save your work (if changes are minor, the highlighted content can guide your editing process, allowing you to make direct changes to your work)

It is limited in terms of grammar choices

The majority of highlights are not addressed in terms of suggestions (that is why a good writer is still necessary)


Please note: Before investing in any editing software, it's important to consider the type of writing you're working on. The editing needs of scripts, blog posts, novels, and magazines often differ. Your needs may also differ depending on your industry, niche, and proposed education level. For example, technical or academic writing will differ in comparison to a more casual approach. In some cases, this app will not be ideal based on a writer's personal style.

Is the Hemingway App Right For You?
As mentioned, there is a free version of this app. You have nothing to lose if you're interested in trying it out. If you'd like to purchase the desktop version, which is available for both Windows and Mac, there is a one-time fee of $19.99. Not only is this ideal if you'd like to access the app offline, but this version also allows you to save and export content. There is also an option for direct publishing for Medium and WordPress.
Hemingway is particularly useful for bloggers, as there are numerous formatting options. This will help you tidy up your writing style so that the content is ready for publication.
If you want to learn more, please refer to our comprehensive Hemingway App review.
Scripted's Writers Use the Hemingway App
If you want to establish yourself as someone of authority in your industry, you need to consider the quality of the content you publish. Whether you are publishing blog posts, social media posts, or sending out your latest newsletter, your content needs to be void of errors and be easy to read.
To start off on the right foot, you need to be mindful of who is writing your content.
Hiring out your content needs will save you an immense amount of time and help you achieve your goals. However, in order for you to see a return on your investment, you need to hire the right writers. There's a reason why not all content is created equal — quality content begins with the individual or team that writes the content itself.
At Scripted, we are proud to offer top-vetted writers across a wide range of industries and niches. Our all-in-one platform allows you to hire your writer(s), maintain open communication, and provide feedback all in one place. This is just one way we can make your content needs a more seamless process.
Although our writers are some of the best online, as we only accept the top 2 percent of applicants, we still encourage our talent pool to leverage editing tools. One of those tools is the Hemingway App. This helps ensure greater consistency in terms of the content our writers produce.
How to Get Started with Scripted
If you're in need of original, high-quality content, Scripted offers access to thousands of expert writers. If you have made the decision to outsource your content needs, you understand the value of your time in terms of operating your business and/or brand. That is why we have simplified the hiring process, protecting your most precious resource.
Once you become a Scripted member, you will gain instant access to our entire talent pool. You can then start browsing writers based on their expertise, viewing their profiles and writing samples, or you can simply post your job so that writers can pitch to you. You also have the option of inviting specific writers, encouraging them to send a proposal for your job(s).
After you decide on a writer you'd like to hire based on their experience, proposed concept, and rate, you can then hire them directly on the platform so that they can get started, writing and submitting the content within the platform. We are proud to offer rapid quick turnarounds, which allow you to obtain your content as soon as possible. If you would like changes made to the first draft, you can submit feedback directly on the platform. It's incredibly easy, providing a seamless, efficient experience.
Clients often find writers they enjoy working with and rehire them time and time again. Although you have the option to hire any writer you wish, developing these long-term relationships is often beneficial in terms of your brand's voice. After all, this type of partnership will often result in greater consistency. Once you develop such partnerships, you can create "invite-only" jobs, selecting the writer(s) of your choice to pitch.
Start Your Free Trial Today
Regardless of your content needs, Scripted is a complementary tool to the Hemingway App. You can leverage this app for all of the content you plan to publish, free-of-charge.
However, by obtaining quality content from the start, you will not likely need to download or invest in any editing tools. As discussed, our writers are held to a high standard and are encouraged to use the Hemingway App themselves. That way, by the time the completed content reaches you for review, it's already clean, concise, and ready to publish.
If you're ready to get started and see the difference that Scripted makes, start browsing our pool of writers to find the right fit. We encourage you to start your free 30-day trial today!