Hemingway App Review: Features, Pricing, and Alternatives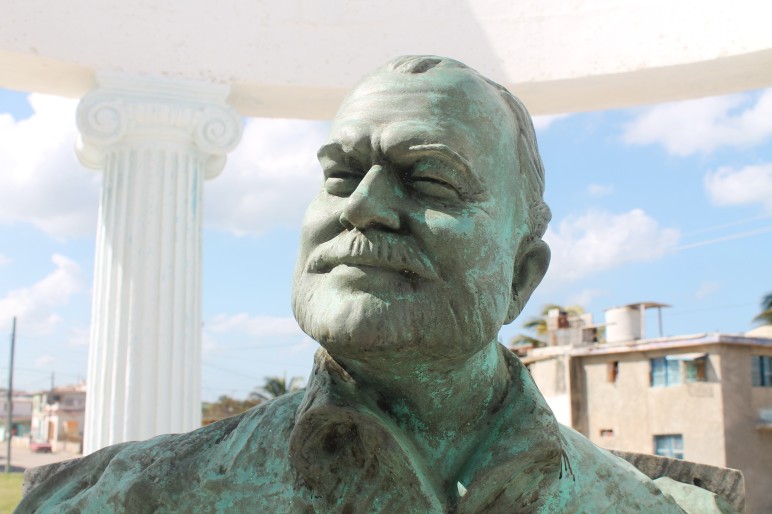 Lengthy, complicated sentences and words often get in the way of great writing. It's easy to fall into this trap and end up far away from clear, concise writing. Sometimes I need someone to tap me on the shoulder to stop an impending run-on rampage. The Hemingway App acts as that "someone." This editor application, named after renowned writer Earnest Hemingway, paves the way for better writing.
In this review of The Hemingway App I will cover everything you need to know about this product, including:
What to Consider Before You Purchase Editing Software
What Is The Hemingway App? Pros and Cons
Hemingway App Features and Benefits
Hemingway App User Reviews
Hemingway App Pricing
Alternatives to Hemingway App
What to Consider Before Purchasing Editing Software
Editing software can address writing weak spots and help writers improve their abilities. Whether a particular editing software is right for your workflow depends on where you need the most help, the platforms and devices the software supports, and the editing approach it uses.
Some editing and writing assistant software offers a comprehensive overview of a piece. Others may specialize in a certain area. Pay close attention to where you spend the most time in the editing process. I personally use a combination of editing software that complements one another and covers my common errors.
Writing assistance software may be limited to specific platforms. If you primarily write and edit in Microsoft Word, it makes sense to have a solution that integrates into that platform. Do you spend a lot of time writing emails or managing a social media business page? The editor should work with text boxes on the websites you frequent the most.
Some grammar checkers also support mobile platforms. Writing on a tablet or smartphone becomes a lot easier when you don't have to rely on auto-correct alone in the process.
You should also consider the type of writing you're working on. The editing needs of novels, scripts, magazine articles, and blog posts can be quite different. Some applications allow you to choose the editing style that best fits the writing. For example, you could switch between technical, casual, and academic writing. If you use too much slang in technical writing, the software flags that for reworking.
It's important to take the grammar and writing suggestions from editing software with a grain of salt. English is a remarkably complex language, and it's difficult to cover every possible usage in software. Some writers also prefer to bend and shape grammar rules for stylistic purposes. It may not be grammatically correct in the eyes of the program, but it can still be a valid way of expressing your point.
What Is The Hemingway App?
The Hemingway app focuses on improving the clarity and conciseness of writing. It highlights the text in different colors, based on the problems it picks up. This color coding gives you an at-a-glance look at the areas to fix. When you mouse over some highlighted words, the app gives you suggestions on what to change. Hemingway picks up on complex words, weak phrases, excessive adjectives and adverbs, lengthy sentences, and passive voice. Online and desktop versions of this application are available. People who may find the most use out of this application include professional writers, novelists, content marketers, script writers, magazine writers, college students, and editors.
Hemingway App Pros:
Easy to use interface
Online and desktop editions
Helpful color coding and suggestions
Handles lengthy documents with ease
No installation or login needed for online version
Hemingway App Cons:
Extremely limited in scope
No save functionality in online version
Can be hard on adverb use and advanced vocabulary
May not work with a writer's personal style
Does not provide spelling or in-depth grammar checks
No plugin for checking text in browser
Hemingway App Features and Benefits
Color Coded Improvements
The highlighting is a user-friendly way of guiding writers to each problematic phrase or sentence. Yellow sentences are long or have complex structures. You can fix these by splitting compound and run-on sentences, or by changing the structure.
Red sentences have unclear or confusing meanings. The readers may not understand what you're trying to convey. It may take a few tries to fix these sentences before the red highlight goes away. Green phrases and sentences show up for passive voice. The Hemingway app operates under the assumption that active voice is the preferred choice for clear writing.
Purple highlights show up for single words. These words tend to have alternatives that improve clarity. Hemingway helpfully makes suggestions on replacements when you hover over them. Blue is also used for single words. Adverbs and relatively weak words get this highlight. The application feels that writers should eliminate them entirely.
Once you create the ideal text based on Hemingway's rule set, you will have a document with no highlighted areas. Keep in mind that this app provides one interpretation of perfect writing, but that doesn't mean that documents with highlights are bad.
You may find yourself ignoring some of the colors, such as the purple and blue word suggestions. I've found the red and green highlights the most helpful. While the yellow provides useful information, it often attempts to eliminate a majority of compound sentences in my writing.
Readability Score
The Readability Score of a piece is another way to gauge its clarity. Hemingway presents this score as a grade level. Lower ratings indicate a piece that's simple to read. In many cases, online content is written between a 5th and 8th grade level. The ideal number may change based on your audience, the writing format, and the information you're covering. For example, a technical white paper with a chief executive officer audience may require a 12th grade or higher level.
If your writing's readability score is consistently too high, pay close attention to the suggestions the Hemingway app makes. It offers a great learning environment for understanding how people read and digest information. You may find your style changing to become more accessible to people of all reading abilities.
Word Count
I often write pieces that have strict word count requirements, so having a word count tracker alongside the editing window is convenient. I can break down this number into the reading time for the piece, along with how many characters, paragraphs, letters, and sentences it has. I use the character count and reading time often. If my writing is too complex, it ends up taking a lot longer for the reader to go through the content. The Internet has a lot of distractions, so it's essential that the text is inviting and engaging to the audience.
Distraction-free Writing Mode
The Hemingway app also functions as a basic word processing platform. The Write mode is distraction-free and removes the highlighting from your text. All you need to do is click Edit and the software checks over your writing. It supports basic formatting, so it works well if you have something quick to write and edit. However, the free online version does not have save or export functionality. You can save and export documents with the paid desktop edition.
If you find yourself frequently distracted or frustrated by cluttered word processing screens, this writing mode can help you focus on what you're doing.
Online and Desktop Editions
The online version of the Hemingway app doesn't even require a login, let alone an installation. If you want this editing experience with some extra features, the desktop version is available on Windows and Mac for $19.99 at the time of publication. It's currently on version 3.0 and adds several powerful features to Hemingway:
One-click publishing: You can post the edited text to a connected Medium or WordPress account with a single click. This feature reduces redundant steps in this process and allows you to quickly get your words to your audience.
Saving: Don't lose any of the text that you run through Hemingway.
Exporting: Choose your preferred format for your documents. This app supports PDF, Microsoft Word, HTML, Markdown, and Text formats. If you work with multiple clients or use many types of software throughout the day, the export function makes it easier for you.
Send Hemingway Highlights
Sometimes I find myself editing someone else's work. If I want to show them Hemingway suggestions before I make the changes, I can send these highlights to the writer. This feature promotes a collaborative writing and editing experience. The color coding also conveys this information faster than explaining the issue on a sentence-by-sentence basis.
Hemingway App User Reviews
I searched for user reviews before I first started using Hemingway. I wanted to know whether it was worth adding to my workflow since I already had several writing assistant and editing solutions I relied on. Hemingway app user reviews are generally favorable, with many people pleased at how easy it is to pick up and use for immediate improvements. Here are some reviews I found helpful:
"The Hemingway editor is a straightforward editing app. All you have to do is paste and you will have the analysis of your piece ready to go immediately. As soon as you copy and paste, you will be presented with the highlighted version of the content." – Steph Frasier, Squibler.io

"As an educational tool, the Hemingway app review shows its merits. It teaches writers how to construct sentences that are easy to read without being too wordy. Once a writer has put their work through the editor, they understand their weaknesses. Not only does this help them edit that particular piece, but it trains new habits for improvement." – MSI Sakib, Techmasi.com

"Overall, I think Hemingway is a great, affordable option for writers. It will tighten up the style of almost any writer out there. The free version is a great way to see if Hemingway is right for you, and the full version is excellent value at only $19.99 for lifetime access." – Dave Chesson, Kindlepreneur.com
Hemingway App Pricing
The best part of the Hemingway Editor is that it is a completely free tool. You literally have nothing to lose trying it out. And according to the creators, they intend to keep it a free tool.
However, the desktop version of the Hemingway App currently (2019) costs a one time fee of $19.99. Same price for both the Windows and Mac versions. This version comes with the following benefits not available on the free version:
Free upgrades when they become available
Ability to save and export 
Direct publishing for WordPress or Medium
If those features are important to you, the one time fee is pretty reasonable, otherwise stick with the free version.
Alternatives to Hemingway App
Hemingway app may not fit your writing and editing needs since it's so focused on its selected area. Here are three other applications in this software category that take a broader approach to editing.
Grammarly
Grammarly is a comprehensive cloud-based grammar checker with wide support across multiple platforms. It corrects spelling, grammar usage, and points out passive voice and complex sentences. It also has a plagiarism checker. If you want more assistance with the technical side of writing, rather than the stylistic, then Grammarly may work out better for your needs. It's available in desktop, web, and mobile forms, with a monthly fee starting at $11.66 per month (with an annual plan). I've found Grammarly to be widely compatible with the software and online platforms that I use.
ProWritingAid
ProWritingAid is another comprehensive editing software. 25 reports are available, which cover everything from repetitiveness to sentence length variation. It covers some of the same checks as the Hemingway app, such as complex sentence structures and passive voice. ProWritingAid is significantly less expensive than Grammarly and also offers a lifetime edition. I personally use Grammarly and ProWritingAid together, as errors missed in one software often get picked up by the other. It might not replace an actual editor, but it helps me create cleaner copy to start with. Pricing starts at $70 per year, as of the publication date, with discounts for the two and three-year plans.
WhiteSmoke
WhiteSmoke has a heavy focus on the educational and business writing market. This solution is capable of checking text in any text box, and also supports extensive integration with popular word processors. It checks for many common and advanced grammar and spelling errors. It also looks for stylistic concerns. One unique feature that it offers is a word-for-word translation option, which can prove useful for people writing for an international audience. WhiteSmoke starts at $4.16 per month as of the time of publication. The desktop version is only available for Windows.
The Hemingway App is an editing solution that's easy to learn and has the potential to improve your writing ability. It gives you an easy way to check the readability of your writing, explore alternatives words and phrases, and change the length and structure of your sentences. This writing assistant application works best if you find yourself running into clarity or conciseness issues. If you need more extensive grammar checks, then another application may be more suitable.
About Scripted Cruise Control
Scripted Cruise Control can take care of your content creation, editing, strategy, and more for your business or agency. Schedule a Demo today to learn more about our full-service content marketing offerings.