How to Hire Quality Freelance Blog Writers

Nearly 6 in 10 businesses utilize the power of outsourcing to reduce their overhead expenses, and with a growing number of business placing emphasis on their content marketing and SEO strategies, it was only a matter of time before freelance blog writers became the go-to for these projects.
Given the sheer cost of hiring a writer on as an employee, and the inefficiencies associated with it, working with freelance writers has rapidly become the ideal solution for brands big and small when they need content. In this guide, we'll delve into the benefits and a streamlined hiring process to help you get started.
Why Hire a Freelance Writer?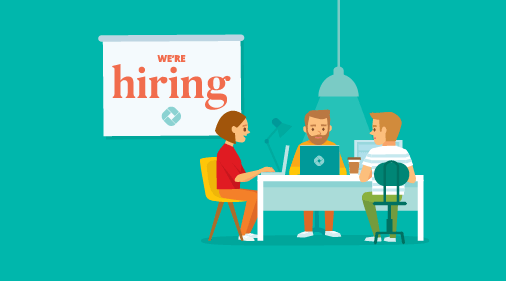 If you're looking to justify hiring a freelance writer, cost will probably be the first factor you consider. When it comes to getting content created for your business, you have three options: (1) Hire someone new, (2) Put the burden on the shoulders of a current employee (or your own), or (3) Outsource it!
When you compare these options side-by-side outsourcing is the clear winner. Hiring a writer in-house could cost you upwards of $81k in the first year once you consider the cost of hiring, the average annual salary, and the cost of providing benefits. Meanwhile, you're really only utilizing that writer's skills a small portion of the time, meaning you're essentially paying them for nothing.
The second option may seem like the most cost-effective as handling the writing on your own or outsourcing it to someone who already works for you won't add any expense, right? Considering the average person's typing speed is just 40 words per minute (WPM) while a professional writer averages 75 or more, the "DIY" approach will most certainly cost you when you consider lost productivity.
What's more, a professional writer brings more to the table than just their typing speed. Niche writers offer special insight into your industry while even a generalist is able to work smarter, faster, and produce higher quality content thanks to their tested research process, breadth of writing knowledge, refined style, and the tools they've surely invested in.
The Benefits of Hiring a Freelance Writer
Now that we've compared your options and come to the conclusion that a freelance writer is, indeed, the best option for your business, let's take a quick look at the specific benefits you can expect when you hire one.
Cost Efficiency:

 

You only pay a freelance writer when you need them and most charge on a per-word basis, with their rate fluctuating depending upon experience, availability, and the amount of research they anticipate your project will require.
No Commitment:

 

You aren't signing any contracts when you hire a freelancer. Once they complete the work at hand, it's up to you to decide if you ever want to work with them again and how often. You can scale back your volume or pick a new writer at any time.
Trusted and Reliable:

 

Professional writers aren't just taking your content on as a side project. This is what they do day in and day out, and they know how to do it right. That means you can trust them to deliver on-time and be there for you if you need them in the future.
Specialized Knowledge:

 

Working in a niche where background knowledge is beneficial? Finding a specialized writer will mean even higher quality content, reduced research time, and streamlined communication regarding your project's requirements.
Ready to outsource? Let's get into the step-by-step.
The Step-by-Step
This streamlined hiring process will help you avoid common pitfalls while helping you get to the selection process as quick as possible by narrowing down your options to the most qualified writers right off the bat.
#1 Start On The Right Platform
When many businesses start looking for freelancers, they end up on sites like UpWork or Fiverr where they can hire freely. Unfortunately, that can lead to a poor experience. The fact is, the best writers tend to gravitate towards content production platforms where writing is the sole focus. That's because, not only do these platforms pay them more fairly, they also give them direct access to clients with processes that minimize wasted time and wasted pitching.
As a business, your best bet is to try one of these platforms out. Scripted is an excellent example of a "closed" platform where only the best writers get in, thereby ensuring that only the best writers are able to work on your projects. Here at Scripted, only about 2% of applicants are accepted, automatically narrowing down your options to some of the best in the business.
#2 Create Your Brand's Boilerplate
Once you have chosen a platform to hire on, you need to make sure writers understand your brand and the bigger picture before you even think about explaining your specific project. Fortunately, this is really a step you only need to do once. Writing your brand's "boilerplate" will consist of explaining who your are as a company, what you offer (i.e., your products/services), who your audience is, and what you're hoping your content will accomplish.
Ideally, you'll also link to some examples of content you really like in terms of style and content. You might also link to some content you don't like so that writers have a better understanding of the direction you're aiming for. Meanwhile, if your brand has any specific lingo you want to include, you should mention that as well.
#3 Describe Your Project in Detail
After creating your brand's boilerplate, you can plan on including it in every project brief you create from here on out. That boilerplate is going to be a consistent reference across projects to ensure writers are hitting the mark when it comes to writing style and how you want them to "speak" to the audience. With that done, your next task is to create the brief for your specific project.
Your project's brief should include each and every detail you're envisioning, which could make for a short and succinct paragraph or a full-page brief with a title idea, outline, keywords, and so on. If you don't have a lot of details in mind, remember that you can always ask potential writers to come up with outlines, keywords, or even article topics for you.
#4 Research and Compare Writers
With your brief in front of them, writers will begin submitting proposals in no time. These proposals should tell you what they plan on writing, a rough outline they intend to follow, and a brief summary of the direction they're going to take for the article. If you've already specified these things in the brief, they'll likely just reiterate the details so that you know they read and understand your requirements.
Of course, the selection process will go beyond simply comparing proposals to one another. Here on Scripted, we have a handful of helpful hiring features to help you select the best writer for each project, like our rating and tier system. Every writer has an average rating out of 5 stars based on the experiences of other Scripted clients. Writers are also assigned a tier (bronze, gold, or platinum), which will change overtime based on their performance.
#5 Budget for Expertise
As you compare writers, keep in mind that the most talented and experienced writers (i.e., those with the best ratings and highest tier) tend to charge more for their work because they're in higher demand and have proven their abilities to deliver quality work. However, that doesn't mean a bronze-level writer or a writer with fewer reviews won't also be able to perform on your project.
Ultimately, your budget will likely be a major influencer when it comes to your final selection, but don't narrow down writers based solely on price or solely on experience. Use the rating and tier systems alongside the understanding and interest each writer has demonstrated in their proposals to help you make the most informed decision. 
#6 Communicate & Share Feedback
Accepting a writer's proposal is an exciting thing, but your work isn't over just yet. The final step in the hiring process should be ongoing, and that's communication. By communicating with your writer throughout and beyond the writing process, you'll make sure they have a clear understanding of what you want, helping to avoid delays and misunderstandings. Meanwhile, it will help you build a lasting professional relationship with them.
Moreover, when the writer does submit the first draft to you, be sure to utilize the revision(s) available to you. Here on Scripted, we make requesting changes or giving feedback to your writer simple with our built-in commenting feature. When used properly, a revision can help perfect a project and clarify details to improve a writer's future performance, so don't pass up the opportunity to collaborate on the final tweaks.
Hire Your Blog Writer on Scripted

Hiring a freelance blog writer may seem like a daunting and potentially time-consuming process, but we strive to make it as streamlined and simple as possible here at Scripted. With our selection of experienced, professional freelance writers who have proven their abilities through years of successful projects, picking your next blog writer couldn't be easier.
Click here to learn more about the blog writers we have available for hire and explore our easy blog post purchasing process.