12 Indispensable Social Media Marketing Strategies for a Successful Education Website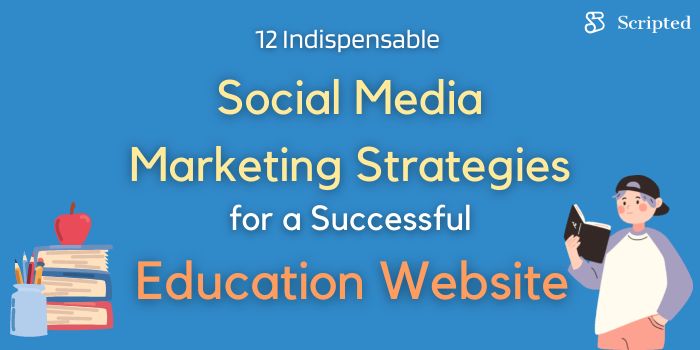 These days, everyone is practically online most of the time. Social media is one of the most common platforms where you can find your target audience without breaking a sweat. So, if you want to establish your brand, create an online community and engage with your audience, social media marketing is one of the most essential tools you can use for your education website.
When executed right, an effective social media marketing strategy will not only help you recruit more students but can also be used as a quick way for you to share announcements and events while building a community for your stakeholders. Not only that, but you can easily increase your Search Engine Optimization (SEO) ranking and website traffic with the right techniques and strategies.
Here at Scripted, we've come up with a list of social media marketing strategies that can help you reach your audience and increase traffic to your website.
Set clear social media marketing goals
Before anything else, you have to define clearly what your social media marketing goals are. Is it to introduce your university's new website? Is it to establish your institution's brand and identity? Or is it mainly to utilize social media as a source of announcement and campus news?
Go back to your institution's vision and mission. You might have to start defining broader goals before creating more actionable steps for each of these goals.
Let's say, for example, one of your goals is to "increase traffic to your institution's website and level up your SEO ranking," then one of your action steps should be: consistently posting quality social media content (e.g., teaser posts), which directly links to your website (e.g., complete feature stories).
Choose and focus on the right social media platform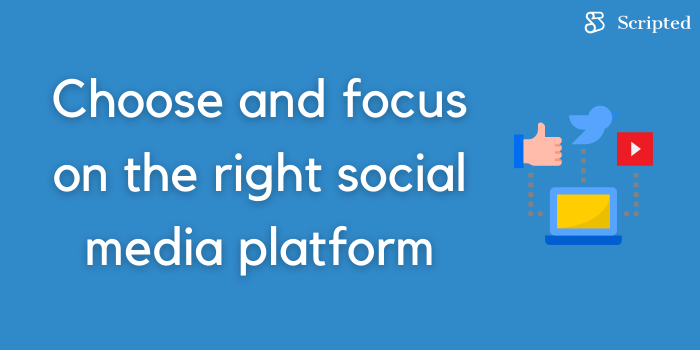 Ask yourself these questions: Who is your primary target audience? To which age group does the majority of your audience belong? A different generation of students will have varying preferences in terms of their chosen social media platforms.
If you are trying to reach Millennial students, then you'll have to focus on the top social media platforms that Millennials regularly use: Facebook and Instagram. Whereas if you are trying to reach students who are Gen Zs, then you'll have to focus on the top social media platforms they mainly use: Instagram, Youtube, Snapchat, Facebook and Twitter.
Identify who your target audience is first, then figure out which social media platform they mainly use. Also, take advantage of how each social media platform can help you achieve your marketing goals by learning the pros and cons of each platform.  
Post consistent quality content on social media
Now that you know which platforms you should focus on, you'll then have to set how regularly you will post on each of those platforms.
It's crucial that you post consistently, as it is one of the most effective ways for you to grow your online presence. The best way for you to do this is to create a social media plan or a content calendar and to implement it strictly. For example, you can try posting at least three to five photos on Facebook or Instagram every week, two or three video clips on TikTok per week, and one long video on YouTube every two weeks.
The important thing is to create these posts that are consistent with your brand and identity.
Create posts that increase brand awareness
When we say brand awareness, it primarily refers to how familiar your target audience is with your institution's identity. For the most part, your content should focus on increasing brand awareness.
Creating brand awareness is crucial for your institution because this will set you apart and make your university more marketable to your audience. With so many programs from different universities across the globe, your main goal is to convey to your potential students why they should pick your institution among all the others.
There are a lot of ways for you to communicate effectively using your social media platforms. It all boils down to what your core values are as an institution. Your social media posts should revolve around those defining characteristics and accomplishments.
Engage with and respond to your social media audience
Effective social media marketing doesn't end in posting regularly. The algorithm generally favors posts that have higher engagements compared to social media accounts that only have regular posts but practically zero engagements.
Engagement is vital for your content marketing strategy as it helps increase traffic to your posts, social media account and eventually your institution's website.  
This means you also have to respond to private messages, comments, and mentions. When you don't respond to these things, you'll eventually lose in the algorithm game. By responding and engaging with your audience, you are also growing your social media presence, which in return will help you build an online community for your institution.
Introduce key members in your institution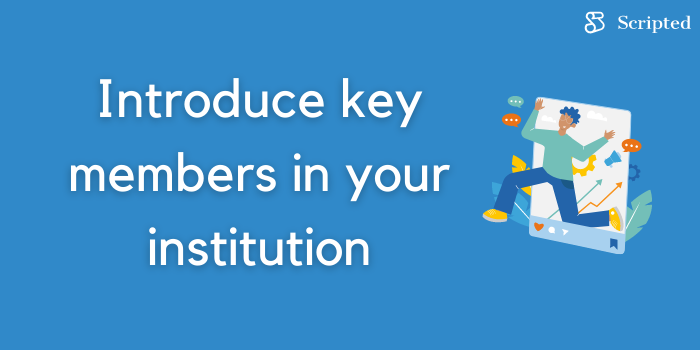 Another way you can level up your content marketing strategy is by introducing key members in your community. This could work pretty well, especially if you have a smaller population, in showcasing how you foster collaboration and camaraderie among the students, alumni, teachers and other stakeholders.
You can greet administrators and congratulate students on their achievements. Or, if you have new faculty members and newly elected student leaders, you can also introduce them to your audience. Also, it helps convey the message that there's someone they can relate to or contact if they have concerns.
Feature your community members' stories
Showcase your community's achievements by sharing testimonials and stories from your students, alumni and even your teachers.
Not only will this strengthen your institution's unity within your community, but it can also help show how personalized each experience is to your prospective enrollees.
Try tapping into your students' talents by letting them tell their stories creatively every time there's a celebration scheduled for each month (e.g., Women's month, World Literacy Day, or Earth Awareness Month). You can also give your community the chance to celebrate different cultures during specific heritage months. The more people are involved in your community, the more authentic the experiences are, and this authenticity speaks volumes to your target audience, more so than just regular well-crafted social media posts.
Conduct social media takeovers
User-generated contents are one of the most effective ways for you to enhance your content marketing strategy. Another excellent way for you to tap into your community's creativity is by doing social media takeovers. It's a way for you to tell stories and create events using authentic first-person perspectives of your community members.
Everyone can start sharing their personal experiences on your social media platforms in these events. You can begin by involving the different student clubs, by asking the student leaders and athletes to lead or by conducting online campus events, and so much more.
Not sure where to start or what a social media takeover is? Here are practical steps you can follow on how to how to run a smart social media takeover.
Go live on social media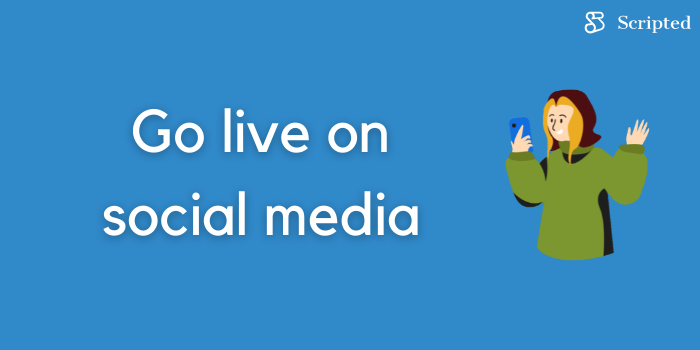 College fairs and campus visits used to be the most common way of recruiting students. This time, however, you now can go live on social media and discuss your programs with your audience. It could be a great way to reach out to your potential recruits.
By going live, you are giving your prospective enrollees and even their parents another way for them to engage and meet with your institution's admission team without the hassle of driving far from the comfort of their homes.
It's also a great way to keep your existing audience engaged and kept up to date with current events in the institution. Here are some activities you can do when you go live:
Online campus tours

Virtual fundraising activities

Institutional announcements

Commencement ceremonies

Question and Answer events (e.g., Admission and enrollment process)
Promote your institutional events on social media
One of the most effective ways to keep your students informed of your institution's current events is through social media. Other than pre-event promotion, you can also share live stories and posts while you're conducting your activities. After the event, you can still share the highlights and do a recap through videos, photos, and testimonies.
Try this event marketing guide from Buffer and check out how you can keep your attendees engaged before, during, and after your event.
Efficiently utilize social media tools
When it comes to enhancing your content marketing strategy, the best way for you to increase traffic and level up your SEO ranking is to use readily available tools on the internet efficiently. The tools can help you create quality content and even manage your social media posts.
One way for you to save time when planning and creating your content is by utilizing readily available online resources. You can try using some of these social media calendars, tools and templates to plan your content.
For royalty-free and high-quality stock photos, you can check out Pexels or Unsplash.
To help you with your video creations, you can visit Animoto or Biteable.
If you want to explore photo editing apps that are user friendly, there's Pixelmator Pro or Pixlr.
If you're looking for graphic design software, Canva or Figma can quickly help you out.
To help you with your content strategies, Ahrefs, Google Trends or BuzzSumo are only some of the tools you can explore.
And if you need social media scheduling tools, there's Buffer, Hubspot or Hootsuite, which can help you manage your posts. 
Provide a social media account request or an inquiry form
Social media can quickly help you out to create an online presence. In fact, that is one terrific advantage of having a social media presence. However, there is also a downside to having such a significant presence online.
You can't always prevent people from posting something harmful about your institution using their own social media accounts, and unfortunately, this can have a negative impact on your online reputation.
To limit situations like this, you can try creating an inquiry form on your website where they could raise their concerns and queries. Additionally, there may be instances when other officially affiliated groups would want to create their own accounts with your institution's name. Having a social media account request form on your website can also help in this scenario. By doing this, you can easily track and regulate official social media accounts that have the intention of using the institution's brand for promoting events and activities.
Link your Education website to your Social Media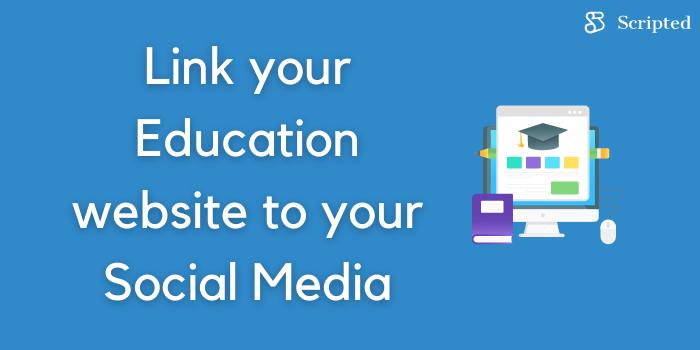 One of the most essential things you should do to increase traffic and SEO ranking is to make sure that you link your Education website to your Social Media accounts. Additionally, it's also just as important to link your institutional website into the majority of your posts regularly.
It's easy to lose track of your main social media marketing goals, especially if you start experiencing high engagements and your reach is consistently increasing in your chosen platform. At the end of the day, the main goal of building a social media presence is to ensure that your target audience regularly visits your website, which should help you increase traffic to your website and help in your site's SEO ranking.
There's a limitless number of online resources that can easily help you enhance your content marketing strategy. You just have to make sure that you find the right strategy that works best for your needs and stick to it.
Still not sure where to start? Hire one of our higher education writers today or check out our writers' profiles and find the perfect social media content writer for your education website! We'll gladly help you create SEO-optimized social media posts and high-quality content that suits your needs.