Social Media Management: The Best Tools, Calendars, and Practices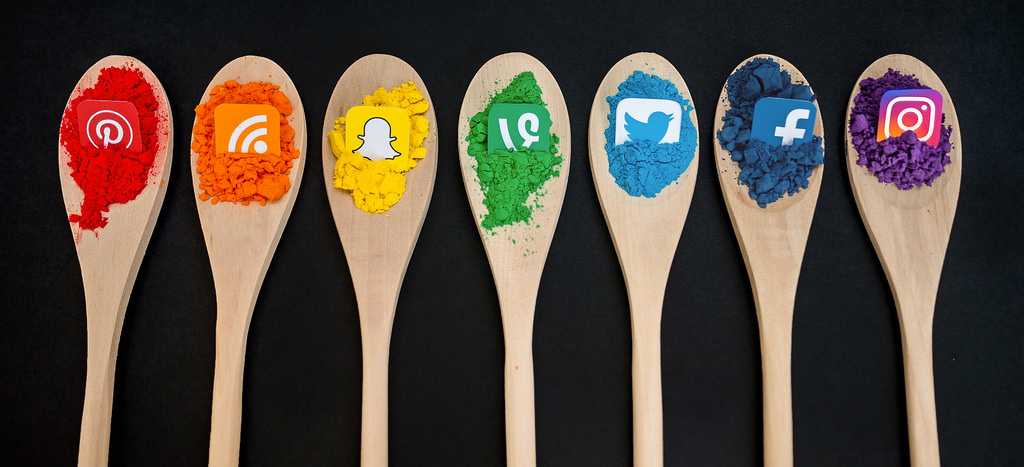 Social media is an everyday part of life for more than three billion people worldwide. These networks are an essential part of your marketing campaigns, but you need proper social media management to get consistent business growth from them. 
Use these tools, calendars, and best practices to make more of your social media marketing opportunities.
Social Media Management Tools
You need a way to prepare, schedule, and post social media content, answer hundreds or thousands of comments, listen for mentions, and handle all the other tasks these channels require. A manual approach is unsustainable in the long run. These tools automate and streamline your workflows so you can effectively engage with your audience.
Buffer

Buffer is an excellent content creation and scheduling tool for small and medium sized businesses. This platform supports many popular social networks and makes it easy to put together posts for your profiles. You receive valuable insights from the built-in analytics tools, which reveal the best times of day to post and the content that gets the most response.
Hootsuite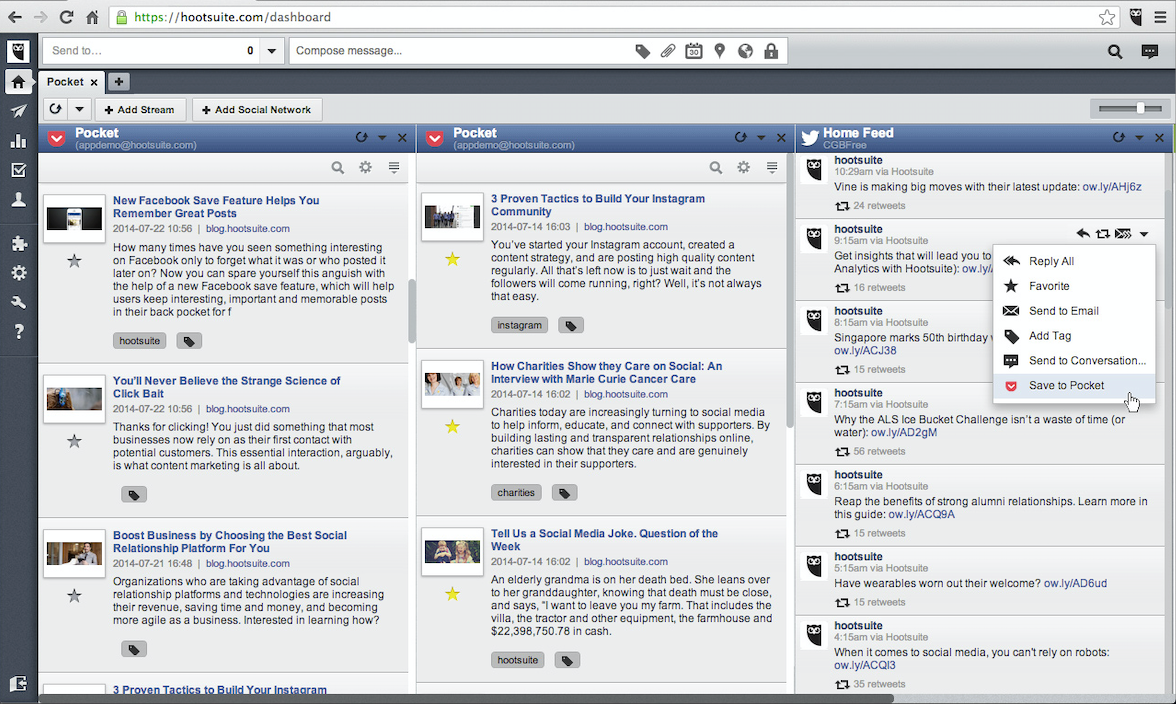 Hootsuite is an all-in-one social media management solution suitable for all business sizes. Its features include curating content, post scheduling, social media monitoring, approval workflows, team assignments, analytics, built-in post boosting, and robust analytics. The platform also offers more than 250 third-party app integrations to expand its capabilities. If you want to have a social media management solution that grows with your organization and marketing campaigns, Hootsuite is a solid choice.
Sendible
Sendible is designed specifically for agencies that manage social media for multiple clients. You don't have to awkwardly switch between logins or move from one platform to another as you work on marketing strategies. The platform offers an all-in-one experience that includes posting, scheduling, and social listening. Individual and bulk content creation forms are available, and a built-in content recommendation engine guides you to the best content types. 
Sendible really shines with its analytics and reporting options. You can easily create visually rich reports that highlight the data that matters the most to clients. The platform offers premade templates and customization options.
Agorapulse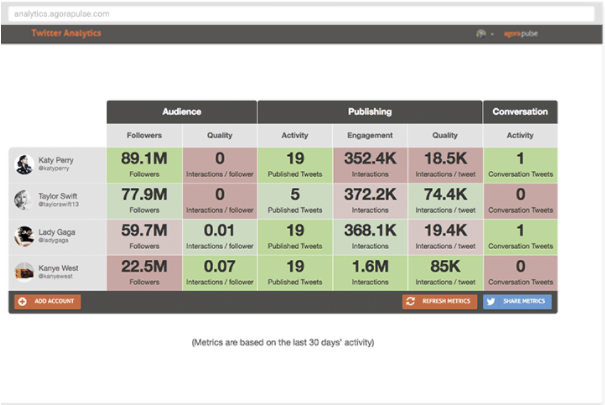 Companies and agencies get a lot of mileage out of Agorapulse when they are heavily invested in their social media strategies. The Social Inbox consolidates everything you can respond to in one place. Everything from your profiles' private messages to ad comments appears here. Robust search and filter tools let you cut through the noise to respond appropriately to your audience.
Real-time collaboration tools allow social media management teams to work together on fast response times for an improved customer experience. This platform even has a built-in customer relationship management solution. You can pull up previous conversations with your followers, add your own notes, and segment them. Automated moderation rules let you spend less time deleting spam and more time responding to the users that matter. Reporting and analytics tools can create reports with a single click and keep you updated on your social media ROI.
Post Planner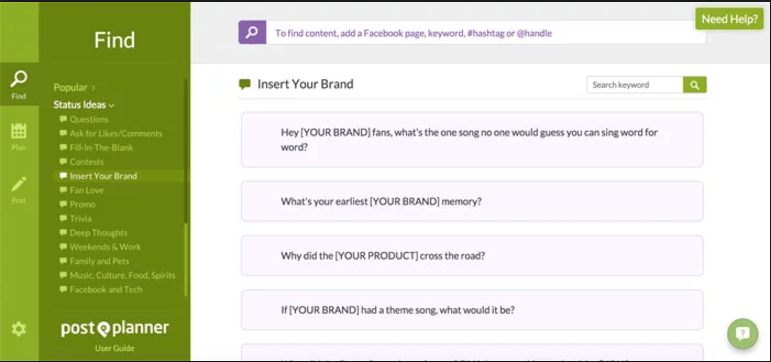 Sometimes an all-in-one platform is a poor choice for businesses that won't get full use out of the advanced features. Post Planner is a simple and streamlined social media management tool that hits on all the basics in an accessible way. You can find content ideas through the recommendation engine, choose the best times to post this content, and use bulk uploading to schedule your updates. A recycling feature automates the reposting of top performing posts. It's also one of the most affordable social media solutions on the market.
Social Media Management Calendars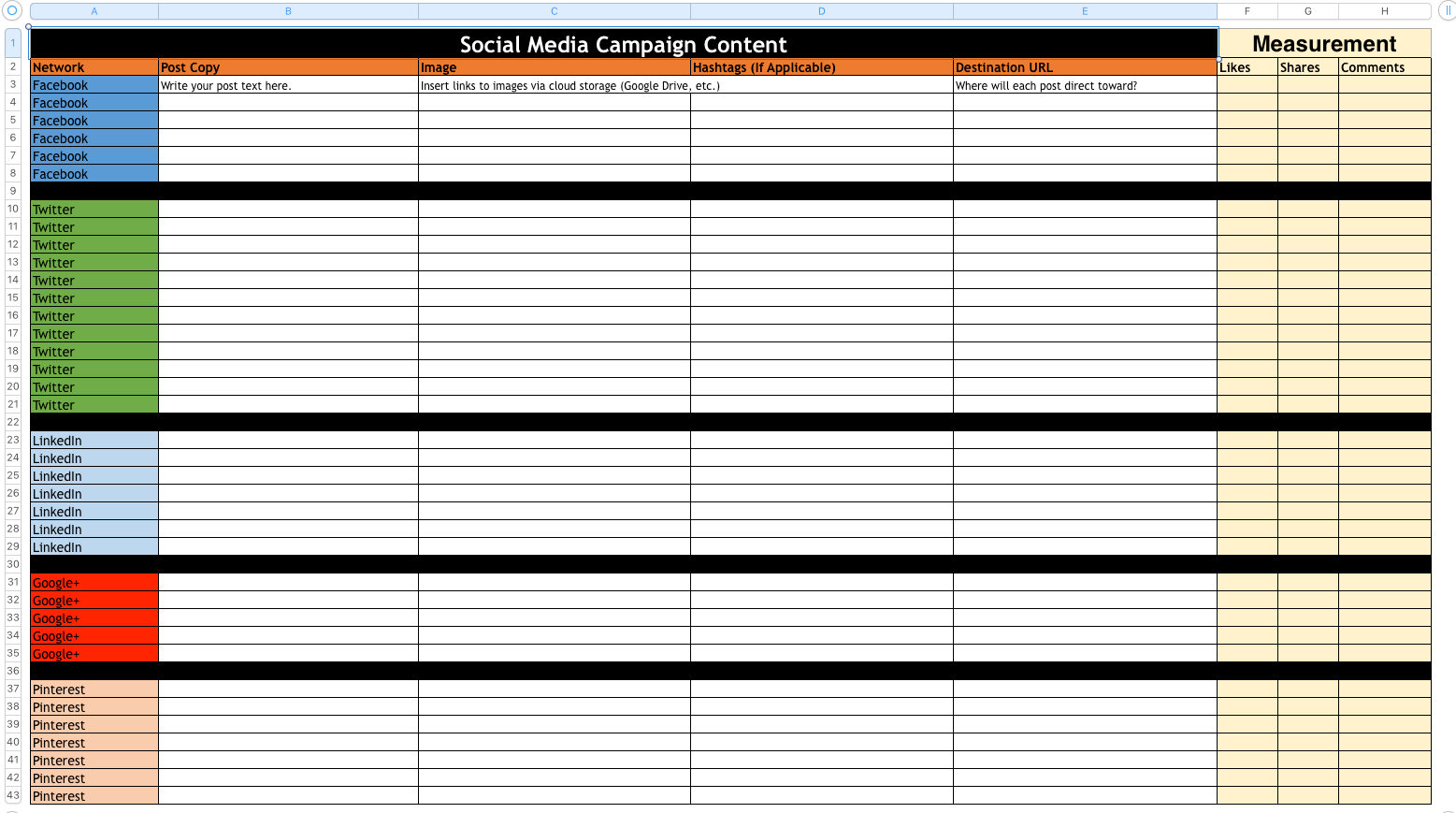 Your social media marketing strategy requires a lot of advance planning. You need to have all the content and creatives in place before it's time to present it to your audience. Are there any important holidays coming up or other significant events? Do you have enough people to cover the assignment load for social media related tasks at any given time? Did an essential set of content get posted on schedule?
A social media management calendar gives you clarity into these areas and more. You get a top-level view of everything that's going on with your social channels and can make adjustments based on short and long-term trends.
What Should Go on Your Social Media Calendar
Important holidays
Events significant to your target audience
Trade shows, conventions, and conferences for that target market
Social media project deadlines and other critical dates
Scheduled and published posts
Seasonal content themes
Scheduled time off for social media management team members
Paid advertising campaign run dates
Influencer marketing campaigns
Sales and promotions
How to Create a Social Media Calendar
You have a lot of flexibility when it comes to the platform and format of your social media calendar. Depending on the size and scale of your social media strategy and your team, you may want a DIY option or a purpose-built solution.
Calendar apps are the obvious first choice. You can easily see the dates and times of each entry and can switch between multiple views. However, you may run into issues with scaling this solution.
Microsoft Excel, Google Sheets, Smart Sheets, Airtable, and other spreadsheets are a quick and easy option for setting up this resource. You have more room to add information and many people will be familiar with the interfaces. Your spreadsheet solution of choice may have a built-in or third-party template available for social media management.
The calendar and assignment features in your project management tool can offer another way to track significant dates, although the effectiveness of this option varies based on the solution you use.
Coschedule is a purpose-built content marketing calendar, with plenty of features that make it easy to plan out your social media strategy in advance. Many of the tools mentioned earlier in this guide also have this feature available.
Social Media Management Best Practices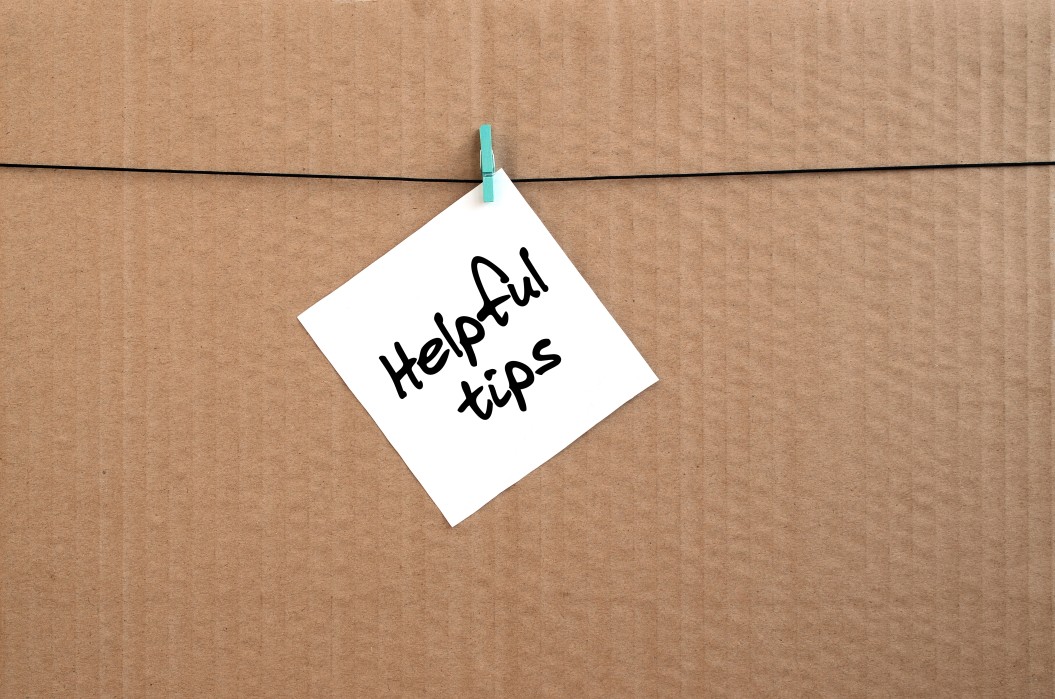 The best social media management tools mean nothing without the right practices in place. These recommendations can help your business create lasting relationships with your audience through a quality experience.
You Need Consistency
How often are you posting and engaging with your audience? If you only show up on their newsfeeds once a week or month, you will have a hard time gaining traction. The recommended posting frequency varies based on the social media channel and the market you operate in, but you need to be present and at the top of mind of consumers. Scale your social media efforts down if you're not able to stay consistent at your current level. This approach may seem counter-intuitive at first, but it gives you a better chance of succeeding in the long run.
Offer In-the-moment Content
Does your team spend a lot of time polishing your photos, videos, and posts? Authenticity is a big part of the social media experience and the way audiences engage with brands. If you only offer them professionally produced media, then they may have a hard time connecting with your company emotionally.
Offer behind the scenes live videos or post a variation on a meme going around. Professionally produced content has a place on your social media, but a mix gives you the opportunity to show what's going on behind the curtain. Plus, it's faster to create this type of content, so you can increase your posting frequency if needed. Canva is a great tool that offers a lot of templates for social media images.
Fully Understand Your Audience's Voice
You have many resources available to see how your audience engages with brands and each other. Use this to your advantage by truly understanding their voice and the factors that influence it. Create comprehensive buyer personas that include common phrases, the formality of their speech, details about their demographics, the values that are important to them, and the challenges that they face. You want highly relatable content that gets your marketing messages across. Their preferred type of posts is also heavily influenced by their demographics.
Be Responsive
Facebook's fast-responder badge is only available for businesses that answer all of their messages in 15 minutes or less. Consumers take this expectation with them no matter how different your business is in size or scale to the ones that have this distinction. Econsultancy reports that 54 percent of people want an immediate answer when they reach out to brands on social media.
Make it clear how long your typical response time is and if you have limited customer support hours. Automated chat bots can handle many basic inquiries on your social media pages, which reduces the load on your staff. Social media management tools that include inboxes help you improve your response time, as you won't need to go to individual platforms to check-in on your private messages. Use scripted responses for common inquiries so you can quickly go through your queue. This approach also creates consistency when multiple staff members interact with your audience.
Have a Plan for Dealing with Negative Responses and Trolls
You can end up in a social media PR disaster for many reasons, with some that may be completely unpredictable. Since you can't always tell what will set the Internet off, have a plan on handling it before it happens. Determine the chain of command and the staff member who will handle sensitive interactions and responses. You may want to create a committee to involve multiple people to ensure that you don't end up making things worse.
In addition to large-scale disasters, you also have small fires to put out throughout the day. Negative comments, feedback, and reviews give your brand an opportunity to open up a dialogue with upset customers. When you handle this scenario correctly, you can end up with an improved reputation and a brand advocate.
Put a set of moderation rules in place so everyone knows what to do when a run of the mill social media troll shows up. In many cases, banning highly disruptive, spammy, and disrespectful commenters rather than trying to engage with them is the right call. You don't want your moderation team tied up all day with pointless Internet arguments.
Focus on Your Audience's Favorite Platforms
Social media sites come in all types, from the well-established players to the niche market. Spreading your resources too thin is a surefire way to create a negative customer experience. Pick the platforms that your audience uses on a regular basis, rather than having a presence everywhere. Since customers will expect a fast response from you on any social media profile you run, play close attention to your capacity. Social media management tools can help you expand your efforts without exponentially expanding your team. If you need temporary help during high-demand periods, working with a service provider, platform or agency is a viable option.
Make More Videos
Video content is hard to do well, and the barrier to entry can be a turn off for smaller businesses and those with their marketing budgets allocated elsewhere. Facebook Live video, IGTV, and other video platforms continue to engage audiences and create many opportunities for savvy brands. Remember, you don't need to create perfectly polished content for social media. Your audience is happy to see more informal media that appears more authentic to them.
Are You Listening?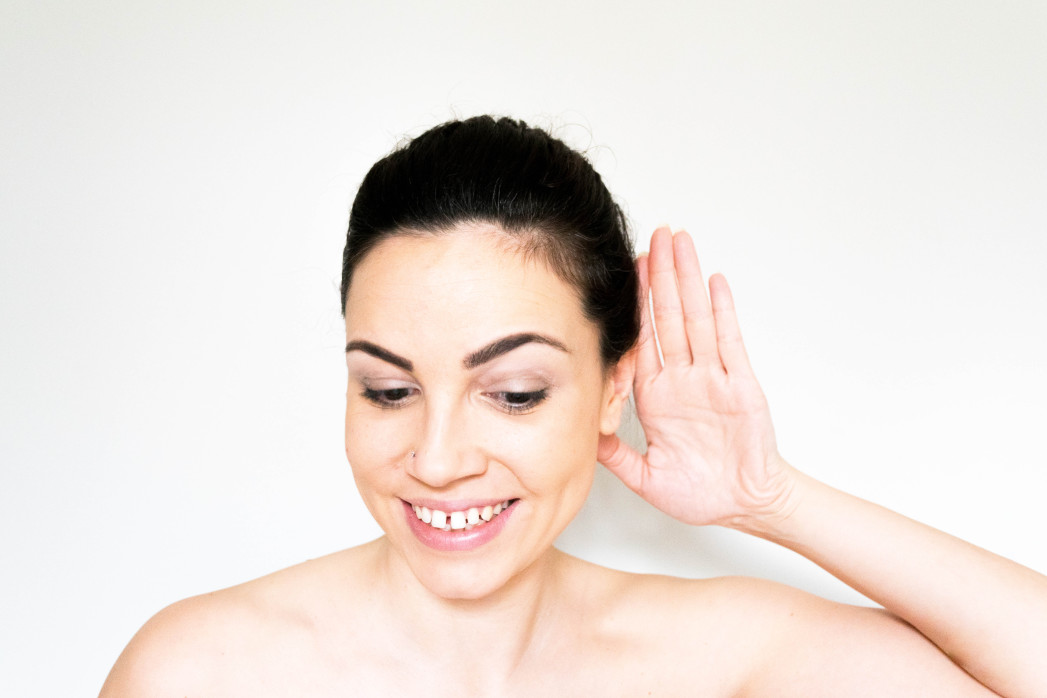 Social media listening surfaces conversations about your brand, even if the commenter never tags you in it. You can learn more about your company's reputation, insights into new products, feature requests, customer service opportunities, and more. A sentiment analysis tool can be useful. It analyzes the positive, negative and neutral emotions in a data set and gives you an overall view of how consumers perceive your brand.
You can use this information to guide your social media strategy. If you have a lot of negative messages directed toward your company on social media, you can find out what the problem is and address it in a proactive way. The customer success team can follow up with upset customers and resolve their complaints on an individual level once you get the process started.
Social listening tools also show you what's going on with the competition. Watch the ways that they engage with their audience to see whether you have room for improvement in your strategy.
Effective social media management involves a lot of analytical thinking, emotional intelligence, and organization. By bringing together the best tools, calendars, and practices, you can achieve long-term business growth.
Need help with your social media management?
 

Reach out to us

 

today for a free consultation.