How to Rank High in Google Search in 2016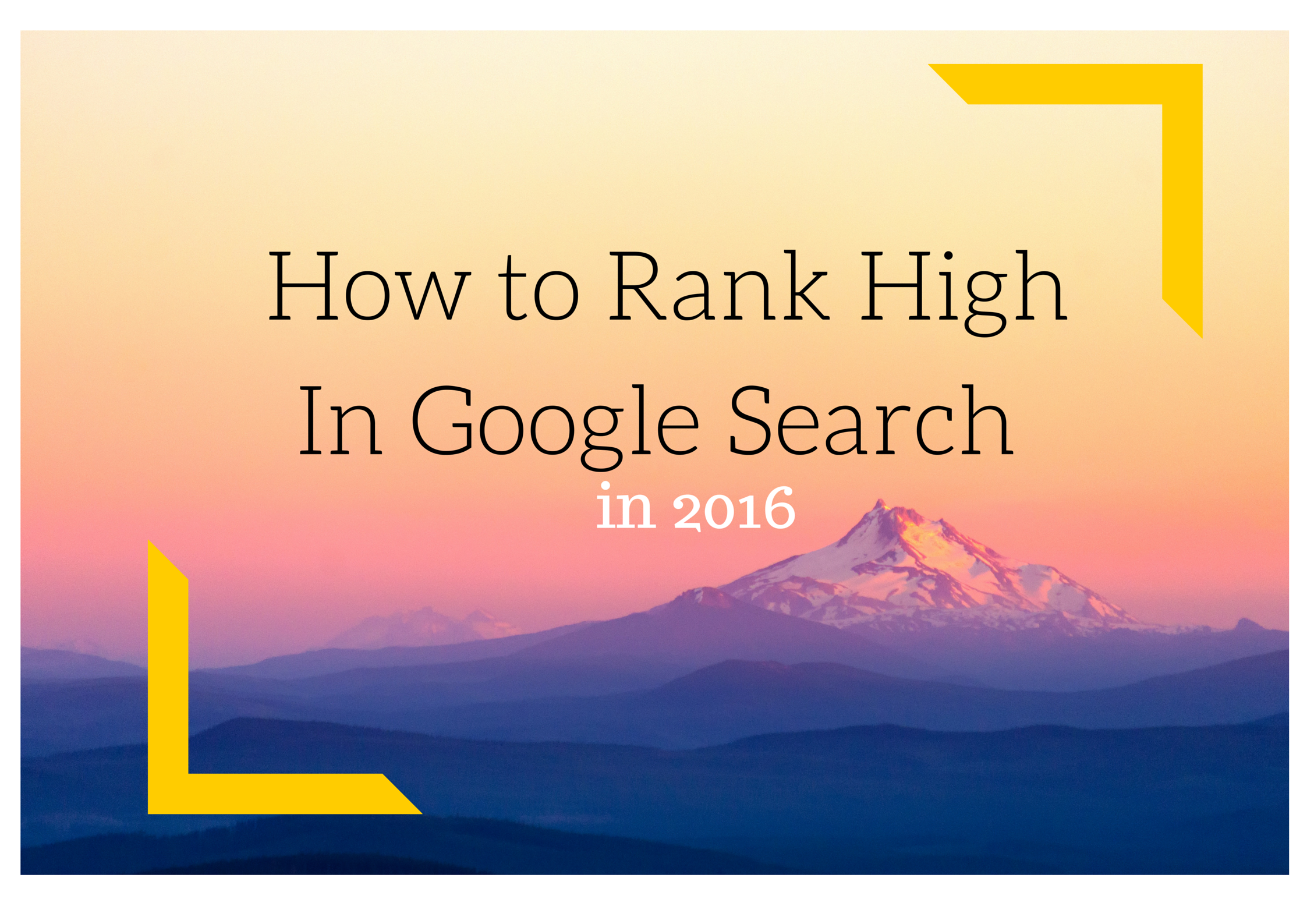 SEO shifts slightly as each new Google search algorithm is released - how can you keep up this year? Find out here.
SEO is always evolving, and for marketers and SEO strategists, understanding the latest SEO trends is key to staying ahead of the curve. In 2016, there will be a number of new SEO developments that could have a substantial impact on the way your content is produced and how search engines rank your business. If you're adaptable enough, you should be able to quickly incorporate these new trends into your own SEO playbook, and realize your SEO goals for the year.
Read more:
SEO Checklist Before Publishing a Blog
Quality Content Will Grow In Importance
When Google changed their search algorithms in the Panda and Penguin updates, Google placed a huge premium on quality content over superficial content that was simply packed full of keywords. As a result, websites that deliver in-depth content that answered key questions performed better. In 2016, this trend will only grow. Sites that deliver quality content that is well-sourced, typically between 1,200 to 2,500 words, will outshine the competition.
Not only is Google favoring this type of content from an SEO perspective, but there is evidence that this type of content is shared more by people. For example, research has demonstrated that posts that are
1,500 words and above
tend to get the most amount of shares. Quick Sprout also conducted
a study
and found that on average the top 10 search engine results for any search feature content that is 2,000 words or more.
Original and compelling long-form content also happens to be the type of content that other websites link to more often, which is key to generating much sought after inbound links.
Read More:
10
Qualities of a Shareable Blog Post
Mobile Optimization is Key for Google Search
In 2015, mobilegeddon occurred, which had a big impact on everyone's SEO strategy. During this Google update, websites that weren't optimized for mobile devices received SEO penalties from Google. However, while Google indicates that mobile and desktop websites are now regarded equally in importance from an SEO standpoint, the importance of mobile is expected to grow over time.
In fact, Google announced that there are now more searches in mobile than on desktop. From an SEO perspective, mobile will be bigger than ever in 2016, and marketers not only need to ensure their site is optimized for mobile, but also their content.
Consistent Content Planning Will Get Better Results
As an editor or marketer, one of the best things that you can in 2016 is to build an editorial calendar and plan out a diverse range of posts covering multiple topics from different angles. The more high-quality content you produce, the more likely you'll perform better in SEO. You should aim to post around 3 quality blogs per week; this can include refreshing content from previous blogs that performed well, after adding new, relevant information to them.
Google not only gives better rankings to websites that produce content on a regular basis, but they also take into account websites that link to existing content. That means if you have a large back catalog of blog posts and articles, it's important to link to this content in newer pieces whenever you can.
Social Sells In 2016
In the past, search engines like Google often didn't index content on social media, which meant it simply wasn't as important in the context of SEO. However, with Google announcing plans to start indexing more content from social media platforms like Facebook and Twitter, that is rapidly changing. In fact, over a five-month period in 2015, Google's indexing of tweets increased by
466 percent
. In 2016, social media indexing is expected to increase.
As a result, content producers and SEO specialists need to not only perform keyword research from a social media context, but they also need to focus on improving the quality of their social media postings in order to ensure their content is worth indexing.
Ultimately, 2016 is going to be an exciting year for SEO. If you want to excel this year, incorporate some of the above suggestions into your SEO and content production strategies.
Ready to take your SEO to the next level through awesome content?