Top 5 Ghostwriting Services For Business

A staggering 65% of businesses say they struggle to produce engaging content. Meanwhile, more than 7 in 10 marketers say using content marketing increases site engagement and helps generate more leads. With these numbers in mind, it's obvious that hiring a ghostwriter for consistent, quality content creation is one of the biggest challenges companies are facing, and it's a problem that persists regardless of an organization's scale.
That's why many businesses choose to outsource to content production agencies. These agencies, in turn, help fulfill a business' content needs by assembling a team of writers to research, create, and edit high-quality content. The tricky part? Choosing the right agency for your business. Here's a look at the top 5 ghostwriting services active today.
#1 Scripted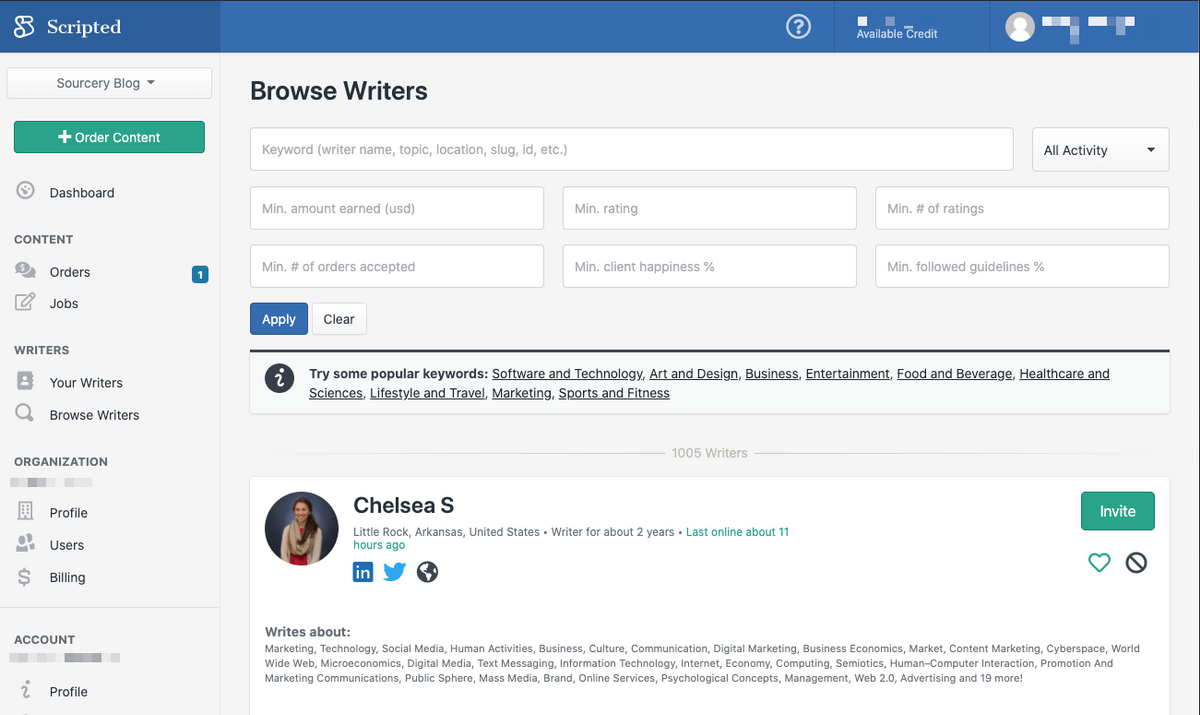 Request as much or as little content as you want, whenever you need it
Among the largest, most well-known, and well-trusted content production agencies on the web
Has a diverse pool of pre-vetted, highly-qualified ghostwriters across a number of different industries
Offers excellent and responsive customer service
Multiple membership tiers, including self-service and managed accounts
Based in San Francisco, Scripted is no stranger to content production. In fact, it's been pioneering the industry since it was founded in 2011. With two service tiers, Scripted has remained balanced in its approach, making it accessible to small businesses at the self-service level and better catering to larger businesses with its managed accounts.
Once you're inside, you'll receive access to one of the most diverse and talented pools of writers on any platform and, with a few clicks, you can start requesting content in the form of articles, emails, social media posts, and so much more. Scripted aims to be your go-to platform for content creation, content strategy, and matching businesses with their ideal freelance writers.
As far as pricing goes, Scripted offers a 30-day free trial for any of its plans, with the Basic plan starting at just $149 per month. Ready to see what Scripted can do? Click here to learn more about Scripted's dedicated team of ghostwriters and how they can deliver the best content for your business.
#2 WriteUp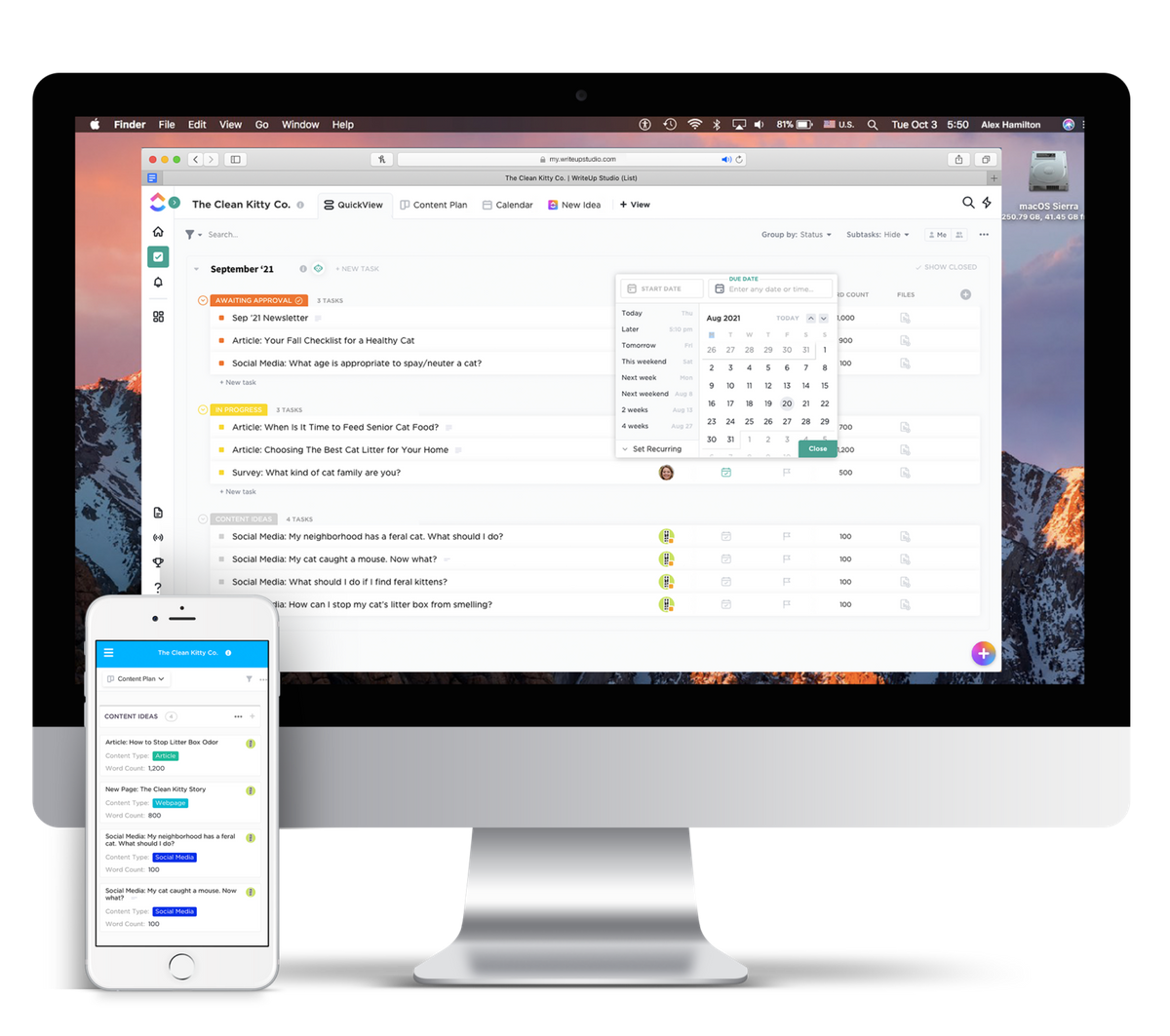 An all-inclusive rate of 10¢ per word, with content planning and proofreading included
Pay monthly for a certain number of words or purchase "à la carte" content
Every user gets an account manager to assign and streamline projects
Feature-rich dashboard complete with a content scheduling calendar
WriteUp also has a mobile app for managing your content on-the-go
Headquartered in the heart of Texas, WriteUp says they uphold strict quality standards with an extensive writer application and training process. They're also one of the only agencies to advertise extra security measures, like 2FA (two-factor authentication) and a Writer Agreement that involves confidentiality and non-disclosure clauses.
Like most, they charge per-word at a rate of 10¢, but their fee is all-inclusive with content strategizing and planning services packed into every subscription. You'll pay at the start of the month for a certain number of words and then work inside your private dashboard alongside your dedicated content team to share, approve, and build upon ideas. They employ writers, editors, and marketers to offer an all-in-one content service.
Anytime you approve a content idea or keyword, your account manager will assign it to a writer. Your dashboard's calendar will then allow you to keep up with all the due dates for active projects and request faster turnaround for high-priority projects. Chat features within your dashboard help to streamline communication with your team and the mobile app is an added bonus.
#3 ContentFly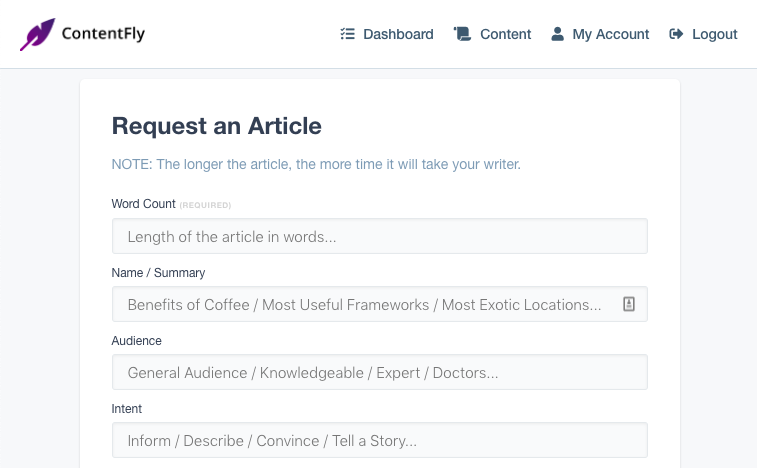 Uses AI to match writers to projects
Subscription model with plans starting at $250 per month
Request content using a form and receive it via email
Straightforward pricing, starting at about 6¢ per word
Research and images are included in the fee
Younger than most companies on this list, ContentFly was founded in June 2018. Based in Canada, ContentFly's claim to fame is the infamous buzzword: Artificial Intelligence. They say they use AI to automatically match writers to the content pieces you need written, although it's unclear just how advanced this algorithm is.
When it comes to the backend dashboard, ContentFly keeps it simple. You request content using a form and, once it's written, your content will be delivered to your email inbox. They also limit the types of content they create, just as the best agencies tend to do. ContentFly specializes in written content, including blog articles and social media posts.
Pricing is based on a straightforward, per-word fee. They charge a flat rate of a little over 6¢ per word and there are no volume discounts. Like most platforms today, you'll be subscribing to receive a certain number of words each month, with the smallest package offering 4,000 words for $250. If you go over your monthly plan's allotment, overage costs an extra 7¢ per word.
#4 Copypress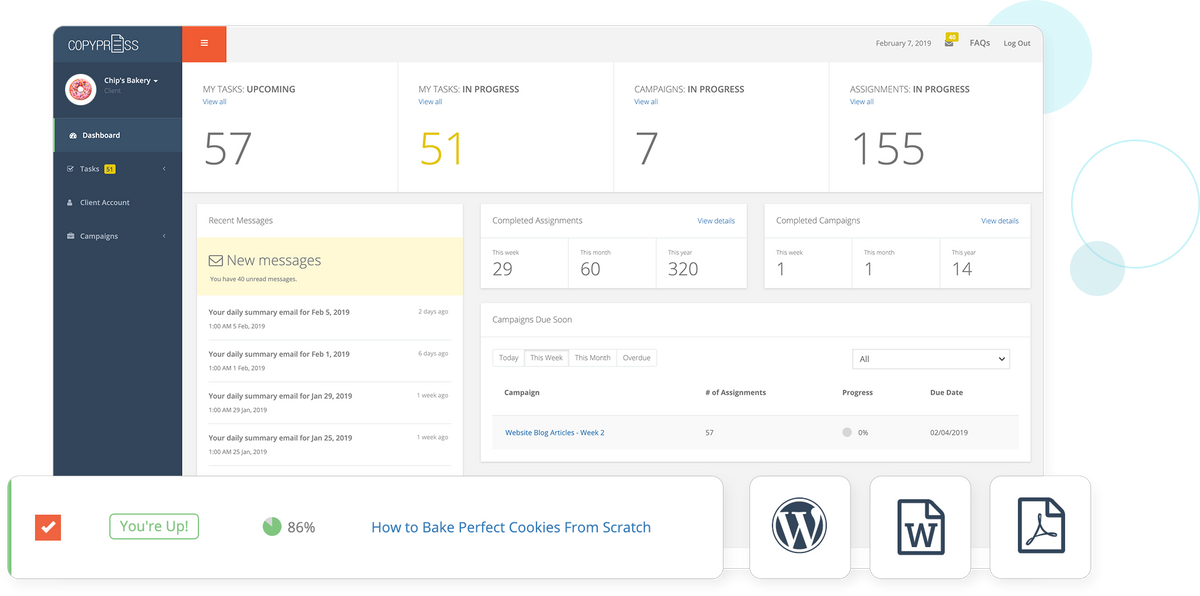 Pricing information isn't published, you'll need to schedule a call
The team will help you build a content strategy
A custom Copypress dashboard to manage your projects
They promise to review and train every worker
Offers custom design and other services as well
Much like Verblio, Copypress has decided to branch out from being a typical writing agency and offer additional services, including graphic design, custom illustrations, and animated videos. You can manage anything you order from Copypress' dashboard and, while simple, the CMS (Content Management System) is definitely streamlined, allowing you to track the current status of a given project at-a-glance.
When it comes to pricing, Copypress no longer publishes flat rates. Instead, you'll need to speak with a team member about your business' needs (including volume) and they'll help determine a rate that fits your budget. One thing they do publish pricing information on is their infographic creation service, which they say adds up to about $2,000 when everything is said and done.
All in all, Copypress is up-front about its target market of enterprises, agencies, and mid-market businesses. However, there is no way to register on your own, so anyone interested in pursuing Copypress will need to schedule a call.
#5 Verblio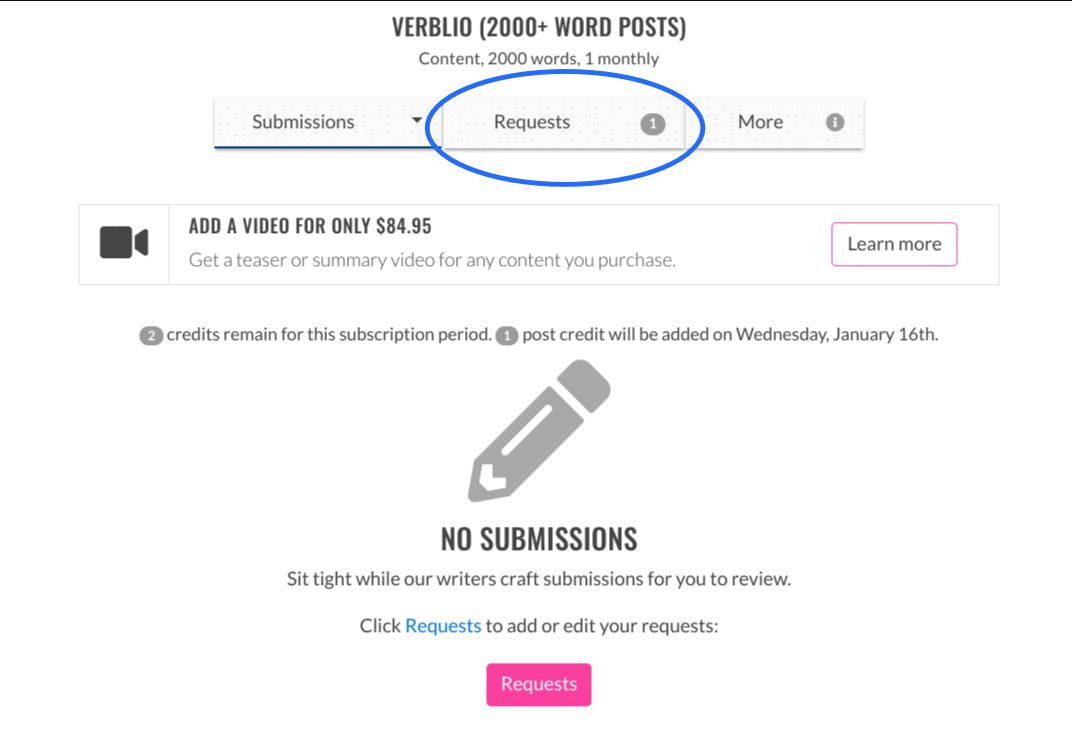 The base pricing doesn't include proofreading or SEO
A ready-to-publish 300-word micro blog post costs $54.90
Offers a subscription model where users pay monthly or annually
Pricing is based on the amount of content you request
Lots of add-ons, although the prices can add up quick at nearly $10 per photo
Based in Colorado, Verblio affirms that it's a tech company before anything else, and that's why they bring so many elements to the table. While most writing agencies stick to specializing in written content, Verblio has a number of add-ons, like text-based teaser videos. To give you a feel for their average price point, a "micro blog post" of 300 words will cost you $34.95. If you want to add a photo, it's an extra $9.95 per piece.
Unfortunately, you won't be promised search engine optimized, proofread, or formatted content unless you sign up for the "Optimize" package, which is an additional $19.95 per piece. That means getting a 300-word piece that's ready to publish will cost you $54.90, which results in an above-average fee of 18¢ per word.
Once you visit the page where you build your plan, you'll see that determining the cost of Verblio is a bit more involved than with the other services we're about to cover. However, once you determine how much content you need for the month, they'll turn that into a recurring subscription plan that you can pay for on a monthly or annual basis.