The 5 Most Important Lessons From Content Marketing World 2015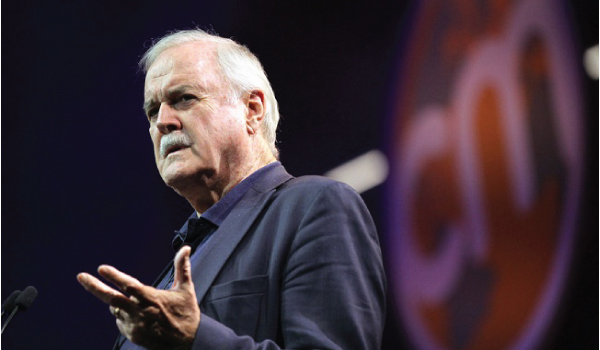 Our content marketer's take on #CMWorld.
Last week I was in the middle of the Cleveland Convention Center surrounded by thousands of fellow content marketers -- and everything a shade of bright orange. Content Marketing World is the only event where everyone in the industry comes together to learn from each other, network and truly get inspired. It's an event that reflects the significant growth that's occurring within our industry. It also reminds us how important content marketing is to businesses.
Some may call it the Super Bowl or Academy Awards of
content marketing
; I certainly think of it that way. This year many esteemed marketers and celebrities -- ahem, John Cleese and Nick Offerman! -- graced the stage to talk about the importance of content and best practices for brands. With such a wide range of speakers and topics, CMWorld can be overwhelming, but there were a few core key takeaways that all content marketers should make sure they remember as they move forward in this exciting and constantly changing space.
See also: Lessons from Kevin Spacey at Content Marketing World 2014

1. As Content Marketers, We Have a BIG Responsibility
Joe Pulizzi
summed it up best at the end of his fireside chat with Nick Offerman when he asked this question: Are you just going to go back and make some content, or are you going to make a difference?
Think about that for a second.
It wasn't only Joe who posed this question in one form or another though. Many speakers took the initiative to emphasize that as content marketers we have a big responsibility. Like Rajiv Chandrasekaran, former Washington Post correspondent and author of "For Love of Country" said during his keynote: Members of the media are no longer the gatekeepers. Who are the gatekeepers then? Me, you, and every other content creator out there. Every single one of us who publishes content to the Internet has the power to inform and influence people.
Being a content marketer isn't just about creating mediocre content and hoping it reaches a relevant audience. It's about creating content with the intention to inspire, and ultimately make a difference.
2. Never Underestimate Originality & Authenticity
Brands should always aim to be original and authentic. I'm pretty sure every speaker I saw said that at one point. I know "original content" and "authentic content" have been buzzwords in content marketing for a while now. Being original and authentic and original isn't news to us content marketers, but the impact it can have has never been more significant. As speaker Doug Kessler pointed out, "insane honesty" can really go a long way.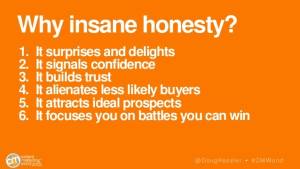 Next time you create content, take a moment and ask: "Are we really being authentic here?" Don't be afraid to knock down the barriers between you and your audience. Your readers will trust you more if you're always honest and upfront.
3. Don't be Afraid to Ask 'Why Are We Doing This?'
Jay Acunzo, VP of Platform at NextView Ventures, focused his session on "the almighty why."
"'The almighty why' is the reason you exist, the emotions you fulfill or the problems you solve. To really succeed with a content marketing strategy, brands can't focus on the desired end result. They need to go back to the beginning of it all," he said.

As a content marketer or manager, you most likely already have a plan in place that took a lot of time to put together and finally execute. Even at this point, you should still ask yourself: "Why are we doing content marketing?" Or, "Why do we need content?" As a best practice, I personally always ask myself, "Why are we publishing this?" before posting to the blog. If there isn't a good answer, it probably shouldn't be published.
Kristina Halvorson, the CEO and founder of Brain Traffic, also brought up the importance of asking why. She set the stage by saying that many marketers struggle with content because they aren't asking why.
Always question your strategy and efforts; don't be afraid to refine it when necessary. Content marketing is all about measuring, change and adapting to new trends and technologies. That's why we're all here anyway, right?
4. Less is More
There was another strong focus on the "quality over quantity" argument at Content Marketing World. While content marketers have heard this before, again, speakers made a point to let us know that this isn't a trend. Quality is here to stay, and focusing on productivity metrics will only steer you in the wrong direction. Almost every speaker that took the stage was on board with this. Less is truly more -- make it your mantra.
5. Nobody Knows How to Measure The ROI of Content Marketing -- And That's OK
Finally, attending Content Marketing World reassured me that other marketers are feeling the struggle when it comes to measuring content success. Julie Fleischer, Senior Director of Data + Content + Media at Kraft Foods Group, concluded her session on content marketing ROI by saying she doesn't what the best single metric is to measure -- and that's totally fine. What it boils down to is that there's more to content success than one ROI metric.
Robert Rose, Chief Strategy Officer at Content Marketing Institute, also had a talk centered around the question: "Is ROI really what we're looking for?" During this session he said that ROI is a flawed metric and marketers shouldn't be so focused on it. Preach!
Overall, CMWorld was another successful event. There were a lot of important lessons to learn and I couldn't be happier with the direction content marketing is headed.
What do you think? Were you at Content Marketing World? Share your thoughts with me below!

Need content?