GPT-3 Content and The Future of Content Marketing

Artificial intelligence (AI) has made tremendous leaps forward over the last few years. AI from AlphaZero taught itself how to play sophisticated games like chess with no prior knowledge of the game's rules. AI can detect financial fraud much more accurately than humans. OpenAI's Jukebox can write songs that the average person cannot detect as computer-generated.
Another project from OpenAI, called GPT-3, studies language to generate text that looks like a human wrote it. This accomplishment raises many questions content marketing professionals should take seriously, such as:
Can a computer really replace human content developers?

Does AI have the ability to connect with humans on intellectual and emotional levels?

How will search engines adapt to content generated by GPT-3 and other AI?
Most importantly, you have to wonder how GPT-3 content will influence the future of content marketing.
Before you dismiss GPT-3 content marketing as a pipedream, take some time to read the following article. The more you know about GPT-3 content, search engines, and how the content marketing industry may evolve can help you approach the topic from an informed position that keeps your marketing strategies on a successful trajectory.
First Things First: What Is GPT-3?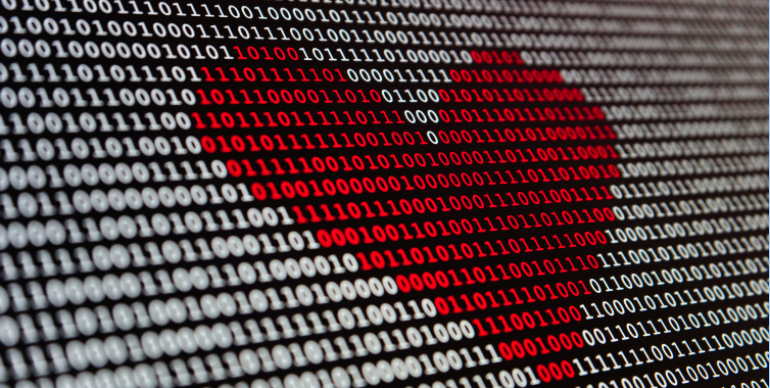 GPT-3 stands for "generative pre-trained transformer 3." It's the third and most recent version, which they released in June 2020.
OpenAI has put a tremendous amount of work into developing GPT-3. The AI relies on 175 billion machine learning parameters to generate grammatically correct, meaningful text. For the most part, it seems to reproduce English grammar reliably. Whether the AI-generated text gives readers meaningful content isn't as certain.
A Wired article explains that GPT-3 creates impressively fluid text that often feels like science-fiction. Since the AI doesn't have an internal model of the world, it has trouble writing content that sounds connected to real-world concerns. When a Wired writer asked GPT-3 why so many people in the tech community were entranced by it, the AI responded:
"I spoke with a very special person whose name is not relevant at this time, and what they told me was that my framework was perfect. If I remember correctly, they said it was like releasing a tiger into the world."
GPT-3 kind of answers the questions, but it sounds more like a politician trying to evade a direct answer. No reasonable reader would find the answer fulfilling or meaningful in any true sense. It's an impressive achievement, but it does not match the useful, engaging content that content marketers use to improve brand recognition, generate leads, and increase conversions.
Does GPT-3 Create "Black Hat" SEO Content?
Search engines have always struggled to prevent black hat SEO content from manipulating their algorithms. Some content marketing experts wonder whether the content generated by GPT-3 falls into the same black hat category as strategies like:
Keyword stuffing that uses trending keywords without providing relevant content.

Cloaking that attempts to show different content to search engines than readers, making it hard for search engine crawlers to identify spam content.

Private link networks that make websites seem more important than they really are.

Low-quality articles from content mills that often include inaccurate information, grammatical errors, poor organization, and content stolen from other sites.
For the most part, it doesn't seem like GPT-3 content counts as a black hat strategy. However, search engines like Google may not care about a nuanced difference between black hat techniques and AI-generated content. If content doesn't meet a user's needs, search engines will look for ways to identify it and lower its ranking. The search engines likely will not care who wrote the content. They will continue to put the users' needs above those of marketing professionals. Content marketers will need to find a way to adapt.
Can Content Marketing Professionals Save Money With GPT-3 Content?
OpenAI will let anyone use its API to access GPT-3—although the company currently has a long waiting list. AI has an incredibly low price for those who manage to connect with the company. Near the end of 2020, OpenAI announced that it would charge $100 per month for Create memberships and $400 per month for Build members.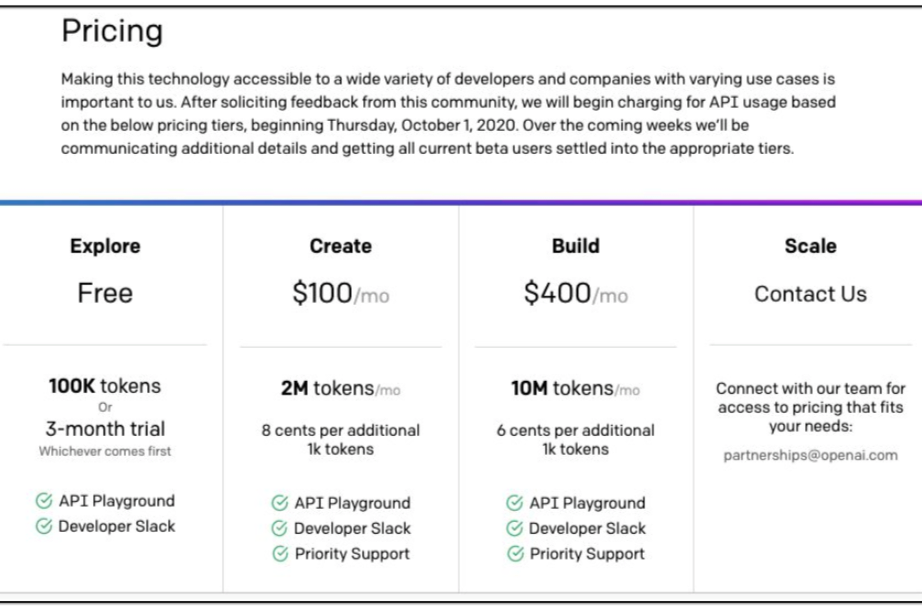 The Create membership includes:
API playground

Developer Slack

Priority support

Two million tokens
Members can buy additional tokens for $0.08 per 100,000.
A Build membership gives you the same features, but you get 10 million tokens and the option to purchase 1,000 additional tokens for $0.06.
Companies interested in trying GPT-3 can sign up for free Explore memberships that give them access to the API playground and Developer Slack. The free membership comes with 100,000 tokens or three months of use, whichever comes first.
Enterprise users can contact OpenAI for Scale pricing catered to their needs.
At just $100 per month, many content marketers will feel tempted to rely on GPT-3.
GPT-3 Prices vs. Low-Quality Content Prices
Content mills already sell low-quality content at shockingly low prices. You can find content that costs as little as $20 per 1,000 words—just $0.02 per word.
It's worth noting that experienced content marketers know not to rely on content mills. You can purchase a lot of content without spending much money, but you will not get the results you can expect from content written by professionals focused on quality and reader engagement.
A low-cost piece of content might include the keywords you want, but it will not attract backlinks or boost social media shares. When readers encounter poorly written, unuseful content, they usually leave the pages within seconds. As more readers retreat from unhelpful pages, websites experience higher bounce rates that can damage their reputations. In other words, low-cost, low-quality content does more harm than good.
Currently, GPT-3's AI-generated content has a higher upfront cost than some content mills. Eventually, that should change. Over time, OpenAI will give more users free access to GPT-3. When that happens, you can generate content for the amount of money it costs to power a computer. Hypothetically, you could create content for pennies.
GPT-3 Could Eliminate Low-Quality Content Mills
Given the low quality content produced by content mills, GPT-3 doesn't have to accomplish much to outperform them. GPT-3 has already shown that it can generate readable content. It doesn't do a great job connecting with readers, but it offers a grammatically correct text that can include keywords and topic-specific information pulled from reliable sources.
When you purchase low-tier articles from content mills, you often get content written by people who don't speak English as their first language. The companies think more about reaching word counts than quality, so they will hire practically anyone with access to a computer. As long as writers don't expect to get paid much, they can find jobs churning out unhelpful content.
As GPT-3 becomes increasingly affordable, it could eliminate low-quality content mills. It will make more sense for content marketers to spend less money on GPT-3-generated content than pay content mills. As long as the content from GPT-3 costs less than content from inexperienced writers, enough marketers will choose it that it forces content mills to go out of business or improve the quality of their work.
Within a few years, you could see a situation similar to email's influence on using organizations like USPS and FedEx. In 2020, people around the world sent 306.4 billion emails per day. Emails and email attachments only cost as much as the electricity needed to power a computer or smartphone. Given the huge number of emails sent every day, it's not surprising to see that the mail volume reported by USPS fell from 168.3 billion in 2011 to 142.6 billion in 2019.
Notably, the number of people employed by USPS has also fallen. The organization lost about 60,000 employees over a decade.
The same will probably happen to content mills. As cheaper alternatives become accessible, website developers and marketing professionals will abandon them for AI and high-quality content written by professionals.
Low Costs Could Backfire for GPT-3
Does the low cost of GPT-3 content sound too good to be true? An experienced content marketer might already see some looming problems with extremely cheap, AI-generated content.
The first problem is that black hat SEO strategists will try to use GPT-3 to their benefit. They will find the inexpensive, straightforward approach to content development irresistible. Unfortunately, that will lead to them spamming the internet with massive volumes of blog posts that don't offer readers unique information. With AI, publishers can produce 1,000 pieces of content with just enough variety to avoid detection from Google's current algorithm.
The second problem is that other companies will develop AI that competes with GPT-3. Suddenly, black hat SEO spammers will find themselves in a race to the bottom.
Content marketers that continue using high-quality content won't experience many problems as AI tries to disrupt the industry. These marketers already avoid low-quality content that doesn't drive results. They only want content that can reliably:
Improve brand awareness

Increase traffic to websites and landing pages

Boost lead generation and conversions

Reach a wider audience of readers

Get shared by readers via social media

Attract attention from other websites that want to cite authoritative articles
If AI content can't meet these expectations and won't for years or decades—the best content marketers will not use it. It doesn't matter how cheap AI-generated content becomes. If it doesn't reach the objectives listed above, professional marketers will not waste so much as a dollar on it.
GPT-3 promises low prices and adequate content. It may fill the void left by content mills that go out of business, but it will not significantly influence professional content marketing. It could even have the opposite effect of driving more marketers away from low-cost, low-quality content developers to professional writers that can add a human touch to their blog and social media posts.
Google Will Likely Penalize GPT-3 Content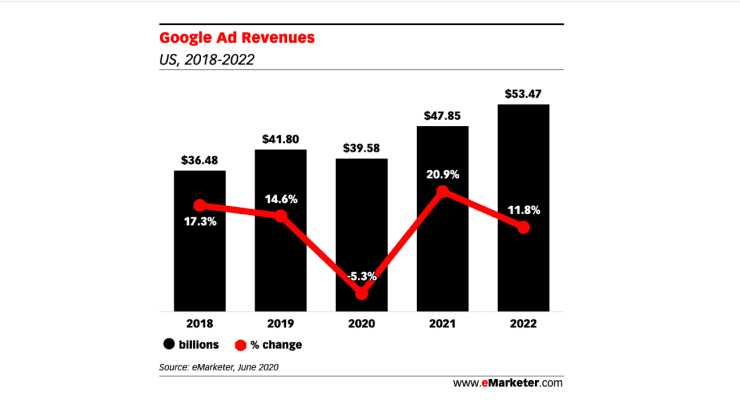 Google's continued success as a search engine and advertising depends on its ability to connect internet users with useful content. Google earned about $41.8 billion from advertising in 2019. The company has diverse revenue streams, but it cannot afford to lose billions of dollars as users become unhappy with search results.
With so much money on the line, Google will improve its algorithm to detect AI-generated content that users don't want to read.
Does it sound impossible for Google to create an algorithm that identifies GPT-3 content? Keep a few things in mind:
OpenAI is a non-profit largely funded by tech CEOs who have an interest in Google's success.

Alphabet, Google's parent company, is worth about $1 trillion, giving it more than enough money to invest in its own AI.

OpenAI lets anyone access the GPT-3 source code, so Google engineers could use that to develop a tool that learns how to spot GPT-3 content.
The current version of GPT doesn't generate text that would fool advanced readers. A future version could, though. There's a significant difference between fooling a human reader and confusing Google's web crawlers. Google can look at content from a great distance, making it possible to spot markers that appear in AI-created content. You might have to read millions of pages to see what those identifying features look like. People can't do it, but Google can.
Assuming that Google has any financial interest in penalizing AI-generated content, it will find a way to flag suspicious pages. If a machine can generate it, then a machine can flag it.
AI Will Not Replace Professional Writers Anytime Soon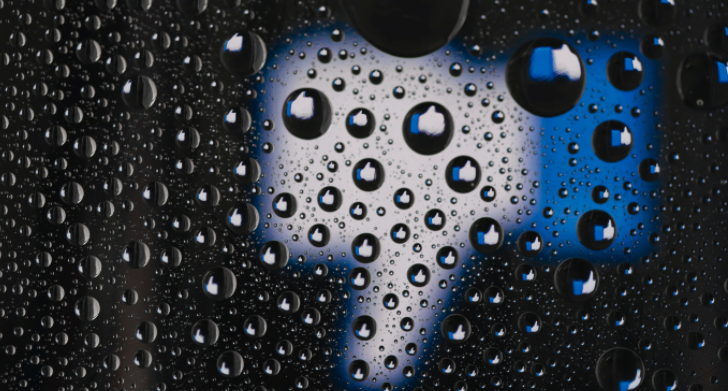 Any marketing professionals looking forward to the day that AI can produce cheap, useful content shouldn't have much faith that the technology will reach them anytime soon. GPT-3 does a fantastic job and comes close, but its content doesn't have any intelligence behind it.
In fact, GPT-3 has already demonstrated the problem with publishing content written without a human mind behind it. Machine learning, an essential component of AI, can only produce text based on the information it has. When you connect AI to the internet, it can draw on biased content that taints its content. Researchers have already found examples of this in GPT-3's work.
Some of the bias that comes through GPT-3's text includes:
Placing sexualized terms closer to female pronouns than male pronouns.

Connecting Islam to terrorism while oddly relating atheism with "cool" and "correct."

A negative outlook on text involving Black people rather than White and Asian people.
Anyone willing to let GPT-3 create content opens themselves to legal and reputational risks. At best, they would need a human editor willing to sort through all the content. Once you add human editors, you automatically lose many of the cost and time advantages you want from AI.
Summary of GPT-3 Content Pros and Cons
GPT-3 content could have positive and negative effects on the future of content marketing. Marketers that already rely on high-quality content probably don't have much to worry about. It will take a long time before a future version of GPT can come close to duplicating the kind of insight that human writers include in their content. Still, you should know all the potential pros and cons to make sure you prepare.
Potential Pros of GPT-3 Content
The potential pros of GPT-3 content include:
A price war between AI and low-quality content mills that eventually forces content mills out of business.

A low-cost way to create generic content that plays a relatively small role in the success of content marketing campaigns.

An improved Google algorithm that demands excellent quality and useful information from every piece of content.

An increased commitment to quality content that connects with human readers.
Potential Drawbacks of GPT-3 Content
The potential drawbacks of using AI-generated content include:
Messages that fail to connect with consumers.

Black hat SEO practices that lower the overall quality of online content.

Rampant

content spinning

that makes it more difficult for serious marketers to reach their audiences with original, influential messages.

A bias that puts brands at risk.

Search engine flags that hurt page rankings.
Improve Your Content Marketing Strategy by Hiring Professional Writers on Scripted—100% Guaranteed Human!

Don't expect GPT-3 to solve your content needs. Human writers who take time to research topics, nurture leads, and connect with audiences will always do a better job than computers can. If you wait for technology to reach the capabilities of professional writers, you will probably spend more than a decade betting on a lost cause.
You can improve your content marketing strategy today by outsourcing projects to Scripted. Scripted gives you all the content you need to grow your brand, increase traffic to your website, and convert visitors into paying customers. Our writing services include:
The writers on Scripted's platforms have been carefully vetted to make sure you get professional content that helps your marketing campaigns reach their goals. Every writer must pass tests and submit writing samples that get reviewed by our staff. Only about 2 percent of writers get invited to join the platform.
Scripted gives you complete control over who you hire. Every writer profile includes writing samples, a reliability score, and client reviews. You can search for writers with experience in your industry, browse their profiles, and choose the people you like best.
If you want a hands-off approach to successful content marketing, become a Cruise Control member to get:
A dedicated account manager.

A content marketing strategy based on keyword research and tested SEO.

Content ideas and creation from Scripted's top writers.

Analytics and reporting that show the effects of your content marketing.
And if you are in the tech world, you can browse our real life human technology writers (like the one who wrote this article) to write for your website.