Content Marketing Lessons From These Savvy Fashion Brands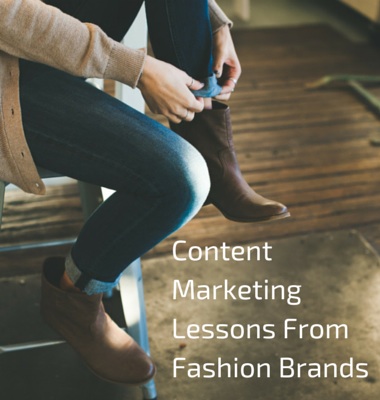 These five brands are strutting their stuff on the content marketing catwalk -- here's what you can learn from them.
Fashion is all about presenting the right image and delivering an unforgettable experience -- and for many fashion brands, creating quality content is a huge part of that effort. Whether it's a new fashion trend, coverage of a rising star designer, or offering tips for purchasing the perfect "it" bag this season, there are some fashion brands that truly know how to speak to their audience through
content marketing
. When it comes to engaging through innovative content, the following brands are pushing boundaries that are making them the darlings of the world of fashion.
See also: How Local Content Is Powering Real Estate & Fashion Brands
Rent the Runway
Rent the Runway
allows fashion lovers to rent out some of the most sought-out designers clothes and accessories, giving everyone the chance to be a diva for the day. Rent the Runway also happens to be one of the most groundbreaking fashion brands out there, and their content is a big factor in what separates them from the rest.
Their blog known as
The Shift
, delves into the world of fashion from every angle, like interviewing top fashion designers like
Kellee Khalil
or offering useful articles on how to wear gowns in jewel tones. They even wrote a piece on how a high-end
Reed Krakoff handbag is created
from start to finish. Rent the Runway creates great content from a wide variety of fashion experts, but also heavily relies on user-generated content, giving this brand a grassroots feel that helps build a community around millennials and other important customer segments. This content strategy also means that fashion-lovers can get directly involved with a brand they love, which ultimately helps Rent the Runway appeal to a broad set of fashion-forward people all around the world.
Content marketing lesson:
Know your audience -- and don't be afraid to include them in your content as well. The more connected your audience feels the more likely they are to engage with your content and choose you over your competitors.
See also: What is an Audience & Why is it Important?
Nasty Gal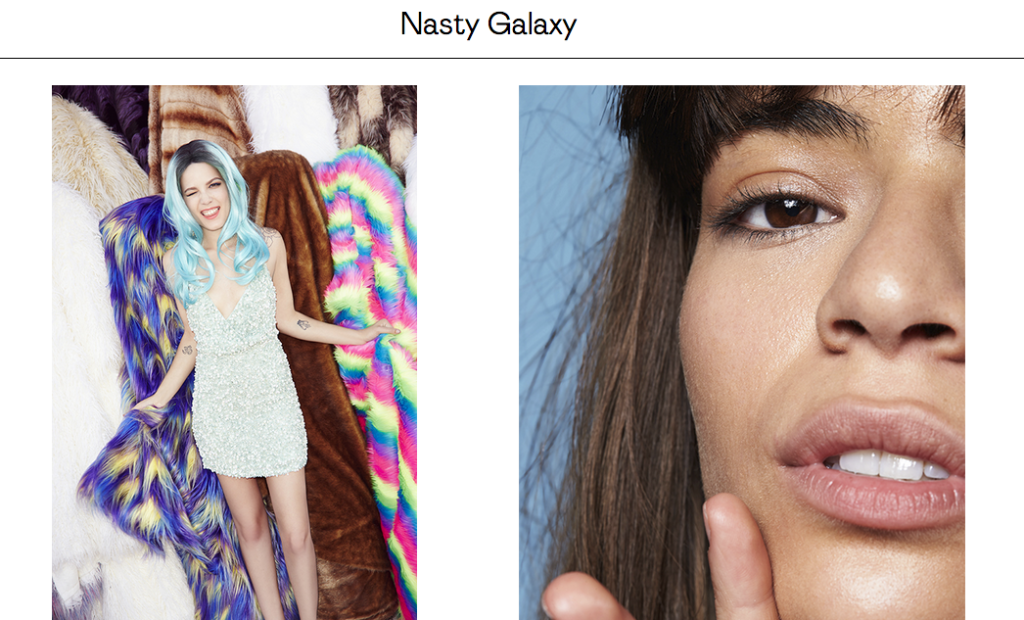 Nasty Gal
is a major fashion retailer offering everything from a Brooklyn Sequin Romper to a vintage Chanel hearts logo handbag. Nasty Gal is also responsible for the amazing
Nasty Galaxy blog
that connects readers with fashion and beauty trends, and even some amazing contests involving shopping sprees or paid vacations.
Where Nasty Gal really shines is with their product descriptions though, a form of writing where many fashion labels often fail. With Nasty Gal, each pair of shoes, beautiful dress, and set of sunglasses takes on a life of its own, and ultimately makes fashionistas want to put that item in their cart.
Nasty Gal is known for building memorable themes around different collections, connecting with audience desires. Take for example their
From Faraway Nearby collection
, which offers a Bohemian array of clothing that appeals to a woman who wants a "Western desert rose" look. In this collection, the
Jeffrey Campbell's Duchess Suede Knee High Bootie
allows you know that a "royal pain in the ass is still royalty" and looks great when you "team it up with a shift dress or a bodycon when it's time to turn up." They sign off this ad a boost in confidence: "You rule, ladies."
Content marketing lesson:
Know how to speak to your audience -- even when it comes to describing your products. No detail goes unnoticed and that should always be applied to product descriptions. Don't be afraid to give each product a story; a history that your audience can't resist.
Madewell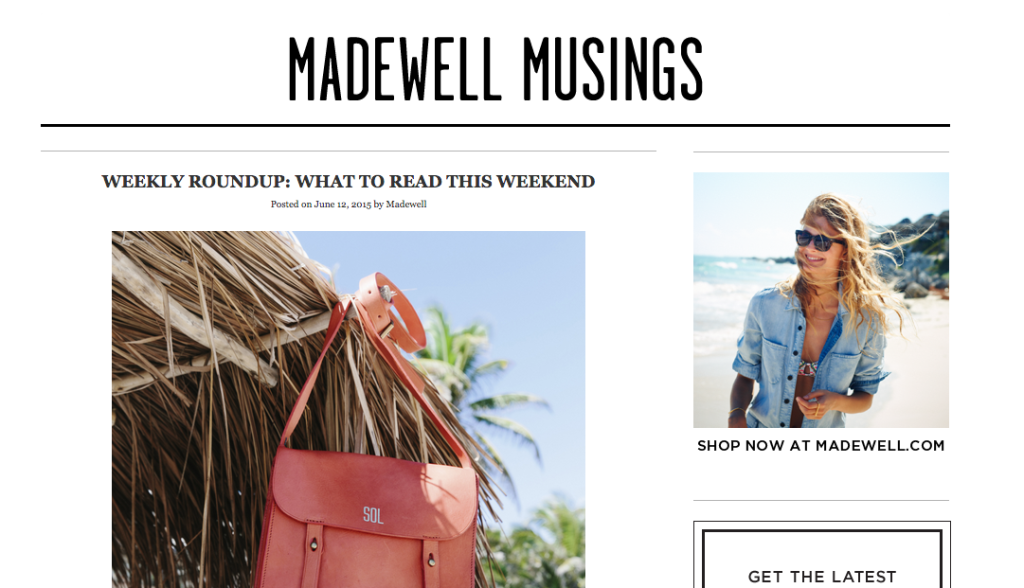 The
Madewell Musings blog
is the go-to place for fashion news, tips and ideas. The blog focuses on fashion, but also ties in other topics such as music, art and literature. This helps create a lifestyle around what readers wear. Articles like "
Dress for a Music Festival (Without Getting All Festival-y)
" offers great fashion tips for music lovers while others simply offer innovative style tips such as the merits of "
Belting A Loose Maxi Dress
." This content helps not only drive sales for Madewell, but also generates long lasting buzz around the brand.
Madewell is also known for its Instagram page, which showcases great fashion photography but also creates a whole lifestyle around the looks and accessories that Madewell promotes. It's about cutting loose at the beach, chilling out on a balcony, or going on a road trip with the top down. With the right style, fashion lovers can make every event more beautiful and memorable, and Madewell knows exactly how to capture that sentiment.
Content marketing lesson:
Show potential buyers and existing fans how your product can be integrated into their daily lives through various types of content.
See also: How to Grow Your Traffic From Social With Visuals
Net-A-Porter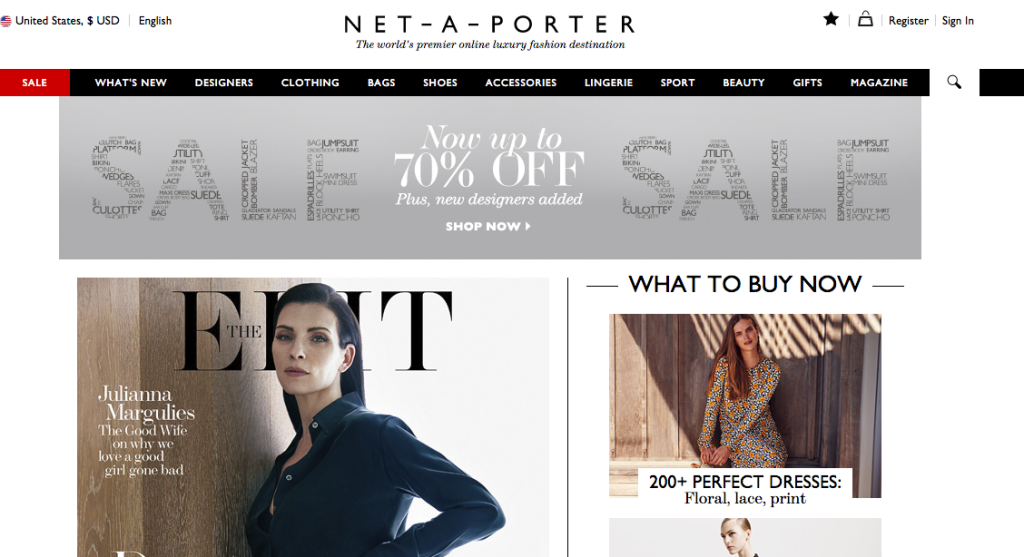 Net-A-Porter
is a luxury fashion retailer that has opted to go "beyond the blog" when it delivers content to its readership. The driving force behind Net-A-Porter's success is quality content that offers a whimsical, refined and adventurous take on the world of fashion. This company's magazine features lavish photos spreads and features on some of the biggest names and events in the fashion world. Long-form profiles with models like Lily Donaldson and features on some of the most jaw-dropping hotel swimming pools in the world are the kind of outside-the-fashion-box content that accounts for Net-A-Porter's large readership. The magazine also offers articles on humanitarian and environmental topics, demonstrating that fashion can pair well with the major topics of our times.
Net-A-Porter fans need not visit a newsstand to explore their magazine; each edition is uploaded to the website and allows for smooth browsing through their articles, photos and in-depth features. Readers can click on outfits and accessories on the magazine page to "get the look", allowing shoppers to buy their favorite pieces with the click of the button.
Content marketing lesson:
Quality content that your readers want to consume will always benefit your brand. Don't hesitate to invest the time and resources into developing an award-winning content strategy. When you do this the right way it will pay off. Net-a-Porter is a great example of that!
Which fashion brands do you think have impressive content marketing strategies? Share your thoughts with us in the comments section below.
Read More About Content Marketing:
Content Promotion Strategies: 4 Roads to Success
What Social Media Visits Bring to Your Content Marketing Strategy
Promoting Content on Social Media: How to Increase Your Shares [Interview]