Creating a Hybrid Content Marketing Team (In-House & Outsourced)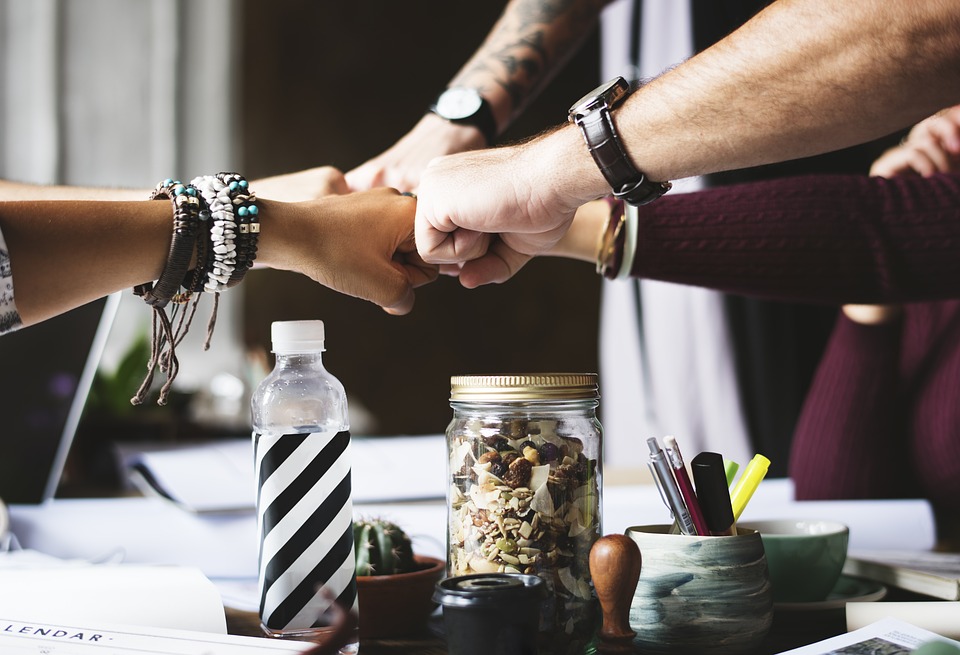 Content is king.
You know that already, right?
Not only can content boost your marketing ROI, earn you new customers and spike your sales, but it can also help you build a stronger and more dedicated customer base.
That's not an overstatement!
Content will do all those things. But how do you create it and scale the process?
For many small businesses, the answer used to be, "with an in-house content team."
As the demand for content grows, though, many small businesses are turning to hybrid content marketing teams - or a combination of in-house and outsourced content creation specialists.
If you're one of the many small companies considering taking this step, here's your guide.
Why Hire a Hybrid Team? 


The woman in the back was told repeatedly not to look into the camera.
Bringing a hybrid team into your business offers many benefits. Here are a few of the biggest:
Flexibility. A hybrid team combines the stability and consistent direction of an in-house team with the creativity and flexibility of an outsourced team.
Faster Turnaround. While in-house teams have been the old standby of content creation, they are subject to some limiting factors. Not only are they working to carry out your company's various content creation needs, but they're also so close to your brand that it can be hard for them to keep all the content balls in the air at once. When you bring in an outsourced team, though, those problems cease to exist. Because outsourced teams and individuals work with your brand on specific issues or objectives, they're incredibly good at getting the job done in the timeline you need it and adding new perspective throughout.
Efficiency. Outsourced workers are often more efficient and productive than in-house workers. According to a 2016 survey, 91 percent of remote workers say they're more productive at home than they are in an office.
Cost-Savings. Depending on the size and pay grade of your in-house team, hiring outsourced writers may save you money and allow you to stretch your content budget further.
How to Find Outsourced Content Creators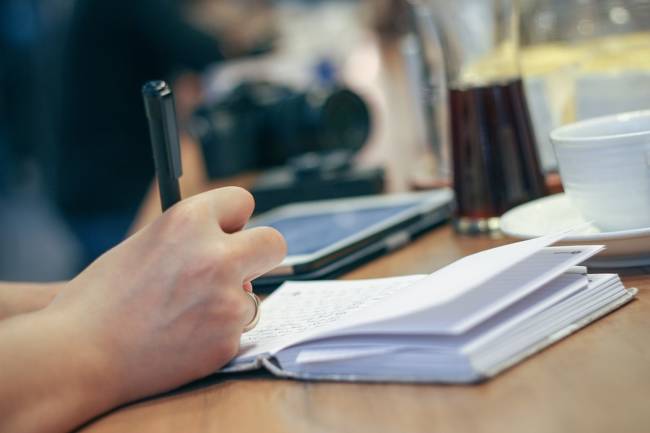 Writing quality content and being married both take hard work. The person this hand belongs to know.
Once you've decided you want to use a hybrid content team, it's time to start finding the professionals you need. Here are a few places to look for outsourced writers, including freelance marketplaces and lone-wolf professionals:
Writing Marketplaces. A platform like Scripted offers a vetted team of outsourced writers specializing in a variety of industries. Unlike other platforms, which allows anyone to join as a writer, Scripted has strict skills requirements and only accept a small fraction of writers. These platforms also offer things like payment protection and customer support, if you need it. (Full discloser: I am a Scripted writer and you're reading this on the Scripted blog.)
Individual Freelancers. You always have the option of working with individual freelancers. Find them online, through word-of-mouth or on social media. Just keep in mind that, much like working on a writing marketplace or freelance platform, you won't have many built-in protections when you work one-on-one with an individual freelancer.
What to Outsource (and What to Send to Your In-House Team)
You've hired an outsourced writer or team. Now, how do you manage your tasks? What should your in-house writer handle and what should you send to your outsourced team? Here's a simple breakdown:
What to Create In-House
Your in-house writers are "the home team." They understand the ins and outs of your business and should be the people who do your editing and who create your essential content.

These writers are a great resource to tap for long-form, niche materials, interviews and similar pieces of content or for extended-deadline pieces that don't require the agility of an outsourced team.
What to Outsource
Outsourced content teams are fantastic for any of your ongoing content needs, including but not limited to:
Material for your company's blog
Social media materials
Whitepapers
Ebooks
Interviews that need to be transcribed or converted
Email marketing
If you find an excellent outsourced content creator or a team that allows you access to a secure platform and a professional management team, most would agree that there is nothing you can't outsource to these writers.
How to Manage a Hybrid Team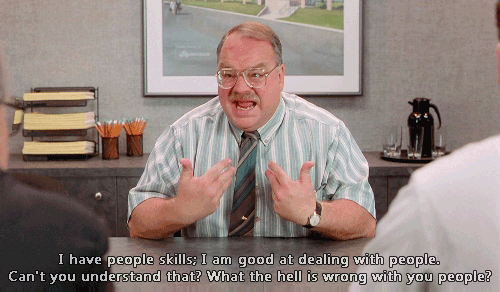 The next step in the process is learning to manage your hybrid team. Fortunately, you just have to find a system that works for you to ensure it goes smoothly.

Here are some tips:


Have an in-house manager oversee the team. If you have the budget and the staff for it, appoint an in-house manager to keep your hybrid content team in line. This in-house manager can act as the point of contact for both your in-person and outsourced content professionals and facilitate cooperation between the two teams.
Use a teamwork platform. Platforms like Slack and Hangouts are great ways to facilitate communication in disparate teams. Use them to discuss project details and keep everyone on the same page. Shared Drive folders help, too. (Scripted has a Slack App to help you stay on top of assignments.)
Adjust as Needed. As you settle into using a hybrid content team, you may find that your defined management strategy needs to adjust accordingly. Leave some room for this to happen. The more flexible things are, the easier it will be for your existing team to adapt to the addition of an outsourced branch.
Hybrid Teams Get More Done for Your Business
As you strive to boost your content creation efforts, a hybrid content team can be one of your most reliable weapons. By hiring a mix of both in-house and outsourced writers, you can be more flexible, agile and adaptive as you grow your small business into an empire.