5 Ways Content Marketing Can Help Realtors Succeed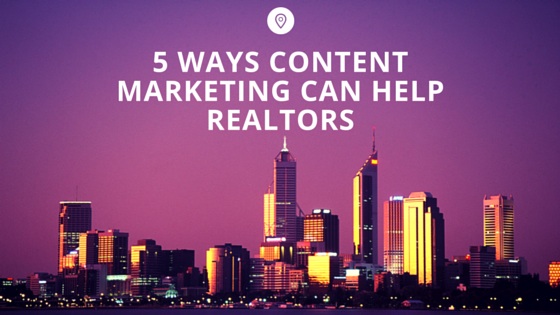 Realtors, here's how to build your own brand with the help of content marketing.
It's never been easier for businesses to reach
a relevant audience
online. With nearly 3 billion people using the Internet, the best way to do that is by publishing original content. From blog posts to videos and infographics, millions of pieces of content are shared online each day bringing more brands closer to the right buyers. Today businesses have the power to become their own publishers -- and so do realtors and brokers.
If you haven't played with the idea of developing a
content marketing
strategy yet, you might want to reconsider. There are many ways in which it can help you rise above the noise and competition -- below are five.
See also: How Local Content Is Powering Real Estate & Travel
1. Build Your Personal Brand
By maintaining a blog and active social media accounts, you allow potential buyers to get to know you before they actually meet you. This is huge because they will already feel like they have a personal connection to you which will put you way ahead of your competition. When you consistently start conversations, you also help yourself become a leader in your industry. People who listen to you will keep coming back for more. Plus, what you say on these channels can also be great conversation starters for when you finally do meet in person.
2. Drive Organic Search to Your Listings
Google loves original content -- it's one of the most guaranteed ways to increase page rankings in search. If you're consistently publishing original content that people are sharing about a certain topic -- let's say best houses in your designated city on a budget -- people are going to be able to find you through your content. According to Search Engine Journal: "Companies that blog have 434% more indexed pages. And companies with more indexed pages get far more leads." This can also be applied to realtors and brokers. The bigger presence you have online, the wider your net is to connect with potential buyers.
3. Content Marketing Keeps You Relevant
As a realtor, it's important for you to be very familiar with your community and its events. One of the best topics you can blog, tweet and Facebook about is exactly that -- what's going on in your city. You can keep a weekly calendar or attend events in person and write about them. Plus, when you do have an open house you can talk about all the exciting events the homeowner would have to look forward to. You're not just selling the property, but you're also selling the location!
See also: Be Relevant! Building Buyer Personas to Guide Your Content Strategy
4. Build Trust With Existing Customers
To the point I made above, staying up to date with happenings can help you maintain existing relationships -- whether that's local events or new listings. Just because a sale ends, doesn't mean your relationship with that customer does too. You never know when that client will be looking for another property again. One way to stay in touch is through a neighborhood email newsletter featuring local events. Another idea is to publish blog posts specifically geared towards homeowners -- not on how to find a property.
5. Gives You Creative Freedom to Show Off Your Listings
Finally, with the competition so strong the way you present your available listings can make a big difference. When you have a new one, why not tweet or Instagram a nice photo of it? You could even publish a blog post about what makes one listing different from the next. Through blogging and social media, you have the creative freedom to show off what you're selling (sounds fun, right?).
There you have it. Content marketing helps businesses build trust, brand awareness, increase SEO rankings and have creative freedom -- it should be no different for realtors and brokers. If you start publishing content the rewards will be worth it.
Realtors, do you have a content marketing strategy? Why or why not?
Looking to publish more blog posts for your website?
Get Original Content For Real Estate
Read More About Content Marketing:
Content Promotion Strategies: 4 Roads to Success
What Social Media Visits Bring to Your Content Marketing Strategy
Promoting Content on Social Media: How to Increase Your Shares [Interview]