Why your Content Shouldn't Be Limited by Business Size or Budget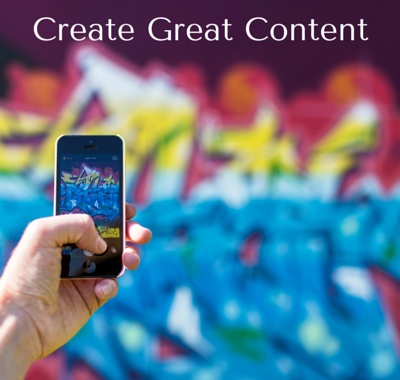 An ode to small businesses looking to create amazing content without a huge content marketing budget. Don't let your budget get in the way.
How much is enough? This is the question every content marketer asks while developing a content strategy.
Sometimes, small and new businesses think they shouldn't waste much time on content creation. After all, who's going to see it when your customer base is still so small? The truth is your have to start somewhere though. Another common piece of advice from marketing gurus is that large, well-established businesses must put out content every day in order to be taken seriously.
See also: How Often Should I Update My Blog?
This brings us to an important question in
content marketing
though: Should the size of your business really dictate the amount of content you create? Let's consider a few reasons why your content marketing budget and company size don't have to be a deciding factor.
Does Your Company Size Really Matter?
You might think that the most successful content marketing comes from companies with the largest dedicated staff. However, this factor doesn't matter to consumers - only the content matters. Not the content marketing budget.
Headspace Design reports
that "because 61% of consumers say they feel better about a company that delivers custom content, they are also more likely to buy from that company." Customers also listed interesting content as one of the top three reasons for following a company on social media.
Considering stats like these, it's important for companies to realize that they can make do with the human resources they have. This could be anything from a solopreneur doing all of his own marketing, all the way up to a large, experienced team of copywriters and designers to outsourcing your content creation efforts. 
With new tools and apps coming out every month, marketers can set up their own customized system for getting content out without a lot of team members behind it. For example,
Hootsuite
and
Buffer
are popular dashboards that help organize and schedule social media posts. Some people worry about getting too caught up in the automation of these tools. However, you can keep an eye on your content, respond to comments personally and avoid being generic and spammy by sticking to a strict plan.
See also: Top Content Marketing Tools & Companies
But What About Content Marketing Budget?
You might be thinking, "Okay, our company size doesn't matter, but how could we ignore the limitations of our budget?"
That's when it's time to get creative. Going the traditional route will have you spending thousands on ineffective ads and email marketing campaigns that just annoy people. In many of these cases, having a large budget and little knowledge ends up being a curse.
"When it comes to budgeting for marketing,"
Agency Access
says, "the standard 'formula' or percentage of time and/or money to use as a benchmark is 10 to 20 percent, [and] it will pay off." With this is mind, remember that any budget is a start. The simple fact that you are marketing matters more than how much you are marketing.
Some of the most inspiring entrepreneurs of our time are known for one thing: their innovation. Innovation means disregarding many of the "rules" we've come to believe are necessary. It means not letting trivial factors dictate the way you run your business -- and this includes content marketing budget.
According to
Content Marketing Institute
, repurposing is one of the best practices businesses can adopt, regardless of their budget size.
With so many unique outlets for attracting customers, it's unlikely your target audience will see the same thing twice. Your social media followers, website visitors and email subscribers are not all the same group, so repurposing content is always a good way to manage your workload. Here are some examples:


If you find yourself answering the same questions time and time again, this is the perfect opportunity to write a new blog post. Browse through your email's sent folder and take tidbits of what you've already explained to use in your blog posts. This saves you time in the future (no more tedious answers, just respond to emails with a link to your informative blog post), and also gives a free, steady flow of ideas for blog posts.


Another idea can help you utilize digital presentations. If you have old presentations sitting on your desktop unused, create and share SlideShare posts, or embed them into articles to give further context.


Regularly scroll through old blog posts and select the most informative sentences to create tweets. Again, it may seem like old news to you, but there are undoubtedly several people who have yet to read that blog post. You don't need to constantly fresh, exciting news or a higher level of expertise. You just need the creativity to reiterate old content that is already stellar.


Other budget-friendly ways to produce content include videos, infographics and case studies. While some of these are more time-consuming than others, they require little to no money, giving you complete control over the amount of content you produce.
There you have it. Hopefully after reading this you feel reinvigorated to create amazing content regardless of your content marketing budget -- even when you feel like you don't have a big team or budget.