You Must Have Passion To Be a Good Content Marketer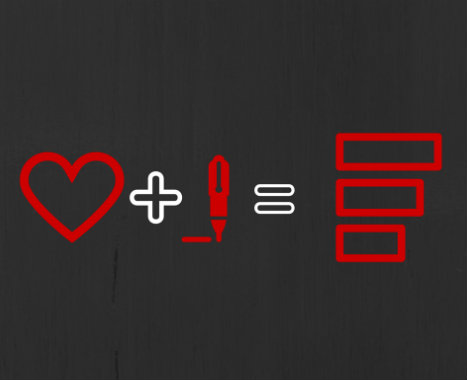 Your content stands out from the noise when you're passionate about your brand and product.
Passion and enthusiasm rank highly among the most desirable qualities for job candidates. This is because people who love what they do are more successful -- psychological research confirms this. Those who display what's called "harmonious passion" -- a healthy interest (more on this below), as opposed to an unhealthy obsession-- tend to
perform better at work and feel better overall
.
Passion is essential in content marketing. In order to make great content, you need to have a genuine interest in your brand, your industry and your product. Here are the most compelling reasons why passion leads to success in life, and, more specifically, our field of content marketing.
See also: How to Fall In Love With Your Blog All Over Again
1. Passion Makes You a Better Salesman
When new sales agents are learning their trade, they are taught it's best to sell products they believe in themselves. Long time sales
blogger S. Anthony Iannarino
explains that those who aren't genuinely interested in their product or job will subconsciously set themselves up for failure.
...You will pretend to sell. You will make some calls. You'll make some presentations. You may even make some deals. Not enough to get you on the leader board, but enough to keep you hidden.
It could be argued that content marketers are hybrids of writers and salesmen. When you write product copy or send emails to prospective customers, you need to have passion at the center of your motivations. If you don't, whatever doubts or negative feelings you have will leak through your writing. How? Well, it turns out, people can feel enthusiasm through their monitors.
See also: The ROI-Boosting Tactic Every Content Marketer Needs to Implement
2. Enthusiasm Is a Socially Transmittable Emotion
The 19th century English poet Samuel Taylor Coleridge famously coined the phrase, "Nothing is as contagious as enthusiasm." Since then, his sentiment has been confirmed by psychological studies. In fact, a study from
Nicholas A. Christakis
and
James Fowler
found that Internet users can pick up on the positivity and enthusiasm of other users, and, experience those same emotions themselves.
'We found that social networks have clusters of happy and unhappy people within them that reach out to three degrees of separation. A person's happiness is related to the happiness of their friends, their friends' friends, and their friends' friends' friends--that is, to people well beyond their social horizon.'
This has fascinating implications for social media marketing. It also emphasizes the need to communicate positively and authentically on social media.
3. Passion Will Boost Your Creativity & Productivity
A 2011 study published
in the Journal of Applied Psychology
found that those who held "harmonious passion" showed greater focus and creativity. That's because those who experience harmonious passion feel a sense of freedom with the object of their passion, as opposed to feeling obligation or obsession.
This freedom creates a liberating headspace that allows people to explore more out-of-the-box possibilities. In fact, a more
recent psychological study
found that supervisors are more likely to see the suggestions of passionate workers as "novel and useful." This not only increases the quality of your work, but it makes your work more fulfilling and more well-received by colleagues. Even better, this positivity creates a self-sustaining cycle.
See also: Which Content Writers Have Great Work Ethics & Creative Ideas? Those Who Read
4. Enthusiasm Is a Positive Feedback Loop
The best part of writing with passion is that it throws you into a
positive feedback loop
. Your efforts bring you rewards -- and your rewards drive fuel for your efforts. When you're writing about what makes you happy, you produce better work. When you produce better work, you're recognized for your efforts more often. When you are recognized, you'll likely feel even more incentive to produce good work again.
If you need any more reason to bring more passion and enthusiasm to your content marketing, know this: Passionate people feel a greater
sense of well-being
. If you can't manage to muster love for your content efforts, at the very least, do it for yourself.
How do you stay passionate about creating content for your brand? Share your thoughts with us below.
To Read More About Content Marketing, See Below:
Content Marketing Advice from CMI's Joe Pulizzi & What Marketers Can Do Better In 2015

Do Readers Want To Share Your Content?
The Content Manager's Ultimate List of Events to Attend In 2015