Be Relevant! Building Buyer Personas To Guide Your Content Strategy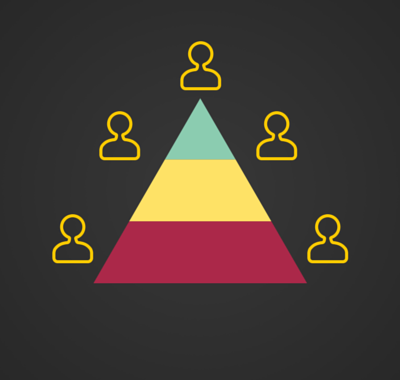 Do you know who's consuming your content? Learn more about how to create the right content for your buyer personas.


There is so much information distributed daily through various channels that customers and prospects can easily become overwhelmed. This onslaught of information makes it difficult for customers to locate the information they need in order to make good buying decisions. This is why when it comes to content marketing, it's important to create content that will attract the right people to your website.

Creating buyer personas and content to satisfy their needs will boost your inbound marketing efforts and increase engagement with your content. Here is everything you need to know about building buyer personas and creating relevant content for your audience.
What is a buyer persona?

A buyer persona is a profile or an archetype, typically used by marketers and branding professionals. Most B2B companies need to create multiple buyer personas because there are often several decision makers and key influencers involved with the buyer journey. Each buying persona represents an ideal buyer for the products or services a company offers. Typically these details -- and more --are needed to form a persona:


Business and/or personal goals


Access to all of this information helps a company communicate better with its target audience.

See also: 5 Ways to Turn Your Audience Into Content
How to Create a Buyer Persona

The best way to create detailed personas is to interview your existing customers directly. Another option is to send out a survey to a reasonable sample size. When conducting these interviews or writing these surveys, get answers to these questions:


Background: Age, gender, job title, income.
Information Sources: Where do they get their content? Which formats do they prefer?
Objections: Where might they object to your product if put through the sales process?
Pain Points: What are the customer's frustrations with products and services in your industries?
Free Time: What are their hobbies, favorite movies and TV shows?
Educational background: What's their highest level of schooling? What did they study?
Purchasing Decision Making: How do they rank their preferences when they're evaluating a potential purchase? Price? Quality? Durability?


Here is an example of a detailed persona from a presentation highlighting HubSpot's buyer personas: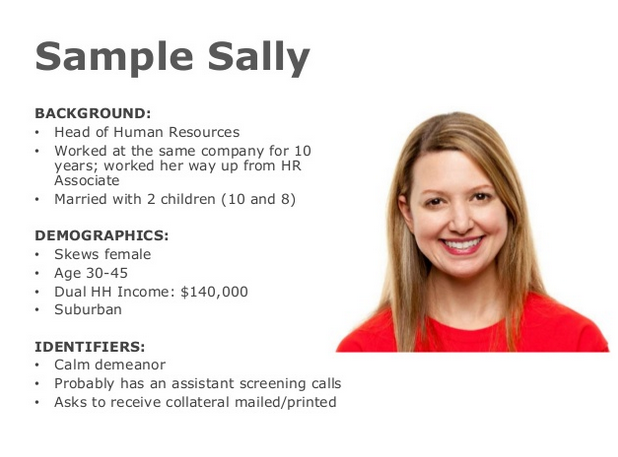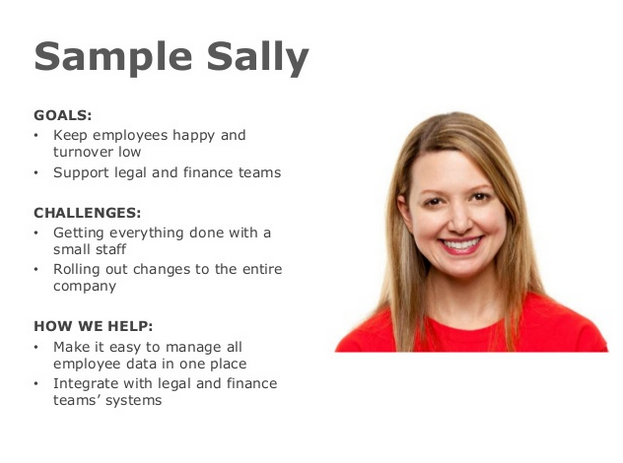 Creating Content For Buyer Personas

After building buyer personas, your content creation process will become more focused and topic ideas will be easier to generate. Map out your editorial calendar into early, middle, and late stage content -- but also divide those stages into each buyer persona. Each persona will need unique content that speaks to their concerns, questions, and level of familiarity with your product, service, or industry.

HubSpot often references their 'Owner Ollie' and 'Marketing Mary' personas. Ollie is a SMB owner who may not be as familiar with inbound marketing tactics, whereas Mary is a more savvy marketing professional who is looking for more detailed information on how to improve her marketing initiatives. Content that is created for Mary may not resonate at all with Ollie, yet both are important potential customers. At Scripted we have personas for marketers, agencies, business owners, and freelance writers.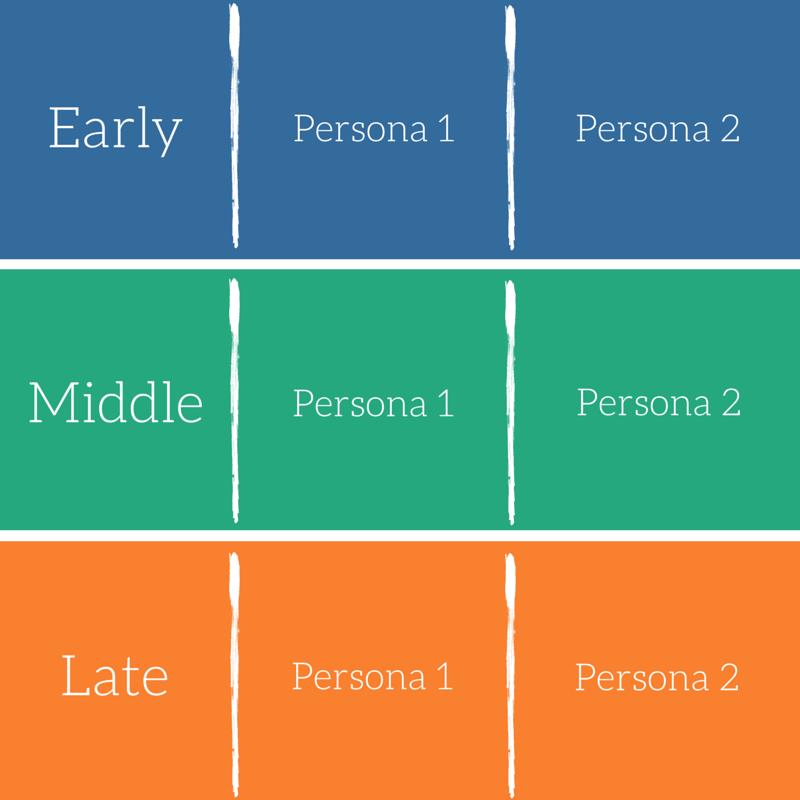 After you've mapped out your personas and applied them to each stage in the buyer funnel, consider creating these types of content for each stage.
Early Stage Content

Content Goal: Generate Awareness

Early stage pieces of content are used to generate awareness and attract leads. They should be light-hearted, easy to consume and fun. This audience isn't interested in reading about how your product can solve their problem just yet because they most likely don't know about it. They just have a general interest in your industry because they're part of it. Content at this stage shouldn't be too sales-y or in-your-face. It should be light, easy to consume and easy to share.

Keep in mind that some personas may need more early stage content than others. In the case of 'Owner Ollie' vs 'Marketing Mary', Ollie will typically spend more time at this stage and engage with more early stage content before making a commitment to learning more about specific products or services.
Mid Stage Content

Content Goal: Engage & Educate

These pieces are a little more serious and have more valuable information to the content consumer. The goal of this content is to keep a prospect engaged and moving through the funnel. At this point, the persona knows more about what your company does but isn't ready to make a buying decision just yet.

So again with this type of content, don't talk specifically about your product and how to use it. Instead talk about ways to solve their problem or relate to them on a personal level. Typically these types of content are created through long-form articles, interviews with influencers, analyst reports, buying guide or ROI calculators.
Late Stage Content

Content Goal: Convert & Retain

This is where you can finally talk directly about your product/service to this audience because that's what they're most interested in learning more about. These personas have already purchased something from you or are about to. In these pieces of content, you should aim to educate your consumers about your product and how to best utilize it.

Remember, these people will be your biggest advocates and share the content and the experiences they've had with your product. Tap into your buyer persona chart to send relevant case studies and examples to convert your lead. Take it a step further and create different landing pages for each persona.
Need Content For Your Buyer Personas? Get a Blog Post Like This

To Read More About Finding an Audience, See the Links Below:
How Content Helped LearnVest Become a Trusted Authority in Financial Advice
How to Grow an Audience on Facebook that Will Convert
Finding Your Audience Through Surveys, Social Media & Events

Powered by Scripted.com