Q&A about Writing with Ann Handley of MarketingProfs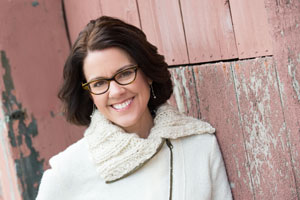 We recently had a chance to connect with Ann Handley, Chief Content Officer of MarketingProfs and best-selling author of Everybody Writes. Ann is a frequent speaker at content marketing events around the world and an inspiration to those of us who practice content marketing every day. In this Q&A, we learn about her new book and how important it is to write a couple of paragraphs each morning.



In today's mobile/social media age, it seems people are writing more than ever. However, they are not following the traditional rules of writing. Do you think people are getting, in general, better or worse at writing as a craft?

"Better" or "worse" seems a bit too judgy to me. So I'll just say this:

You're right - people are writing more now than ever. My aim is to inspire people to embrace the unprecedented opportunity we have to reach other people through our words directly, worldwide. We have access to a pretty powerful platform, for the first time in history. So why wouldn't we want to use our best selves, and write with brevity, clarity, and maybe a bit of style?

From a business point of view, a well-written, well-produced piece of content will outperform a mediocre piece of content. That's just science.

For a while, when people thought about copywriting, they pictured young, Mad Men-esque creative agency employees. Now, as you stress in Everybody Writes, copywriters are everyday people, because it's required in their marketing jobs. What role do creative agencies play in today's content marketing environment?

Creative agencies are full of creative people, who can help inform a marketing program launch. And then, once its up and running, creative agencies can inspire those who run it long-term. The best agencies are great partners to companies who launch content marketing programs; they don't do it for them.

[Editor's note: Also see 8 Things Your Agency Could Be Doing Instead of Managing Writers from our blog.]

You write a lot about writing, which is a really unique position to be in. Was this path in your career intentional? How did you get here?

My background is in journalism, and I worked as a writer and editor for newspapers and magazines for years. Then the internet happened, and I found that those skills were sorely needed online.

So I became the world's first Chief Content Officer. I gave myself that title around 1997 or 1998, when I headed up content and editorial at a company I co-founded, ClickZ.com.

In Everybody Writes you aim to make good writing accessible to everyone. Which writing mistakes irk you most?

Bad grammar doesn't bother me nearly as much as a writer's inability to serve the reader. You are always in service to the reader, even when you are writing something personal.

What's your daily writing regimen? Do you have any advice for writers who want to write regularly?

I start my morning by writing a few paragraphs, every single day. I often don't publish that (except when I'm inspired to turn it into a longer piece). But it helps me shake off the cobwebs and limber up my muscles.

There is no magic to becoming a stronger writer, just as there is no magic to getting more fit. You have to make a commitment to a daily schedule. Then, you have to show up.

Spending 8 hours writing on a weekend isn't nearly as valuable as spending 30 minutes every day. Habits practiced once a week aren't habits, they're obligations, to paraphrase my friend Jeff Goins (goinswriter.com).

[Editors note: Here's a related tip from our blog! Improve Your Writing Skills on 5 Minutes a Day]

In the past couple of months there were two important acquisitions in our market: Content Marketing Institute, which sold to a UK-based event agency, and Marketo, which was taken private by a private equity fund after being public for nearly three years. What about these events is relevant to small business marketers?

This feels like an essay question in an International Business class.... LOL.

Anyway, I'd add emarketer, which sold to Axel Springer last month. And Microsoft bought LinkedIn.

The M&A market is hot right now, is the obvious first point I'd make.

The larger point is that content marketing and social media are here to stay. So if you are a small business still doing marketing the way you were doing it a decade ago... well, you're a triceratops.