The Scripted Podcast: Blog Posts Episode 1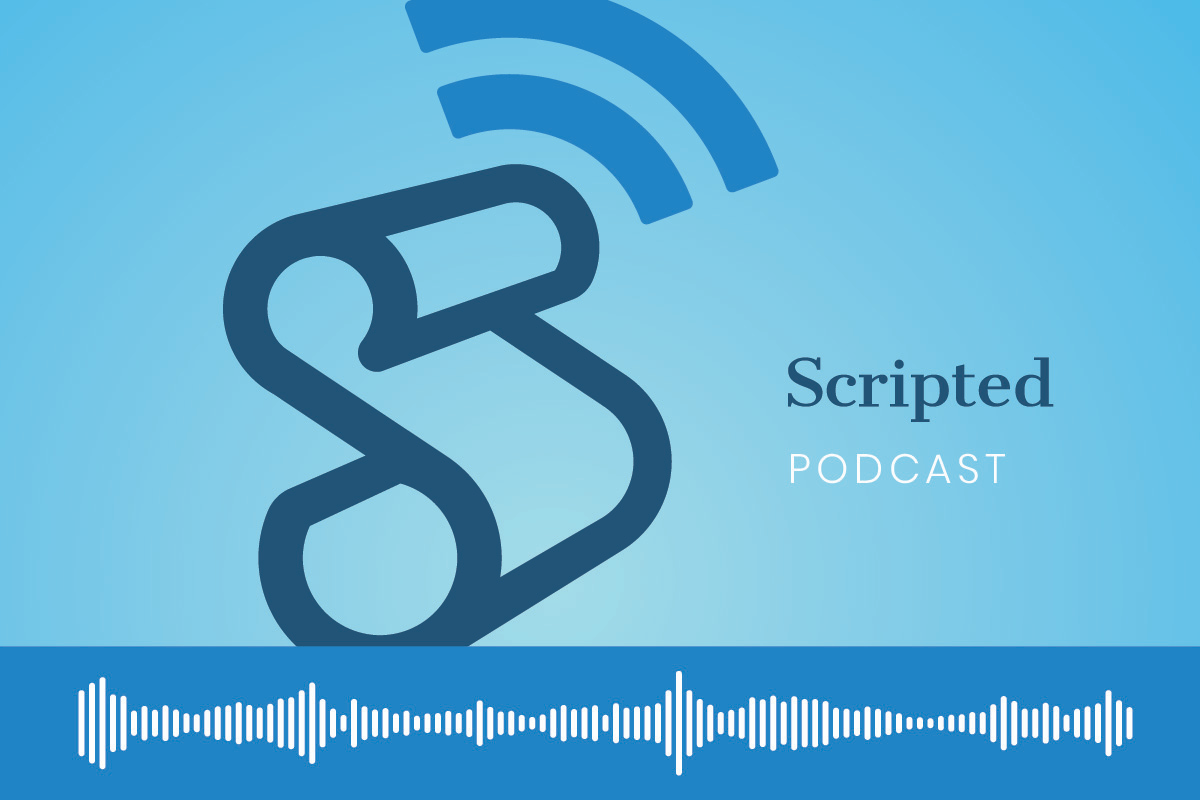 The Scripted Podcast is a show created for content marketers and content writers featuring real Scripted writers. We'll talk about best practices in content and SEO, our favorite marketing tools, how to find and hire writers, and all the fun and misadventure that comes with being a professional freelance writer.
So if you are interested in content marketing to help grow your business or you're a content writer looking to refine your skills and learn from professional, experienced writers then this podcast is for you. 
Welcome to The Scripted Podcast!
Episode 1 Transcript:
Intro
Hello and welcome! This is the first official episode of the Scripted podcast and I'm so excited to have you join us! I'm your host Gregory Williamson and today is going to be a value packed episode, this entire podcast is going to be value packed and I'm excited to have you listening and joining in. 
So who is this podcast for? This podcast is for the content marketers out there, the content writers out there. Anybody that's looking to grow their online presence through organic traffic. And really grow the SEO, so if your content marketer listening in, stay tuned and we will get into the show in a moment. 
Guest Introductions
Now on to this specific episode. You're going to be listening to a great discussion - With two amazing writers that are on the scripted platform, first being Jeremy Hillpot and the other being Mike. Mike is an experienced journalist, writer, PR professional, marketing professional and cat juggler , that one's not true. He is working on it. And he's been on the platform for 8 years now. 
Jeremy drafts content on a wide array of topics. Especially on topics of law, investment, technology, biotechnology, environmentalism, smart technology and crypto currencies. He's been on the platform for 5 years. 
So, like I said, both very talented. Now, for those of you who are listening that don't know what the Scripted platform is. It's a platform dedicated to empowering freelance writers to produce premium content for people like you, maybe for your company. Feel free to check us out at Scripted.com and you can Start Your 30 day Free Trial today. 
Episode Introduction 
So, in today's discussion. We're going to be talking about what works in blogging, what research do you do? Finding the right topic for your blog? What is the right length and format of a blog? If you're writing to give the best answer, does length even matter? When it comes to SEO friendly formats of blogs, what's most important? Whether that be subheadings, short easy to digest paragraphs? Does SEO ever get in the way of good writing? and more. 
It's the 1st of many. I'm excited to have you join us as we launch this podcast, so listen in take a few notes, and maybe you can go back and start implementing some of these ideas within your company!

So without further ado...let's get into the show! 
The Interview 
Gregory:
Alright so I'm sitting here with Mike and Jeremy who have already been introduced and this is officially launching the first interview of the Scripted podcast,  now to get started. 
We're going to be discussing blogs like mentioned before, but Jeremy, Mike, Feel free to introduce yourselves before answering, but really start this off, I want to get a feel for what type of research do you do when you start thinking about writing a blog post? 
In regards to the specific industry that your clients are in, how do you go about crafting your first post? 
Mike:
I'll go first if that's OK. I've been a writer for scripted probably for about 10 years or so. I think I was one of the first 35 writers that came on with Scripted. I remember it was an offshoot of a screenplay hosting site, which I think was called Script. I saw the advertisement for Scripted and I've kind of been with them ever sense. I've served as a writer for the Boston Globe for a little bit. I wrote for the Washington Post and all the Bunch of different outlets, along with my regular corporate career, which is was my main source of income at some points.
And just to tackle your question about what works and blogging and what sort of topics. 
When I have to pitch something and sort of develop an idea for a blog when or in somebody when one of the clients comes to meet via Scripted that says, "We needed a blog post about this. I think it's just kind of being aware of the general topic - on a whole. You know just doing some very basic research. I don't think you have to go in depth unless it's technical. Really, a technical or some sort of technology question that demands it, but I think for a lot of the topics. It's really just being aware and thinking, what people in your position would want to read about. I think that's the basic thing. It's the first thing I ask myself. 
Example: Very recently, I was a customer who just asked for topics revolving around trucking in the trucking industry and the first thing I thought of was alright well? What about an article or blog post on the 8 Best Truck stops in America and bam, he loved it, he accepted it right there, and who wouldn't want to click on a link that talks about the best truck stops in America? 
Jeremy:
I'm Jeremy from Orlando. FL originally I spent 8 years, writing in the legal industry financial fraud cases. Then I took a year off to teach English overseas and then I got into freelance writing and around 2013, I heard about Scripted just seeing some article about the platform and I applied and I got into the system. But it wasn't until about 2 years ago that I started really ramping up my participation on the platform.Before that, I was working with different private clients and things like that. 
As far as choosing topics for your blog. One thing that I've really appreciated about the Scripted platform as they have these managed client accounts where I'm like I was, I was telling Gregory earlier, "I don't really know what you guys are doing back there, but your using keyword research tools to try and find the maximum underutilized keywords. 
A powerful trick is finding you know, let's say you're selling coffee. Of course, the keyword coffee is over-utilized, you can't just try to hit that but you want to find these keywords that are underutilized and not a lot of people are writing on them. if you can rank on those, you just captured an audience of 10,000 people. So I really like that strategy of finding these underutilized keywords, where no one is really writing that excellent of content, and if you can just blow away the content, you can easily rank. Why? The Google algorithm sees that someone clicked on that link and just spent 10 minutes absorbing your content and then another person did the same, quickly for that keyword you go right up to the top. 
Oftentimes I find poor writing in ranking pieces, you see these big jumbled up paragraphs that you just run away from, the you don't even read them. However, if you can have beautiful paragraphs that breathe with well defined subheadings. You can really just make a piece that's highly readable and it will shoot right to the top, it's happened so many times. 
The real challenge is to get the SEO keywords that you need in there, and put him in there in such a fashion where they're not only filling the clients needs, but also it makes it readable for anybody who wants to see it. 
Gregory:
I really like where this is going and specifically the fact that Jeremy brought up the idea of going and looking at competitors pages. And seeing how they don't really breathe, not really broken up appropriately right?
I'm curious how y'all go about doing this when you have clients. Understanding their keywords and just the formatting in general. How do you go about gauging that for a specific client? 
Mike: 
Well, I try to think of a number. I look at the content that's already on the website. When I'm working with a client and they want me to recommend a word length for a subject, I have kind of 500 words as my starting number, that's the first thing I go to and if I see that there's a lot of content that is there or if there is a subject that needs a little more in depth explaining, then I'm trying to break it down in chunks of words - 750 ,1000, 1500... that's the kind of the currency that I think in. 
When it comes to the blog post length. I will say that you know, I'm always thinking when I'm writing these in terms of putting in the subheads, putting in the paragraphs, and all the other materials that go along with the backlinks. I mean, I don't think there's any one optional length for it. I think there's things that are definitely too short and too long. But you kinda just notice it naturally with the topic, and the content that is already there. 
Jeremy: 
Yeah, I wouldn't say there's a specific length and I think it's dangerous to write to length.
The CEO at Scripted mentioned to me, he gave me an assignment one time and I said, "How long do you want it to be?" and he said, "look I don't want you to write to length. I want you to right the peace at the length that the peace requires." I definitely agree with that.
In the general sense, one thing you can do is look at that comparative content that's ranking on those keywords and see if you can. See a theme you know, maybe you see that all of the ranking pieces are about 1500 words. Then you should probably write about a 1500 word piece because that seems to be what the audience is looking for. 
Writing long posts: It needs a great intro sentence and intro paragraph that just tells them exactly what it's about. It basically says OK. You know you're looking for this. I'm gonna give you that and that's what you're going to find down there. Entice them.Tell them what they're getting and then that'll pull people through a well written piece. 
Gregory: 
Pushing this more towards SEO in long-form posts, in the way when you're really tackling this and breaking it down with the subheadings. Does this get in the way of SEO friendly blog content? Do you really have to think about it as you're breaking it down? 
Mike:
I think you have to, just for the natural flow of a piece. When I say natural, I think that it's something that I try not to go 2 or 3 paragraphs without breaking it up somehow because that's right when people are going to start to lose interest.
It's a natural story progression from one product one topic to one event to one story. These are very natural progressions and there's always a way to break these up into different effective subheadings that will keep the readers interests in a long piece while still addressing the needs of the client. 
Jeremy: 
I love breaking things up well. I write kind of with the idea that the readers might not be reading my whole piece, they're going to just be scanning through and looking at the subheadings. They were looking for something very specific on this topic. Perhaps they might want to read the whole thing and I hope so, but the headings let them flip through to exactly what they want and then they'll spend a little bit of time there. But if they don't, they'll quickly be intimidated and they'll just go to the next piece of content really fast. 
Google algorithms are always changing and I think that Google algorithms are always moving more toward Humans, so they're tracking real user behavior. So if you've just got your own thing and you can do something really original that captures people's attention, that's good. I think Google Now can reward that more, but you're still writing for computers 
I look upon it as a challenge. I look upon it as there's these six keywords that I have to get into a piece and the challenge for me is to get them into a place where it does sound organic and there's a flow to it.
 It's almost like you have a puzzle. I like the game of SEO. It's a lot of fun. 
Recap:
Gregory: We discussed what works in blogging, more specifically the research that Jeremy and Mike do before crafting a blog post. Which includes: starting with some basic research and thinking about what people actually want to read about - it has to be engaging. 
Next find underutilized keywords that people are searching for and then right truly quality content. The result? People will start reading and actually spend time on your page, and before you know it, that piece of content will shoot to the top. 
We also discussed what is the right length and format of a blog. And it really came down to the conclusion that there is no one size that fits all, it's about the industry that you're in. But start, look at comparative content, try to find a theme between pieces that are ranking high. If they're all around 1500 words, it's best to conclude that you need to write about a 1500 word post. However, we can definitely conclude that less is more. Readers have short attention spans, and it's important to get to the heart of the matter in as few words as possible.
If you have to write a long form post, make sure to break it up nicely. Allow it to breathe and make sure it isn't any longer than it has to be, no one likes filler. But most importantly, make sure the intro paragraph is solid. It needs to pull the readers in and explain exactly what the rest of the article is going to include. In short, it's dangerous to write to length, instead right to the length that the peace requires. 
In the next episode:
In the next episode we will be moving this discussion along and talking about how to capture the most leads from blogs. You have the readers, but how do you effectively turn that visit into a business opportunity? Whether that be lead forms popups or exit pops? We will discuss what software is best for these, what is too aggressive in capturing leads and if a reader signs up for your newsletter, how do you best nurture that lead?
Quick Links:
Hire Jeremy H. to write for your company.
Hire Michael N. to write for your company.
Looking for help with writing your next blog post? Sign up for your 30 Day Free Trial today!