The Content Marketer's Guide to White Papers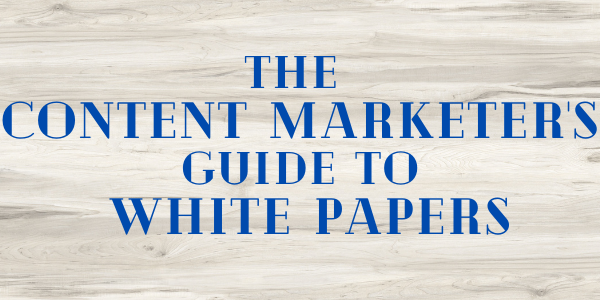 As a content marketer, you'll oversee the creation of many different types of content for your company: blogs, websites, social media, and white papers. White papers are an excellent way for brands to share deep industry knowledge and attract potential customers. While they're similar to business reports, the structure and key elements included are slightly different.
To use white papers successfully, it's critical to recognize the differences between white papers and other types of content, to understand the elements that combine to make a great white paper, and to know how hiring a white paper writer can help you knock it out of the park.  
In this post, we'll cover all those topics and more. Let's dive in. 
What is a White Paper?
A white paper is an industry-specific document intended to convey authority and dominance in a niche. 
Like ebooks, white papers educate readers about a topic. Unlike ebooks, though, white papers rely heavily on original research and data. 
When done well, they combine that expert knowledge and research into a document that outlines a specific recommendation, solution, or "fix" for readers. While white papers are text-heavy and data-centric, they also include original images, graphs, charts, and other visual elements designed to break the text up. 
Ultimately, a white paper should help potential customers develop a deeper understanding of an issue, address their pain points, and make important decisions. 
The Purpose of a White Paper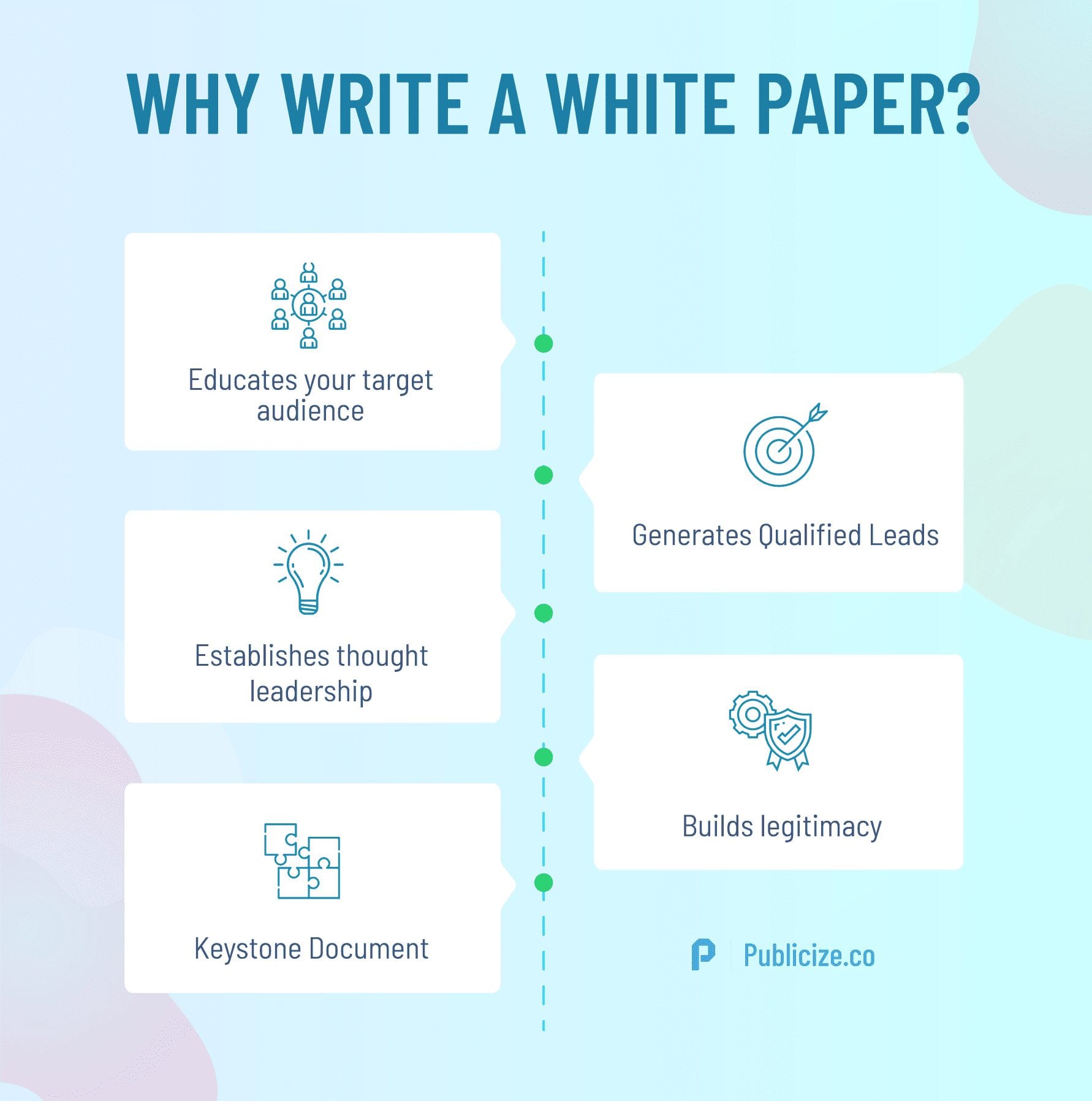 There are a few different use cases for white papers. The primary two, however, are:
To show expertise

 

To market a company
Since white papers are typically written for an external audience, meaning people outside your company, they are an excellent tool to attract would-be clients. Since they provide top-quality, data-forward industry knowledge, though, they can also become an important data source and touchpoint for people within your industry. 
Even though they're written for an external audience, it's important to keep in mind that white papers are not sales pitches. They don't seek to sell a company's products, goods, or services - only to highlight internal expertise and recommendations - especially for B2B buyers. 
According to recent research, 71% of B2B buyers have turned to white papers within the last year to research a buying decision. With that statistic in mind, it's clear that, if you can showcase your expertise for readers and use it to help them find solutions, buyers will be more likely to check out your offerings and solutions. 
When (and Why) to Use a White Paper
By now, you know white papers are excellent marketing tools that can help a brand demonstrate expertise in the industry. 
They are not, however, right for every situation. 
Before you dive headfirst into creating a white paper for your company, it's important to make sure that a white paper, rather than a case study or ebook, is truly the right piece of content for the setting. 
Here's a breakdown of the differences between white papers, case studies, and ebooks:
White papers

- formal, singular point of focus, research-based

Case studies

- summarize a single client relationship and outcome

Ebooks

- long-form, causal, or professional tone, written on a specific topic
3 Benefits of Using White Papers
1. Lead Generation
One of the biggest benefits of white papers is that they're an effective lead generation tool. According to a business.com survey of 500+ lead generation leaders, most companies view white papers as a powerful lead generator, with over 50% of respondents reporting that white papers are a "valuable" or "extremely valuable" source of leads. 
One reason white papers are so effective for lead generation is that they're commonly gated - meaning companies ask readers to hand over information in exchange for downloading the white paper - and customers are happy to oblige. 
According to DemandGen's 2017 Content Preferences Survey Report, 76% of customers will share their personal information (including things like names, emails, and company roles) in exchange for the right to download white papers. This is 13% greater than the number of customers willing to exchange personal information for an ebook. 
2. Thought Leadership
Because white papers contain original research, data, and information, they're an excellent option for brands that want to become thought leaders in their industries. Besides attracting potential new customers, thought leadership builds trust between brands and customers - demonstrating expertise and authority by the brand, and helping customers feel safe with a company they've chosen. 
Additionally, thought leadership:
Boosts your brand visibility with customers, clients, and stakeholders

Helps your ideas and research reach a wider audience, including people within your industry, the media, and researchers

Helps your brand become more persuasive, and provides you with the authority needed to lead the pack on new trends and events 

Helps your brand drive meaningful change both within and outside of your industry
3. Competitiveness
Statistics from a survey conducted by AlterraGroup show white papers can help brands become more competitive. According to that study, white papers and ebooks ranked 5th in the list of most-used content marketing vehicles, according to B2B content marketing experts. 
While most B2B companies use social media content (83% of firms) and blogs (80% of firms), only about two-thirds of B2B marketers use white papers and ebooks. The bottom line? White papers represent an untapped niche in the content landscape. Creating excellent white papers now could put you drastically ahead of your competitors, as far as content creation is concerned.  
White Paper Best Practices: The Simple Guide for White Paper Writers
Now that you understand the purpose and place of a white paper, let's talk about how to create a great one. As a general rule, every white paper should include:
A cover

A title page

An introduction

A conclusion

A table of contents

Graphs, images, charts, and other visuals
Now, it's time to dive in.
Here's your step-by-step guide to white paper writing: 
Pick the Topic
Before you can get into the meat and potatoes of your white paper, you need a topic. The topic guides the structure of the white paper and helps it reach its target audience. As you decide on a topic, consider the following criteria: 
The topic should be something your company knows well and is an expert in

The topic should be something your audience cares about

The topic should fill a "content gap" in your industry
Finding the right topic for your white paper is essential. The better your topic is, the more interesting and authoritative your content will be. With this in mind, don't be afraid to spend some time with your topic. If it's not a good fit, the paper won't be successful. 
Know Your Audience
You've got your topic, now who is going to read it? Understanding the audience for your white paper as you create it is exactly as pivotal as deciding on the right subject for the paper itself. As you consider your audience and their interests, ask yourself the following questions:
How do your readers consume content?

Are they professionals who will be well-versed in the subject, or are they new to the topic?

What solutions have they likely already tried to address their pain points, and what will they be searching for now
Knowing the answers to these questions helps you structure your white paper and ensure. It also helps you avoid preventable mistakes, like using industry jargon to address a non-expert audience. 
Add Value
Say it with us: a white paper is not a sales pitch. 
While white papers may certainly point back at a product, good, or service your company offers, that is not the primary purpose of the document. Instead, white papers should provide value for your readers. Think statistics, data, visuals, quotable facts, etc.
Here are a few things readers should feel after interacting with your white paper:
Informed

Surprised

Like they've just engaged with a reliable source of information

Prepared to make a decision
While white papers aren't a direct path to sales, they are a very effective long-term solution for generating trust with customers and positioning yourself as an expert in your industry. 
Tell a Story
Don't be afraid to use a narrative voice in your white papers. These interesting pieces of content are designed to be more detailed than blog posts or ebooks. While they should include statistics and numbers throughout, they can also tell a story. Use creative writing tactics to create and hold interest and keep your audience coming back.
The Benefits of Hiring a White Paper Writer
Now that we've broken down the process of creating a white paper, let's talk about who should do it. As a content marketer, you're a busy person who might not have the time (or interest) required to create a white paper yourself. You might also not have the team members needed to hammer it out in your department.
So, what's the alternative?
Simple - hire an expert white paper writer. 
Here are a few perks of onboarding an expert:
Better-Quality Content
A white paper is a critically important piece of content, and you can't afford to take a shot in the dark at it. Luckily, working with a professional means you won't have to. Experienced white paper writers know the structure, format, and purpose of a white paper inside and out. 
They understand how to craft something that appeals to your audience while also formatting the document to look professional and polished. The result is a piece of evergreen content that truly shines, and that your company can use in its marketing efforts for years to come.
A Faster Turnaround Time
Right now, 60% of marketers are creating at least one piece of content each day. That's a lot of content, and it keeps teams like yours busy. So it's understandable that you can't lay it all aside and focus your efforts only on a white paper.
Fortunately, a white paper writer can.
When you work with an expert outside of your company, you get all the workflow and timeline benefits that come with having someone dedicated to focusing on a single project. Because they're so focused on the task at hand, most white paper writers can turn a project around faster (and with better results) than your in-house team can. 
This is a huge perk if you're trying to meet a marketing deadline or push content out to coincide with an event or product launch. 
Industry Expertise
When you hire a white paper writer who is an expert in your industry, you get the combined benefit of deep writing experience and industry knowledge. The result is a highly tailored white paper that oozes thought leadership. 
Here at Scripted, we specialize in helping companies like yours find skilled, specialized writers for white papers and more. Browse our list of industry experts in niches like technology, travel, food and beverage, manufacturing, and more to find your perfect fit.  
Scripted: Your Source for The Best White Paper Writers on the Web
You can't have a well-rounded content strategy without a great white paper. Creating one, however, can be a ton of work. If you don't have the workforce, time, or expertise to create a professional white paper in-house, Scripted is here to help. Connecting teams like yours with skilled freelance white paper writers in a variety of industries, we're your one-stop-shop for stunning content written for your brand. 
Ready to get started? Browse writers now.