[Webinar Recap] How to Drive Leads By Reorganizing Your Content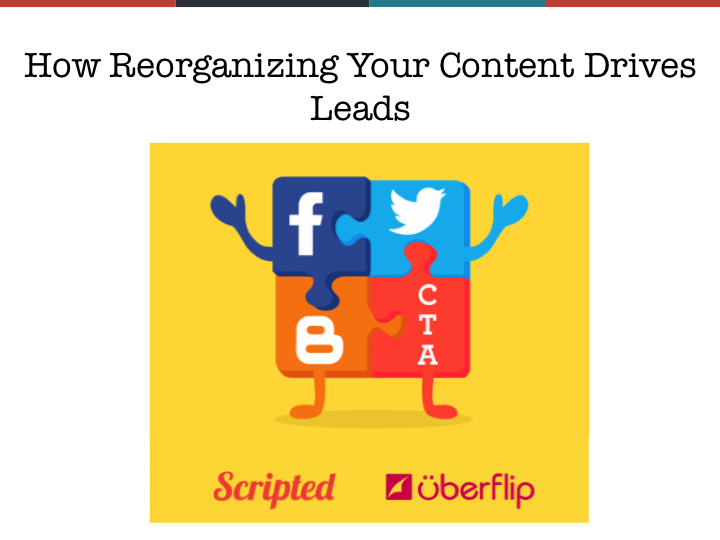 Who needs a content spring cleaning? Scripted.com and Uberflip joined forces to discuss the different ways brands can increase leads by reorganizing their content. Didn't make it? Not a problem, you can catch up here.
A common complaint amongst content marketers these days is that there's a lack of eyeballs on their fresh, original content. Even if your content is top-notch, if nobody's reading it -- it's inadvertently ineffective. On April 16,
Hana Abaza,
Uberflip's
Director of Marketing, joined us in a webinar to talk about ways in which marketers can shake up their content's presentation to drive more leads. What we learned is that a clean and compelling look is key to reorganizing your content. In case you didn't make it, you can listen to the webinar recording
here
. Additionally, below are a few highlights and lessons learned. Thanks again to everyone who attended and participated!
1. Define Your Goals & Success Metrics
Before approaching a content reorganization, it's important to define "driving leads" to you and your marketing team. Is it a newsletter sign-up? Is it downloading a white paper? Or is it a full registration? It helps to define exactly what leads are before trying to drive them. With that being said, you should have clear goals set in mind of what you want to get out of your content strategy. Pumping out content just to create it is a poor practice. You should always have clear goals and outcomes in mind.
2. Create a Content Strategy Before Thinking About Driving Leads
We know you're excited about driving leads through a massive content reorganization, but it's important to first have a concrete content system in place. You should be at a point where you have a filled editorial calendar and consistent publishing schedule going. You should feel confident in the system in place.
See also: How to Create an Effective Editorial Calendar
3. Stand Out From The Noise By Focusing On Presentation
There are more than 2 million blog posts being published everyday. Cut through the noise by providing an exceptional experience for your readers. Engage them at the right time with the right content. Speaking of presentation, check our
new marketing resource section
and
Uberflip's Hub.
4. Be Uber-Strategic About Call-to-Action Button Placement
Back to our first point, it's important to be strategic about call-to-actions buttons when reorganizing your content. Once you have "driving leads" defined you can easily determine which CTA's to place in various spots. Hana at Uberflip recommends the upper righthand rail for a "free trial" or more aggressive approach to driving leads in blog articles. On a content homepage -- or Uberflip Hub -- a creative way to include a softer CTA is to include a newsletter sign-up in an individual tile or box.
5. Make Sure Your Content is Optimized for Growth
Most importantly, no matter what great content you're creating it must be prepared be clicked and get shared. The easier it is for your audience to do that, the more likely it will happen.