[Webinar Recap] How to Create The Most Memorable Content Experience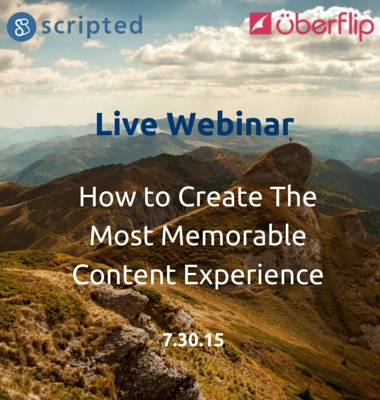 In order to succeed in content marketing, you have to give your audience an unforgettable experience. Watch our webinar with Uberflip to find out how.
When people visit your content hub -- where blog posts, white papers and others assets live -- they should walk away wanting more. As marketers continue to focus on creating great content, it can be hard to also work on improving the overall layout and experience. In an effort to understand more about creating that unforgettable experience, we teamed up with the experts at
Uberflip
in a live webinar on July 30. Hana Abaza, Uberflip's VP of marketing, Eric Maccoll, Scripted's Director of Marketing, and Nicole Karlis, Scripted's Content Manager, covered the following:
* How to discover and cater to a relevant audience
* How to create a high converting content experience
* Tactical tips to optimizing the experience for killer results
You can watch the full recap of the presentation here:And check it out on SlideShare below:
Did you attend the webinar? What did you think? Let us know your thoughts in the comments section below.
Want to listen to more webinar recaps? Click the links below:
How to Scale Your Brand's Storytelling
Nobody Views Your Content - Here's How to Fix This
How to Drive Leads By Reorganizing Your Content
Subscribe for the latest in Content Marketing & Freelance Writing!
While you're here, have you tried Scripted lately?
Used to be a member, but moved on? Heard of it, but never signed up? The current iteration of Scripted will amaze you! Streamline your content writing efforts and build your own team of high-quality writers. It's all you need for content writing. Try it free today and meet your next favorite writer or writers!