How to Look Like a Big Content Team With Scripted & Canva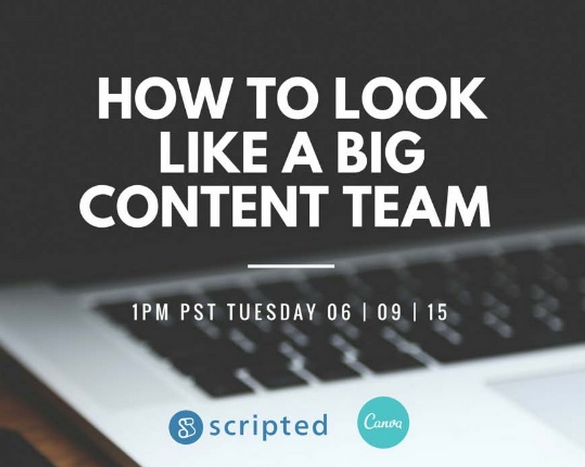 Missed our webinar on how to look like a big content team with limited resources? Watch the full recap here.
As more marketers turn to
content marketing
, the importance of creating quality content on a consistent basis increases. While it can be difficult for marketers with limited resources to succeed in content marketing, that shouldn't be the case. In fact, there are many tools available to help marketers create, manage and promote content. On June 9, we teamed up with our friends at Canva to discuss how marketers can create a lot of content with limited resources -- whether that means not enough manpower or they're on a lean budget. Specifically, we talked about:
* How to create a content strategy with one person managing it (Nicole Karlis, Scripted Content Manager)
* Outsourcing content to make room for other priorities (Nicole Karlis, Scripted Content Manager)
* Best practices for creating engaging visuals with Canva (Poppie Pack, Canva Senior Graphic Designer)
* How Canva & Scripted can work together for all marketers (Poppie Pack, Canva Senior Graphic Designer)
You can watch the full recap of the presentation here:And check out the slides on SlideShare here:
Want to listen to more webinar recaps? Click the links below:
How to Scale Your Brand's Storytelling
Nobody Views Your Content - Here's How to Fix This
How to Drive Leads By Reorganizing Your Content
Subscribe for the latest in Content Marketing & Freelance Writing!
While you're here, have you tried Scripted lately?
Used to be a member, but moved on? Heard of it, but never signed up? The current iteration of Scripted will amaze you! Streamline your content writing efforts and build your own team of high-quality writers. It's all you need for content writing. Try it free today and meet your next favorite writer or writers!