Actionable Ways to Amplify Your Content With Travis Wright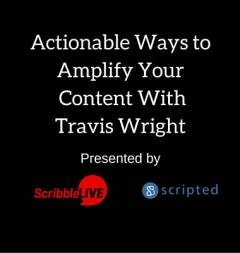 Travis wright discusses ALL the ways you can get your content in front of a bigger audience.
Do you want more eyeballs on your content? Of course, you do! That's why we teamed up with Marketing Technologist,
Travis Wright
, for a live discussion on how brands can amplify their content with different strategies and tools. A big thanks to our co-sponsor ScribbeLive for helping us make this event happen and to Wright for being an awesome speaker! Check out the full recording below.
Need content?
Subscribe for the latest in Content Marketing & Freelance Writing!