Vidyard Review: Features, Pricing, and Alternatives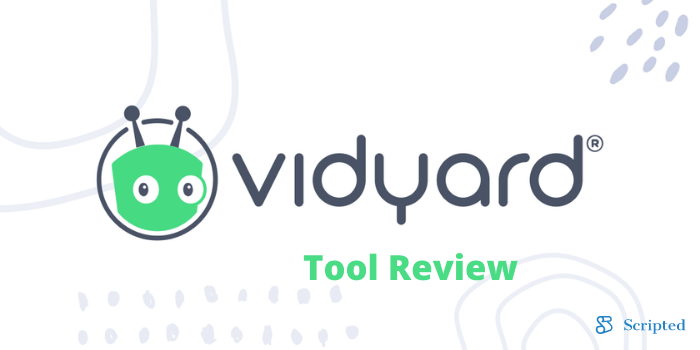 If you're looking for easy ways to get your feet wet with video, Vidyard offers some user-friendly features to get you started. No matter what kind of business you run, video content is a significant addition to your marketing reach. You can also use it for tutorials and a wealth of communication needs that have nothing to do with marketing but everything to do with great productivity.
Video offers better conversion than most types of content, so it's a great benefit for anyone trying to up their marketing game. But marketing is not the only use for a tool like Vidyard. Video can be used to work with hybrid and remote staff, for your sales teams, marketing teams, and even for training and demos.
For many small businesses, there's been a barrier to using video. Live streaming from your phone or using cheap equipment will give you a less than professional video. Tools like Vidyard help you overcome these obstacles. They give you the tools you need to create quality, professional videos quickly.
And video creation is only part of the process. You need an easy and convenient way to share videos. Vidyard includes all of the tools you need to get a quality experience. If you're looking for a platform that helps you through the process of creating and hosting, Vidyard might be the perfect fit. They also specialize in analytics to help you understand how your videos are performing and how to improve them.
So let's dive into the features and pricing with a full review of their solution and then a few alternatives if you'd like to keep researching.
What Is Vidyard?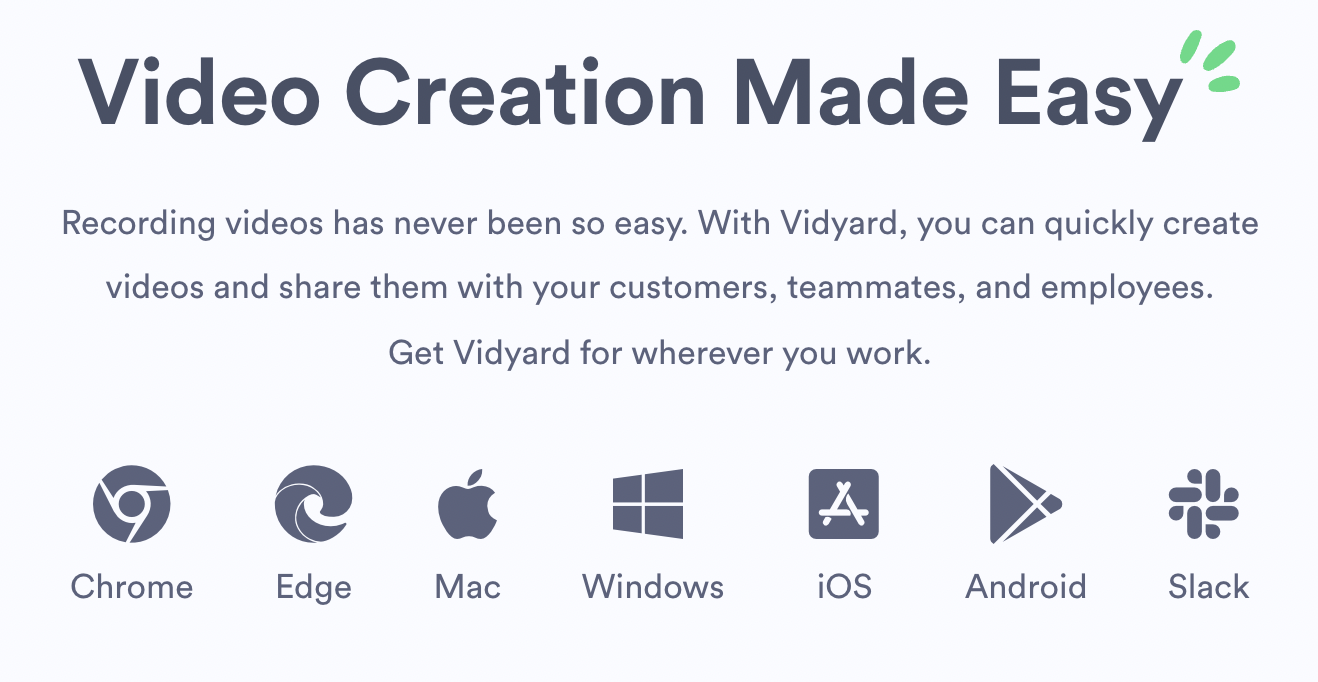 Vidyard is a platform where businesses can create and share quality videos. They created the platform to help remote sales teams, but any size business and any department can use it. And there are a wealth of ways to use this tool. Your sales team can use it to further connections with clients who aren't local. Your marketing team can use it to implement video marketing campaigns.
You can use Vidyard to put together great tutorials on how to use your products and services. The sky is really the limit here. So how is Vidyard different from other solutions?
Vidyard was created specifically for businesses. Unlike other commercial video platforms, Vidyard gives you the experience with no ads or other obstacles. And it's available for any size business. It has a wealth of tools that you can use, or you simply use the friendly features to launch the videos you want and embed them on your website, social media posts, or in your email campaigns.
What Features Does Vidyard Have?
Let's talk about features. Vidyard's features include:
Video Creation

Video Management

Video Sharing

Video Optimization

Video Analytics
Some companies will only use Vidyard for creation or sharing. Other businesses will take advantage of the full range of tools. Let's look at each feature and how your business can use these benefits to boost your returns on your video creation efforts.
Video Creation
Creating a professional video is not as difficult as it once was if you use the right tools. A lot of businesses have put off getting into video content because they feel unprepared. They don't have expensive video equipment and are unsure of the technology. Vidyard gives you exactly what you need to create solid video content without purchasing extra equipment.
You can record your video on your phone or through your webcam. You don't need to buy a camera or any equipment that you don't already have. You can stitch together multiple videos with easy editing features and you can record your screen to walk your audience through a tutorial on your own desktop.
Vidyard integrates with your own platforms and tools so you can send your video out to the audience easily and efficiently.
Video Analytics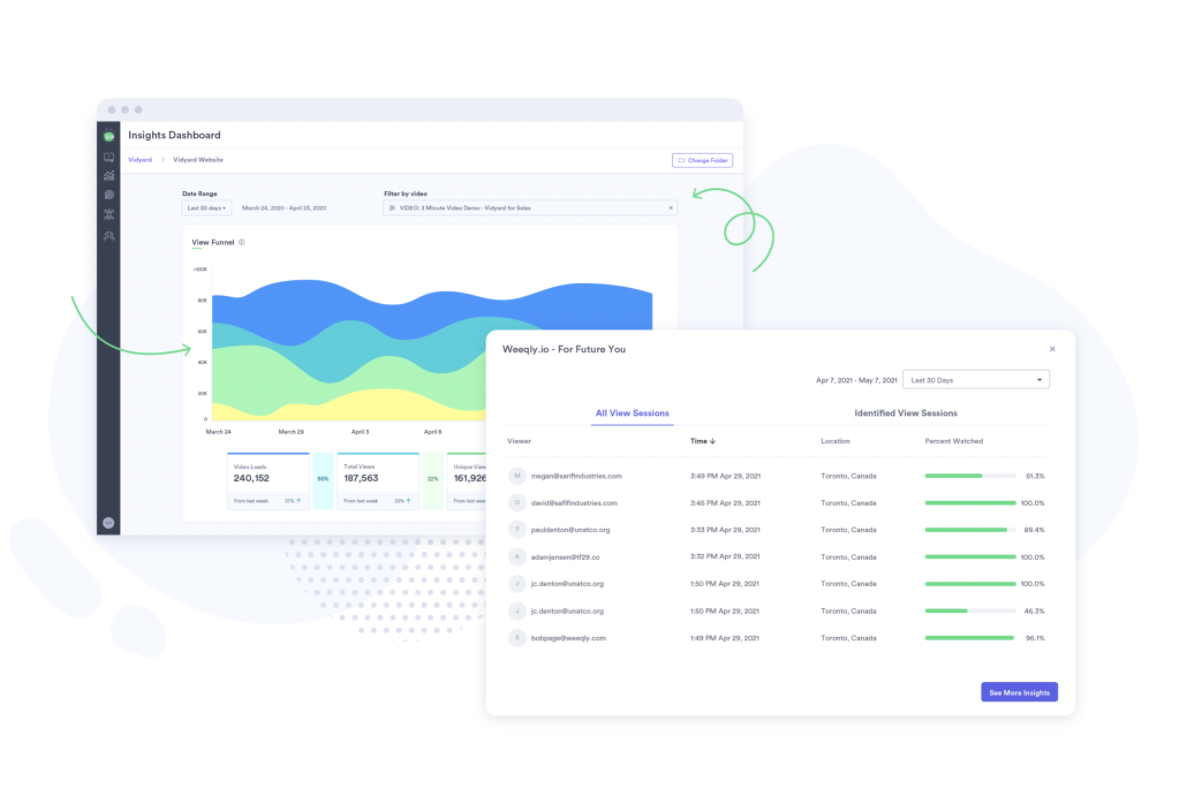 Integrate your video analytics with your CRM to give you a handy way to view your ROI in a format your team is well trained and familiar with. You can also use Vidyard's own analytics dashboard to view your KPIs and adjust your campaigns and content according to your metrics.
Video Management
Vidyard gives you a platform to host your videos without ads. You get fast, effective streaming, and you can upload a wealth of video formats. The platform is secure and compliant to give you a way to protect your video content and offer secure logins to your users.
Video Sharing
Vidyard makes sharing your videos simple. You can embed videos on your website, in an email, on a platform, or wherever you want to showcase them. You can also customize your company's video page with your own branding to send prospects and employees to your site. Share your videos to any social network and check the analytics and notifications in an easy-to-use way.
Video Optimization
Just because the content is in video format doesn't mean you shouldn't optimize for SEO. Vidyard has you covered. They give you the tools you need to engage your audience for a better user experience. Get buttons to encourage action and easily add SEO keywords and metadata to get your video content ranked in search.
Pricing Breakdown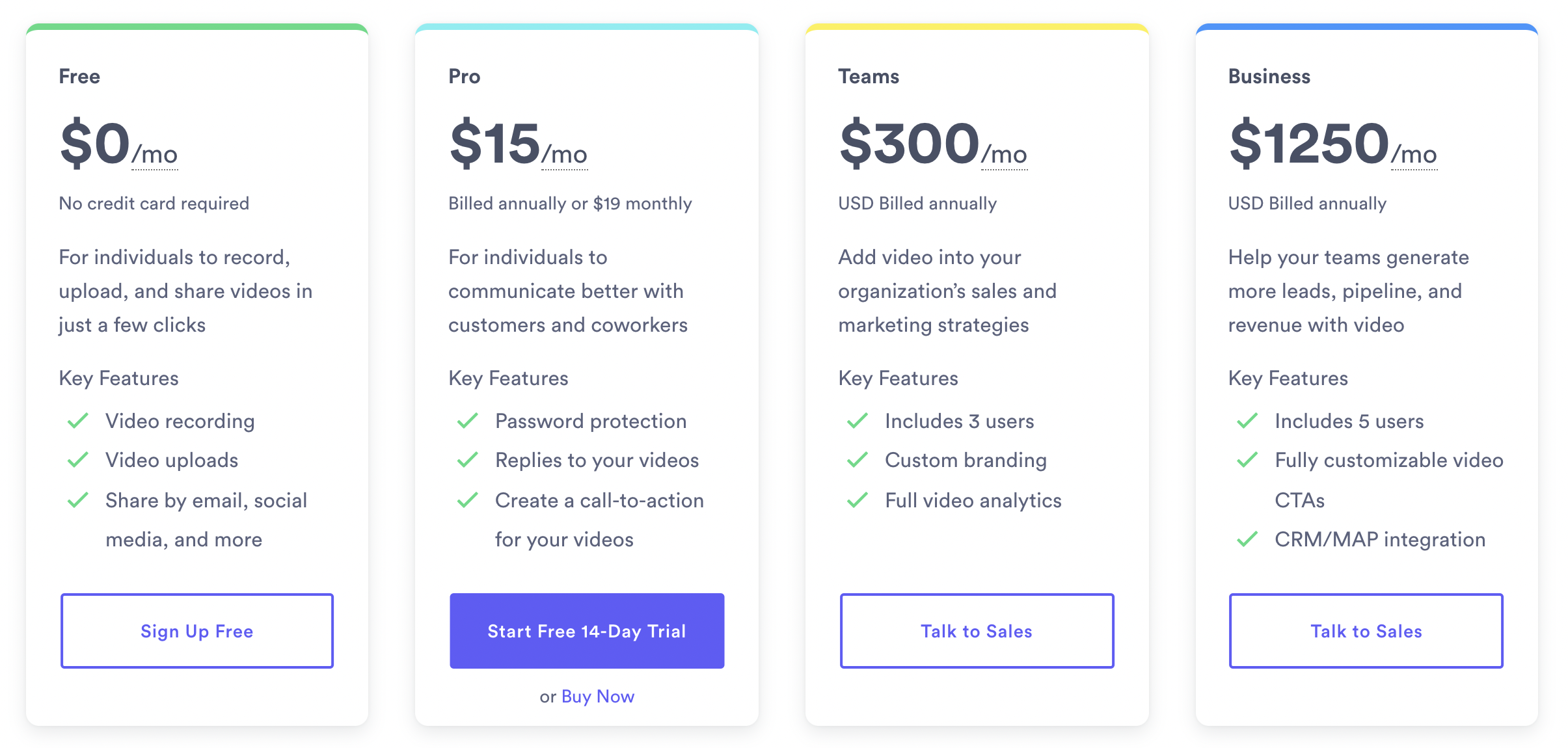 Vidyard has four pricing tiers, and the lowest one is free. You really can't beat free. They give you an easy, no-strings way to try out the tool with no investment on your part. Of course, the free version doesn't come with all the bells and whistles of the more expensive offerings, so let's dip in and see how the plans differ.
Free Version.

This is the perfect option if you're trying out Vidyard or you're a solo business. The free version gives you unlimited uploads and unlimited recording. You can share your videos through email, social media, and a few other options.

Pro.

The Pro tier is $15 per month. This option gives you everything the free version has but it throws in CTAs, replies to your videos, and password protection.

Teams.

The Teams version is $300 per month. It gives you access for 3 team members, full analytics, and allows you to customize your own branding.

Business.

The top-tier version is $1250 per month. This option gives you all of the bells and whistles with integration to your CRM, full analytics, customizable CTAs, and it allows for up to 5 users.
Alternative Solutions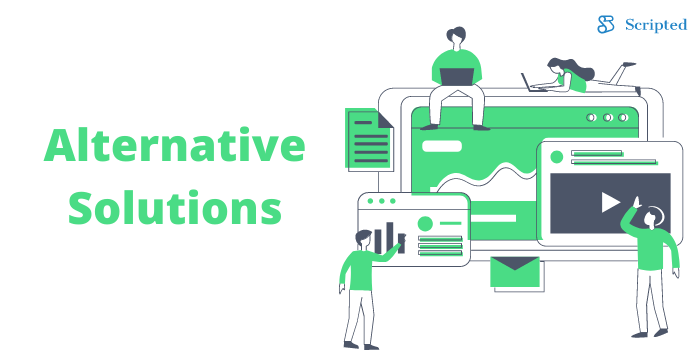 Vidyard is a solid video creation and distribution solution because it's easy to use and lets you try them out without committing to a monthly fee. But there are other video solutions on the market that you might want to consider.
This solution is on par with Vidyard. It's an easy-to-use solution and many customers find that it's intuitive. They also offer competitive pricing. The biggest difference here is that Wistia doesn't offer unlimited videos. You need to pay per video once you get past a certain number per plan type. This may not be an issue for your business if you choose the right plan.
Another thing to consider is transcription. Both Wistia and Vidyard do offer it, but Vidyard's is free and Wistia's is not. Integration is also more comprehensive with Vidyard. You won't be able to customize as much with Wistia and you may not be able to integrate your analytics on every platform. But it integrates with HubSpot and that might be enough for your business.
Vimeo doesn't do all the things that Vidyard does. You can't integrate with your tools or use the complex analytics that helps you understand your video performance. You would likely have to upload the videos created on Vimeo to see how they perform based on the platform where you're presenting them.
Vimeo integrates with email marketing platforms and allows you to collect a mailing list, so it would be a great option if you're using video to increase your subscribers or promote your newsletter.
BombBomb is a suitable solution if you're simply looking to send videos in email marketing campaigns or for your sales team. It's not a host. It just helps you create videos and launch them.
But BombBomb has good customer service and the solution might be just what you're looking for if you don't need the analytics or the hosting options.
Is Video Right for You?
No matter what type of business you're in, video is probably a significant addition to your content. People love video. It adds an extra personal touch for customers and freelancers and gives you some options in communication that other content options simply can't offer.
If you haven't added video to your content strategy, it's something you should definitely consider. Try a free solution first so that you're not heavily investing until you understand the format.
If you're looking for a scriptwriter to help you develop the most professional video content, Scripted writers have you covered.