Notion Tool Review | Scripted

If you're like a lot of brands these days, you're suffering trust issues from failed promises of the past. So many tools make big claims only to leave customers like your team disheartened when they can't live up to them. So, when Notion's homepage calls itself an "all-in-one workspace" and boasts that it's the only tool your team needs, it's easy to put up your defenses and start losing interest before you've given it a real chance. 
Before you back away and start looking for a tool that makes seemingly more realistic promises, it's worth giving Notion a shot—especially when they have happy customer testimonials from the likes of Match, Headspace, Chipper, and countless other big names. So, let's dive in to see what this tool can do.

"Notion solves problems unique to every function." That's how Notion's product overview page puts it, implying a sense of flexibility that you don't find in a lot of workspace tools. Notion details how it can help with each of the major sectors where most businesses see silos and roadblocks, including product, engineering, HR, design, sales, and marketing.
Whether you need help with one or all of the above, Notion's platform promises to do it. It starts with the Team Wiki, which acts to "turn your tribal knowledge into easy-to-find answers." It continues with projects and tasks, which teams can organize into lists, tables, Kanban boards, and more. It's supported by in-built notes and documentation. It comes together with an easy-to-use interface that presumably even the least techy people at your organization will find a breeze to use. 
Features & Benefits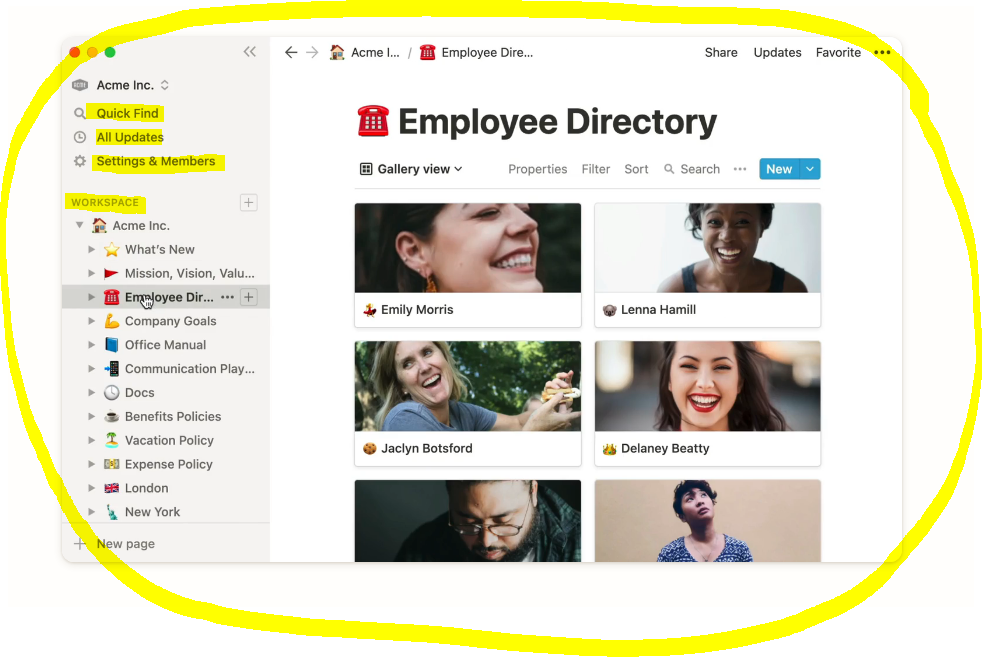 There's no doubt that using a singular tool for something as important as internal management makes sense, but it can feel awfully out of reach for a lot of brands—namely because you've probably tried it before, to no avail. Yet, Notion promises to be different. By being a truly all-in-one workspace tool, Notion offers unique benefits you wouldn't enjoy if you continued divvying up your teams across solutions.
Easy Access
Notion offers both a web (browser-based) app and a desktop app, allowing your team members to access their workspace from anywhere. As Rahim Makani, Director of Product at Match puts it: "Notion is a workspace that adapts to your needs. It's as minimal or as powerful as you need it to be. Centralizing the entire team's workflow and processes in Notion has been pivotal for increasing transparency and making sure we're all aligned..."
Other brands make similar remarks about Notion's seamless user interface, which is customizable yet remains intuitive, even after you fill it with countless apps your teams need to succeed. The straightforward layout and ability to tailor it keep Notion clean and simple, even for a corporation with hundreds of team members.
Real-Time Collaboration
No more lost messages or delayed communication. No more sending emails and tapping your fingers until you get a response. Notion powers real-time collaboration and communication by putting everyone on the same page.
Anytime you want to start a discussion, just leave a comment—anywhere! You can also use @Mentions to bring a team member into the conversation, as they'll get a notification and immediately know you're talking to them.
Invitations and Sharing
Don't clutter your workspace by over-sharing documents when you are the only person who truly needs access. Thoughtful sharing parameters allow each user to set permissions accordingly and then send invitations to those who need to get involved, whether they're working on it solo, with one other person, or with half the department.
Endless Integrations
Perhaps the number one reason Notion works as an all-in-one workplace is that it truly brings all of your workspaces into one place. Notion isn't trying to over-engineer a solution to replace what you're already using. Instead, it's bringing together what you're using while filling the gaps in between, so things flow seamlessly.
You can embed over 500 apps into Notion's customizable pages, allowing your company to create a true one-of-a-kind hub that has everything you need and nothing you don't. You can even take things a step further by using Notion's API, which allows your developers to create a truly custom solution for your brand.
Pricing
If you work solo, you'll be glad to know that Notion is free for personal use. They also have a variety of flexible plans available to fit the budgets and needs of just about everybody. Plus, you can try any plan for free.
Personal
The personal plan is designed for individuals, like freelancers, and is completely free to use. Pay nothing, ever, as you enjoy unlimited pages and blocks, the ability to share with up to five guests, cross-device syncing, and beta access to the developer's API.
Personal Pro
If you're an individual who wants to get even more done with Notion, they have you covered. Instead of expecting you to upgrade to a team plan just to unlock more features, Personal Pro allows you to use unlimited file uploads, version history, and unlimited guests for just $4 per month when paid annually or $5 per month when paid monthly.
Team
Endlessly scalable, Notion charges per member, per month for its Team plan. Pay annually and you'll pay $8 per member, per month. Pay monthly and you'll pay $10 per member, per month. Either way, your entire team will enjoy everything in the previous two plans along with a collaborative workspace, advanced permissions, and admin tools, with no cap to how many team members you can add.
Enterprise
Running a large company? Notion's Enterprise plan offers the customization you need. Contact the sales team for pricing and you'll enjoy user provisioning (SCIM), advanced security, a dedicated manager, custom contracts, and SAML SSO.
Customer Reviews

Most Helpful Positive Review
"With Notion, Codecademy invites all stakeholders into each other's processes, projects, and insights to work better together. Besides aligning teams, Notion helps engineering centralize their information. Now, each team keeps project specs in one Notion workspace to clarify what they're working on and why. We use Notion as a way to rally around what we want to get out of a particular project and to drive teamwork." - Codecademy
Most Helpful Critical Review
"Notion has made some strides, but the team behind it needs to invest in improving the app's usability. In particular, its sprawling set of features doesn't seem to conform to a specific structure yet. Notion does have a small and loyal following, so clearly it clicks for some people as-is. If you're looking for a replacement for Evernote or another powerful note-taking app, however, Notion feels messy and amateurish in its structure. It has real potential, though, and I plan to keep my eye on it." - PCMag
Get Better Results

With Notion, your brand can be well on its way to creating the organized, central workspace you've been lacking. No more trying to pull insights out of Slack or suffering through the disconnect of a dozen apps going at once. With Notion, you can continue using your favorite apps, but you'll be able to put all of your people in one place, so they can collaborate more effectively and work more productively, all while Notion fills the gaps and builds transparency into your teams' workflows.
Of course, no company is complete without the right partners. While Notion might be the right fit for solving your internal management and organization problems, your brand should always seek out new partners in other important spaces—like content marketing. If your brand is trying to grow in a sustainable, scalable manner, now is the time to partner with Scripted.
With Scripted by your side, you can rest assured that your content needs are being taken care of, all while we manage your internal and external communications with team members, talent, clients, and customers. Our scalable membership plans mean you can achieve an endless stream of quality content that helps you achieve your goals, so you're able to get back to what you do best. Meet our writers today to learn more.