GetResponse Tool Review | Scripted

In the world of email marketing, GetResponse is one app that you hear now and then. So why is GetResponse popular among digital marketers? And can it help you leapfrog ahead of your competition? 
Dig into this review and we'll tackle the key features of GetResponse, its pros, and cons, plans and pricing, as well as alternative apps and services.
GetResponse started off as an email marketing app that prides itself in its automation capabilities. However, in recent years, it added lots of functionalities to its toolbox so that you have everything you need to get a marketing campaign going from scratch. From building your website, creating your landing pages, designing a sales funnel, running a paid ads campaign, to checking the analytics, GetResponse has all the features to do all these and more within its platform.
GetResponse Pros
Its "all-in-one" feature allows you to run a marketing campaign from scratch on one platform. You don't have to toggle between different apps and services.

Easy, drag-and-drop interface that makes it easy to design your newsletters, web pages, and automation trees.

Its basic plan is cheaper than most of its competitors.

The app's advanced search and data segmentation tools are above industry standards. It allows for hyper-targeted communication to your list.

You get big discounts when you pay for a year or two years' worth of service upfront.

Allows key integrations into other platforms like Salesforce, Facebook, Slack, Etsy, Shopify, WooCommerce, Stripe, and Paypal, among many others.

You can try their 30-day service for free without giving your credit card information.
GetResponse Cons
You don't get phone support unless you're on their "Max" plan.

The website builder is not as good as other established platforms.

With its many features, the platform can be overwhelming and difficult to navigate for new users.

Split testing capability is limited compared to other platforms. It only allows you to split test headers and content.
GetResponse Key Features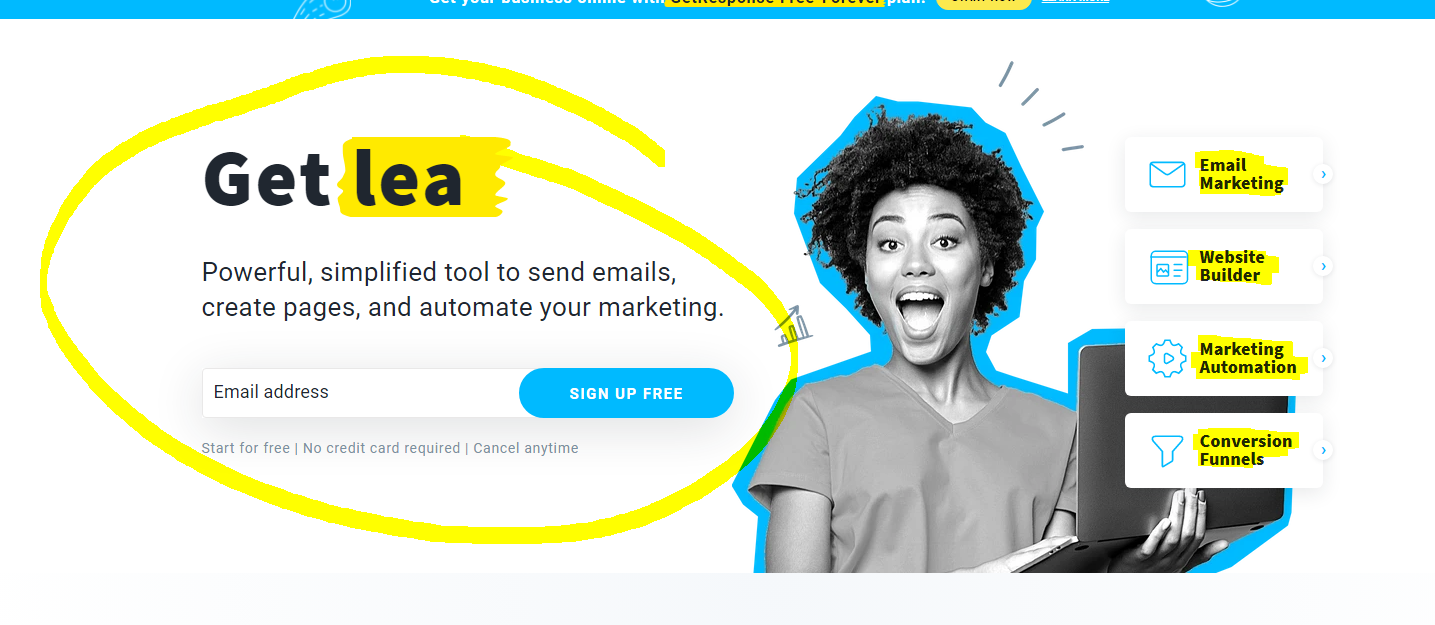 Here are the key features that make GetResponse such a hit with its active users:
Autoresponders
The autoresponder is one of the key features that established GetResponse as a frontrunner in the email marketing industry. This feature allows you to send email newsletters to your list based on a preset time interval or action. 
For instance, you can set up a welcome email for people who've just signed up for your newsletter. And then you can follow up with another email a couple of days later. Or you can also set up an action- or event-based trigger for your emails. For example, you can email your customers during their birthdays or when they click on a specific link.
Email Creator
Using the app's drag-and-drop interface, you can create professionally designed newsletters. If you think that's too much of a hassle, you can also use their pre-designed templates. Just plug your content, and your newsletter's ready.
Analytics
The success of any marketing campaign largely hinges on robust analytics. GetResponse analytics has the basics down pat. You can easily track open, click-through, and unsubscribe rates. 
In addition, you can split test subject lines, track sales, learn which link brings you the most sign-ups or sales, and compare two campaigns side-by-side. This way, you can make data-driven decisions in your marketing to optimize reach and profits for your business.
Conversion Funnel
Elite marketers know that a high-converting sales funnel gives them an edge over competitors. GetResponse has 30 optimized sales funnels that you can plug and play so that you won't have to do the heavy lifting yourself.
This feature automates the entire customer journey for you. So you can draw traffic into your funnel, get them to click on your landing page and sign up, integrate webinars or your eCommerce store, upsell to existing customers, follow up potential customers, and process payment — all in one platform.
Website and Page Builder

The website builder is GetResponse's latest offering in its toolbox. You can create a website by using any of its customizable templates. Its drag-and-drop editor allows you to add your own personal touch to the design. Alternatively, you can also use the AI wizard to generate a customized website for you. You just have to answer some questions and the software will generate a personalized website based on your answers.
The landing page builder also allows you to create several landing pages and split-test them to check which generates the most subscribers. Between its drag-and-drop editor as well as over 200 responsive landing page templates, you have a wide range of options to choose from.
Paid Ads Creator
Want to ramp up your campaign with paid ads? This feature allows you to create, buy, track, and manage FB, Instagram, and Google ads. You can set paid ad campaigns within the platform. And you can even win back page visitors by installing FB Pixel on your landing pages.
Webinars
You can also get in front of your list through a webinar since GetResponse has functionality for that. Depending on your plan, you can create unlimited paid webinars, host up to 1000 attendees, share the stage with another guest presenter, as well as record and store up to 20 hours' worth of webinars. 
The good thing is, you can integrate GetResponse's other built-in features to optimize audience engagements. You can, for example, split-test multiple landing pages to see which one generates more attendees. And you can follow up with your attendees with a well-crafted autoresponder later.
Marketing Automation
Aside from the basic autoresponder, GetResponse has advanced marketing automation tools for those with a Plus plan or higher. Using these tools, you can profile customers based on actions taken and fine-tune the segmentation of your list for more targeted messaging. 
Furthermore, you can create an intricate automated flowchart that instructs the software on what to do if certain conditions are met or actions are taken.
Plans and Pricing

GetResponse offers four plans with different price points. With more subscribers on your list, the cost of each plan increases.
Basic
The Basic plan's price starts at $15/month. This allows you to work with up to 1,000 subscribers on your list. This plan includes essential features like:
All email marketing tools

Website and landing pages builder

Unlimited lead funnel and one sales funnel

Rudimentary automated marketing tools

Paid ads builder

Live chat and email support
Plus
The Plus plan's price starts at $49/month for 1,000 subscribers on your list. On top of the Basic plan, Plus offers additional features that include:
Five webinar and sales funnels

Unlimited live webinars for up to 100 attendees and three hours of webinar recording storage

Advanced marketing automation tools like abandoned order recovery, contact scoring, five custom workflows, automated segmentation, and event tracking
Professional
With a starting price of $99/month for 1,000 subscribers, the Professional plan offers all Plus plan tools and these additional features:
Unlimited webinar and sales funnels

Unlimited webinars for up to 300 attendees and 6 hours of webinar recording and storage

Up to 5 users

On-demand webinar

Web push notification

Unlimited custom workflows
Max
For a more advanced marketing platform, GetResponse offers the Max plan. This has custom pricing and offers everything in the Pro plan and these additional features:
Transactional emails

Up to 500 users

SMS functionality

Dedicated and phone support

Up to 1,000 webinar attendees

Team and role management

Account migration support
GetResponse User Reviews

I dug around and checked out other users' experiences with this app. Here's what they have to say:
"Overall, we think GetResponse provides an outstanding user experience and great third-party integrations for the money. And it's certainly shown innovation with its newer features, especially SMS marketing, chat capability from emails, its e-commerce integrations, and the Autofunnel feature. While some competitors may beat it on raw email throughput, that innovation, as well as its friendly starting price and rich range of features, mean this platform is well worth a look both for beginning marketers and more experienced folks looking for some new tools." - Gadjo Sevilla, PCMag.com
"GetResponse offers plenty of useful features that have exceeded what most marketers would expect from an email marketing service provider. There are a lot of unique features that make GetResponse stand out, not least of which is the landing page creator and the ability to engage your contacts through live webinars." - Matt Squirrel, Digital.com
Alternatives to GetResponse

But before you sign up for GetResponse's service, it's worth looking into other platforms that offer comparable services. Here are alternatives to consider.
ActiveCampaign
If you want to reach your audience beyond email, consider ActiveCampaign. This tool has most of GetResponse's features minus the website builder and webinar functionality. But if you can make do without those in exchange for the ability to reach your list through SMS or chat, Active Campaign's the right tool for you. GetResponse offers the SMS feature to their Max subscribers.
Further, with a price point that starts at $9/month, the service is cheaper than GetResponse. And if you want to tinker around the app to see if it's the right fit for you, you can also sign up for their free 14-day trial.
AWeber
If you want a tool that's laser-focused on email marketing, AWeber is the tool you should first check out. This app doesn't have all the bells and whistles that GetResponse offers but it has built quite a following and reputation around what it does best — email marketing.
AWeber's key features include autoresponders, landing pages builder with lots of templates, third-party apps integration, marketing automation, split testing functionality, and list segmentation options — everything you need to jumpstart a successful email marketing campaign.
At $19/month, AWeber's plan is slightly more expensive than GetResponse's Basic plan. But the upside is, if you're just starting out building your list, you can use most of AWeber's features for free as long as you have less than 500 subscribers. Not a bad deal if you're just trying to test the waters.
Ready to Take Your Marketing to the Next Level?
While there's never any shortage of excellent tools to help you with your email marketing campaign, great writing is another matter. You can automate the marketing process. But what you can't automate is content that resonates with your audience. 
And when it comes to content that connects, Scripted.com may just be the service you're looking for. With thousands of stringently vetted industry-expert writers, Scripted can help you develop and execute content and email marketing strategies for your business.