Clickfunnels Tool Review | Scripted

Clickfunnels is an excellent tool for creating high-converting landing pages, sales funnels, and membership sites. Its easy-to-use drag-and-drop editor makes it possible to create professional-looking landing pages without any design or coding experience. Clickfunnels also integrates with all the major payment gateways, so you don't have to worry about setting up your shopping cart system or dealing with PCI compliance issues. In this review, we will go over some of our favorite features and explain why Clickfunnels is one of the best tools on the market today!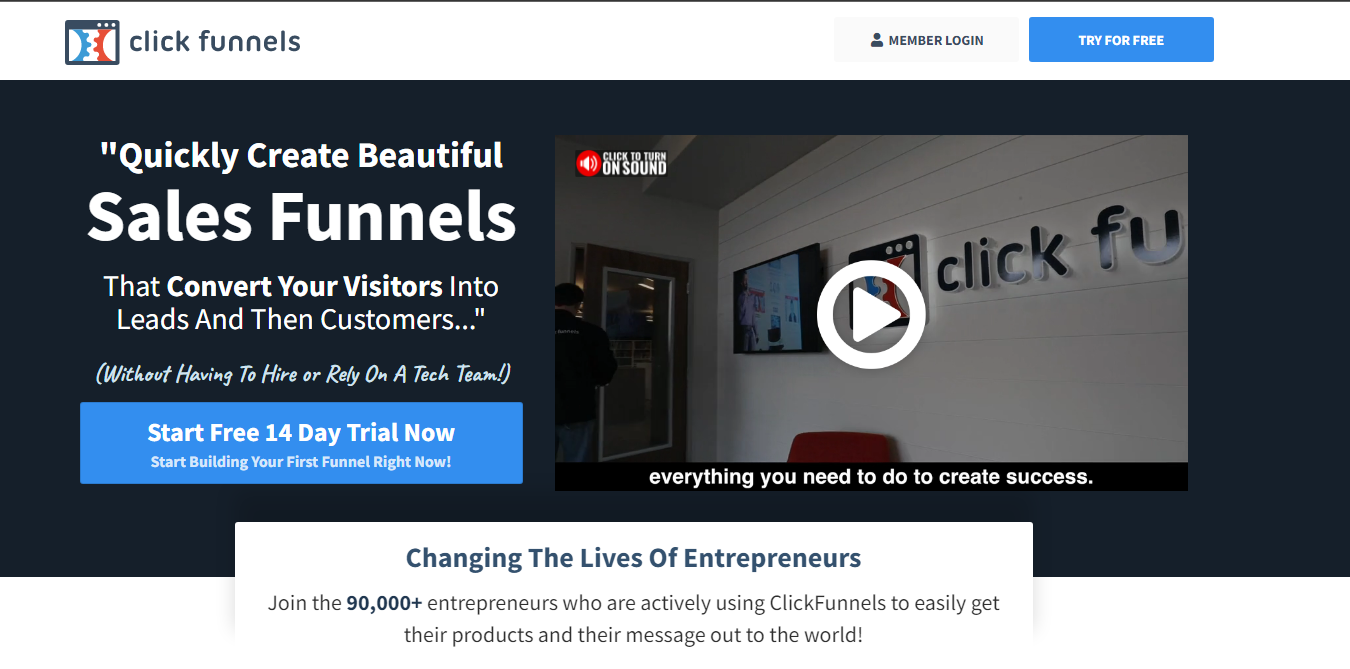 Clickfunnels is a web-based application that allows users to create their landing pages, sales funnels, and membership sites without any design or development experience. The software uses drag-and-drop technology to make it possible for anyone to build professional-looking funnels with no skills whatsoever.
Clickfunnels is great for all kinds of people, from small business owners to bloggers to affiliate marketers. Clickfunnels makes it possible for entrepreneurs and online marketing experts to scale their businesses by creating sites that deliver recurring commissions without the need for customer service or complicated billing systems.
The Clickfunnels learning curve

Clickfunnels is designed to be as easy as possible for anyone to use. The software offers many pre-built templates that allow you to choose from different layouts and styles without having any previous design skills.
There are also many online tutorials and videos to help people get started with Clickfunnels so you can build your site infrastructure within the first few days of getting the software.
The interface is simple and easy to use. You have complete control over your design, layout, colors, and fonts when using Clickfunnels. The software gives the user complete flexibility, making it possible for business owners to put their personal touch on every aspect of their site's appearance.
We love this program because there aren't too many features so users don't get lost inside confusing menus like they might with other programs. With just a little bit of time spent learning how things work within the system, anyone will be able to build professional-looking sites.
What is the customer journey on a Clickfunnels funnel?

Clickfunnels has been around for many years and has helped thousands of businesses gain millions of dollars in sales. Due to this, Clickfunnels has amassed an extensive database of landing pages and has optimized its templates to have all the top design specs to convert leads into buyers.
When someone visits a Clickfunnels site, they are greeted with an eye-catching headline and subheadline. After just spending seconds on the page, users will be able to decide if your offer is what they need or not.
If the visitor decides that you have something of value to them, there's usually a big button that helps make it easy for visitors to get started right away on your purchase funnel.
Clickfunnels allows for lots of customization of your funnel; however, you won't need to spend too much time customizing to reach your desired conversion rate with their optimized templates.
How does this program compare with others?
Clickfunnels has one of the best track records for converting leads because all sites come pre-built with features like lead capture pages, webinar funnels, and affiliate marketing.
Compared with its competitors like Leadpages and Unbounce, Clickfunnels is one of the most user-friendly in the space.
Unlike many of its competitors that only offer single landing page builders, Clickfunnels offers a full suite of tools that allow users to build entire sales funnels.
Landing pages vs. sales funnels

Landing pages are a great way to convert visitors into leads. They're designed to get someone to fill out your lead capture form, giving you their contact information in exchange for some offer or freebie.
Sales funnels take that conversion from visitor to lead and turn it into a customer by providing them with multiple offers before finally asking them for payment. They are infinitely scalable because they take advantage of automation methods like email nurturing campaigns that turn prospects into repeat buyers.
Sales funnels can take prospective customers on a journey rather than single landing pages, which are much less scalable. When the visitor clicks on a CTA button that you have within your sales funnel, they are taken to an offer of their choosing.
Before asking them for payment, the last step is usually providing a discount code or incentive to help get users over any hurdles they might be facing. Once someone becomes a customer, there's also another line of defense against churning - email marketing campaigns using triggered emails to remind customers why they purchased from you in the first place!

Landing page builders

Sales funnel builder

Lead capture pages

Affiliate marketing campaigns
A few other features are the ability to set up webinars, autoresponders, and A/B testing for your landing pages.
Clickfunnels integrates with several third-party services. This is helpful for people looking to build entire sales funnels without using multiple programs and plugins on their website.
You'll also be able to integrate landing pages into your email campaigns using ESPs such as Salesforce or Infusionsoft, which will automate the process so you can focus more time on other parts of your business.
Some popular integrations include:
Aweber

Getresponse

Mailchimp

Shopify

Facebook
What is our favorite Clickfunnels feature?

We love that you can create 20 funnels with the base-level subscription. One of the main advantages of scaling a business with Clickfunnels is that there aren't many limits. Depending on the size of your business and how many funnels your team can create, you'll likely never exceed 20 concurrent funnels. This means you would never have to worry about not being able to continually grow because of a lack of space or resources. This allows for more experimentation and a better chance of success.
How much does it cost?
This is one of the more expensive tools for online businesses.
The pricing starts at $97 per month, and it allows for 20 funnels, 100 pages, three payment gateways, and three domains. For a monthly fee that's less than $100, you have access to an app that has all these features designed to scale your business.
The great thing is that Clickfunnels offers a 14-day free trial. This will let you see if you like the app and how it can help your business grow before forking over any cash.
It should be noted that your business should be at a stage where you have a successful product or service already before getting Clickfunnels. Clickfunnels is an incredible way to scale your business up. However, the relatively bigger price tag will be hard for startups or small-scale companies to swallow. Make sure when you eventually get Clickfunnels, your funnel and product sales can justify the monthly subscription price.
Pros and Cons of using the tool 
Pros
Easy to set up and create funnels with the landing page builder UI.

Funnel templates are helpful for getting started on a sales funnel, especially if you're not familiar with how they work.

Integrations make it easy to scale marketing campaigns.
Cons
Expensive pricing (starting at $97 per month) when you compare it to some of its competitors, like Leadpages or Unbounce, that offer similar features in different tiers.
When considering whether Clickfunnels is worth your time, attention, and money - research other tools before making any decision so you can be sure about what's best for your business!

Clickfunnels is a powerful and robust tool for scaling your online business. It lets you easily create funnels to capture leads, sell products, and grow your customer base. The only downsides would be the price tag (starting at $97 per month) which may deter some people from committing to Clickfunnels as their marketing platform to avoid any future regrets. For those who are sure it's worth investing in - the benefits are incredible and allow for better chances of success with your online sales.
How to make the most out of Clickfunnels by hiring copywriters

Content marketing can be a great way to grow your online business, but you need the right copywriters if you want it to work. If you're serious about creating high converting funnels with Clickfunnels, you'll need to hire copywriters who can write engaging and high converting text to put on your landing pages.
So what does hiring a copywriter for Clickfunnels entail? Generally, it can be hard to source a writer with the expertise to sell and with knowledge of your industry. However, Scripted is one of the few companies out there that have writers with all these skills. Scripted's top copywriters have written for companies around the world in over 30 different industries.
Scripted is a full-service online agency where you get to work one-on-one with an expert writer who will create text tailored explicitly to your funnel and business needs. To learn more about how you can get high converting content generated at scale, click the link here.