Airstory Tool Review | Scripted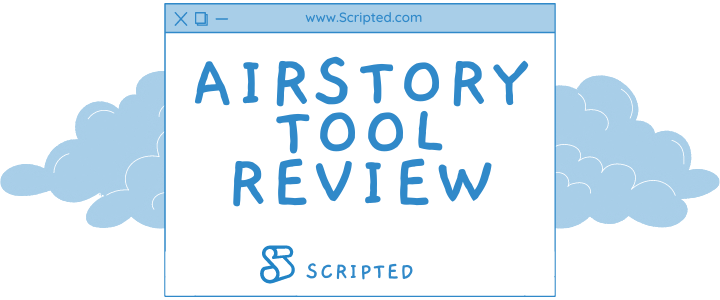 Whether you write for work, school, or pleasure, the concept of being able to write better and faster is appealing to everyone, which is what makes Airstory a great tool. This writing aid, founded by Joanna Wiebe of Copy Hackers, will help you produce more content in less time, all while improving the quality of your output. Piqued your interest? Here's what you need to know.
When you first start using Airstory, you'll find that it only takes a few minutes to familiarize yourself with the interface. By keeping you organized and streamlining the writing process, Airstory shaves substantial time off of your workflow.
You can basically divide the platform into two elements: Projects and Cards. With a Card, you can store text you'll need to reuse often—like your author biography or a quote. You can then drag a Card into a Project for easy formatting.
When looking at a Project in Airstory, you can break it down into tabbed view, which is ideal for writing web copy, where each tab can represent a different page, or even for writing a novel, where each tab can represent a different chapter. 
The perks of using Airstory go far beyond keeping your writing organized; other features help turn research into an enjoyable and procrastination-free process. As Copy Hackers put it, "While Copyhackers teaches you to write copy that converts, Airstory helps you write it. It's a drag-and-drop document builder."
Clip and save data points, research, quotes, and any other information you find online for easy reference as you write.

Choose from pre-written templates that you can import into any project to edit, adapt, and export to speed up formatting.

Use the Airstory Researcher to highlight text snippets across the web and add them as cards into your projects (think figures, insights, and facts).

Integrate with the leading apps and software you're already using so you don't have to forego your favorite tools or add more steps to the writing process.

If you write using WordPress, you'll love to learn that Airstory even integrates directly into your site via a WordPress plugin, so you can import content with ease!
Not Your Average Word Processor
As you explore a platform like Airstory, it's easy to ask yourself: Why do I need it? After all, there are dozens of tools under the sun that allow you to sit down and write—Microsoft Word, Google Docs, or one of the countless premium platforms that do just about the same thing. Copy Hackers was fully prepared to face this misconception when they launched Airstory, and they did so with passion, explaining:
"If you spend fewer than 2 hours a day in a document, stick with your current solution. If you don't write longer content ever, stick with your current solution. If you don't rely on templates, frameworks, formulas, and/or research to make your writing kick-ass, stick with your current solution. For everyone else, there's Airstory."
Who Is Airstory For?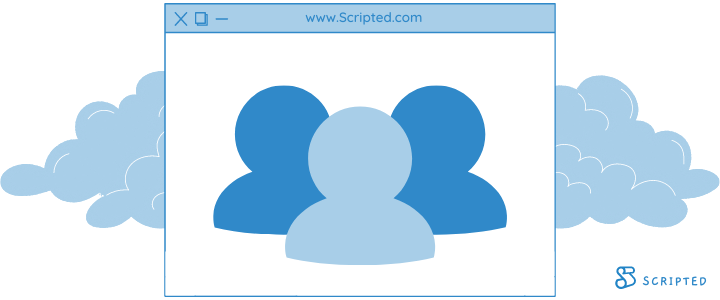 As Copy Hackers detailed, writing for work isn't about the flow of consciousness and it requires far more than simply opening up a word processor. It's a convoluted, multi-step process that begins with getting an idea, thinking about the idea, starting at a blank document, jotting down what you can, editing what you jotted down, thinking about it some more, pasting in random research, and endlessly repeating these steps until you eventually get close enough to the deadline that it's time to pass what you've got onto the next person in the process.
The team at Copy Hackers was tired of this process, and they dragged their feet for a long time, wondering whether they could address it. In the launch announcement, they even pointed out a long list of reasons why they should not have bothered addressing it—namely, writing is hard, and there's a common misbelief that writing should be hard.
Despite all the reasons why many people won't try Airstory, they spent a year making it anyway. "We persuaded our favorite UI designer Jane Portman to reinvent the UI. That succeeded. We hired our go-to graphic designer Lesley Pocklington to visually realize our brand. That succeeded. Lance suddenly became available, and now we had a full-time product pro on staff. That succeeded, too."
After over 1,600 beta testers and countless feedback cycles, Airstory launched in 2017, and the team has never stopped improving it, or fearlessly marketing it, ever since.
Features and Benefits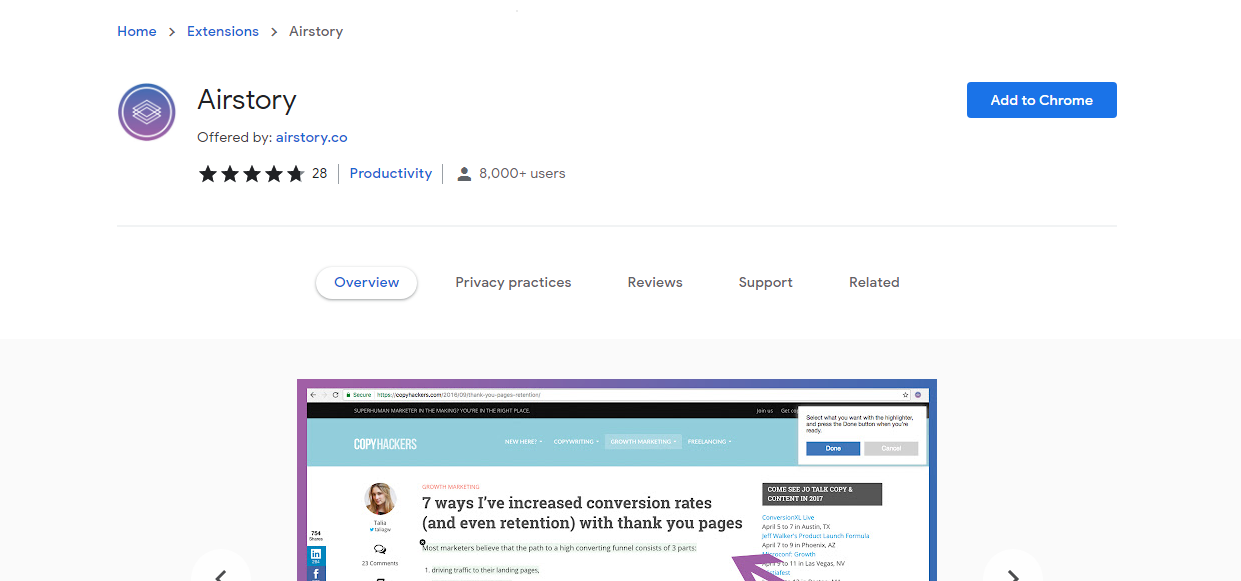 If you think Airstory's main purpose is to help you organize your writing, think again. While Airstory serves to get your thoughts—and work—in order, other features and benefits contribute to its timesaving principles.
Capture Your Research
No more copy and pasting snippets from here and there into a document and then trying to tie it all together. Airstory makes organizing your thoughts, along with the quotes, figures, and information you get from everywhere else, simple.
With cards that allow you to endlessly reference, repurpose, and reuse the helpful information you find as you scour the web—all while keeping it effortlessly organized— Airstory truly is a revolution in a writer's research process. You can keep a running library of all your notes and even organize them by the project.
Write More
Perhaps one of the most beautiful things about Airstory is that it revolves around helping you do one thing better: Actually write stuff. There are no frills or bells or whistles—just a set of core tools that will help you do the research, organize your thoughts, and actually produce stellar content.
Whether you're familiar with Copy Hackers and all the advice the team offers on writing better content in a more efficient manner, Airstory is going to help you put it into action with tools that are intuitive and effective. No more lost notes, no more blank pages—just more opportunities to create in an uncluttered, streamlined way.
Pricing
Airstory is extremely accessible thanks to its simple pricing model and generous free plan. Pay just $0/month to start using Airstory and upgrade to the Business plan for just $6.47 per user, per month.
Customer Reviews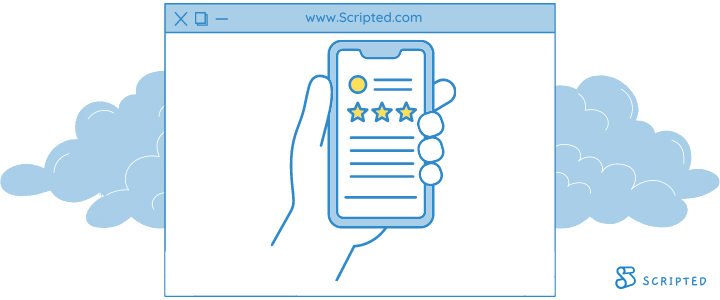 Customers use Airstory to simplify the writing and editing process, with the most-liked aspect of the platform being the ease with which it lets users collaborate on multiple projects. One G2 reviewer writes, "I love that our team is able to access projects on a single platform rather than sending new versions back and forth."
Users also praised the copy feature, which makes it easy to save notes from across the web as cards for later repurposing and referencing as you write. Being a collaborative tool, Airstory users also love the team views and sharing features that make it easy for lots of people to view, create, and work together on content at once.
Publish Better Content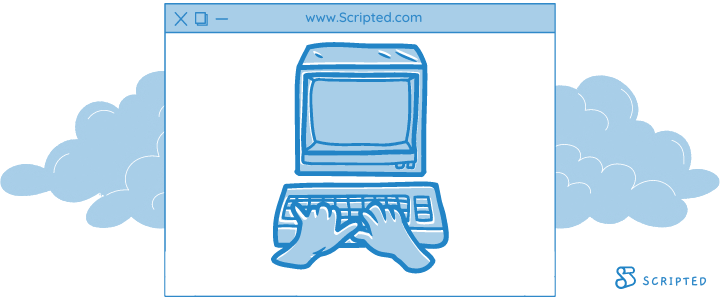 Airstory is all about helping your teams create more content, faster, and that's a goal that Scripted can definitely stand by. Whether you're using Airstory to power your internal content creation or seeking such a solution because you're tired of pulling your hair out over your content woes, Scripted's professional writers can help you get a handle on things.
At Scripted, we believe producing engaging, thoughtful, and on-brand content is key to any company's success story. After all, everything a modern business does revolve around content—be it on social media, your own website, or the back of your products. Every word you produce as a company matter, and that's what makes tools like Airstory so valuable. Yet, a lot of companies simply don't have the resources necessary to plan and create all that content consistently.
If you find your brand is stretched too thin trying to get ahead of its own content marketing strategy, Airstory might help, but it's not a standalone solution. Instead of pouring more money into tools that could help you get to the next level, maybe it's time to partner with a platform that will. Scripted's professional writers and flexible membership tiers make effective content marketing easily achievable.
Interested in learning more? Meet our writers.