Trump vs Biden: Who Has a Better Social Media Marketing Strategy?

President Donald Trump and former Vice President Joe Biden have spent unprecedented amounts of money on their 2020 campaigns. According to the Center for Responsive Politics, the presidential race will cost about $5.2 billion. Since the COVID-19 pandemic has upended the way that presidential candidates usually reach out to their bases and try to motivate voters, much of that money has gone to social media marketing.
During September alone, the Biden campaign spent about $32 million on ads on Facebook and Google. President Trump's campaign didn't spend nearly as much, but it still dedicated more than $23 million to similar ads.
Spending more money on social media marketing doesn't necessarily mean that a candidate has a more successful approach to reaching voters. This raises the question of whether Trump or Biden has a better social media marketing strategy.
The Trump Campaign's Social Media Marketing Strategy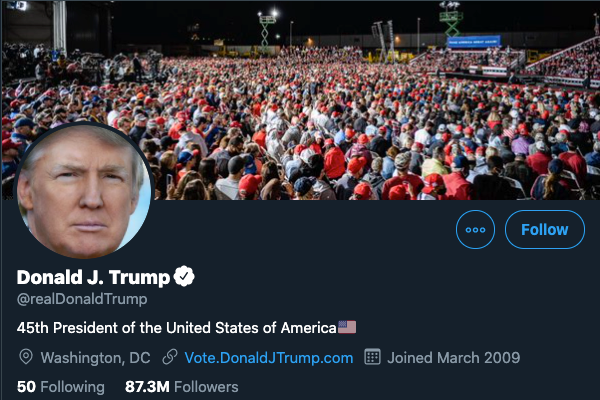 President Trump and his campaign have taken a two-pronged approach to reaching voters. Trump relies heavily on Twitter to communicate with his base and other Americans. He began using Twitter long before he started his first presidential campaign. His first tweet had nothing to do with politics. He simply encouraged people to watch him on the May 4, 2009 episode of Late Night with David Letterman.
Trump Has His Personal Approach to Social Media
Donald Trump's didn't commit to regular tweeting until 2012. He frequently used the platform to criticize then-President Obama. As he drew closer to launching his first campaign for political office, Obama became a near-daily target. In addition to questioning President Obama's policy decisions, he pushed the "birther narrative" that Obama had not been born in the United States and, therefore, could not hold the office of the President. (He later told reporters that "President Barack Obama was born in the United States. Period."
While some politicians why shy away from the type of rhetoric Trump uses in his tweets, many of the President's supporters love messages that call for stricter immigration enforcement and demand more power for police departments to control protesters.
The Trump Campaign's Approach to Social Media Marketing
The Trump campaign has taken a more strategic – but less personal – approach to social media marketing. For example, the campaign spent $250 million on an advertising campaign that highlighted the administration's proactive response to coronavirus.
The campaign has also released ads claiming that failing to reelect President Trump will lead to social chaos. One YouTube advertisement shows the faces of Biden and Kamala Harris over images of cities burning. It's unlikely that such ads will convince undecided voters to choose Trump. The messaging may, however, anger Trump supporters who fear that law enforcement will lose control of criminals if Biden wins the election.
While the campaign's social media marketing strategy has been more strategic than Trump's personal tweets, it has taken some missteps. Perhaps most crucially, the campaign posted political ads on Facebook within a week of Election Day. Facebook removed the ads, citing communication that it had sent directly to campaigns. The campaign accused Facebook of censoring its messages in a plot to benefit Biden. Regardless, Facebook maintains control over what individuals and groups can advertise on its platform.
The Biden Campaign Takes a More Positive Approach to Social Media Marketing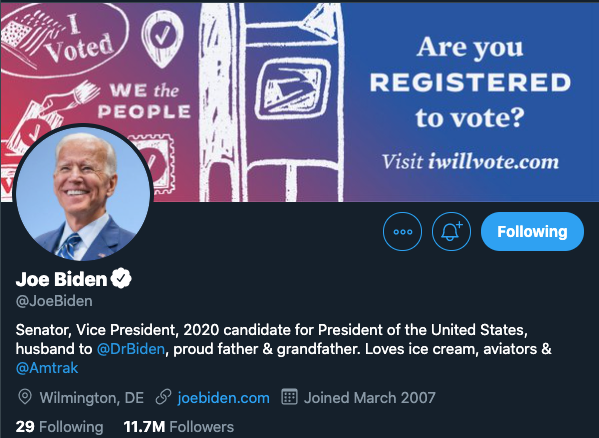 The Biden campaign has distributed its fair share of materials criticizing the Trump Administration. For the most part, though, it has taken a positive approach focused on helping American voters get to know the candidate and the policies he wants to enact.
One ad targeting voters in Iowa shows Biden offers a brief recount of how Senator Biden took the train home daily to care for his children. The ad makes a pivot to explain that the Biden family had the healthcare it needed to keep the children healthy but that many Americans do not. Whether one agrees with the advertisement or not, it takes a much softer, gentler approach than ads released by the Trump campaign.
Frank Luntz, a pollster for the Republican Party, agrees that Biden and his campaign have managed to produce positive messages meant to inspire voters. Luntz's remarks were aimed at debates between Trump and Biden, but it applies to other aspects of the Biden campaign, too. Luntz believes that Americans prefer the softer, positive approach over Trump's forceful, negative tone. No one will know if that's true until after November 3.
Both Campaigns Focus Their Social Media Marketing Strategies on Specific States
While the campaigns have taken radically different tones in their appeals to voters, they both understand the importance of targeting specific states that could determine the election's results.
Data reported by The Conversation shows that the Trump campaign outspent Biden in 30 states between June 1 and September 13. Both campaigns, however, have dedicated significant funds to social media marketing in three states: California, Florida, and Pennsylvania. During this times span, Biden outspent Trump in all three states.
In California, Biden spent $3.9 million on social media compared to Trump's $2.4 million. FiveThirtyEight's simulations show that Biden is very likely to win California. It's unclear why the candidates chose to spend so much money in a state that favors Biden so heavily.
In Florida, the Biden campaign spent $4.6 million on social media targeting voters in Florida. The Trump campaign spent $3.9 million. According to FiveThirtyEight, Biden is slightly favored to win the state.
In Pennsylvania, Biden spent $3.3 million while Trump spent $2 million. FiveThirtyEight's simulations show that Pennsylvania is a toss-up between the two candidates, so it's clear why they have invested in marketing for the state.
The Campaigns Take Slightly Different Approaches to Targeting Voters by Age and Sex
While Trump and Biden need to attract a diverse range of voters, the candidates know their bases well. Their social media ads make this clear. 
From June 1 to September 13, the Trump campaign spent $18.94 million on ads targeting women. It spent $20.45 on ads targeting men.
Biden's social media marketing shows a very different plan. His campaign spent $22.36 million on ads targeting women and $14.94 on ads targeting men.
When it comes to age, the Trump campaign has bet more money on older voters. 44.3% of the campaign's social media advertising dollars went to ads intended to appeal to voters aged 55 and older. Biden spent 37% of its money targeting the same age group. 
The Trump campaign spent 31.6% of its online advertising money on voters between 25 and 44 years old. Biden has put a greater focus on younger voters, which probably explains why his campaign dedicated 38.9% of its online advertising money to the demographic.
When it comes to voters aged 45 to 54, there isn't a significant difference between the campaigns. Trump outspent Biden by just 1.5%.
Conclusion
With the pandemic limiting in-person campaigning, Biden and Trump have had to rely on social media marketing strategies more than candidates in previous presidential races. It may set a precedent for future races, though, depending on how voters feel about gathering in large groups. One thing is certain: social media will continue to play a major role in how candidates communicate with voters.