Increasing Organic Traffic to Your Fitness Website: The Complete Guide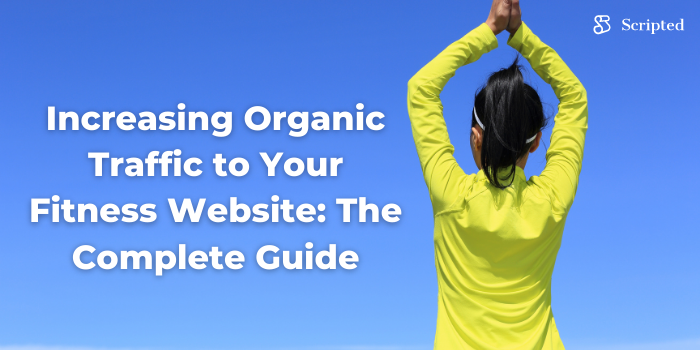 There's no question that fitness is an important and growing industry in today's world. With a growth rate of 6.4%, the increased focus on health and wellness represents a significant opportunity for businesses like yours. Your fitness website is the best way to take advantage of this emphasis on health — especially when most of your potential customers start online with their search for information, resources, and the solution to their fitness needs.
Yet as the health and wellness industry increases, so does your potential competition. With more websites and businesses attempting to capture your potential customers, how do you ensure that your site is the one that searchers turn to? In this article, we'll provide a thorough guide to increase organic traffic to your website, building your audience and your business. From using the right keywords to tracking your website performance, taking these steps will help you make your fitness website more effective.
Start With an Audit of the Top Fitness Websites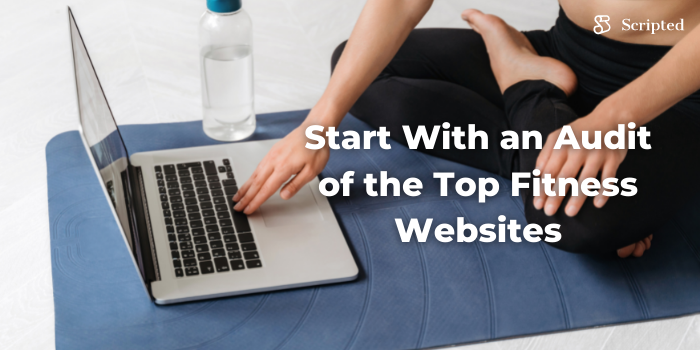 Although your brand and audience are and should be unique, analyzing the top websites in your industry — and those of your competitors — can provide many valuable insights. Reviewing these websites can help you determine the common elements that make them successful and evaluate content and website feature ideas for your website. At the same time, you may determine gaps in the content on these sites that your website can fill.
To start your content audit, begin with an overview of the top sites in the general fitness category. This overview will give you a broad picture of the types of websites and content that rank in fitness overall and have the greatest organic traffic. Using the Moz SERP Analysis tool, you can quickly identify the top ranking websites for the "fitness" keyword: Fitness Blender, Health, Planet Fitness, and Self. Although each of these has a different specific focus, and the sites offer various products, a review of these sites can show the content and features of top-ranked fitness sites.
With that as a foundation, you will next want to look at the websites that rank within your fitness focus. This may be a specific area of fitness, a particular type of exercise, or the local city or region that your fitness business serves. Using the same SERP Analysis tool, you can identify your direct competitors by searching more specific terms, such as "fitness instruction videos" or "yoga studio in Miami." An audit of these sites will let you determine the elements and content your site needs to compete and outrank them. For an example of a very brief analysis, you can read our review of top personal fitness blogs.
Build on the Right Fitness Industry Keywords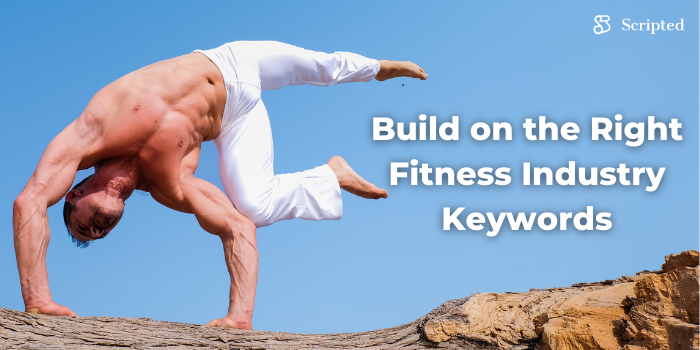 Once you have performed a site audit to build your awareness of what makes a good website audit, building your foundation is next. Identifying the right keywords for your website, and more importantly, your audience, are critical to successfully increasing your organic traffic. With your knowledge of fitness, you'll be able to quickly generate a list of topics relevant to your business, along with keywords and keyword phrases for each of those primary topics.
You'll then want to refine that list based on each term's relevance. Searching a keyword or phrase in Google and reviewing the results will show whether that particular search brings up results that fit your audience and your fitness website. Some of the words or phrases you may think are ideal keywords may be too broad to work for your brand and result in different types of content than you expect.
Keyword volume is another factor in evaluating your keyword list. The search volume helps you identify the value of specific keywords — keywords with a higher search volume will bring more traffic but are often more competitive. You can use Google's Keyword Planner to find the keyword volume of each term or phrase, along with the level of competition. Based on this information, you can determine which keywords from your list are worth targeting, as well as the terms for which you might outrank competitive websites and pages.
Once you have refined your list of keywords and phrases based on relevance and volume, you'll want to ensure that your list has a mix of keyword types. While it certainly makes sense to have some general keywords on your list, your most valuable phrases will indicate user or searcher intent. For example, potential visitors may search for "fitness instruction" for a variety of reasons, someone who searches Google for "fast office exercises" has identified a specific goal. The clear intent behind these types of searches means they bring more traffic — and more qualified traffic — to your fitness website. 
Focus on the Fitness Content Your Audience Wants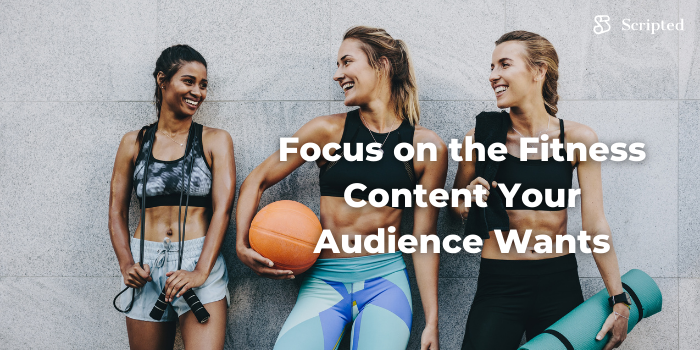 Now that you have a thoroughly researched keyword list creating content around those keywords is the next step. Once again, this is where a competitive analysis is extremely valuable. First, taking your highest priority keywords and keyword phrases, identify the top three results (or more) results for each of those terms. Then, review them carefully to determine how these pages and sites succeed in answering the search query. More than likely, you will notice some common threads in the top results for each term, which you'll want to keep in mind for your content.
More importantly, you'll want to review these sites to identify ways you can improve on what they have to offer. For example, you may be able to provide more in-depth information on the specific fitness topic or organize it in a way that makes it easier to understand than the current top result. In addition, there may be an aspect of the concept that your competition neglected to cover or a new angle that adds more value to your content. The more you differentiate your content and make it more beneficial to your target audience, the higher you will rank in search engines and the more organic traffic that content will drive to your site.
In addition to the obvious content elements of writing the content and including your keywords and keyword phrases appropriately, there are some behind-the-scenes elements to consider. These elements are referred to as on-page SEO, and while they are secondary to quality fitness content, they are essential for getting your website pages to rank in Google. Some of the most important factors in on-page SEO include the title tag, meta description, headers, and image optimization. Tools like Ahrefs SEO Toolbar and Merkle's Schema Markup Generator can help you optimize each content page for search engines like Google.
Use the Right Platforms and Tools to Boost Your Website Strategy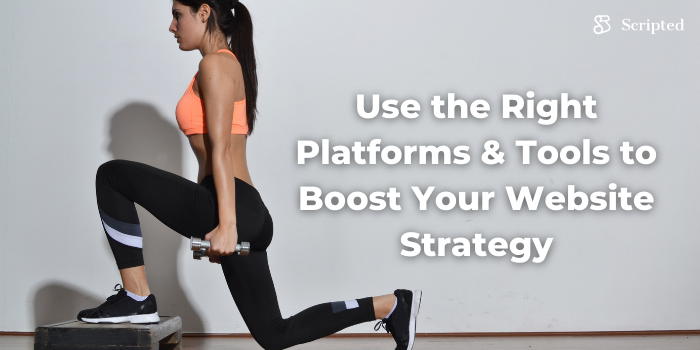 You may think that once you've done a competitor audit, identified your keywords, and started generating content, your work to drive more organic traffic to your site is complete. There's still a great deal more that you can do to bring more visitors to your fitness website by using the right platforms and tools. The following are just a few of the resources and methods you can employ to further build your audience base with your foundation of quality content.
Social Media - After Google, social media may be the next most important platform for bringing organic traffic to your site. On average, Internet users around the world use social media channels for 144 minutes a day. The key to successfully sharing your content on social media is to identify the best channels for your business and audience and then optimize your content for each channel. For example, Pinterest is ideal for sharing visual workout plans and healthy recipes, while Quora allows you to answer specific fitness questions. Each channel lets you link back to your site.
Featured Snippets - As an element of many Google search results pages, featured snippets are another way to capture more attention — and traffic — for your fitness site. These highlighted search results have special formatting and a prominent place on the results page to stand out to searchers. Different types of featured snippets appear for different types of search queries. For each one, there are specific techniques to use to improve your content's chances of displaying in this highly visible format.
Answer the Public - Sometimes, it's a challenge to come up with new content ideas for your site. This is especially true when you've been creating consistent content for some time, but you don't want to lose the momentum that you've built up. Answer the Public  is a tool you can use to identify new content ideas you may not have considered, all based on what your potential visitors and customers are already asking about. After entering your topic, you can choose to filter your Answer the Public results by both country and language to understand better the questions your audience has.
All of this work will have little meaning if you are not keeping track of how your fitness website is performing in terms of traffic. With appropriate tracking and analysis of your website overall and specific content pieces, you can determine which content is most effective, optimizing your strategy for the future. You can also identify trends as they develop, as your potential customers prioritize different topics or different content formats over others. With the constant changes in the digital world, ongoing analysis is essential to grow your organic traffic for the long term.
Google Analytics may be the obvious place to start, but there's a good reason for that. Not only is this resource tied to the most popular search engine, but it offers a wealth of actionable information about your website, individual web pages, and your audience. These details can help you make informed decisions as you refine your strategy to drive the greatest amount of organic traffic to your site.
With organic traffic as your primary goal, this is obviously one of the key metrics to evaluate. Google Analytics lets you view organic traffic for your website overall as well as by individual webpage. With this information, you can see the pages and content that are working well and those that could use a little more work. Other vital metrics for organic traffic include your bounce rate for each web page and exit pages, as these indicate pages where your visitors lose interest in your site. You can learn more about your audience and how different groups respond to different content through Google Analytics.
Track Your Website's Organic Traffic and Fitness Content from Scripted

Keyword-optimized content is central to increasing organic traffic to your fitness website. Yet crafting a content strategy that effectively builds an audience of potential customers is no small task, as this guide highlights. A regular schedule of content production is even more time-consuming, especially when you factor in all the critical steps: choosing a content topic, identifying the keywords, researching the subject, writing a high-quality article, and publishing it to your site.
Imagine how you could transform your organic traffic with a full team of expert writers on hand to create content for your fitness website. This is exactly what Scripted provides. Our high-quality writers have experience and knowledge in a wide range of fields and include content writers who specialize in the fitness industry. Using your content strategy, brand guidelines and voice, and keywords, our writers can create the content you need to demonstrate leadership in the fitness industry — and draw more organic traffic to your site.
Our team of top health and wellness writers will help you level up your content strategy. They can write the exact content you specify, from blog posts and white papers to video scripts and social media posts. If you need help with suggestions, you can also receive content proposals from our fitness writers based on your goals and previous content. Getting started with Scripted is easy, and soon you'll be experiencing the benefits of a regular flow of quality, up-to-date fitness content for your site. Learn more about content marketing in the fitness industry and how our expert fitness writers can help today.