Top 10 Personal Fitness Blogs By Organic Traffic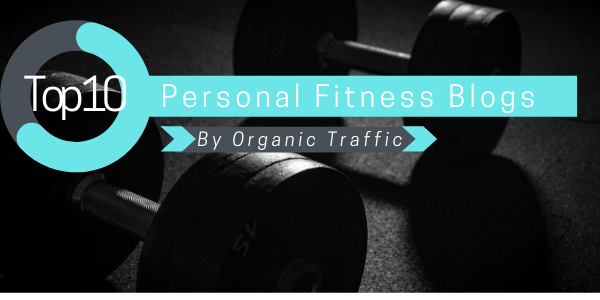 Personal fitness falls under the broad category of weight loss, and industry worth over $72 billion in the United States alone. Personal fitness is a category dedicated to helping people better themselves through a combination of diet and exercise, along with general healthy living practices. If you have a personal fitness website that you're trying to boost, you probably know these things all too well.
In this guide, we'll go through the top 10 personal fitness websites by organic traffic, pointing out what these industry role models are doing right and how your website can do better.
What is a Personal Fitness Website?
A personal fitness website focuses on helping readers get fit through a variety of diet and exercise options. Personal fitness is, in fact, a very personal thing and it looks different for everyone. Some people may be into bodybuilding or fitness competitions, while others are just looking to improve their strength and overall wellbeing.
Your website may choose to cater to just one niche of the personal fitness world, such as bodybuilding, or you might take a broader approach and offer information that could benefit anyone and everyone during their personal fitness journey. In any case, every site owner wants to increase organic traffic. This list contains a balanced mix of websites, some serving specific niches or demographics while others offer a variety of content for the industry at-large.
Here's a look at these websites and what they're doing well to increase organic traffic.
#1 Men's Health
Nearly 35 million people visit Men's Health every month. As you may have guessed, this website serves a specific demographic: men looking to improve and maintain their health. Readers range from young adults to seniors, but they all share an interest in being healthy and even staying young.
While health and fitness are the main focuses on Men's Health, topics of personal fitness are complemented by information on emotional and mental health, like advice about relationships. This content allows Men's Health to touch on all the topics near and dear to their target demographic while staying true to the brand's name.
What makes them stand out?: Celebrity guest appearances, videos demonstrating workouts, and articles written by experts all help Men's Health maintain its strong brand identity.
#2 MyFitnessPal
MyFitnessPal sees a little over 24 million visitors monthly, many of whom come to the website to make use of the brand's helpful nutrition tracking tools. The food journal allows users to track what they eat, how much they exercise, and more, while guiding them on their way to their weight loss goals. What's more, MyFitnessPal has a highly active community forum where users share their stories and advice.
Whether or not you use MyFitnessPal's app and diary tools, you can certainly benefit from the blog, which shares delicious recipes, healthy eating habits, and workout reviews under the motto that "Fitness starts with what you eat."
What makes them stand out?: MyFitnessPal shares the success stories of their users and often gets input from workout and diet gurus, all of which provide authority for the site's posts and help increase organic traffic by targeting search terms like "easy beginner yoga workout."
#3 VeryWellFit

Around 13.4 million visitors go to VeryWellFit each month. From the moment you visit the site, you'll be greeted by colorful graphics and images along with a highly-organized website that immediately leads readers to the section(s) that interest them the most. Categories like Fitness and Healthy Eating allow VeryWellFit to appeal to the masses while offering quality advice.
To build authority, VeryWellFit employs a wide range of writers, some of which hold medical licenses or certifications (like in Physical Therapy/PT) to give them the ability to speak on complex fitness topics, like the science behind cramping and the right way to get rid of muscle knots.
What makes them stand out?: A "trending topics" bar at the top of the homepage helps you see what's new in the industry, plus excellent organization allows you to find what you're looking for with ease.
#4 Self.com

Nearly 11 million people visit Self.com every month, which explores personal fitness alongside a number of other self-help topics. From relationships to mindfulness, Self frames personal fitness topics within the broader category of general wellness, helping readers achieve their personal fitness goals alongside other personal goals.
What makes them stand out?: Celebrity interviews from the likes of Demi Lovato and incredibly talented industry writers are just some of the perks that come along with Self's impressive magazine budget.
#5 Health.com
Right up there with Self, almost 11 million people visit Health.com each month, too. While Self frames personal fitness within a long list of personal categories, Health frames personal fitness within a broad range of health categories — ranging from health insurance coverage to emotional health.
With a glossary that lists health conditions from A to Z, Health definitely takes a big-picture approach to personal fitness and wellness. Still, a lot can be learned from their engaging writing style, ability to identify trends, and the work they do to keep readers' questions and interests front-and-center.
What makes them stand out?: Timely content allows Health to stay on top of news and trending topics while framing it all in a context readers care about.
#6 BodyBuilding.com

Just under 9 million people visit BodyBuilding.com each month. Focused wholly on the niche of bodybuilding and personal fitness competitions, BodyBuilding.com has defined its audience, and they know it well.
First and foremost, BodyBuilding is a storefront offering vitamins, supplements, and tools for those on their bodybuilding journey. However, they also maintain an entire library of training articles and videos. BodyBuilding's resources help them hit their SEO targets and drive organic traffic, all the while creating highly-sharable content that allows readers to engage with the brand across platforms.
What makes them stand out?: Expertly-produced videos complemented by high-quality, detailed training articles allow BodyBuilding.com to engage readers and increase organic traffic.
#7 Shape.com

Over 7.5 million people visit Shape.com every month, which is a magazine and website majorly focused on female readers. However, unlike Men's Health, Shape remains unisex, offering content that can interest and please the majority of readers. Personal fitness is a major focus, but they complement the topic with advice about emotional health and general wellness.
What makes them stand out?: Talking about and to celebrities allows Shape to stay relevant and grab interest with their name-dropping headlines while offering sound advice that disproves fads and encouraged sustainable fitness.
#8 MyProtein.com

With just under 6.5 million visitors each month, MyProtein performs nicely as a product-based brand offering protein supplements (primarily in the UK). Regardless of the catalog, though, once you get in "The Zone," which the brand calls their blog, you'll quickly see that MyProtein drives a strong content marketing strategy.
With their own team of spokespeople featured across videos and articles, MyProtein has a lot of fun content series to keep readers coming back while staying focused on personal fitness and strength-building topics.
What makes them stand out?: Fun spokespeople and series combine to keep readers returning. Plus, they share tasty recipes featuring their protein products.
#9 Planet Fitness

Over 6 million people visit the Planet Fitness website every month. While many of them may be logging in to access their account or find the nearest location for this mega-gym brand, Planet Fitness also offers a slew of unique content.
The "Judgement Free" culture the brand has built encourages acceptance and positivity, two things that have helped grow the brand to incredible new heights. The Community@PF blog shares advice on choosing protein supplements, hitting fitness goals, and more, all while reinforcing Planet Fitness' approach to getting healthier while being happy along the way.
What makes them stand out?: Planet Fitness has strong brand values, and it reinforces them in all of the content they publish.
#10 Rogue Fitness

About 4.5 million visitors go to Rogue Fitness each month. This retailer sells a variety of workout gear, but they also offer a robust blog that discusses everything from their latest acquisitions as a company to new products, fitness advice, and more.
What makes them stand out?: While their blog doesn't have the most modern design, Rogue Fitness repurposes newsletters as blog posts and covers the latest news that readers care about.
Growing Your Personal Fitness Website Easily
Looking to grow your personal fitness website? As the industry continues to boom, you have the opportunity to score new customers, but you're also being faced with new competition. All of that means your business needs to sit down and figure out a content marketing strategy that will help you increase organic traffic and continue to attract readers and customers.
Here at Scripted, we have a devoted team of personal fitness writers who are ready to help your business grow to new heights. If you run a personal fitness website and you're wondering how you can get your content plan off the ground and start seeing more organic traffic, reach out to the team today. Choosing Scripted makes it easy to hire personal fitness writers that can help your business grow.

---
Published by
Carolyn Heard
on Thursday, March 18, 2021
in
Blogs
,
Health & Wellness
,
Organic
,
Body Building.Com
,
Health.Com
,
Men's Health
,
My Fitness Pal
,
My Protein.Com
,
Planet Fitness
,
Rogue Fitness
,
Self.Com
,
Shape.Com
,
Very Well Fit
.