ClearVoice: Reviews, Features, and Alternatives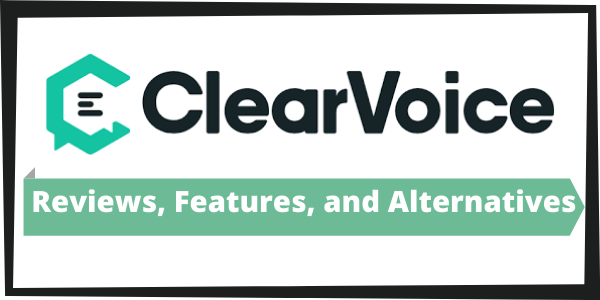 Content marketing is one of the most powerful tools for driving conversions. In fact, a strong content marketing strategy can result in 3x more leads than paid advertising. But, as marketers know, creating content is a time-consuming and laborious process. Most companies don't have an in-house writing team, but creating a steady flow of content requires considerable labor and effective workflows to ensure the best output. Not only do you have to produce a sizeable output, but you also need the editorial skills to ensure that quality content gets delivered to the right audience at the right time. 
Content marketing agencies like ClearVoice can help small businesses, startups, and enterprise companies produce and market-relevant, engaging content that appeals to existing customers and draws new ones in. If you're seeking help with your content creation, ClearVoice is one of your options. It offers a unique platform featuring both content writers and marketers. Let's take a closer look at ClearVoice reviews, prices, features, and see how it sizes up to some of the alternative options. 
Should You Use a Content Writing Platform?
Nearly 40% of marketers perceive content marketing as a very important part of their marketing strategy at large, and about 25% plan to increase their content marketing spend in 2021. Content marketing has proven itself as an effective method for attracting new leads and increasing traffic, and the need for content marketing services is steadily increasing every year. 
One of the main reasons content marketing is so effective is that it allows consumers to learn about a product or service via a well-crafted story, as opposed to other, unwelcome forms of advertising. Good content helps your brand convey authenticity and insight, whether it's in the form of a blog post, social media post, eBook, or something else. 
Sounds simple enough. But you aren't alone if you have a hard time filling your website and social media platforms with fresh content every week. The reality is that 65% of professionals find it challenging to produce engaging content. That's why hiring a content writing platform to help you produce high-quality content is important for your marketing strategy. Content writing platforms can help you create all forms of content to populate your blogs and social platforms - and some can even help with marketing efforts such as analytics and site monitoring. 
What is ClearVoice?

Launched in 2014, ClearVoice is a content marketing platform that connects in-house and freelance teams. They foster creative collaboration that supports marketers by offering a way to organize their content strategy better. ClearVoice handles everything from website content to marketing campaigns to email newsletters. Their collaborative software helps you combine all of your marketing needs into one platform with a campaign and assignments-driven system. Built for marketing teams of all sizes, their self-service platform connects in-house and freelance teams with an integrated workflow, allowing companies to create better content more consistently.  
ClearVoice works with leading brands and agencies in a variety of industries and niches. Their writers create blog posts, articles, ebooks, infographics, case studies, and more. They handle all the relevant operations of content marketing to make your business fluent and productive. It targets the online media industry, but they have solutions that work for other businesses, too. 
How Does ClearVoice Work? 
ClearVoice offers easy-to-use tools like a multi-functional editorial calendar, campaign management, and an assignment workflow all in one place. This lets content marketers focus on content creation instead of project management. Their goal is to provide marketing content that leads to higher engagement and ROI for their clients. 
Reviews
G2 gives ClearVoice 4 out of 5 stars, according to customers. Customers generally like that they can vet writers and choose writers that like specific projects. They also like that the platform integrates with Hubspot to make it easy to transfer a piece to a blog and that their customer support is helpful. On the flip side, customers find it tough to find blogging help for very specific topics based on industry or niche. Many customers find that the platform, being relatively new, still has a lot of glitches. Some report that it can also be very expensive and that the time for revisions and delivery of a finished product can be too long. 
Features
Over 25,000 Writers
ClearVoice has a talent network of 25,000+ vetted freelancers. In addition to writers, they also source producers, editors, designers, strategists, and SEO help. 
Managed Content Creation
Their platform offers help for businesses in over 200 categories. You can use them to produce large amounts of content or piece-by-piece custom content services. 
SEO
Their writers offer SEO-optimized content to help you boost your rankings in Google and other search engines. 
Scalable
ClearVoice works with Fortune 500 clients and delivers as much or as little ready-to-be-published content as you need. They also work with small businesses that only need content occasionally. 
Content Strategy
ClearVoice offers help with content strategy, and writers abide by brand guidelines, personas, and strategic needs to align all your content. Their content strategy offerings include audience targeting, brand management, campaign management, distribution management, editorial calendar, scheduled publishing, and SEO management. 
Pricing Tiers
They offer a standard plan at $249 per month, a Pro Plan at $749 per month, and a Managed Plan at $1449 per month. 
Alternatives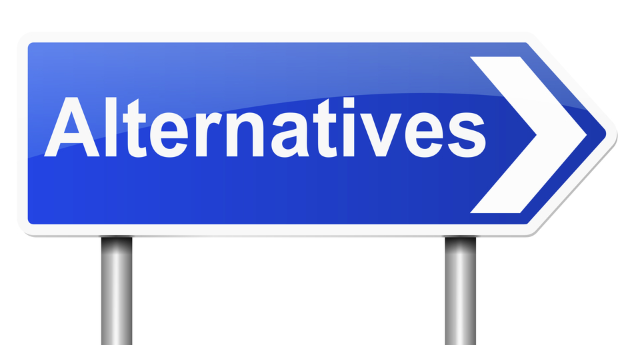 ClearVoice is one of many content management platforms on the web. Leading alternatives include:
ScribbleLive
ScribbleLive is a content cloud provider that works with over 500 businesses, including global brands such as Red Bull, Ferrari, and CNN. The platform helps companies manage the entire content lifecycle, from ideation to planning, creation, distributing, and measurement. It is an all-in-one SaaS system combining predictive analytics with content planning, creation, and distribution.
In addition to written content, their software lets you create visual, video, and interactive materials. You can publish in multiple channels, track conversions and use their social media manager. They also have an editorial calendar that allows for live publishing, making it great for promoting live events and in-venue engagement.
Contently
Contently is a leader in the world of Content Marketing Platforms. Their platform is robust enough for enterprise usage, and enterprise companies make up their target audience. It offers brands everything needed to plan and create content, engage with audiences, and optimize output for the best results. Contently connects to your CMS and host of other integral apps, and it also offers access to contributors to help you produce amazing content. The platform handles every aspect of contributor interactions, from finding the right writer to revising and tracking content to publishing your brand's best work. They also offer analytics, to track the effectiveness of your content. 
Scripted
Scripted works with small businesses, startups, enterprises, and more to provide content creation and marketing services. You can choose from a database of 6,000+ fully-vetted, professional writers and order custom content of any form and length, including blog posts, press releases, web pages, newsletters, or video scripts. 
Scripted is a membership service with plans ranging from basic self-service at $149 monthly to $2500 monthly and up for enterprises and agencies with multiple clients. The basic plan offers access to Scripted's content creation platform and a basic pool of writers, and premium subscriptions also include turnkey content marketing services with access to Scripted's top-tier writers and dedicated account managers. Scripted also offers tailored plans for creative marketing agencies and enterprise businesses, which include features such as added support, unlimited users, and dedicated account managers. 
In Sum
It's no secret that businesses need a steady flow of stellar content to flesh out an effective marketing strategy. Content creation platforms enable businesses to create great content for their marketing initiatives. Content pieces include any type of written content, such as blog posts, listicles, white papers, ebooks, company bios, and more. These platforms offer features that help you plan, track, and manage content creation and all activities related to it. 
However, not all content creation platforms were created equal! Quality content depends on quality writers, so it's important to opt for a content creation platform that hand-picks only the best of the bunch! Scripted's vetted, highly skilled pool of freelance writers includes copywriting specialists, social media gurus, and subject matter experts in your industry. You can feel confident that you're getting high-quality, SEO-friendly, original content that speaks to and engages your unique audience. 
A membership with Scripted allows you to hand-select your own dream team of writers to create the right messaging and tone for your brand. Whether you're a small startup or a Fortune 500 company, Scripted has a plan that will work for you.