Constant Content vs. Contently
Contently and Constant Content offer a range of services for content marketers across industries. Here's an overview of what you can expect from each content agency, and how to choose the best content agency in line with your goals and budget.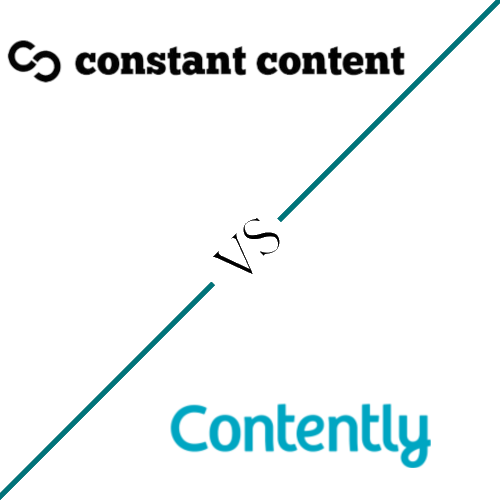 Finding Expert Writers on Constant Content vs. Contently
Each content agency has a specific approach to hiring and vetting writers for their platform, which affects everything from the quality you can expect to how much you can expect to spend on a project.

How Constant Content Chooses Writers
The Constant Content application process requires writers to fill out an application about their background and experience, complete a quiz, and submit writing samples to join the platform. Writers can then connect with brands and claim individual jobs according to their interests, background, and desired payment rates.
Writers can set their own rates on Constant Content and have the option to work on a project one on one with the client, as part of a content team, or as a member of an "expert group" on the platform.
Constant Content allows clients to create custom content orders, and to search the platform for writer bios to find an individual or team of writers for projects. Writers on the platform can also publish and sell unique content.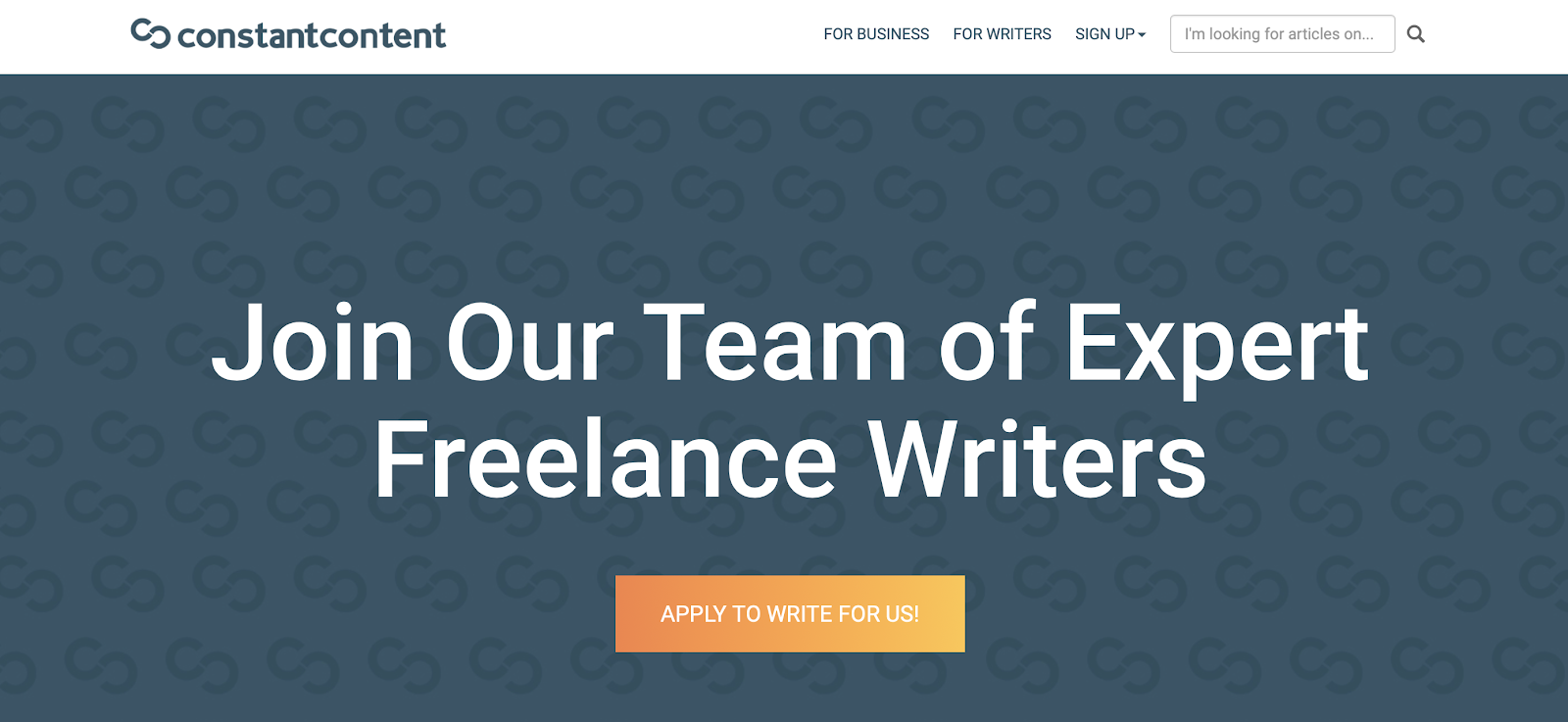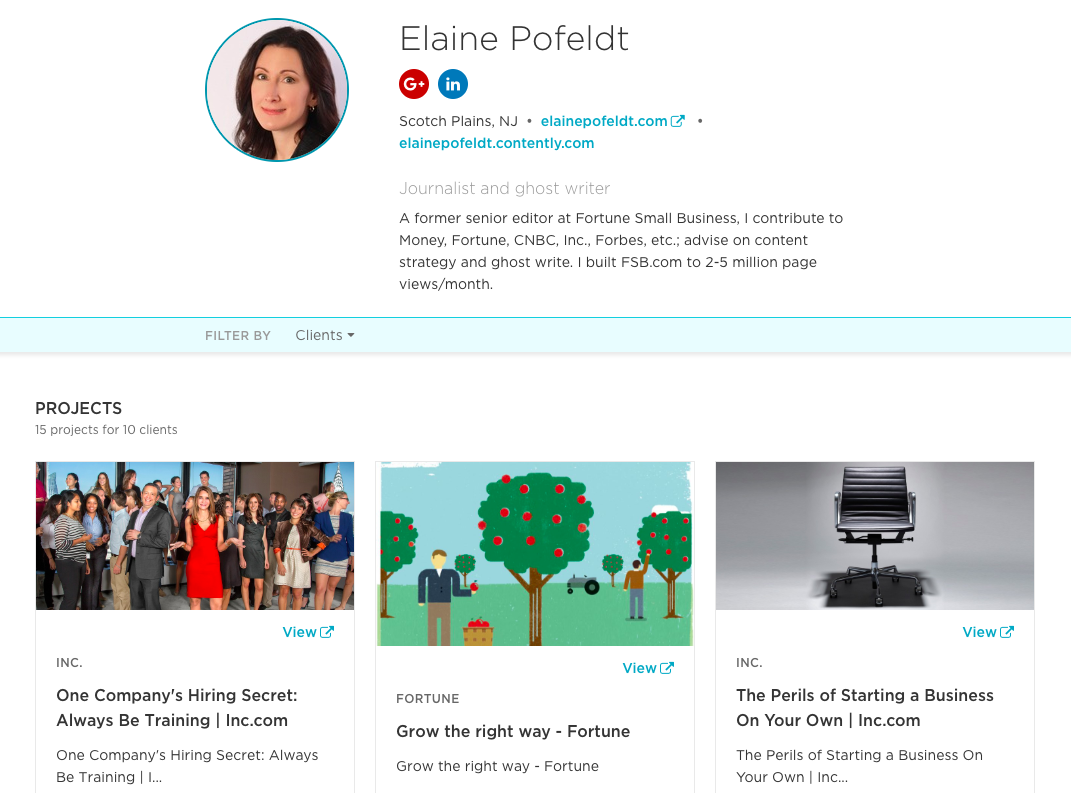 How Contently Chooses Writers
Contently's platform is technically open for any experienced writer and journalist to join. Writers create an account and upload writing samples to a portfolio that allows clients to review their past work and experience and professional and creative interests.
It's up to writers to sample their best work and optimize their portfolios in order to get in front of clients looking to work with writers in their niche. Depending on your subscription plan, Contently also offers project managers and allows editors to match qualified writers with certain projects.
Once they're approved by an editor, the writers take a quick tutorial to learn how the platform works and to ensure they understand the expectations and requirements for accepting assignments and working with Contently clients.
Contently makes it easy for clients to find potential writers through public portfolios that showcase their best writing samples, industry experience, and personal interests. Portfolios make it easy to find and evaluate writers on their writing samples, their publication history, and the type of writing they've done in the past.
Constant Content vs Contently Platforms
Each platform has unique features designed to help clients fill single or ongoing content orders. Depending on your budget and the scope of your company's content needs, each platform gives clients the opportunity to build ongoing content partnerships with their favorite writers.
Constant Content
User-friendly search tool that allows you to find writers through a bio or subject matter search.

Searchable list of top article writers by industry

Pricing tool that allows you to choose your budget and price range for each content order.

Option to create and scale a team of freelance writers as your content volume increases.

Provides a "Knowledge Base" of detailed articles and instruction guides to help clients and writers navigate the platform and content ordering, writing, and submission process.
Some writers report inadequate communication and transparency from editors

The content approval process and workflow can be murky
Contently
A taskbar makes it easy to track project workflows.

A communication tool that lets members exchange ideas with individuals and teams.

Shows how much money goes to the writer and how much goes to Contently.

A dashboard displays all open projects in one place.

Option to pay an extra tip when writers go above and beyond expectations.
UI can feel a bit clunky for beginners.

It also lacks a batch option, which may annoy high-volume clients.
Constant Content vs Contently: Pricing
Constant Content and Contently's websites provide limited information about pricing for their membership plans. Here is some general information to help you decide which content agency will work best for your content marketing goals and budget.
Constant Content Membership Options
Constant Content offers three basic subscription tiers: SMB, Agency, and Enterprise
They also have a pre-existing "content catalog" that allows customers to buy content on demand in a particular subject area or industry.
Constant Content doesn't advertise its subscription fees for the different membership tiers, but according to their website the average cost for an on demand article or blog from their content library is $40, and the average cost for a commissioned piece of content is $120, depending on the writer and type of content. Previous writers have reported that the platform may keep up to 35% of the content costs.
Contently Membership Options
Pricing models differ from platform to platform and depend on the type of membership you buy and individual writer rates. Some platforms allow you to set rates for specific projects according to your budget, and design plans that make content marketing services more accessible to smaller brands and companies working with a fixed budget.
Pinpointing Contently's costs upfront is difficult because the platform doesn't advertise their prices or a breakdown of different marketing plans, but Contently clients can expect to spend between $50,000 to $200,000 per quarter depending on the volume and type of content.
Should You Choose Constant Content or Contently?
There are a lot of moving parts in building and executing a successful and effective content marketing strategy, but at the end of the day your content is only as good as your writers. Finding and vetting a qualified writer on your own time can be tedious, time-consuming, and deliver mixed results. In a worse case scenario, it can actually be more expensive if you hire the wrong writer who can't deliver the quality you expect on time and on budget.
Try Scripted: 30 Day Free Trial, Quality Guaranteed
Scripted offers a transparent pricing structure and various plans for companies of all sizes and budgets. The selective hiring process for Scripted writers ensures you'll get your money's worth and get your pick of content writers that you can trust to get the job done on a single project or for your ongoing content needs.
Scripted does all the legwork for you and gives you access to an extensive network of highly skilled and qualified writers with the experience you're looking for.
‍

Sign Up for a 30-day Free Trial