Weekly Content Marketing Trends: September 20, 2021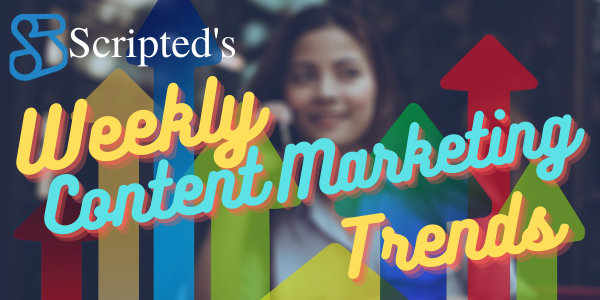 Another month has passed, and we're delighted to share more of our findings on the latest content marketing trends. This week you'll learn all about what's working and what to avoid. If you're in the retail or real estate business, you won't want to miss what we've uncovered. Need a few ideas for October content? Let's go!
Quicklinks:
What's Working in Content Marketing in 2021
5 Content Marketing Ideas for October 2021
Digital Marketing Resources: What Investors Must Focus on in 2021 and Beyond
What The Decline of Brick-And-Mortar Sales Means for Retail Marketing
5 Common Content Marketing Mistakes and How to Avoid Them
What's Working in Content Marketing in 2021
To say the pandemic has been an eye-opener is an understatement. Like most of us, you probably have a greater appreciation for things often taken for granted. In the business world, content marketing is one of those things. 
We've always known that content is king. Unfortunately, the real test of "survival of the fittest" is happening right now. As more businesses go digital, it can feel nearly impossible to stand out as B2B marketers are spreading their product and service promises like a virus. What's worse, this spray-and-pray form of marketing just doesn't work anymore.
Suffice to say, 61% of marketers place content marketing at the top of their "most important tactics" list. And that means businesses must turn to approaches that grab attention in an over-saturated digital world.
Some of these content strategies include:
"

Lo-fi

" content

Customized content

Interactive content

Repurposed content
Want to see how some B2Bs are using these strategies? Download the free report.
5 Content Marketing Ideas for October 2021
Fall is upon us here in the Northern Hemisphere, and October is right around the corner. It's a perfect time to consider what's in store for next month's digital content. Perhaps you'll include some spooky Halloween fun, or maybe you haven't given it much thought. More often than not, it can be a challenge to come up with fresh ideas.
While it may seem too early, it's always best to plan ahead. Besides, this ensures enough time for you to pull off some suggestions mentioned below Practical Ecommerce offers excellent tips to give you a head start, and you can try one or all and even save some for the following month if they apply.
October ideas include:
Product-focused tutorials

Tell stories

International Day for Older Persons

St. Luke's Little Summer

Anything Halloween
Read more for details about these content ideas.
Digital Marketing Resources: What Investors Must Focus on in 2021 and Beyond
Real estate investors and others have found a need to focus on online marketing. Everyone around the world is using smartphones, so you need to be active in the digital space. That's where you and your customers will find each other.
It's essential to remain competitive, drive traffic, and convert customers. You'll need to keep abreast of the latest digital strategies and trends. With the proper knowledge, you'll increase your business's profitability. Think Realty gives a brief rundown of what you need to know.
Here's where to focus your digital marketing:
Blogs

Search engine optimization

Online courses

Email marketing

Social media

Video marketing

Podcasts

Winning more customers
Learn more about these digital resources here.
What The Decline of Brick-And-Mortar Sales Means for Retail Marketing
It's easy to notice that brick-and-mortar stores have been on the decline, even more so since the pandemic. E-commerce has been booming as buyers have been shopping online from the safety of their homes. You might ask, "Is retail as we know it dead?"
There are still people who prefer the experience of seeing and feeling a product before they buy. This presents a challenge for businesses trying to balance both the physical and virtual shopping world. So, what exactly does this mean for retail marketers?
Here's what 13 members of the Forbes Communications Council discussed:
Omnichannel marketing is more important than ever

In-person experiences incentivize people to shop

There is a growing focus on feature marketing

Varying purchasing behaviors allow for customized plans

Marketers need to adjust to new consumer behavior

Modern consumers expect transparency and ease

Smart marketers combine in-person and digital experiences

Knowing to engage online audiences in the store is key

There's a level playing field for smaller-budget marketers

PPC and SEO are of crucial importance

There is a greater focus on storytelling and authenticity

Physical stores offer opportunities to build loyalty

Retail is dying, but not in the way you think
Find out what else they say about the decline of the retail industry.
5 Common Content Marketing Mistakes and How to Avoid Them
Do you realize that you'll spend 62% less and generate 3x leads with content marketing as opposed to traditional marketing? Great content makes a significant impact because it helps customers know, like, and trust your brand. So simply putting content out there isn't always going to cut it. You need a strategic approach, among other things. Avoid mistakes that marketers frequently make, and you'll be laughing all the way to the bank.
Here are the 5 mistakes to avoid at all costs:
Having no end game

Believing that "if you build it, they will come"

Keeping up with the Joneses

Not having a routine

Being too promotional
Need to know more? Read the rest of the article here.
Take Your Content to the Next Level With Scripted Writers
At Scripted, we understand the importance of keeping up with the latest digital and content marketing trends. We also know how difficult it can be to write your own content. That's why we've carefully vetted a team of professional writers with industry-specific expertise. They can create high-quality content for you that gets results. Sign up for our free 30-day trial today and see for yourself.
Meta Description
Learn about this week's content marketing trends and what's working in 2021 plus October content ideas, investor resources, retail marketing, and mistakes to avoid.