Weekly Content Marketing Trends: April 4th, 2021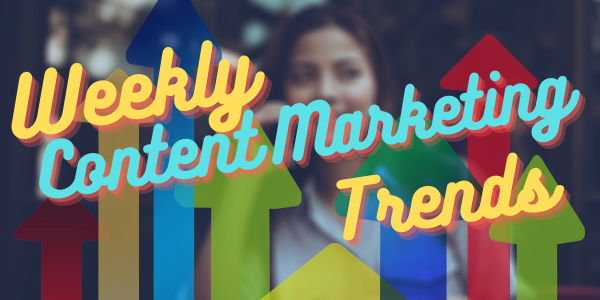 Content marketing has long been one of the most effective strategies. Costing 62% less than traditional marketing while generating three times as many leads, it remains a powerful strategy.
It is currently April 2021, and while looking at the year ahead, there are so many opportunities for growth.
Following the events of 2020, you can expect to see changes in how businesses communicate. The key is to invest in quality content, remaining mindful of the latest tactics, strategies, and trends. Staying on top of content marketing trends will help you stand out from your competitors and remain relevant to your audience.
Ready to leverage new tools and strategies to better connect with your audience? Here's what you need to know.
Mobile-Friendly Content
Mobile commerce has grown exponentially, which is why many of the latest content marketing trends highlight the importance of mobile-friendly content.
Mobile commerce is expected to increase by 22.3%, hitting $3.56 trillion in 2021. That is why you must optimize your website and remove any barriers. Whether you want your audience to enter a sales funnel, download your latest white paper, or subscribe to your mailing list, make it easy for mobile users to do so.
Another trend to consider is optimizing your content for voice search. Research shows that one-third of the American population use voice search, and in 2021, this search method will increase by nearly 10%, equating to 122.7 million users. When you do keyword research, consider the terms your audience uses when speaking versus typing. This will be the time to target long-tail keywords. Using long-tail keywords will also make it easier to get your content ranked on Google.
Some of the best tools to use for your keyword research include:
SEMrush

Ubersuggest

Moz.com

Wordtracker
Building Communities
Consumers seek transparency and honesty in the brands they support. It's no longer enough to just offer a great product or service — you need to build trust and loyalty. To stand out among the millions of websites and 24+ million eCommerce stores, you need to invest in community marketing. Besides your blog and social media presence to engage with your community, feature customers and clients in your newsletters. Let them know how much you appreciate them and that you recognize their support.
Other strategies include:
Community downloads

Discounted events or tools

Webinars

Networking opportunities — many of which are digital in 2021
Recommended reading: Networking in the Mobile Age - How to Foster B2B Connections in a Digital World
Invest in Your Content Team
In recent years, businesses have shifted away from a "quantity over quality" approach, seeking expert content that is engaging and valuable. However, this year, you need to invest in a writing team that offers a diverse set of skills. Yes, excellent writing is a must, but as you adapt for the year ahead, you'll also need writers who have talent in:
Content optimization

Content distribution

Communications and branding

Strategy development and execution

SEO

Campaign management
Feature an Expert
Credibility is important for any business, which is why featured experts are so valuable. Research shows that 85% of consumers regularly or occasionally look for expert content before making a purchase. Besides hiring professional writers who offer critical writing skills, invest in those who specialize in your industry or niche. They will understand your audience and bring an added level of authoritativeness to your brand. Once you develop trust and have a loyal following, share expert stories to connect to your audience.
There is no one-size-fits-all strategy here. You may take a human-centered approach, focus on education, or create content that entertains. It all depends on what your mission is, what your brand portrays, and how you plan to achieve key business objectives.
Be Transparent About Your Intentions
Yes, consumers want access to great products and services. However, most consumers want more than that — they want to gain and maintain relationships with brands that share their values and common purpose. The public is becoming more concerned with a brand's perspective on pressing topics, including those surrounding inclusivity and sustainability. In fact, 49% of consumers have boycotted a brand that did not align with their values.
To reflect greater transparency, be more open to sharing information, as well as your motives and choices. The year 2020 showed businesses of all sizes that your marketing strategy will benefit by caring about the communities your customers care about. This was apparent throughout the nation and world during the Black Lives Matter movement. Again, this is a great time to incorporate storytelling into your content strategy. Tell stories around your social and/or environmental purpose.
The Popularity of Video Content Continues to Rise
An annual report by Cisco states that video content will account for 82% of all web traffic. This provides you with an opportunity to stand out — so get creative!
Here are some resources to assist you:
Of course, this did not mean that you should ignore other types of content. Tie your video content marketing strategy into your overall content marketing strategy in terms of your mission. Do you wish to educate your audience? If so, pair an explainer video with a product guide. Want to increase brand awareness? Create a memorable, engaging video and pair it with your latest case study or press release.
Scripted Can Help You Stay on Top of the Latest Trends
Scripted is an all-in-one content creation platform that offers access to thousands of writers — many of whom specialize in a specific industry or two. Whether your goal is to double down on SEO, improve your customers' content experience, build content communities, or anything else related to emerging trends, Scripted will fuel your content marketing strategy. Our pool of talented writers will help you achieve one milestone after the next.
Browse and hire professional writers today!