Content Marketer's Guide to LinkedIn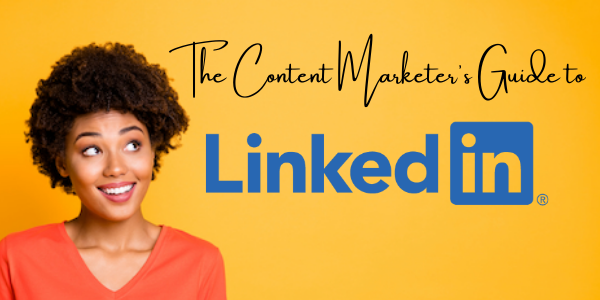 In business, the key to success isn't what you know; it's how well you can share what you know with others. The businesses that perform the best are dedicated to helping people understand a specific topic, what the problem or difficulty is, and offering a packaged solution. Any company can do this effectively with the correct understanding of how to content marketing. 
LinkedIn is a hub for business professionals to find other businesses and professionals. Rather than being a platform to sell to others, it is a platform to connect by sharing information and educating audiences. You can effectively content market on LinkedIn, which is a way of attracting new business opportunities. This is your content marketer's guide to LinkedIn, how to use it for content marketing, and how to get the most value from the platform. 
Understanding Content Marketing Through LinkedIn

LinkedIn's premise is simple: connecting business professionals with other professionals. It is not a platform to sell through, although some people try to use it that way. No one on LinkedIn wants to be sold to, and doing so is leads to isolation and alienation. 
Instead, focus your efforts on making connections with other professionals. If they need services and see you as an expert in your area, then they will come to you when they need help. Your work starts long before this stage. Your work begins by establishing yourself as an expert in a particular field. 
Why Experts Attract Business Opportunities
Experts attract the attention of people who want to learn something about a particular topic. In most cases, people take a closer look at topics that they are interested in because they have a problem that they need a solution for. Going online, even on a site like LinkedIn, whose focus is networking, is an attempt to solve a problem.
For example, recruiters use LinkedIn to find new employees for companies. The problem that needs solving is their need for more employees. The quickest way to solve their problem is to look for experts in the fields that their open jobs are in. 
This is why you want to show your expertise in your field through a platform like LinkedIn. People with problems are inevitably drawn to people that they think are credible experts that can solve their problems. 
Content Marketing IS Positioning Yourself as an Expert
Content marketing is the way to position yourself as an expert in your field. Your content should be developed to discuss interesting, important, and relevant aspects of your field. The more valuable information that you are able to provide, the more others see you as an expert. It also leads to reciprocity when they need to hire a problem solver. Since you provided plenty of free information that was helpful, they are more willing to pay for the solution that you have available. 
LinkedIn's Features to Use for Content Marketing
LinkedIn has several features that you can use to make your content marketing effective. When attempting to use content marketing through LinkedIn, the features must be used as a part of a larger plan. Using one feature extensively when you cannot use the others will not produce the results that you want. Focus on building a cohesive process that uses all of the important features to drive engagement. 
Profiles
Your profile is arguable the most important feature on LinkedIn. It is the window into who you are that people need to assess your performance on the platform. Your profile explains who you are and why others should care. An ineffective profile will hurt your ability to connect with others, which is why it deserves the time and attention it takes to set up properly.
When people look at your profile, they want to know three things: are you credible, are you qualified, and are you trustworthy? If you can answer these three questions, your profile can help you make connections. 
Are You Credible?
The first thing people want to know is if what you say in your content marketing efforts can be believed. No matter how much accurate and helpful content you publish, people won't think you are credible if your profile does not convey that. They want to see a profile that is professional and appropriate for the person that has been giving them the help that they needed. 
Creating a professional profile that is well-designed, articulate, approachable, and shows that the things that you say in your content are likely accurate makes you appear credible. If your profile is disheveled and incoherent, people won't believe that you are capable of creating the helpful content that they have been reading. Make sure that your profile is finished and polished with appropriate information about you. That way, there won't be any doubts for them to hang on to. 
Are You Qualified?
The next thing that people look for in your profile is if you are qualified. No matter how helpful your content is, people are less inclined to put value in it if you are not qualified to advise them on a subject. It is like a waiter writing about aerospace engineering. Unless that waiter has some form of qualification in aerospace technology, it is unlikely that anyone will put much value in his or her content. 
It is easy to show your qualifications through LinkedIn. Your profile has space for your education, training, certifications, awards, and skills built-in. Fill out these sections of your profile thoroughly and accurately. Showing that you have education or training in a specific field increases your chances of being seen as qualified. 
Are You Trustworthy?
People will also want to know if you are trustworthy. This can be a tricky issue to solve, but the answer is all in how you present yourself. If your content is focused on providing information and helping people, then your profile needs to be the same. 
If people think you are there to help, but your profile contains a lot of selling-focused content, they may doubt your motives. Make sure that your profile conveys the same message as your content. That way, people can feel that they can trust what they read about you. Even if you are there only to sell, be authentic about it in your content and your profile. That authenticity comes through as being trustworthy. 
Showcase Pages
Showcase Pages is a feature that lets you create different pages for different audiences. If you cater to audiences with different focuses, such as a business leader catering to multiple industries, you can create pages that are visible only to people in those industries. 
The reason why Showcase Pages is such a powerful tool is that it lets you build content for specific audiences and automatically deliver the right content to a specific audience. You won't have to try to force your content to fit multiple audiences by making compromises that make your content less effective for either audience. It gives you the ability to target markets, which is highly effective at catering to your audiences' needs. 
LinkedIn Live
The most effective content for marketing purposes is live content, especially through social media. LinkedIn Live lets you go live and connect with your audience. It is the most direct way to drive engagement with them through LinkedIn and can be a very powerful tool if used correctly.
What makes LinkedIn Live so powerful is that it removes many of the barriers separating you from your audience. Communication through content marketing is often driven by text, infographics, and passive video content. LinkedIn Live lets you go directly to your audience in a more relatable and personable way so that you can make stronger connections. 
Posting Content for Success
Now that you know more about the features that you should be using, it is important to understand how to post content for success. Audiences are particular about the way they curate content for their channels. If you do not post in a way that matches their preferences, you will likely be ignored. In many cases, you won't even make it to the person on the other side since your content will be filtered out. The key is finding a way to post that gets through LinkedIn's channel filters and your audiences' filters. 
Three Types of Content
There are three types of content that you want to cover on LinkedIn. These include:
Articles about industry topics

Status updates about you and your business

Videos that talk about relevant topics in a personal way
Each type of content is important and should be included in your content marketing strategy.
Articles
Articles, also referred to as long-form content, are pieces about things that are relevant to your industry. Treat these like you would a blog, news, or encyclopedia piece. Your goal is to educate people about a specific topic. Articles range in length, but tend to be 750 to 2,000 words long. 
When writing and posting articles, it is important to remember to provide value first and sell second. Make sure your content helps readers with no obligation for further engagement with your company. That way, they will be more likely to continue the relationship and buy when they decide they need something. 
Status Updates
Status updates let you post content about yourself and your company. They should be posted, at most, once per day. The content must be relevant or interesting to readers, not just monotonous information about your company. For example, a post about how your company is adapting to a change in industry regulations is better than a post about driving to work. Always focus on providing value.
Videos
Videos are posted in the same way as long-from content, but with a different structure. Every video you post should mix being information with being personable. Videos should only be as long as they need to be and should not exceed 15 minutes. People do not have the time or attention span to focus on something for longer than that. 
The quality of your videos is very important. You do not have to have the highest 4K true audio definition, but it must also meet minimum quality standards. Fortunately, most smartphones can record the quality that you need. 
Choosing Topics
Choose topics that are important to your industry and your audience. There are several ways that you can do this effectively. 
Follow the Leaders
You can find these by following industry news and the top industry influencers. Look for the top-performing pages and what content they post. Popular articles will show you which topics are popular. 
You can also look within your company. When your company needs to make a change to accommodate new things happening in your industry, it is likely that it will be relevant to other companies. 
Ask Your Audience
Another effective way to choose topics is to ask your audience. Feedback systems, such as engagement emails, surveys, and polls, can be effective in finding out what they want to read about. Gather data from your established audience to see who is reading and what they care about. Then, build your content development strategy around their answers. 
See What Analytics Say Works
You should be using analytics to track the performance of every post. Identify the posts that perform the best, then see what they are about. Any patterns that develop mean that those topics are popular with your audience. 
Get Help With Your Content Marketing
Content marketing is an important part of your business, which is why you may want to consider hiring social media writers to help you develop content. Companies often struggle to create their own, especially in smaller companies where there are fewer resources. 
The solution is to hire a dedicated team of content writers that specialize in social media content development. Our team can help you develop content for social media, including business blogs and LinkedIn. Contact us for help taking your LinkedIn content marketing to the next level.