OKCupid's Christian Rudder On Turning Your Blog Into a Viral Success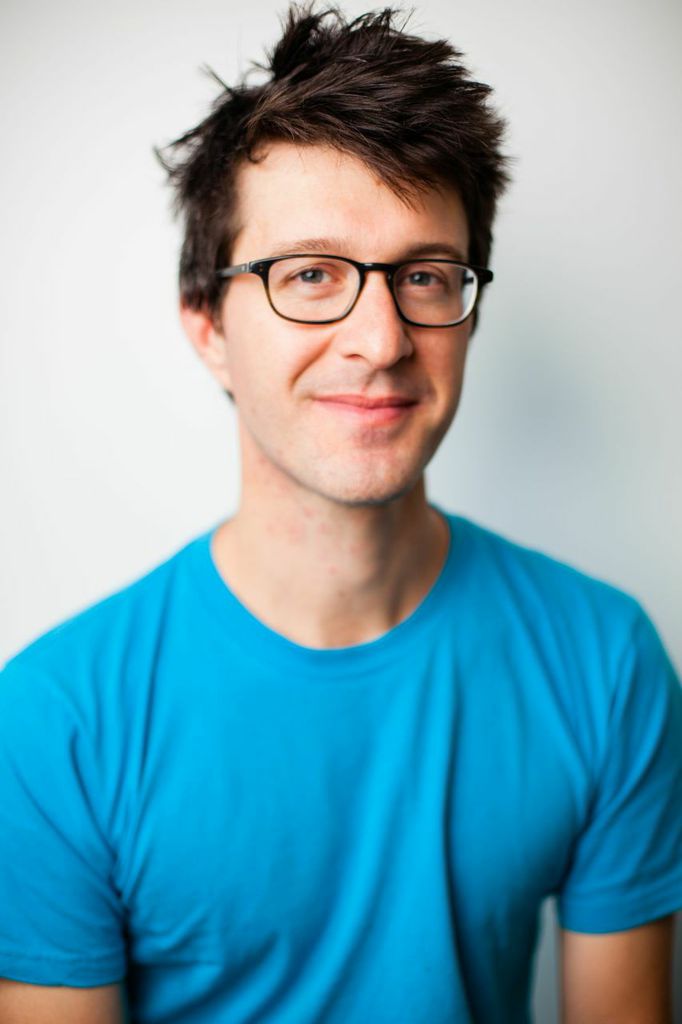 Christian Rudder talks with Scripted about the success of OKCupid's blog, why he never hired an editorial team and, of course, the world of online dating.
Chances are if you've dabbled in online dating, you've come across OKCupid's blog
OKTrends
and got caught up in an article about the
myths of profile pictures
or the
common lies people tell
when meeting online. OKCupid isn't only a destination for dates -- it's a place where people can find fascinating insights on love, sex and attraction.
The brand's captivating blog, which launched in 2009 -- during a time when online dating was still slightly taboo -- can be viewed as one of the first true successes in
content marketing
. By using their own data, OKCupid turned key stats and facts into compelling stories to ultimately become a trusted authority in the online dating space. What's incredible about the blog's success though is that it didn't need a big team of writers to gain a loyal and organic following.
Christian Rudder
, OKCupid's co-founder, managed the blog on his own writing only one article every six weeks. We caught up with him to talk more about OKCupid's content marketing success and asked some online dating-related questions, that, well, we couldn't hold back.
See also: Dating Websites That Rock At Content Marketing & WhyScripted: How did you initially land on the idea of OKTrends?Christian:
The first post was in 2009. The idea really came out of what we do at OkCupid everyday combined with the need to get the message out about the site. In 2009, we were doing OK, but I wouldn't say great.
When we talked about what we do at OKCupid to our friends or to our family or whoever, it was always pretty interesting -- the idea of people coming together and sex, love, and all of that stuff. It's inherently interesting to people, especially when you have data. We had a brainstorm together; the four founders and we were thinking, "You know what? We should do some press releases of some data." So we hired a PR firm. They all turned out lame. It was the best, sexiest cities, that kind of thing. Nobody cares about that stuff. Then we were like, "All right, let's just do it ourselves."
People liked it, so we did another, and we did another and not before long, it really transformed. We really did it as a way to get people talking about OkCupid without having to talk about how they're on a dating site.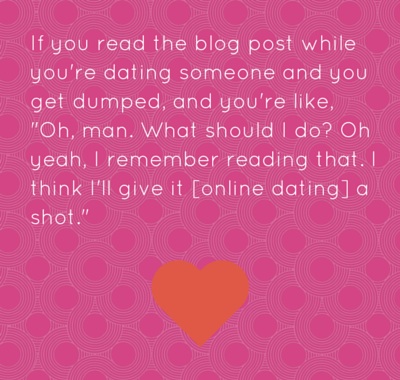 Scripted: Why do you think OKTrends developed such a loyal following?Christian:
People weren't used to seeing a company talk about their data with that much transparency. These articles were designed to be funny, viral, sensational and interesting. And, of course, we were writing about sex and about attraction. Subjects that are inherently interesting -- people think about them all the time.
Scripted: Would you say you were using it as a lead generation tool or a way to build brand awareness?Christian:
Very few people signed up directly from the blog. It was much more like a billboard and it just made people think because online dating isn't relevant all the time for everyone. If you're married or you're dating somebody, you don't need it.
If you read the blog post while you're dating someone and you get dumped, and you're like, "Oh, man. What should I do? Oh yeah, I remember reading that. I think I'll give it [online dating] a shot."
I think that happened a lot, but very few direct line-ups.
See also: The Future of Content Marketing & Lead Generation ContentScripted: Did you use any paid promotion?Christian:
No, it was almost all organic. Of course -- even at that time -- we had a website that had at least a reasonable amount of traffic, so that helped. From the blog readers though, about 90 percent were not OKCupid users. We didn't do anything inorganic.
Scripted: Did ever you consider hiring an editorial team once it took off?Christian:
We never really considered that. A lot of what made the blog popular was how it was done and written, which is, in some ways, tied up in me. I don't even know what they would have done. It was me and a database. There would usually be a programmer dedicated to pulling stuff out of the database for me.
Scripted: How would you know you had interesting stats that would make a good story?Christian:
It's hard. My co-founder,
Chris Coyne
, was my sounding board. We'd brainstorm about what to do next pretty often. A lot of the times we would just start with a topic. We'd be like, "We haven't written about race. What is the next step? What data would we need to get?"
As far as how to know when you've got something and knowing when you have something that people are going to want to read, is like a little bit of voodoo. It's intuitive, I guess. I don't know.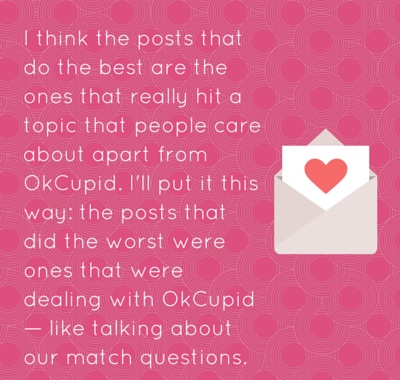 Scripted: What were the topics that people were most interested in reading about?Christian:
Race was a big one. This was kind of at the peak of the gay marriage debate, it's not really a debate anymore, but in 2010, it was more so. One of our most popular posts was comparing our gays users to our straight users. Probably our single, most popular post was this July when we were writing about experiments that we had run on OkCupid.
I think the posts that do the best are the ones that really hit a topic that people care about apart from OkCupid. I'll put it this way: the posts that did the worst were ones that were dealing with OkCupid -- like talking about our match questions.
Scripted: What advice would you give marketers who are just starting out and trying to turn data into compelling stories?Christian:
I guess the best advice -- and it's also the hardest to follow -- you just have to make sure you have a dataset that actually can tell stories. Unfortunately, a lot of datasets can be robust, and they can be kind of interesting, but they often don't include any data about the people underneath. The reason our posts were successful is because they talked about people and what people were doing.
See also: Transforming Data Into Digestible ContentScripted: What tools were you using to analyze your data?Christian:
Our database is SQL, so we had an SQL programmer that would do pulls for me, and then I would put everything into Excel. Occasionally, for some more sophisticated stuff, we would make special Python scripts or involve special Python libraries if you like map making and stuff like that.
Scripted: What advice do you have for brands who are trying to start their own version of OKTrends?Christian:
My advice is to be bold and be transgressive, but it's going to be very hard for someone working at most companies when the blog writer is way down the totem pole.
Scripted: You had such a distinct voice in your writing. Did that come naturally?Christian:
The short answer is yes, it did come naturally. It's just been part of how I've generated content for the Internet for over a decade, at this point.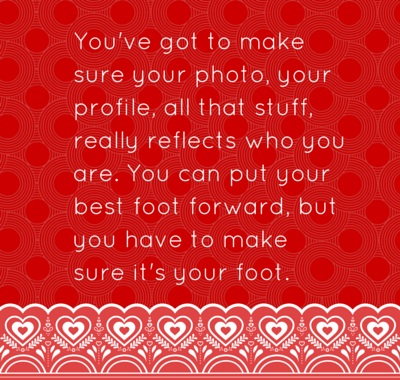 Scripted: Now to the fun questions about love. If you could pick two variables that must be in place in someone's profile for two people to meet online and have a successful relationship, what would they be?
Christian:
Two variables is very hard to pin down because of the law of attraction. Everybody is into something a little bit different, right? Your photo is the most important thing. There are no two ways around that. Even so, you've got to make sure your photo, your profile, all that stuff, really reflects who you are. You can put your best foot forward, but you have to make sure it's your foot.
There are enough people online, so there's going to be somebody there that likes you -- which isn't the case at a party where there's 100 people and you're on the fringe. That's one of the things I like most about OKCupid.
Scripted: Do you think that online dating is erasing the idea that there's only one person out there for you?Christian:
No, no. I don't think it is at all. It just makes it a little bit different. If anything, it makes it less random.
Most people they date, and end up marrying someone that they know from church, from work, or from school or whatever it is. These days, you can cast your net far wider. There's a quarter million people in New York City on OKCupid, and you can choose from them all.
That is intimidating in a way, and that means people become more judgmental to handle that choice. The hope is, and the theory is, that from such increased choices you end up with a better person.
What did you think about this interview? Share your thoughts with us below.
To Read More Interviews With Content Experts, See Below:
Jason Miller of LinkedIn: 2015 Content Predictions & Secrets For Using LinkedIn
Content Careers: Dayna Rothman on Being a Content Manager
Lee Odden on Defining High-Quality Content, The Future of SEO & More [Interview]
; Photo credit: Victor Jeffreys III