Content Marketing Advice from CMI's Joe Pulizzi & What Marketers Can Do Better In 2015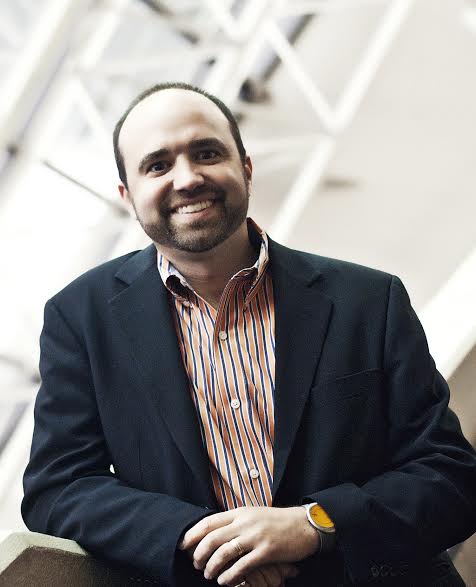 In this interview, the king of content Joe Pulizzi talks about the growth of Content Marketing Institute and what marketers need to buckle down on this year.
Throughout the evolution of content marketing,
Content Marketing Institute
(CMI) has been at the forefront of every memorable trend and major event. Who will ever be able to forget
Kevin Spacey at Content Marketing World 2014
? We sure won't. CMI isn't only known for making a splash in the space though, they're also known for being led by a very passionate and influential thought leader:
Joe Pulizzi
. The Cleveland-resident and his orange jumpsuits are guaranteed to draw crowds anywhere he goes. We were lucky to catch up with Joe and learn more about CMI's own content goals, what he's learned along the way, and of course, his affinity for the color orange.
Scripted: How did you first get your start in content marketing?Joe:
I first started in publishing in the year 2000 working at Penton Media. Penton is the largest independent business-to-business media company in North America. My initial role was an account manager for Penton Custom Media, working with large B2B companies on their content marketing efforts -- like print magazines, newsletters, webinar programs and more. I started running the department in 2001. At that time I started selling content programs. It was then I started to play with the term "
content marketing
."
See also: The Content Manager's Ultimate List To Events In 2015 Scripted: How has Content Marketing Institute evolved over the years? And how do you stay on top of current trends in the industry?Joe:
CMI was originally called Junta42, which was a matching service for brands who needed to find content marketing agencies to execute their projects. What we found was that the big need from large marketers was not execution, it was training and education. In 2010 we pivoted and became CMI, exclusively focusing on ongoing training and content around learning. In 2011, we launch the magazine,
Chief Content Officer
, and it was the first year of
Content Marketing World
. I remember that year we expected 100 people to attend and over 600 showed up. That was probably the moment where we knew we were on the right track.
To stay on top of trends, I read a lot. Our weekly content marketing news podcast, "
PNR: This Old Marketing
," helps as we get dozens of articles sent to us from readers to cover for the show. It sort of forces me to stay with the trends. But probably the best way is just talking to our customers and readers. I speak at multiple events per week so I get a lot of practice at that.
Scripted: There's been a lot of talk about "intelligent content" lately - is this a trend you expect to explode in 2015?Joe:
Not at all. I don't ever see "
intelligent content
" exploding as a trend. I believe that super successful brands are already dabbling in leveraging technology to make their content work on multiple platforms and devices without human intervention. They are working on becoming more agile as an organization (in regards to content) and truly positioning content as an organizational asset. Intelligent content will slowly sneak into the content marketing function over time because it will have to, but it will not explode in my opinion.
Scripted: CMI is known for its love for of color orange, what's the story behind that? Is a trademark color something content marketers should be thinking of, too?Joe:
Anything you can do to separate yourself from the pack is usually a good thing. Our allegiance to the color orange works for us, so much that at Content Marketing World we even have a table of orange snacks at all the breaks.
When I first started public speaking in 2007, I wore orange because our logo was orange. I just thought it was a nice thing to do. Then, at one event in Brussels in 2008, I was asked to wear all black (which I did). After the speech I was questioned by many at that event and on social media about why I wasn't wearing orange. I had no idea I'd branded myself that much to the color. From that moment on, we went "off the deep end" with orange. It's worked really well for us. Every few weeks someone sends me something orange in the mail.
See also: Should Your Brand Have a Mascot? Scripted: Many B2B companies write about content marketing and how the space is becoming pretty crowded. How do you and your team find fresh and original ideas to write about?Joe:
We are blessed to work with a good portion of the Fortune 1000 on content marketing. We get to hear first hand what their challenges are. That gets communicated back to our team on a regular basis, which flows into our editorial processes. In addition to that, we have some amazing contributors that fill our pipeline with endless ideas about what we should be talking about. Then, we have an amazing editorial team that puts together an editorial calendar that will make ongoing impact with our audience. It's not rocket science, just basic publishing. Listen first, always.
Scripted: What challenges does CMI have today in content creation and how are you trying to solve them?Joe:
The same as any company. Staying relevant, leveraging technology, staffing, repurposing content, but probably most of all, I think it's our state of mind that is the most important. We are willing to take risks with our content and our audience expects that from us. It's okay when we pushed the bar. Intelligent content is a good example of this. We purchased the show
Intelligent Content Conference
(March, 2015) specifically because this is where we see the market going. This is important to our audience, and most of our audience don't have a clue (yet) about this trend.
Scripted: How does CMI measure the success of their content? What are the important metrics you're looking at?Joe:
We have a number of objectives and KPIs that we look at, but our most important metric is the email subscriber. The goal of our blog is to get and keep a subscriber. That means we want current subscribers to stay loyal and new readers to become subscribers. Once someone is a subscriber, we work to get them involved in other types of content we offer (like podcasts, the magazine, etc.). We've found that if our readers consistently engage in three or more content types that we offer, they are much more likely to come to our event -- Content Marketing World -- where we derive most of our funds to support our training, research and other offerings.
See also: How to Measure The ROI of Your Blog ContentScripted: Finally, what are three things content marketers can do better this year?Joe:
Less is more; focus on dominating one channel first before diversifying.
Content marketing strategy; most marketers don't have a documented strategy. This is hard to believe and is a major problem right now.
Moving from social followers to subscribers; I feel many marketers are wasting money growing their followings on social without trying to convert those followers into subscribers.
Scripted:
Awesome, thanks so much Joe!
Like this interview? Share your thoughts and comments with us below.
To Read More Interviews With Content Experts, See Below:
Content Careers: Prezi's Susannah Shattuck on Creating a Content Marketing Strategy
Content Careers: Dayna Rothman on Being a Content Manager
Content Careers: Producer Felicia Williams, A Look Inside The TechCrunch Video Strategy