Weekly Content Marketing Trends: 05/10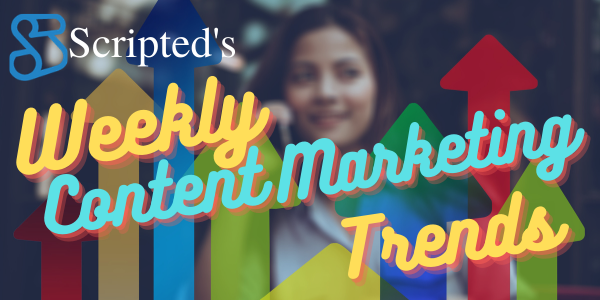 This week on Scripted's Weekly Content Marketing Trends, we cover news on UGC, visual storytelling, Instagram news for content creators, Adobe Creative Cloud integration, why marketers are suffering from bad content, and the impact of keyword stuffing in Google My Business. Take a look!
Quicklinks:
Decoding the latest trends in content marketing this week includes focusing on user-generated content (UGC). UGC may include customer reviews, images shared online, opinions, or social media posts or comments.
The spotlight falls on UGC because people, during the pandemic, have found extra time to scroll, express themselves online, and comment on the services or products they love or hate.
Often UGC content proves more trustworthy, as brands often take the info more seriously than what they share individually about their products or services. With more time to engage online, buyers and manufacturers alike have been influencing what content marketers use to leverage their activities.
Read more on the latest UGC news.
Visual storytelling is becoming more and more popular in the content marketing world. People do not want to feel like someone is selling them a product or service. Instead, they want to connect without getting distracted by an ad.
Traditional ad methods jade the buying public, as most ads interrupt daily activities. These interruptions often emerge as a TV commercial or pop-up ad. 
The latest trends include:
1. Never-Ending Stories
2. Hyperreal Storytelling
3. Connective Storytelling
4. Social Impact Storytelling
5. Brand Storytelling
Duct Tape Marketing claims visual storytelling has a spot in the next phase of interruptive marketing. Read to learn more.
Search Engine Journal reported the social media site has announced plans to add additional revenue streams for content marketers. Creators can generate income through:
Partnerships with brands

The sales of merchandise

Recommendations for affiliate products
This novel way of doing things also bodes well for Instagram, as the company does not make money when creators partner with brands themselves or sell goods using their own stores. By keeping the earnings activity inside Instagram, the company can charge fees or get a cut of the proceeds.
To realize these goals, Instagram is currently developing a brand marketplace where they can sponsor creators. For those creators who plan to engage in affiliate marketing, the Instagram app can help them promote content.
Read more to learn how it works. 

Adobe announced they will be releasing a Creative Cloud Add-on for Google Workspace. The integration will let users access the power of the Creative Cloud Libraries through Google Docs and Slides. This allows for a smoother workflow for teams of all sizes. It also allows for outside stakeholders to contribute feedback.  
Read more to see how you can take advantage of this new integration for your business.
Marketers everywhere are suffering from the negative effects of bad content, whether they are writing it or not. How does this happen? Because content marketing in the digital world is so accessible, anyone can write and publish content on the web. Having "bad" content in circulation has both direct and indirect effects.
For those who publish content that is poorly written, irrelevant, and void of significant value, the direct effects include: SEO issues, reputational damage, and ROI issues.
Unfortunately, this also affects the entire market industry by lowering consumer trust and creating content pollution.
Read more to learn what you can do to combat these negative effects for your business.
The Google My Business world is no stranger to keyword stuffing. Google takes action against businesses that stuff their GMB names with keywords that are not a part of business's legal names. In a study,  50 examples of keyword stuffing were reported, and Google took action on 40% of them. Offenders risk two types of punishment: Hard suspension and Soft suspension.
In order to improve SEO rankings without keyword stuffing, some businesses, mainly law firms, are legitimately re-branding to get keywords into their GMB name. Which is more important, higher rankings or a memorable business name?
Read more to learn what is best for your business.
Stay Up With The Latest News
Check in with Scripted's blog each Monday for the latest content marketing trends.
Have any questions about your own content marketing strategy? Connect with one of our team members to take your business to a whole new level!

---
Published by
Scripted Writers
on Tuesday, May 11, 2021
in
Content Marketing
,
Trends
,
Adobe
,
Duct Tape Marketing
,
Entrepreneur
,
Google My Business
,
Instagram
,
Search Engine Journal
,
Search Engine Land
,
Social Media Today
.