The Marketer's Guide to Tumblr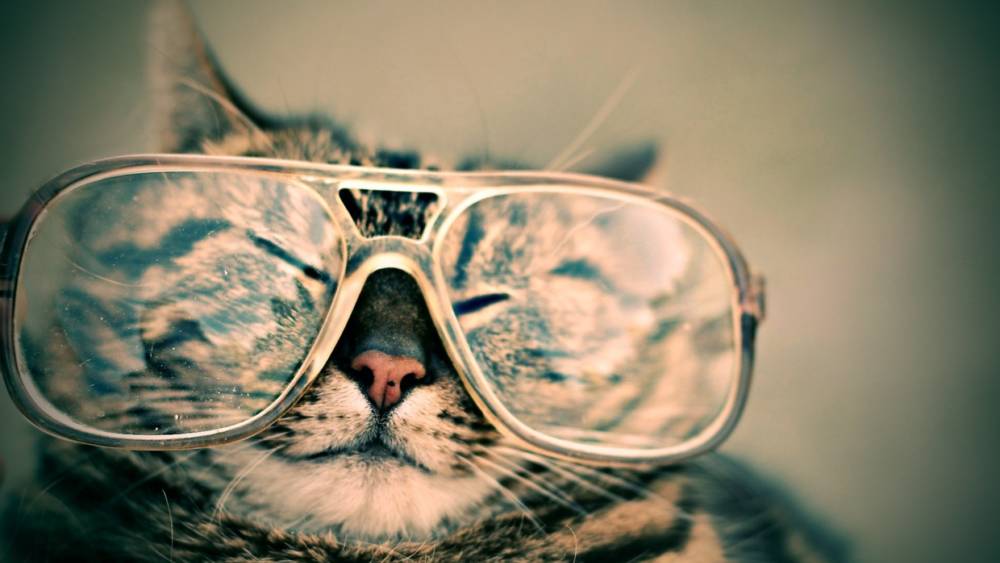 In 2017, we're committing to broadening our social media reach. Let's be honest, Facebook and Twitter are at this point noisy enough to cause tinnitus.

Let's talk Tumblr marketing. To the uninitiated, it can feel like a disorganized jumble of animal pictures, relationship quotes, and references to movies and television shows that range from the famous to the obscure. It's a unique platform among social media sites, but the microblogging site is less obvious as a marketing opportunity. In spite of its untraditional nature, several brands have found ways to effectively market their products and services to Tumblr's unique audience of 555 million users. By learning from their examples, you can use the same strategies to successfully reach potential customers on Tumblr -- and ultimately boost your sales. First, however, it's important to understand Tumblr as a social platform, as well as the characteristics of its members.

Tumblr Basics
Founded in 2007, Tumblr is a microblogging (short-form) social media platform that encourages its users to "
effortlessly share anything
." The free-to-join site allows members to create one or multiple blogs, where they can share seven different types of content: text posts, images, quotes, links, chats, music and video.
Unlike other social media sites that have a universal design, Tumblr allows users to customize the colors, theme and layout of their Tumblr blogs. With a wealth of content at 325.4 million blogs and 142.8 billion posts, Tumblr users share everything from news articles and pop culture memes to their own thoughts and artwork.
Tumblr's Audience
Along with its unique style, Tumblr also has a member base that is completely distinct from any other social media platform.
Sixty-nine percent of Tumblr users
are Millennials (age 18-34), one of the most connected and mobile-centric generations. Together, the site's members, most of whom access it from the U.S. on a
mobile device
, create an average
53.3 million posts
each day. According to
Tumblr CMO Stephanie Dolgins
, the platform is about enabling "self-expression and creation," much of which is focused around various fandoms, or groups of people who are extremely enthusiastic about a particular television series, movie, book or even industry, like interior or fashion design. Tumblr's own recent "
Year in Review
" clarifies the fandoms that received top ranking for 2016, from superhero movies and genre TV shows to social issues, memes and favorite fictional relationship pairings (referred to as "ships").
Understanding the unique communities that form around these topics on Tumblr will give you a huge advantage in effectively marketing to Tumblr's users. The brands and their strategies identified below will provide even more insight on making the most of Tumblr marketing to expand the reach and revenue of your business.
Denny's -- Speak Tumblr's (Weird) Visual Language
While Tumblr users can post content of all varieties, image posts are by far the most popular, making up
78 percent of all Tumblr posts
. These posts also
get the most notes
-- both likes and reblogs -- which are similar to likes and shares on other social networks. The key to successfully using photos, GIFs and other image content for marketing on Tumblr is to match the often strange and even surrealist style of the network's visual language -- a tactic that Denny's has perfected.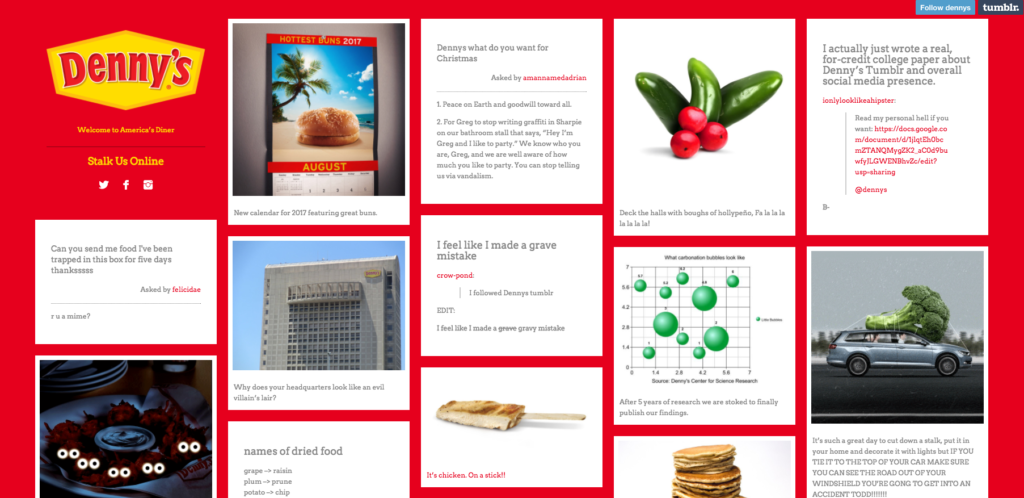 Between odd imagery that replaces everyday objects with breakfast foods and puns only foodies can appreciate, the restaurant brand manages to capture the bizarre visual tone of Tumblr. While this content contrasts with the more traditional content Denny's posts on other social networks, it works for Tumblr marketing. According to CMO John Dillon, Tumblr is the brand's
most engaged platform
.
Disney -- A GIF Is Worth a Thousand Words
Any guide to Tumblr should take notice of one of the platform's
most popular
brands: Disney. The brand's Tumblr blog plays to Tumblr's focus on visual, shareable content, as well as its users' nostalgia. Posts cover the entire scope of Disney history, from its original animated classics to upcoming film releases. The vast majority of this content is short animated images, or GIFs, which capture compelling Disney moments to create an immediate connection with fans.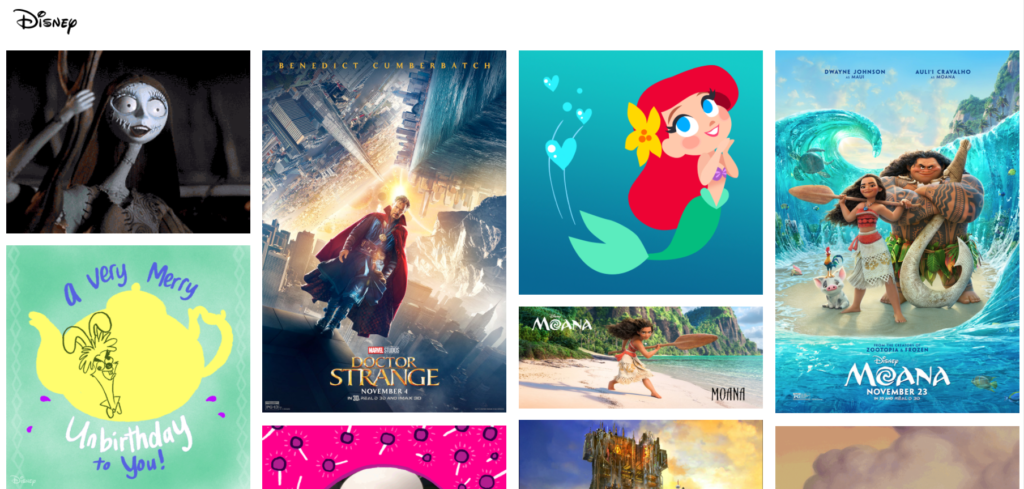 Disney's use of GIFs to tell stories on Tumblr helps the brand maintain its status of having the most engaged audience; most of its posts easily capture 800 to several thousand notes. You can apply the same concept to your own use of Tumblr marketing by creating short animated images that tell a story about your brand in just a few seconds. Applications like
GIFS.com
and
Giphy
make it easier to turn longer video clips into GIFs, while Tumblr itself recently released its own
GIF creation tool
.
ASOS -- Combine Sponsored Posts With Crowd-Sourced Content
Like all other social platforms, successful brands on Tumblr post more than their own content -- they also share relevant images, text and more from other Tumblr blogs. Fashion brand ASOS combined this crowd-sourcing aspect of social media in a contest they promoted with a paid media campaign on Tumblr.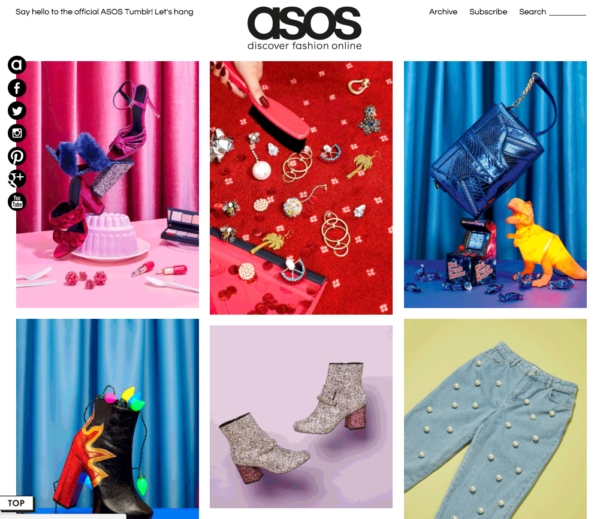 Using Sponsored Posts to solicit Tumblr's artist community for T-shirt designs for their online store, ASOS received 900 entries -- and by engaging the Tumblr audience throughout the process, the brand sold out all four of the winning designs in
less than 10 hours.
The same strategy of using ads for promoting a contest rather than a product can be successfully adapted by other brands.
Tumbl Down the Rabbit Hole
At first, Tumblr marketing may seem like a confusing alternate reality of illogical text posts and strange images. In reality, the social media site offers a unique opportunity for marketers to engage a huge audience of Millennials. Understanding its users and following the lead of successful Tumblr brands will make the platform an effective tool to increase brand awareness, as well as sales.