Travel Brands, Here Are 10 Topics For Blog Posts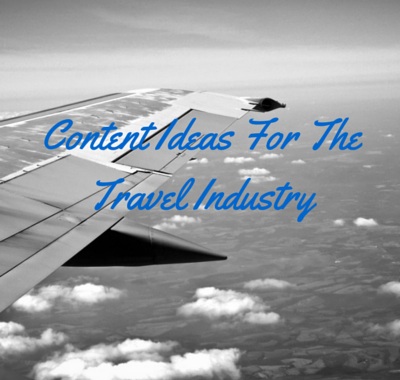 Struggling to find topics to write about in the travel industry? Here are a few suggestions.
Your travel company's blog gives you an excellent opportunity to inspire and inform potential travelers. One of the most misunderstood concepts of blogging, according to Dharmesh Shah, co-founder of HubSpot, is that
blogging is not about self-promotion
but offering valuable insights and information to customers.
Travel blogs are an ideal way of doing this because they let your company engage with people who are searching for travel spots that meet their requirements. Let these ten topics inspire you with some creative ideas as you kick-start or upgrade your travel company blog.
See also: 10 Ways to Increase Your Content's Social Shares
1. Lists
Blog readers enjoy lists, and yours could include top number of ways to travel through a continent or country, best places to see in a city, or methods of packing a suitcase. As well as top items, draw up lists of iconic animals, sights or foods, most underrated beaches, or advantages of doing an activity. Keep your lists concise and to the point.
2. How-Tos
Information is a valuable asset when you're traveling, so introduce topics that show your readers how to do things. Subjects could include how much to tip restaurant staff, how to travel to and from an airport, and how to cook foods. Other how-to topics include making the most of long airplane journeys, finding interesting things to do during long stopovers, or being a tourist in one's hometown.
3. Short Travel Guides
Pick a country, city or region and give up-to-date, insider knowledge of what's available, where and when to go, how to get there, and approximate price ranges of necessities. Cover budget accommodation and luxury resorts as well as accessibility for disabled travelers. Include a map or GPS coordinates.
4. Spotlight Partner Organizations
If your travel company partners with hotels or tour organizers, spotlight what they offer. Remember that you or one of your staff needs to have experienced what you're writing about. This topic could also cover interviews with staff members in the partner businesses, with a title such as "A Day in the Life of..." to give travelers insight into how, for instance, a hotel operates behind the scenes or how tour organizers find the best spots to visit.
5. Themes
Using themes is a great way to develop and cover a series of blog posts. Themes could include romance, photography, food, interesting architecture, festivals, music or sport -- the list is endless. Give a slightly different and more in-depth angle to the post by connecting an activity or idea to the theme. For example, pair a visit to the U.S. Olympic Training Center in Colorado Springs with sport, or connect local legends with a theme about bizarre natural phenomena.
6. Travel Apps
Your readers will be interested in the latest travel apps. For instance, write about apps for restaurant, bar and nightclub locations and reviews, or subway, train and bus routes. Apps for on-the-go photo editing are popular, and apps giving local weather conditions and time zone conversions are useful. It's essential to keep blogs on this topic up to date, so link previous posts to your latest blog about apps.
See also: Travel Sites, Here's How You Make a Photo Slideshow
7. Sustainable Tourism
More travelers than ever want to not only have fun during their vacations, but make a difference in the lives of the local people among whom they're spending time. Planeterra Foundation calls this sustainable tourism, which includes ecotourism, responsible tourism, community-based tourism and voluntourism. Many countries, such as South Africa, offer sustainable tourism projects, so do some research and find out what's out there and tell your readers about the ventures.
8. Answers to Questions
If your blogs and other social media posts elicit a lot of questions, create posts giving answers to the most common queries. Information about the safety of drinking water, visas and vaccinations is often high priority for travelers. An extension of this type of blog that makes for terrific interaction with your readers are quizzes. Draw up your own quizzes with trivia questions on destinations, or match personality types with destinations by getting your readers to answer questions on their likes and dislikes.
9. Visual Cues
Travel is very visual-based, so your readers are sure to enjoy photo essays, slide shows, videos and infographics, which all add interest and draw new readers to your site. Purchase photos or find free stock photos or videos, or use your company's good-quality images. Source free infographic templates and cover topics such as what to do and not to do when dining in different countries, what to pack for various destinations, quick facts about certain nations, or health and safety tips.
10. Foreign Languages
Tourists often want to be able to express themselves in the tongues of countries they visit, so choose some of the major languages and list some basic phrases, greetings and names of foods. Link to sites that show how to pronounce the words phonetically or that give audio pronunciations. Ask your readers to post short humorous stories about misunderstandings they experienced when they talked in a foreign language.
Use your travel blog to encourage readers, whether they're existing customers or new blog followers, to get out into the world and experience the wonders our planet offers. Add new blogs regularly -- weekly or at least twice a month -- so that your readers consistently have new posts to read.
Need blog posts for these topics?