Top Content Marketing Companies and Tools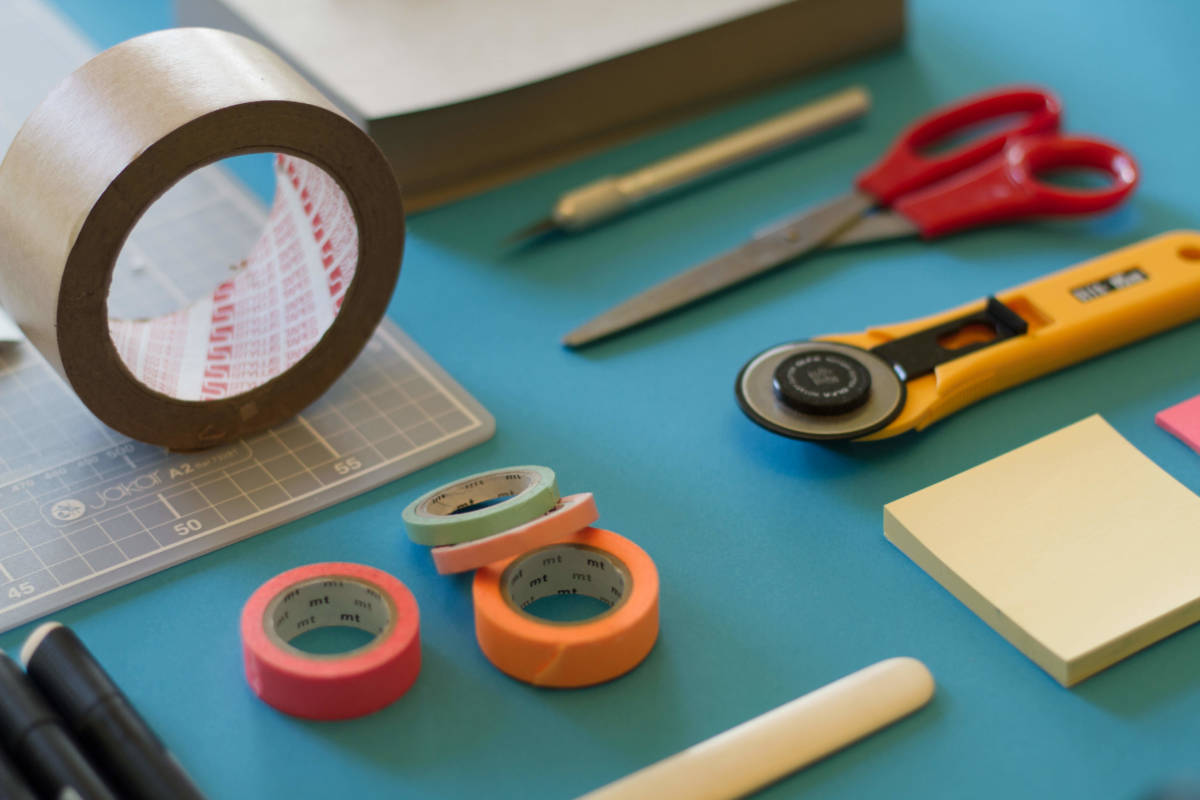 Successful content marketers need help from many content marketing companies and tools. Here is a list to help marketers get ready for their content planning.
There are hundreds (even thousands) of content marketing companies and content marketing tools to help you drive more traffic and get more leads. These are our favorites!
1. Planning/Strategy
Planning your content includes everything from defining your target audience to creating your editorial calendar. Some content marketing companies focus on helping you determine what to write about, others help you organize your editorial calendar and strategies.
Content Marketing Strategy
iProspect
: As one of the largest digital marketing agencies in the world, iP's team of marketers and strategist can help your brand scale a content marketing strategy that is completely integrated with all digital channels. They not only have experience in content marketing, but excel in SEO, paid search, social, and display.
3Q Digital
: A consistent top digital marketing agency based in San Francisco that focuses on paid search, SEO, and content marketing. Their content approach is more focused around SEO strategies, but work with some of the best brands around.
Influence & Co
: As the largest provider of guest posted thought leadership content in the world, Influence & Co. helps clients through a three-phase process: knowledge extraction, content creation and distribution.
EliteSEM
: Don't have their name fool you. EliteSEM started in paid search marketing, but have experience in multiple digital channels including display, content, social, and SEO.
Content Marketing Institute
: CMI has been led by Joe Pulizzi since 2007, leading the industry in content marketing news and events. Hire CMI's consulting services to develop content marketing strategies, conduct team workshops, and facilitate executive leadership. While CMI lacks software or tools, their experience and knowledge in the content marketing industry can help any brand get focused for content marketing success.
TopRank: Run by content marketing thought leader and speaker, Lee Odden, TopRank was founded in 2003. TopRank's blog is one of the most viewed marketing blogs and their consulting services help clients with everything from strategy to content promotion.
Interview with Lee Odden
Editorial Planning
Kapost
: Known for its world-class editorial management tools, Kapost empowers marketers to keep their content organized no matter how large their content team is. Kapost has also has built great publishing tools, a distribution network, and clean analytics. Lastly, Kapost has an extensive partner network, allowing marketers to work with content marketing companies such as Scripted to order content or Outbrain to promote it.
Kapost and Scripted Partnership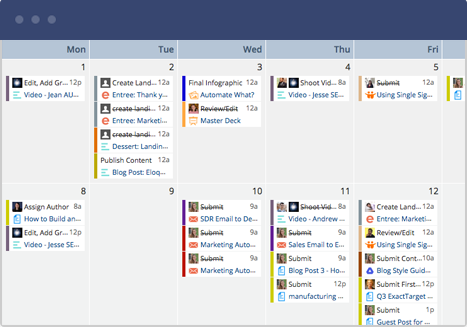 Percolate
: Although Percolate is under the workflow/editorial planning section, this New York-based company has set out to be the software for every marketing task. Find new content to share, manage and plan your editorial calendar, and distribute content across any publisher. Percolate clients have exclusive partnership opportunities with Scripted content.
Percolate and Scripted Partnership

Newscred
: A content marketing software that allows marketers to find, create, distribute, and measure their content. Newscred has an enormous global distribution network and allows brands to syndicate content through their API.
Keyword and Content Discovery Tools
Ahrefs: This powerful SEO suite goes the extra mile in keyword and content discovery. Currently, it has the biggest SEO database on the market - 5.6 billion keywords for 200+ countries. The system also discovers around 5 million new pages daily. That way, you can keep track of all the juicy keywords and topics in your niche. Ahrefs can also unveil the data your competitors would prefer to keep under the hood. You can learn what keywords their content ranks for and what topics bring them traffic, backlinks, and social shares.
Curata
: Content curation is a very effective content marketing strategy to keep your audience engaged without creating original content. Discover the best content on the web, organize, and optimize the content that is shared. Curata starts at $499/month.
Scribe
: Scribe is a great tool for marketers to research topics, optimize content, and connect with authors and content creators. Scribe's algorithm surfaces content scores and makes suggestions for optimizing content. 
Pressly
: Pressly makes it easy to curate and publish in-house and third-party curated content. Find curated content that's relevant to your audience and publish it easily. Pressly also offers a suite of analytics to track your content performance.
2. Content Creation
Written Content
Scripted
: Get original content written with Scripted's simple platform - giving you access to 7,000 U.S. writers. Scripted's algorithm automatically matches content to a best fit writer, eliminating the searching and vetting process. Power your brand's blog and thought leadership with blog posts, white papers, and social media posts written by writers in your industry. Pricing starts at $99 per blog post.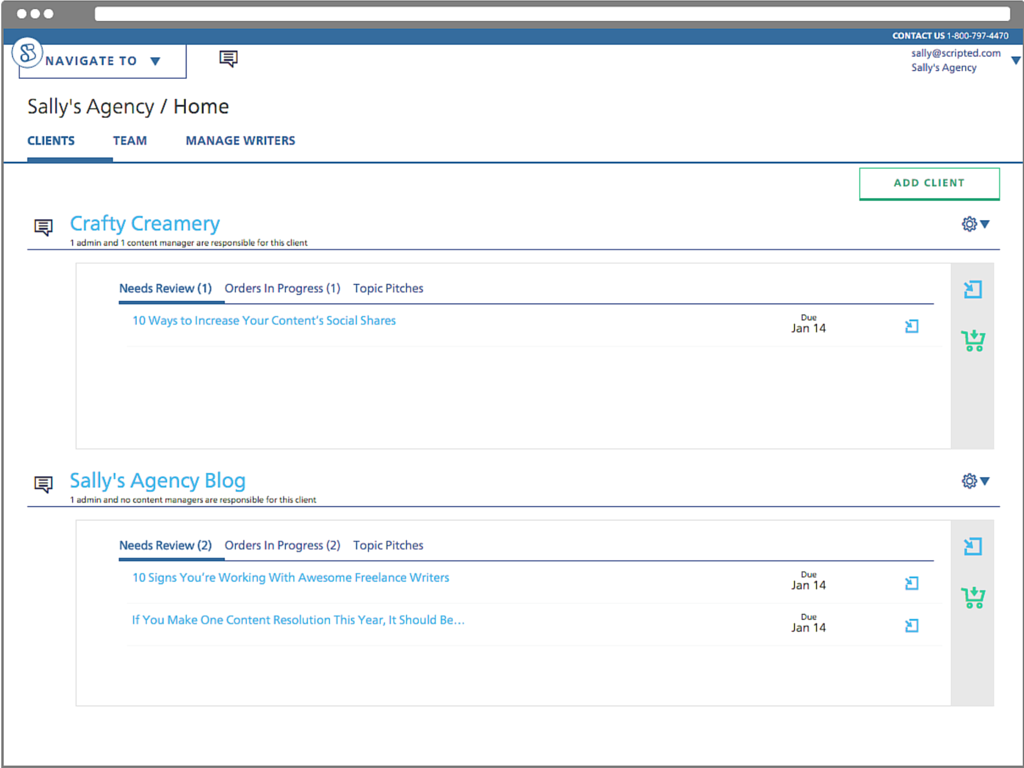 Contently
: Contently connects journalists with brands to help tell better stories. Contently's platform is complete with editorial planning, content writers, and distribution partners. Working with Contently requires a monthly fee and does not have a self-service option to order content or hire writers.
Textbroker
: As an international writer marketplace, browse through thousands of writers based on their star rating and industry. Hire writers to create content ranging from articles to brochures. Pricing starts at 1.3 cents per word for one star writers.
Writer Access
: Place content orders through your Writer Access account and determine what type of writers are eligible to write for your brand. Browse and select writers, filtering by experience and skill level. Pricing starts 2 cents per word for a two star writer, but on average a blog post will be around $20.
Visual Content
Visually
(Full Service): Get a managed and customized content creation experience with Visually. Specializing in creating infographics, work with Visually to create presentations, videos, and more. Infographics start at $1,995.
99designs
(Marketplace): Tap into the worldwide community of 983,540 designers on 99designs. Starting at $299, get a custom logo for your company or tap into their best designers for $1,999.
Canva
(self-service): One of the easiest free tools out there to create beautiful images for social media, blog posts, and more. Canva also allows marketers to access their library of 1,000,000 photos and images.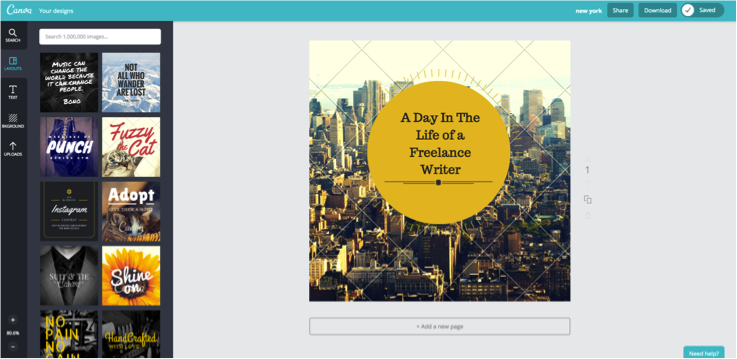 Vengage
(self-service): Looking to create infographics quickly and cheaply? Sign up for free on Vengage and get started with their customizable templates and formats. Pricing begins at free and rises to $19/month for premium templates.
ReadyTalk
: Host and record webinars easily with ReadyTalk. At Scripted, we've hosted over 50 webinars using ReadyTalk and everyone has gone well. Marketers can host a meeting on demand and have guests dial in, or host a managed webinar and have guests watch and listen from their computer. Record and publish webinars to blogs or YouTube. ReadyTalk also integrates with all marketing automation companies. ReadyTalk starts at $49 per month.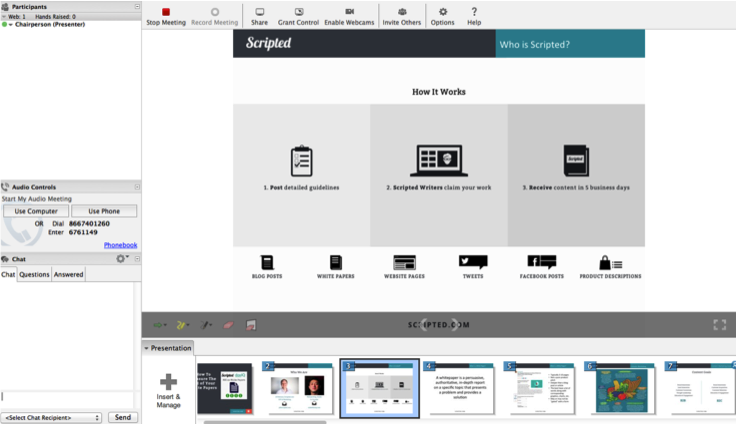 3. Content Marketing Companies for Publishing
Uberflip
: Integrate your website with Uberflip without writing a line of code. Uberflip's hub layouts are customizable for any brand and are designed to improve ROI with their simple CTA options. Integrate with any marketing automation software to capture leads and measure results. Create a hub for free or start with a custom hub at $200/month.
Uberflip and Scripted's Webinar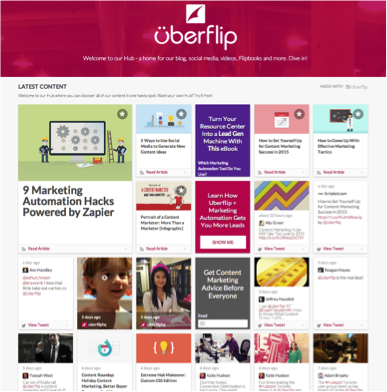 Hubspot
: Hubspot is a marketing automation software that helps SMBs to Enterprise brands measure the impact of their inbound marketing efforts. As part of their inbound marketing software, Hubspot also has a CMS that allows marketers to create websites and publish content that is already integrated into its marketing automation platform. Hubspot customers can order content from Scripted and publish it directly to your Hubspot blog.
Hubspot and Scripted Integration
SlideShare
: Publish and promote your presentations on SlideShare. Presentations will not only gain traffic through SlideShare's website, but also show up in search results. Additionally, host presentations on your blog with their simple SlideShare widget and get leads with their lead gen forms.
4. Content Marketing Companies for Promoting
Content Discovery
Zemanta
: Work with Zemanta to promote your brand's articles across publishers worldwide through promoted recommendations, in-text ads, and in-stream ads. Zemanta is a DSP, allowing marketers to promote across ad networks such as Outbrain and Kontera.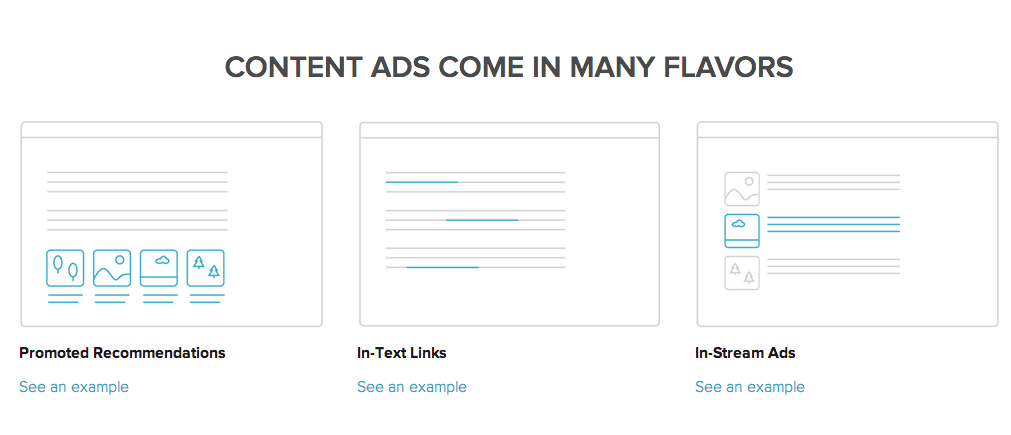 Watch Zemanta and Scripted's Webinar
Outbrain
: Outbrain is the largest content discovery platform, promoting branded content across premium publishers. Their dashboard allows marketers to choose what content they'd like to promote and test headlines and images to reach the right audience.
Scripted Interviews Outbrain
Taboola
: As another competitor in this space, Taboola has enormous reach across it's network of publishers - reaching more desktop computers than Facebook. Partnering with Taboola to promote content is easy and their account managers can help you get set up quickly.
Watch Taboola and Scripted's Webinar
Paid Social
Linkedin
: Marketers that are looking for very specific B2B targeting can reach almost any professional on LinkedIn's self-serve ad network. Promote content to appear on account updates, advertise text/image ads to a specific segment, or sponsor a direct content to only CEOs. CPCs are high ($3 to $10) depending on how targeted the audience is, but well worth it if the ads and content are specific enough.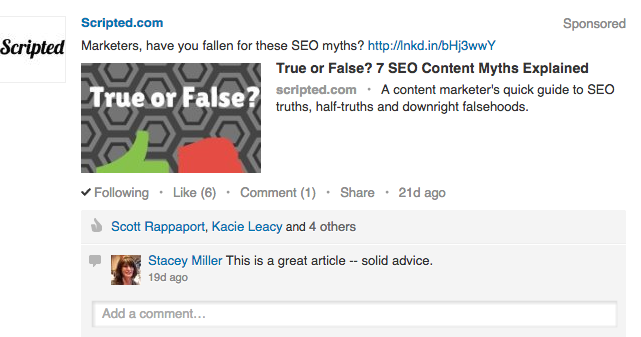 Twitter
: More and more brands are promoting content and tweets through Twitter's ad network. Twitter's targeting options and content types have been consistently improving, allowing marketers to target their audience by hashtags, search queries, location, or by who they follow. Even upload a list of emails or Twitter IDs and target those users directly! Lastly, promote white papers or gated content to run a lead gen programs.


Facebook
: Target your audience while they scroll through their newsfeed watching cat videos and babies laughing. Marketers have the option to promote their ads on the newsfeed or the side bar.
5. Measuring
Keeping a list of all the best analytics and content tracking companies and tools could be its own website. There are website analytics, social media analytics, content scoring analytics, heatmap tracking, marketing automation tracking, and not to mention all the content marketing companies companies that have already been listed above that include analytics in their platform (
Percolate
,
Kapost
,
Scribe
,
NewsCred
, etc.). Furthermore, there have been many articles that have focused on content analytics, I recommend looking at
Curata's guide
.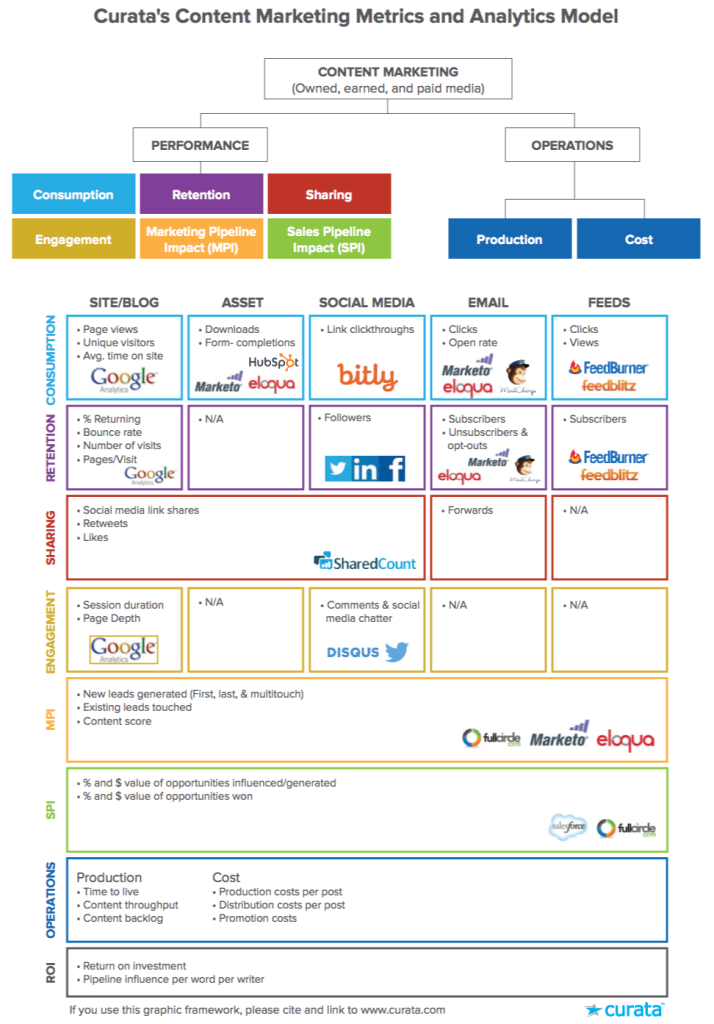 We've listed a few content marketing companies that we recommend that aren't listed in the Curata list or infographic.
SimpleReach
: Measure all social media and blog content through SimpleReach's deep analytical tools. SimpleReach scores all content and predicts what content will take off and perform well across various digital channels. SimpleReach has a large distribution network, allowing marketers to easily promote and publish their content.
SimpleReach and Scripted Webinar
Atomic Reach
: Create content that performs and is made for your target audience. Atomic Reach has built a tool that scores content and let's marketers know how to improve the content that they've created. Easily integrate with Atomic Reach through their free app, or pay for their scoring software starting at $25/month.
Moz
: Track and measure all things SEO with Moz. This includes keyword rankings, search traffic, inbound links, social media shares, crawl diagnostics, optimization recommendations, and competitor tracking. Moz is great for all businesses, starting at $99 per month.
CrazyEgg
: Build heatmaps and track clicks on your website. CrazyEgg makes it very easy to get a deeper level insight into how visitors are interacting with your website and it doesn't cost a fortune. Get started for $9/month.
Buffer
: Looking for a simple tool that publishes your social media posts and keeps track of shares, follows, and likes? Try Buffer to keep your social media marketing on track. In addition to their analytics and publishing tools, download the Buffer Wordpress plugin to include social media counters on your blog posts.
Do you need help getting started in Content Marketing? Use Scripted's free content marketing quiz to get your initial strategy!