Is It Time to Shift Your Ad Spend to Content Marketing?

As 2017 starts winding down, marketers are turning their attention to the latest trends that will define their marketing plans for 2018. One of those trends is content marketing. While it's certainly not a new tactic, what is new is that companies have been spending less on traditional ads and more on content marketing. Here's why that is and how to determine if it's time for more companies to follow suit.

The Downfall of Traditional Advertising
Online ads have been the bread and butter of ad departments for years now, but that's been gradually changing, and it's precisely because of their popularity. Simply put, there are so many ads everywhere that customers tune them out. Studies have shown people don't trust most traditional ads.
In fact,
68 percent have said
internet ads are annoying, while 51 percent said they're distracting and 38 percent called them invasive. That's why it comes as no surprise that
a study by Google
found 56 percent of ad impressions were never even seen by consumers. The fact that more than
200 million people
now use ad blockers doesn't help, since this ensures they don't see online ads.
All this added up suggests that a lot of companies have been wasting money on traditional ads because most consumers just aren't paying attention to them. Of course, that doesn't mean consumers aren't being persuaded by companies in some other way. They've very much been paying attention to the content they see online.
The Advantages of Content Over Traditional Ads
As businesses have been noticing fewer sales from traditional ads, they've been more willing to try out other tactics, such as content marketing. In fact,
63 percent of B2B marketers
have said they're very or extremely committed to content marketing, while 60 percent of B2C marketers have said the same. Why is that?
Well, one reason is that people want valuable, engaging content. They flock to it, hoping to learn something new or simply be amused. They're looking for good content, and once they find it, they're happy to share it with others and keep coming back for more. They don't think of it as advertising, since good content is providing them with a service they want, whether it's through a blog post, email newsletter, or social media posts.
Clearly, content has value for readers, but what's the value to businesses? The number one advantage is that consumers want more of it, unlike traditional ads, assuming it's quality content of course. It's
inbound marketing
, not outbound, so instead of chasing people down to show them an ad, content marketers produce the content and let consumers find them. That takes a lot of work out of the process.
Additionally, once the content is online--whether on the company's blog or Facebook page--it can stay there forever rather than expiring like most traditional ads. From there, consumers can share the content, which is not likely to happen with ads. Then there's the fact that content allows more time and space to get marketing messages across, meaning marketers can offer a lot more details than they could in a 30-second commercial or 10-word internet ad.
Which Companies Have Switched to Content Marketing?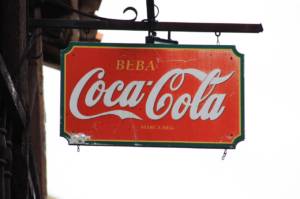 All of these benefits are why the content marketing industry is expected to be
worth about $300 billion
by 2019, after having grown by double digits for six years in a row by 2015. Several major businesses have already reduced their reliance on traditional ads and use content marketing a lot more now.
[bctt tweet="The #Contentmarketing industry is expected to be worth about $300 billion by 2019"]
Just one example of businesses that have started to focus more on content marketing is Microsoft, which launched
Microsoft Stories
a few years ago in order to engage with consumers interested in learning more about their products.
Simon J. Hughes
, Microsoft's Business Planning Manager and Marketing Technologist, even said, "A lot of things have been reframed in terms of content marketing, and people are becoming more explicit about how they think about creating content and distribution strategies."
Similarly, Coca-Cola made a commitment to content marketing years ago, as the company created a
content marketing plan in 2011
with the goal of doubling sales by 2020.
According to Jonathan Mildenhall,
VP Global Advertising Strategy and Creative Excellence, "All advertisers need a lot more content so that they can keep the engagement with consumers fresh and relevant, because of the 24/7 connectivity." And so far, Coca-Cola's content marketing strategy has been working, since sales have been steadily growing for years now.
What's Next for Marketers?
Many businesses are now aware of the importance of content marketing, but awareness is not all it takes to get started. It also takes a good budget to pay for quality content. Currently,
37 percent
of marketers who haven't had content marketing success blame it on their low budget. Fortunately, 39 percent had plans to increase their content marketing budget this year. And once the stats for 2018's marketing plans are available, there may be an even higher number of marketers who plan to increase their content marketing budget, since this tactic has increased in popularity every year.
Of course, the budget is just one piece of the puzzle when it comes to content marketing. Marketers also need to keep in mind what type of content to use. Overall,
social media posts
are at the top of the list, with Facebook being the most effective so far. Other types of content to use include blog posts, email newsletters, videos, images, eBooks, and infographics.
As the statistics show, content marketing has been growing rapidly and will become even more crucial to the marketing mix in 2018. That means marketers who haven't switched over to this tactic will be left behind, which is why it's important to make room in the budget for content marketing, even if it means reducing spending on traditional advertising.