Why These 4 Brands Bring Social Media & Blog Content Together Amazingly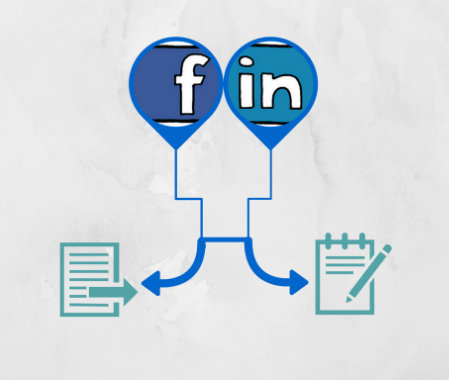 How do you define the relationship between your blog and social media accounts?
The relationship between your blog and social media should work like a family. Each platform should have distinct identities, but be tied by a common history. Translating that message to social media takes work though. Some content works well as a blog post, but fails to appeal on visual social media sites. Still, some brands manage to effortlessly bring their content together cohesively. The following are four examples of distinct relationships between the best branded blog and each brand's most beloved social media account.
See also: Learn From the Masters: Brands That Crafted a Cohesive Multi-Platform Social Media Brand
1. Offbeat Bride
Social media of choice:
Pinterest
Relationship
: Use social media as a visual counterpart to your blog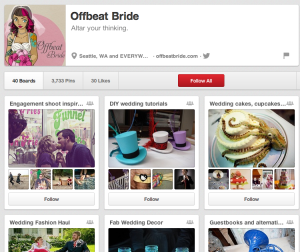 Offbeat Bride
marries their blog and social platform to make their brand larger than life. This wedding and honeymoon resource has mastered the art of mining content for the sake of customer engagement. Blog posts are offered like candy to wedding enthusiasts, with headlines like "
Wedding hair with flower power: 21 looks show you how it's done
" and "
Maintenance-shaming: You don't have to pretend you're so cool that you're "over" your own wedding
."
Their
Pinterest presence
is robust and arguably as comprehensive. They maintain 46 different boards covering different topics like "engagement shot inspiration," "D.I.Y. wedding tutorials," and "decor to melt your face off." Each is filled to the brim with gorgeous photos of vibrant unique weddings and wedding ideas. It's eye candy, but it's substantive eye candy, proving that if you want to make a splash in social media, you have to work hard to translate great blog content into a social format.
2. Coca-Cola
Social media of choice:
Tumblr
Relationship:
Social media should distill a blog's broader message
Coca-Cola is a well-known brand that has also become a leader in the content marketing space. Its blog,
Unbottled
, covers the activity of the
world's most valuable
brand. That means philanthropic activities, environmental impact articles and business development stories, among many others. However, its
lauded
Tumblr page
covers much less ground and it's better off for it. It's is populated with animated GIFs -- typically posted 10 times a month -- that often do nothing more than put Coke in a humorous light. Like this one:
If marketers take one lesson from Coke's Tumblr, it's to know their brand and platforms. The beverage company's audience on one of the
trendiest and fastest growing
visual social media platforms want fun and light-hearted posts.
3. MicrosoftSocial Media of Choice:
LinkedIn
Relationship:
Social media sites should complement a brand's image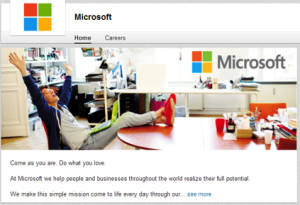 It's no surprise to see another giant,
Microsoft
, pairing blog content and social platforms to create a culture of users across the web. Hailed as one of the
most effective
social media campaigns of 2014, the software giant's LinkedIn profile taps into the third most popular social network on the web. It reminded business professionals everywhere that sharing information, gaining authority and winning new customers online doesn't have to boring. By the same exchange, it doesn't have to be brash and outrageous either.
4. OREOSocial Media of Choice:
Vine
Relationship:
Great social media content can exist without fact-heavy blogs
OREO cookies are known and loved as a cookie -- a childhood treat -- not a corporate brand of snacks. OREO knows this. That's why there's no room for lengthy blogs in OREO's content strategy, only social media posts that show off the cookie's diverse usage.
Oreo
's Vine videos rarely traffic below ten thousand plays, often garnering 30,000 and 60,000 views, with a handful earning views in the hundreds of thousands. These six-second videos show the cookies off
play-acting a recipe
, making a
pop-culture shout-out
or, in the following case, reenacting a scene from a famous movie:
OREO's marketing team shows your content can exist independently and exclusively on social media. Blog writing is just another form of brand communication. Choosing the right platform for you depends on the attributes of your brand and the limits of your imagination.
There isn't a "right" way to integrate your social media and blog content. That's why it's best to explore and find whether Pinterest pins, Facebook updates, tweets, YouTube videos or Instagram posts tell your brand's story -- and your blog's story -- best.
How do you bring your social media and blog content together? Share your thoughts with us below.
To Read More About Social Media See Below:
Instagram is the Social Media Platform of 2014
Instagram: The Social Media Platform for Users and Advertisers
How Small Businesses Can Use LinkedIn's Publishing Platform
Subscribe for the latest in Content Marketing & Freelance Writing!